The MTV Video Music Awards have always been a stage for pushing fashion boundaries, and this year's event was no exception.
Cardi B didn't disappoint when she graced the red carpet at the Prudential Center in Newark, New Jersey, for the 2023 VMAs.
Fresh from her latest collaboration with Megan Thee Stallion, the 30-year-old wealthy rapper made a bold statement with her attire, leaving everyone speechless.
At the 2023 MTV Video Music Awards, Cardi B made a striking entrance in a figure-hugging strapless gown by Dilara Findikoglu (Credit: Roger Wong / INSTARimages)
Decked out in a custom creation by Dilara Findikoglu, Cardi B strutted her stuff in a strapless metallic gown that initially appeared to be composed of dazzling metal shards.
However, a closer look unveiled the true magic of her outfit – it was adorned with hundreds of meticulously arranged silver hair clips, forming intricate swirling patterns. The Turkish-British designer originally introduced this unique creation as a mini dress on her Fall 2023 runway.
Not only did this ensemble showcase her impeccable sense of style, but it also accentuated her ample cleavage and stunning hourglass figure.
Staying true to the theme of her form-fitting ensemble, the Spanish-speaking rapper adorned herself with matching forearm cuffs, each embellished with hair clips.
A closer look at Cardi B's dress revealed an intricate design crafted from hundreds of silver hair clips arranged in captivating swirls and fan-like patterns (Credit: Darla Khazei / INSTARimages)
Complementing her dress, Cardi sported lengthy square-shaped nails coated in a captivating gunmetal silver polish, adding the final touch of glamour to her look.
While her footwear remained concealed beneath the floor-length hem of her dress, she added a touch of sparkle with her glittery heels, completing her show-stopping appearance.
Cardi's fashion statement was as impressive as her makeup. In a striking contrast to her outfit, Cardi chose to forgo the use of hair clips on her head, instead opting to let her sleek, jet-black long hair fall gracefully down her back, parted neatly in the center.
Cardi B wore a mesmerizing armor dress constructed from thousands of hair clips, a bespoke piece by Dilara Fındıkoğlu (Credit: PA Images / INSTARimages)
Her makeup featured a matte finish, enhanced by bold black eyeliner and long, fanned-out lashes that beautifully framed her brown eyes. To finish off the look, she chose a nude lipstick paired with a brown liner.
Accompanying Cardi on the red carpet was her husband, Offset, who also embraced the hair clip theme with silver accents in his hair.
The 31-year-old rapper looked dapper in a dark suit, complemented by a black and silver-buckled belt, a sparkly skinny tie, and silver jewelry.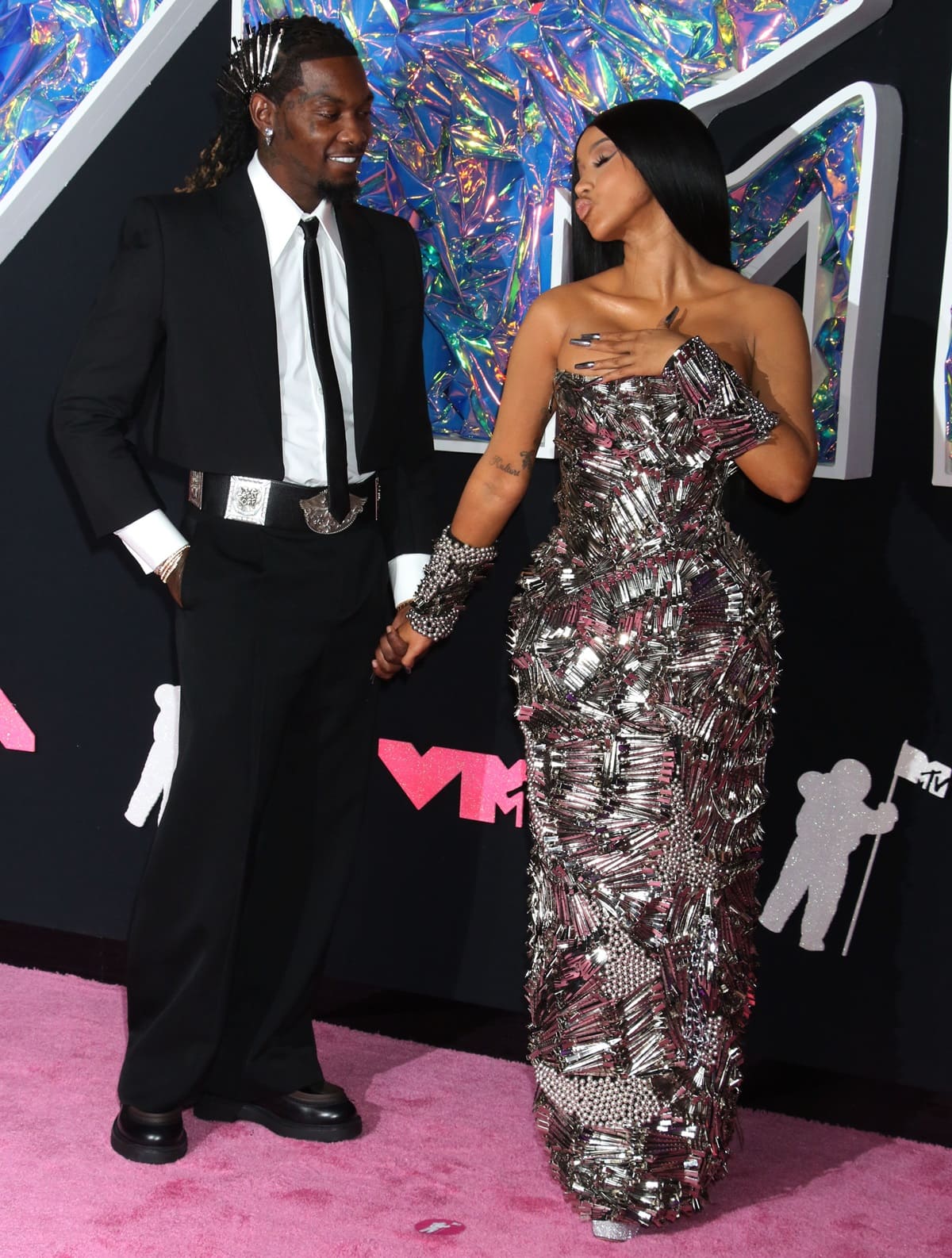 Cardi B and Offset indulged in some flirty fun at the 2023 MTV Video Music Awards held at the Prudential Center on September 12, 2023, in Newark, New Jersey (Credit: Roger Wong / INSTARimages)
Despite their relationship's tumultuous history, the power couple shared a sweet kiss, solidifying their unwavering commitment to each other.
The excitement didn't end on the red carpet, as Cardi B and Megan Thee Stallion were all set to light up the VMA stage with their first performance of "Bongos," their latest collaboration released on September 8.
This dynamic duo had previously rocked the stage at the 2021 Grammy Awards with their hit song "WAP," which skyrocketed to No. 1 on the Billboard Hot 100.
In a subtle nod to Cardi B's ensemble, Offset sported hair clips in his hairstyle, striking the perfect balance between complementing her look and maintaining his distinct style (Credit: Roger Wong / INSTARimages)
Cardi is no stranger to the VMAs, having received five nominations in 2021 for "WAP," including Song of the Summer, Song of the Year, Best Collaboration, Best Hip-Hop, and Video of the Year.
This year, she earned a nomination in the Best Hip-Hop category for her collaboration with GloRilla on "Tomorrow 2." However, the award ultimately went to Nicki Minaj for "Super Freaky Girl."