Ice Spice probably had no idea how thick she was until she saw a photo of herself in a form-fitting bandage-style white lace dress while hugging Taylor Swift at this year's Video Music Awards.
Following the awards show, the 23-year-old rapper requoted a photo posted by a fan on X, formerly Twitter, showing her and Taylor Swift sharing a hug.
"damn i aint kno I was that thick hold on," she captioned the post.
Ice Spice is embracing her glow-up! 🌟 The MTV Awards-winning "Munch" rapper showcased her recent transformation, especially evident when standing next to Taylor Swift. She reacted to a photo of them hugging with a confident, "Damn I ain't know I was that thick hold on." Check… https://t.co/dCoXUhE1hg

— Your Next Shoes (@yournextshoes) September 19, 2023
Ice Spice, arguably the rap industry's breakout sensation this year, was voted Best New Artist at the VMAs on Tuesday, only a month after being crowned Billboard's 2023 R&B/Hip-Hop Power Players Rookie of the Year.
The first-time VMA nominee was also up for three other awards, including Performance of the Year, won by South Korean boy band Tomorrow X Together, and Song of the Summer for her and Nicki Minaj's Barbie movie song Barbie World and her and Taylor Swift's collaboration, Karma. The award later went to Jeon Jungkook of the K-pop band BTS.
Ensuring all eyes were on her, the Bronx native showcased her reinterpretation of Britney Spears' iconic white lace outfit from the 2003 VMAs, where the Princess of Pop kissed Queen of Pop Madonna on stage during their performance of Madonna's hits Like a Virgin and Hollywood with Christina Aguilera.
Ice Spice channels Britney Spears in a white lace ensemble at the 2023 Video Music Awards held at the Prudential Center in New Jersey on September 12, 2023 (Credit: Abaca Press / INSTARimages)
Ice Spice's head-to-toe white rebrodé lace ensemble, custom-made by Dolce & Gabbana, fit her hourglass figure like a glove.
Like Britney's, it had a corset-style bustier bodice with a cleavage-baring neckline and a tiered ruffled tutu skirt with lace trims.
The Munch (Feelin' U) hitmaker's frilly rendition also featured see-through lacy tights and long sleeves that turned into fingerless gloves. It also came with sheer panels at the sides to further highlight her curves.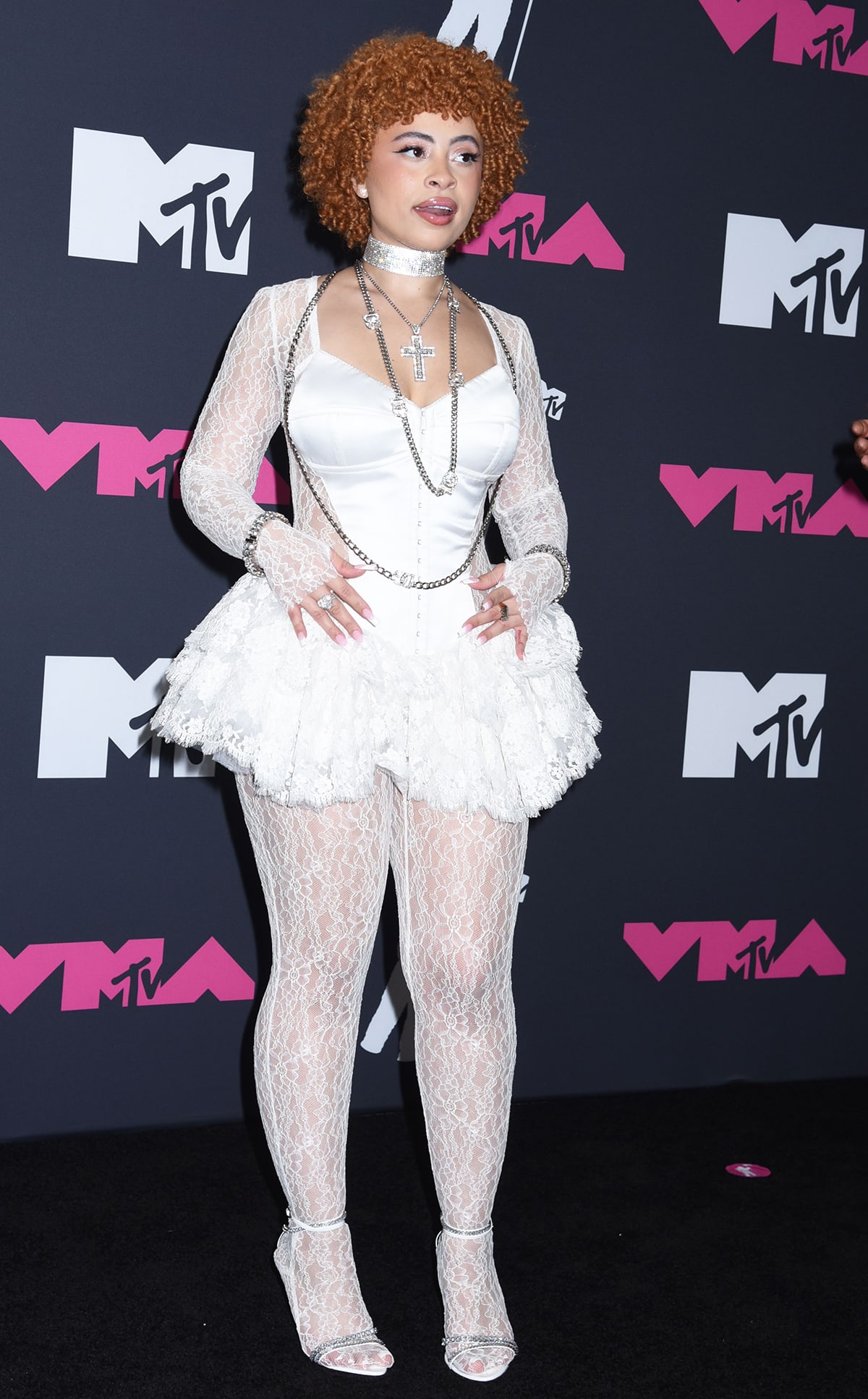 Ice Spice's form-fitting Dolce & Gabbana outfit features a corset bodice, a tutu skirt, and lacy tights and sleeves (Credit: Darla Khazei / INSTARimages)
Leaning on her trusted stylist Timothy Luke, Ice Spice layered a selection of silver chains around her neck. She wore a crystal-encrusted mesh choker, a large cross pendant necklace, and two long, chunky silver chain necklaces.
"Rap's New Princess" embraced maximalism by dialing up the sparkle with a few silver rings and a rhinestone cuff on each wrist.
For a seamless monochromatic finish, she carried a white mini Dolce & Gabbana "Sicily" bag and boosted her 5'2.5" height with Giuseppe Zanotti white heels.
Her open-toe footwear featured delicate ankle and toe straps embellished with gleaming crystals.
Ice Spice pairs her white lace look with a selection of crystal-embellished silver jewelry and matching white Giuseppe Zanotti heels with crystal-encrusted straps (Credit: Darla Khazei / INSTARimages)
Ice Spice, real name Isis Naija Gaston, enlisted the services of makeup artist Karina Milan to achieve a luscious, dewy glam.
Using Charlotte Tilbury cosmetics, the rapper was glowing with layers of the Hollywood Flawless Filter Foundation in #2.5, Beautiful Skin Concealer in #3 Fair, and Airbrush Flawless Finish Powder in #2.
She also used the Beautiful Skin Sunkissed Glow Bronze, the Beauty Light Wand Disney100 Edition Pink, and Airbrush Flawless Setting Spray on Ice Spice's face.
Milan created a cat eye makeup look for the rapper with Eyes to Mesmerise in Rose Gold, Pillow Talk Luxury Palette, Push-up Lashes Mascara, Hollywood Exagger-eyes Liner Duo, and Brighten Illuminer in the water line.
Her glam was finished with Lip Cheat Liner in mixed Iconic Nude and Intense shades, Matte Revolution in Cover Star, and Pinkgasm Jewel Lip Gloss.
Completing her beauty look were her signature ginger curls and French tips, which were popular in the early 2000s.
Ice Spice wears her signature ginger curls and dewy makeup, with winged liner, glittery pink eyeshadow, rosy blush, and glossy lips (Credit: Abaca Press / INSTARimages)
Ice Spice broke down in tears as she collected the Moon Person Award for Best New Artist, thanking her fans and manager James Rosemond Jr.
"Thank you so much. Thank you, MTV. Oh my God, this is so cool," she began her speech. "I just want to thank my Munchkins. I love you guys so much."
"I want to thank my manager, James. I want to thank my producer Riot, for making the best music with me. Shout out to all the other nominees in this category. I want to thank my label 10K and Capitol for always supporting me. And of course, God. Without God, none of this would be possible."
Ice Spice breaks down as she thanks her fans, manager James, and producer Riot while accepting her VMA 2023 Best New Artist award (Credit: PA Images / INSTARimages)
That evening, Ice Spice also made her debut as a presenter, introducing Doja Cat, who performed Attention, Demons, and Paint the Down Red off her upcoming fourth studio album, Scarlet.
She switched from her white lace mini to another white ensemble, this time a sheer mesh bandage-style dress with lace-up sides.
She wore it with matching sheer lace-up gloves that reached her elbows and completed the look with a thick Munchkins necklace.
View this post on Instagram
Ice Spice Stars in New Dunkin' Commercial with Ben Affleck
Ice Spice's net worth currently stands at $2 million and is projected to skyrocket as the rap star's fame grows.
Recently, she scored a Dunkin' commercial with Ben Affleck, which debuted during the VMAs broadcast on Tuesday.
The ad, reportedly written and directed by Affleck himself, shows the Cambridge-raised actor bragging about his Dunkin' Donuts brand ambassador title before taking a seat opposite Ice Spice.
The two are seen discussing how to promote Dunkin's new fall-themed pumpkin spice drink, with Affleck saying, "We gotta come up with a drink name, but it's not easy, right? Nowadays, with social media, the kids—it's gotta be authentic. How are people gonna connect you with Dunkin?"
"Yeah, I'm a Dunkin' girl!" Ice Spice says in the video. "Ice Spice? My fans are the Munchkins?"
Confused, Affleck asks, "Where're you going with this?" To which Ice Spice replies, "Ice… Spice… Munchkins drink?"
The new Dunkin' Donuts commercial is a follow-up to Affleck's Dunkin' ad that aired during the 2023 Super Bowl in February.