Ice Spice, of African-American and Dominican descent, made a stunning entrance on the red carpet outside the Microsoft Theater at the 2023 BET Awards held in Los Angeles on Sunday.
Known for her Y2K fashion sense and chart-topping collaborations, the 23-year-old breakout star proved again why she is a style icon in her own right.
Dressed to impress, Ice Spice embraced sheer fabrics, one of the year's biggest fashion trends. She took the opportunity to put her twist on the craze as she arrived in a show-stopping see-through gown by Dolce & Gabbana.
Ice Spice making a bold statement in Dolce & Gabbana on the red carpet at the 2023 BET Awards held at Microsoft Theater at L.A. Live in Los Angeles, California on June 26, 2023 (Credit: Abaca Press / INSTARimages)
The lingerie-inspired dress featured a sheer corset-style top that perfectly accentuated her curves, flowing into a floor-length skirt adorned with intricate lace patterns and a captivating fishnet panel, exuding confidence and glamour.
To complete her daring look, Ice Spice added a touch of sparkle with a silver diamond-encrusted cross necklace, while her square pink nails added a sophisticated edge to her ensemble.
With her signature red hair sleekly styled, cascading down to her waist, Ice Spice commanded attention on the red carpet.
Her outfit was enhanced by a pair of pointed-toe, black-heeled sandals, showcasing her impeccable taste and elevating her petite frame.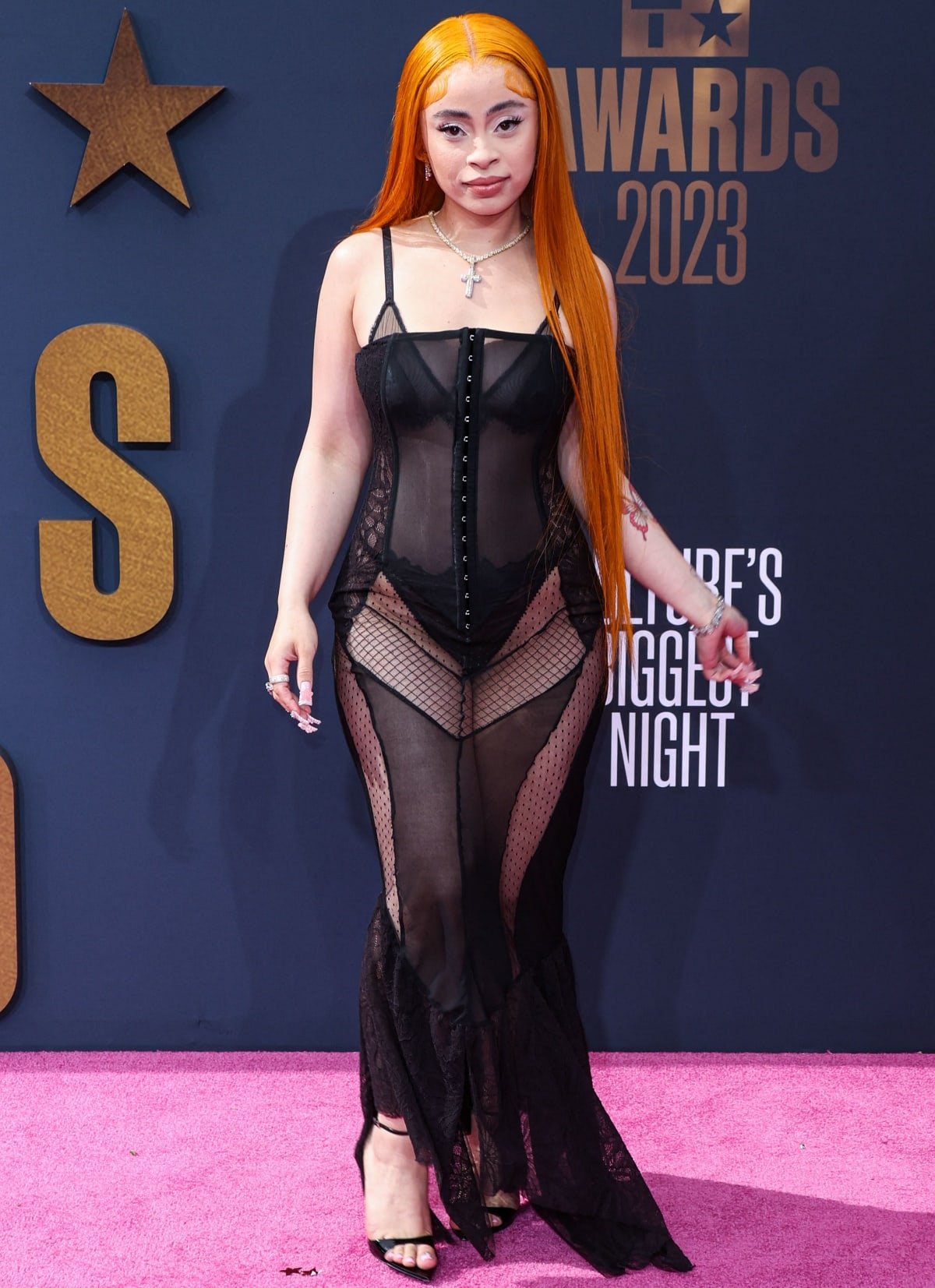 Ice Spice, the stunning powerhouse standing tall at 5ft 2 ½ (158.8 cm), graced the 2023 BET Awards red carpet in an exquisite sheer Dolce & Gabbana dress that left everyone in awe (Credit: Abaca Press / INSTARimages)
How Tall Is Ice Spice?
Ice Spice, whose real name is Isis Naija Gaston, is an American rapper who stands at 5 feet and 2 ½ inches (158.8 cm). She wears a shoe size 6 (US).
Ice Spice's height of 5ft 2 ½ (158.8 cm) is slightly below the average height of an American woman. According to the National Center for Health Statistics, the average height for adult females in the United States is approximately 5ft 4 inches (162.6 cm).
Ice Spice, also known as Isis Naija Gaston, is an American rapper with a height of 5 feet 2 ½ inches (158.8 cm) and a shoe size of 6 (US) (Credit: Abaca Press / INSTARimages)
Isis Naija Gaston has playfully shared her height updates on Twitter over the years. In 2021, she humorously stated, "im 5'2 pls, enough," indicating that her height was 5 feet 2 inches (157.5 cm) at that time. However, in 2022, she excitedly announced, "im 5'3 now i grew an inch 😍," suggesting that she had experienced a growth spurt, reaching a height of 5 feet 3 inches (160 cm).
Born on January 1, 2000, in the Bronx, New York City, to a former African-American underground rapper father and Dominican mother, she grew up in the Fordham Road neighborhood.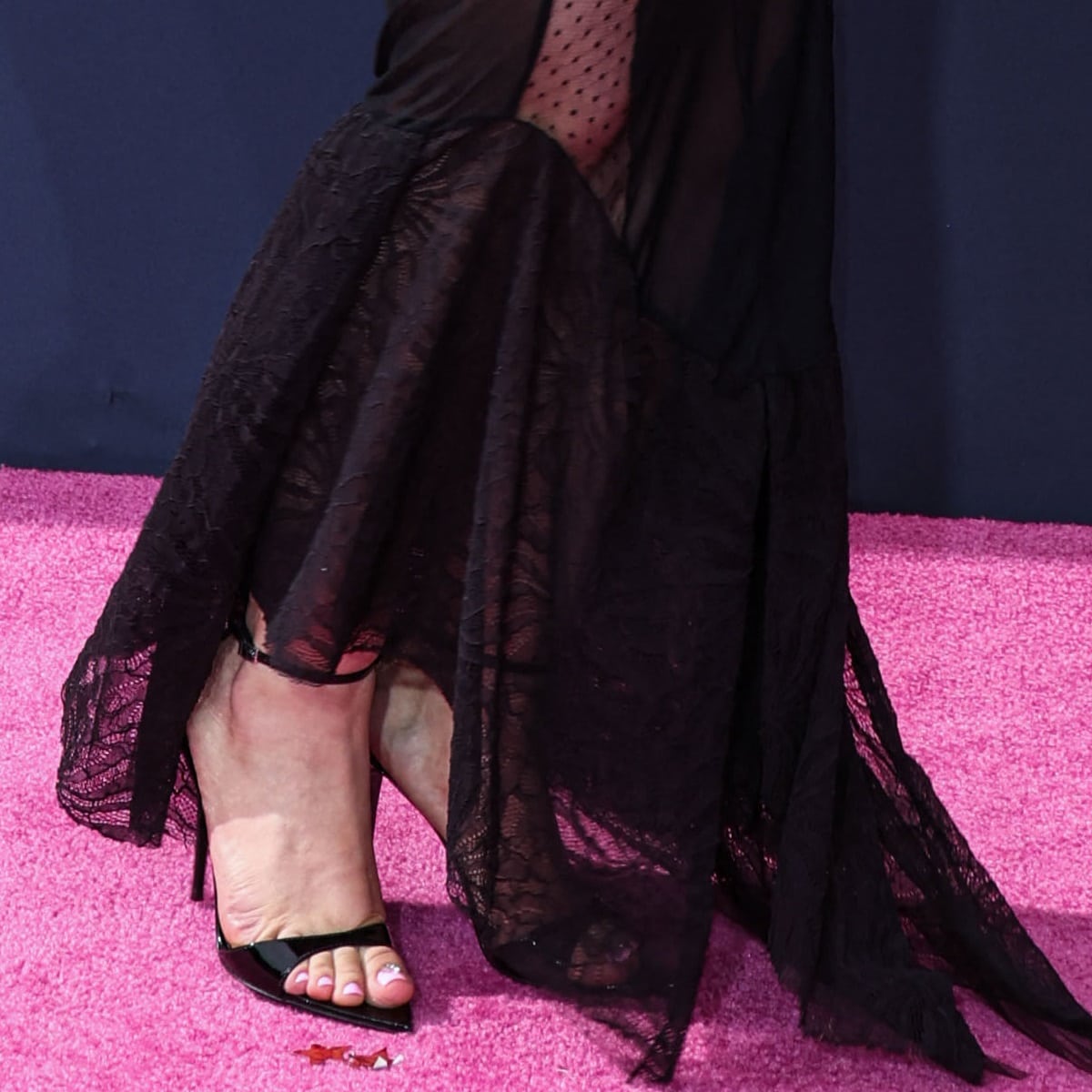 Ice Spice, also known as Isis Naija Gaston, displays her feet in black ankle-strap sandals (Credit: Abaca Press / INSTARimages)
Her parents divorced when she was two years old, and she spent much of her childhood with her grandparents and cousins, as her parents were often busy.
Not only does Ice Spice possess an impeccable fashion sense, but she also shines on the music stage. Aside from garnering four nominations at the 2023 BET Awards, she also delivered a mesmerizing performance, captivating the audience with hits from her EP "Like..?"
The stage transformed into various locations across the Bronx, including a bodega storefront, a subway platform, and a basketball court. Accompanied by her talented dancers and backed by producer RiotUSA, Ice Spice showcased her versatility and undeniable star power.
While she may not have taken home any awards that night from her nominations for some major honors, including Best Female Hip Hop Artist, Best New Artist, and the BET Her Award for her "Boy's a Liar Pt. 2" collaboration with PinkPantheress, Ice Spice's talent, and influence continue to soar.
How Ice Spice Started Her Rap Career
Ice Spice's passion for hip-hop was ignited at a young age, influenced by artists like Lil' Kim and Nicki Minaj. She began writing poetry and freestyle rap during her school years and adopted the name Ice Spice during her first year of high school.
After graduating from Sacred Heart High School in 2018, Ice Spice attended the State University of New York at Purchase, but she eventually dropped out, feeling that the school wasn't the right fit for her.
Ice Spice started her rap career in 2021 after meeting record producer RiotUSA. Her debut song, "Bully Freestyle," gained attention after a viral video of her participating in the "Buss It" challenge circulated on Twitter.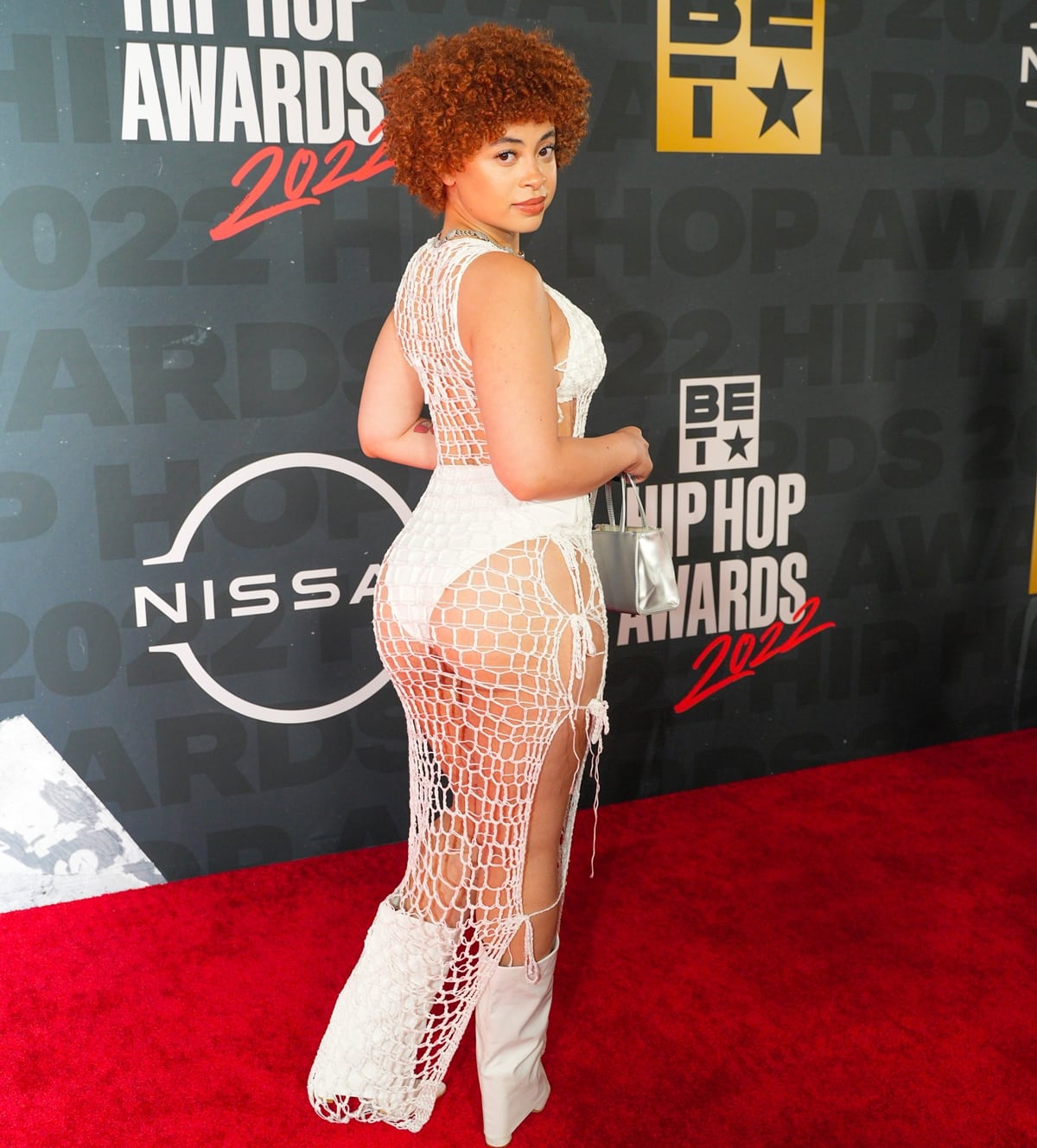 Ice Spice, born Isis Naija Gaston on January 1, 2000, is not only a New Year's baby but also a new millennium baby (Credit: Franklin Sheard Jr / Shutterstock)
She continued to gain popularity with her song "Munch (Feelin' U)," which received support from Drake and went viral on Twitter and TikTok in late 2022, propelling her to prominence.
Ice Spice followed it with successful singles like "Bikini Bottom" and "In Ha Mood." Her debut extended play, "Like..?," was released in 2023 and featured these hit tracks.
She achieved significant chart success by collaborating with major artists like Nicki Minaj for a Barbie soundtrack cut and joining Taylor Swift for a remix of the single "Karma" from the "Midnights" album.
Her popularity and fan base continue to grow, evident from her upcoming appearances as one of the headliners of Made in America's 2023 Festival in September and on "The Scarlet Tour" with Doja Cat in November and December this year.
Ice Spice Makes Met Gala Debut in Balmain
Last May, Ice Spice stole the show at her highly anticipated 2023 Met Gala debut, gracing the red carpet in a mesmerizing custom all-white Balmain creation, transforming into an ethereal vision.
She exuded confidence as she effortlessly flaunted her hourglass figure in a form-fitting gown adorned with countless exquisite beads. The floor-length masterpiece embraced her curves, teasing glimpses of nude mesh for an irresistible effect.
Her unique fashion statement included a crystallized vintage camera clutch, adding a touch of whimsy to her ensemble.
Ice Spice wearing a custom Balmain look for the 2023 Met Gala held at the Metropolitan Museum of Art in New York City on May 1, 2023 (Credit: Doug Peters / PA Images / INSTARimages)
She accentuated her futuristic outfit with icy silver earrings and an Effy Classique 14K white gold diamond ring that perfectly complemented her overall aesthetic.
To complete her flawless look, Ice Spice showcased her lengthy, glossy ginger locks, adorned with a luscious, side-swept fringe gracefully cascading across her forehead, further enhancing her radiant aura.
Her makeup was equally enchanting, with shimmery eyes, long lashes, and a glossy lip, exuding an irresistible allure. The final touch of elegance came in the form of long, baby-pink nails, making a lasting impression.