The music industry's busiest star today, Taylor Swift, continues to dazzle fans with her unwavering commitment to both recording new music and captivating audiences on a sold-out nationwide tour.
Amidst her demanding schedule, the 33-year-old singer-songwriter made a stylish entrance at Electric Lady Studios in New York City on Wednesday afternoon, right after announcing the highly anticipated deluxe version of her latest album, "Midnights (Til Dawn Edition)."
Taylor effortlessly showcased her impeccable springtime style as she emerged from an SUV, clad in an exquisite all-white ensemble.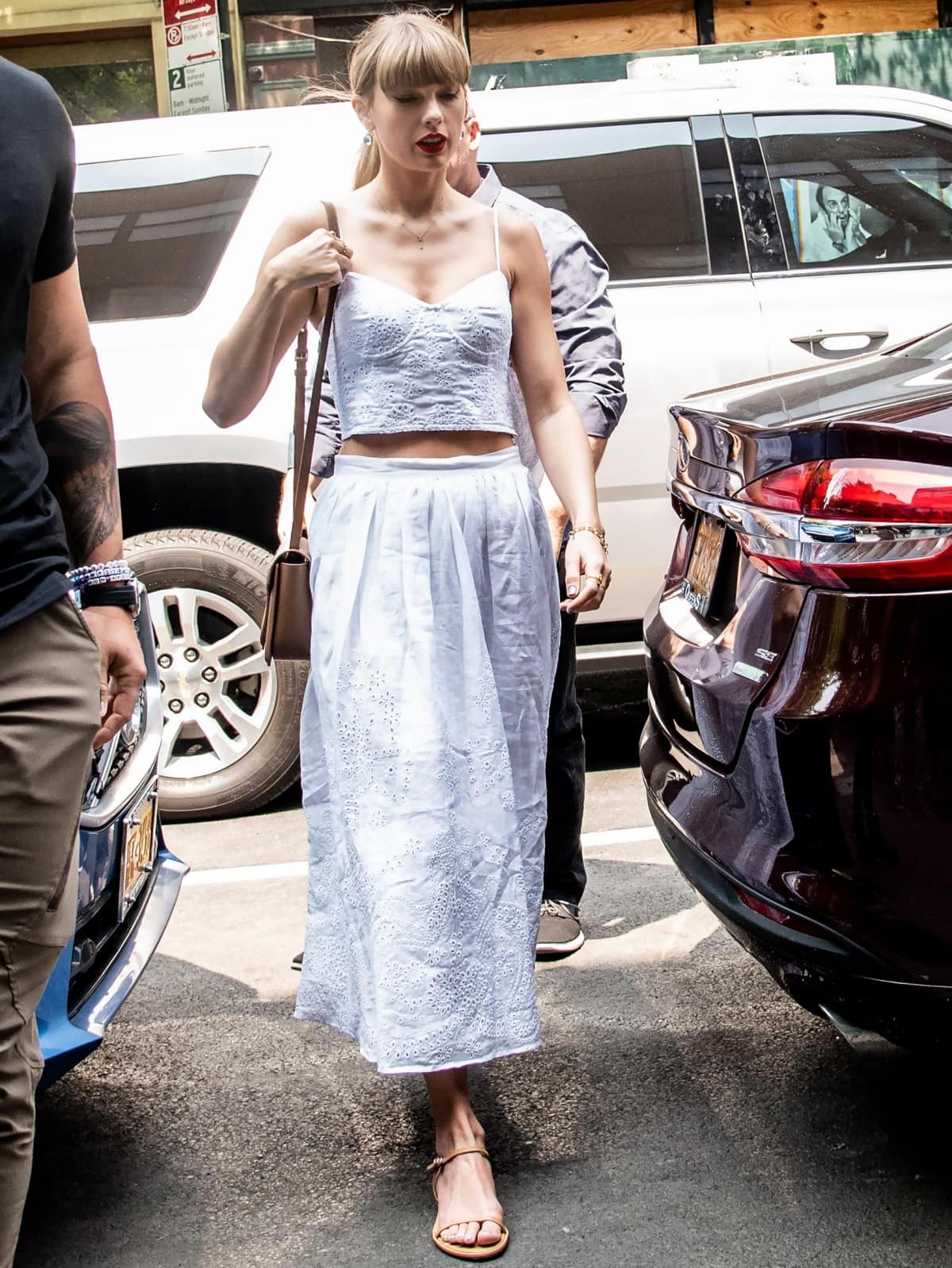 Taylor Swift in a chic white Polo Ralph Lauren outfit while heading to Electric Lady Studios in New York City on May 24, 2023 (Credit: Janet Mayer / Startraksphoto)
The Grammy Award-winning artist exuded sophistication, wearing a captivating white embellished Polo Ralph Lauren eyelet linen bustier, held delicately in place by slender straps around her shoulders.
Complementing the top, Taylor donned a matching ankle-length Polo Ralph Lauren eyelet linen midi skirt, draping elegantly as she moved.
The wealthy singer opted for Aeyde Nettie hazelnut nappa leather shoes with ankle buckles to complete her chic look, providing comfort and style.
Remaining loyal to a neutral color palette, Taylor effortlessly carried a tan Mansur Gavriel M-framed box bag over her right shoulder, an essential accessory for her trip to the studio.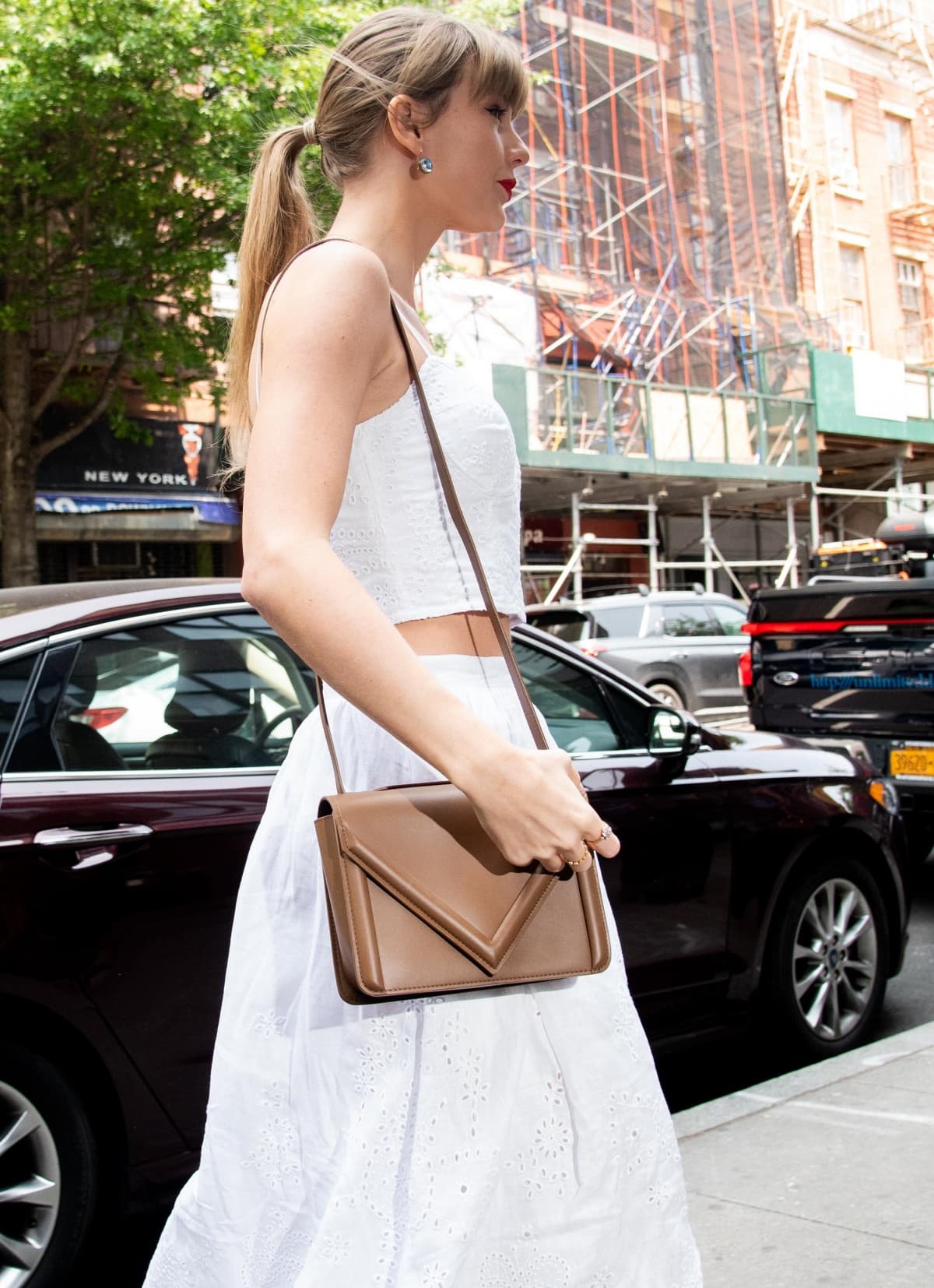 Taylor Swift carrying a tan Mansur Gavriel shoulder bag while heading to the studio (Credit: Janet Mayer / Startraksphoto)
Her bangs cascaded softly across her forehead, framing her face while her blonde locks were elegantly pulled back into a low ponytail.
Adding a touch of subtle elegance, the successful country music star adorned herself with a delicate necklace, blue, dangly Larkspur & Hawk Olivia button earrings, and a gold bracelet on her left hand, perfectly complementing her daytime outfit.
Taylor's attention to detail extended to her makeup, as she opted for her signature cat-eye and vibrant red lipstick, accentuating her natural beauty.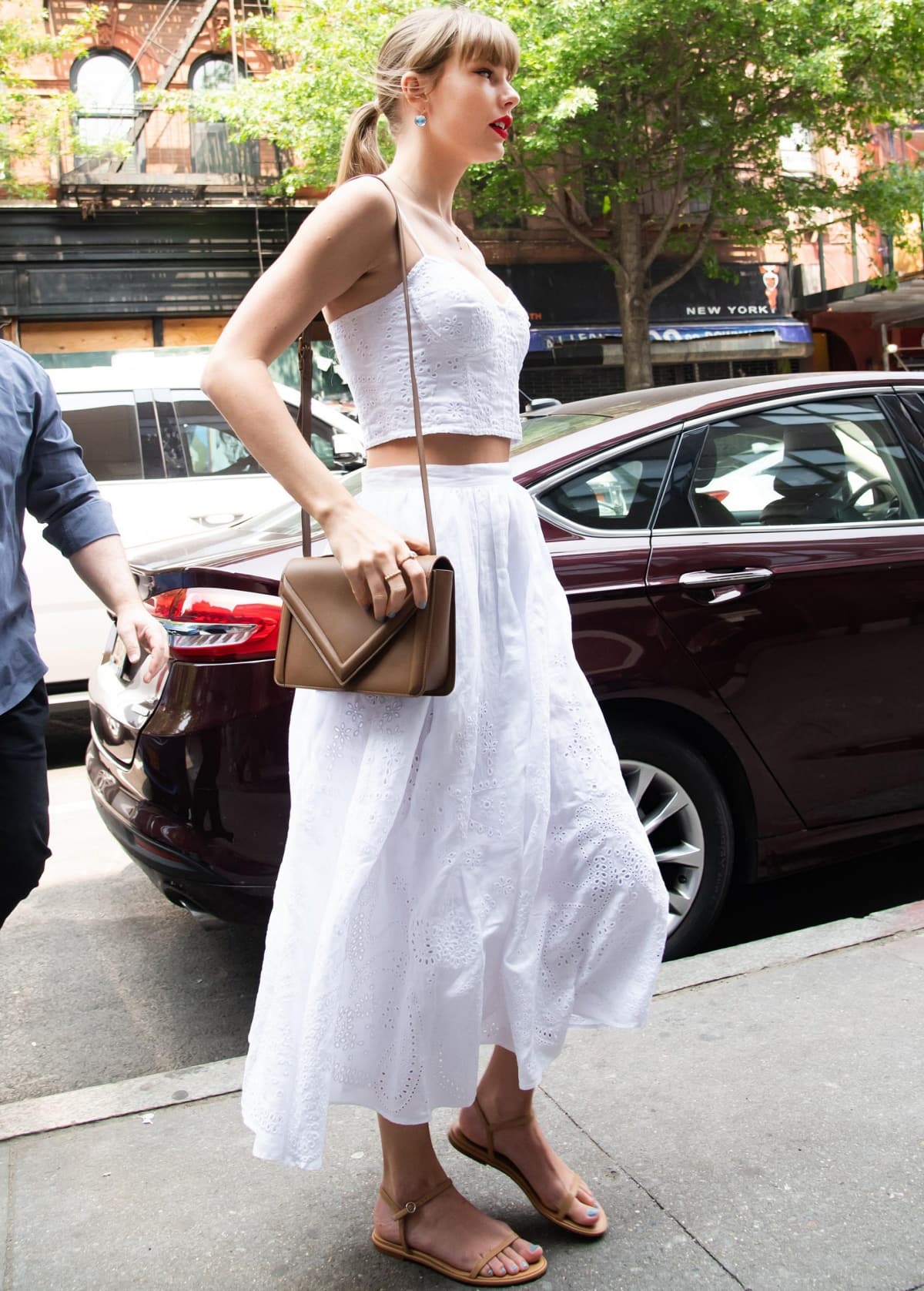 Taylor Swift looking effortlessly chic on her way to work on more music for her dedicated fans (Credit: Janet Mayer / Startraksphoto)
The "Midnights (Til Dawn Edition)" announcement marks another milestone in Taylor Swift's illustrious career. This album includes a remix of the hit song "Karma," featuring rapper Ice Spice, whom the "Fearless" singer had previously expressed her admiration for on her main Twitter page.
Taylor wrote, "Um. SO much to tell you. I'm a massive fan of this brilliant artist and after getting to know her I can confirm: she is THE ONE to watch. So delighted to say that Karma Featuring the incredible @icespice will be out TOMORROW night at MIDNIGHT ET as a part of the new Midnights (Til Dawn Edition) deluxe album that you can pre-order now at store.taylorswift.com!"
Ice Spice is known for her popular tracks such as "Boy's a Liar Pt. 2" and "Princess Diana" featuring Nicki Minaj.
Furthermore, the album includes the previously Target exclusive track "Hits Different" and an extended version of "Snow on the Beach," featuring additional vocals by Lana Del Rey.
Taylor revealed, "You asked for it, we listened: Lana and I went back into the studio specifically to record more Lana on Snow on the Beach."
Fans didn't have to wait long to enjoy the new album, as "Midnights (Til Dawn Edition)" is already available starting this Friday, May 26, at midnight.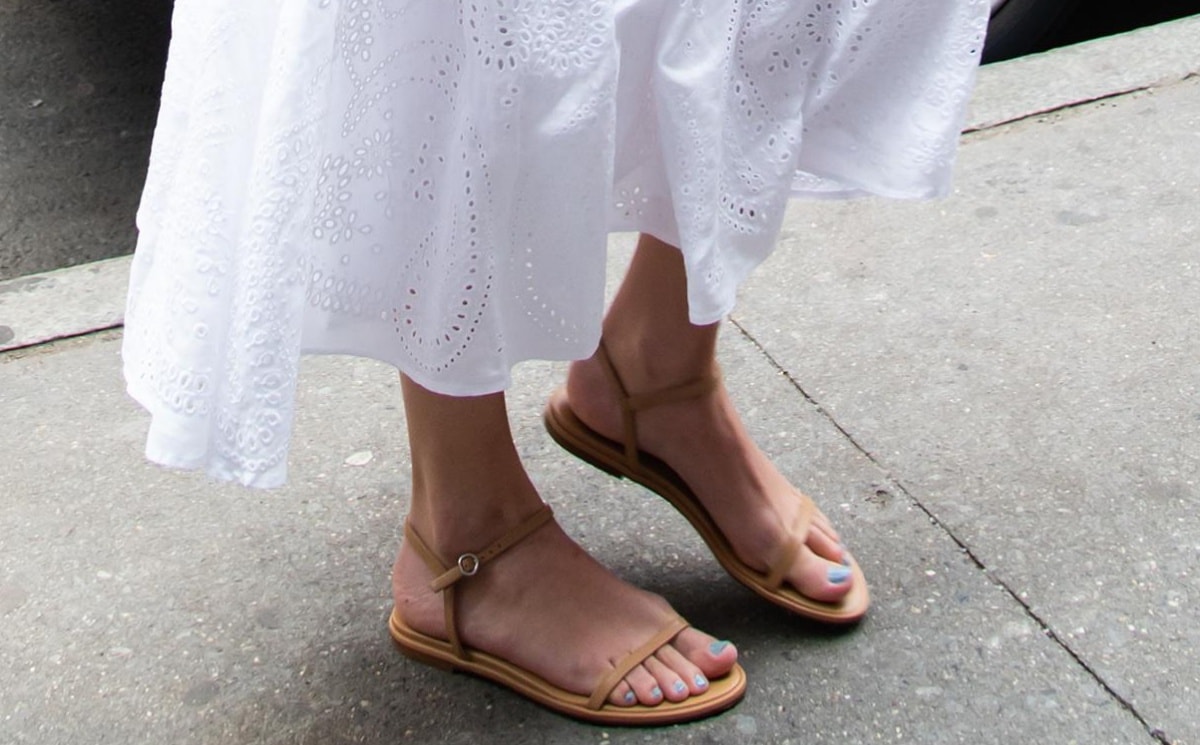 Taylor Swift wearing Aeyde Nettie hazelnut nappa leather sandals on the way to Electric Lady Studios in New York City (Credit: Janet Mayer / Startraksphoto)
In an exclusive treat for concertgoers, physical copies of the album are available exclusively on-site at Taylor Swift's Eras Tour East Rutherford shows at MetLife Stadium in New Jersey, starting at 12:30 p.m. EST.
Taylor also shared exciting details about the album, mentioning "a never-before-heard Midnights vault track called 'You're Losing Me.'" This new song holds significance as it was likely written during her relationship with Joe Alwyn before their breakup in March.
To provide a glimpse of the new songs, "The Man" singer shared photos featuring the Midnights (The Til Dawn Edition) and the original Midnights LP.
Swifties are eagerly anticipating the release of Speak Now (Taylor's Version), but Taylor Swift has a surprise for them while they wait. She has collaborated with emerging drill-pop rapper Ice Spice to create a remix of "Karma." Swift expressed her admiration for Ice Spice,… https://t.co/NJM7daWSDf

— Your Next Shoes (@yournextshoes) May 26, 2023
Additionally, she dropped hints about a potential music video by uploading an image of herself alongside Ice Spice on steps that seemed to lead up to space.
Aside from her new deluxe album, Taylor has been involved in numerous other projects. During her Nashville show on May 5, she announced that Speak Now (Taylor's Version) would be available on July 7.
The reimagined edition of her third studio album will feature 22 songs, including six captivating new tracks from the vault.
This announcement came two months into Taylor Swift's Eras Tour, which commenced in Arizona in March and has been delighting fans with surprise songs, special guests, and extensive setlists, keeping the excitement alive throughout the tour.
Taylor Swift is busy going on tour, making new music, and arranging special collaborations for her fans (Credit: Janet Mayer / Startraksphoto)