Taylor Swift shone brightly at the 2023 Grammy Awards in Los Angeles, stunning the audience in a glittering midnight blue gown.
The wealthy award-winning singer-songwriter made a strong fashion statement on the red carpet, effortlessly combining glamour and sophistication.
On Sunday, February 5th, Taylor Swift stunned in all midnight blue, wearing a Roberto Cavalli two-piece ensemble consisting of a crop top with long sleeves and a coordinating floor-length skirt, all of which were embroidered with crystals.
At the 2023 Grammys held in Los Angeles on February 5, 2023, Taylor Swift arrived in a stunning blue ensemble designed by Roberto Cavalli (Credit: BauerGriffin / INSTARimages)
The outfit included a long-sleeved turtleneck for a more subdued take on the Grammys red carpet. A flowing, form-fitting skirt with a mermaid hem gave the turtleneck a contemporary edge, and the exposed midriff was a delightful contrast.
Over 136 carats of genuine purple sapphires, Paraiba, and kite-shaped diamond earrings by Lorraine Schwartz cost $3 million and complemented the outfit.
She accessorized her chrome manicure with a set of purple sapphire and white diamond inlay rings, a ring with a purple and blue sapphire in a mixed shape, and a third sapphire band to complement the earrings.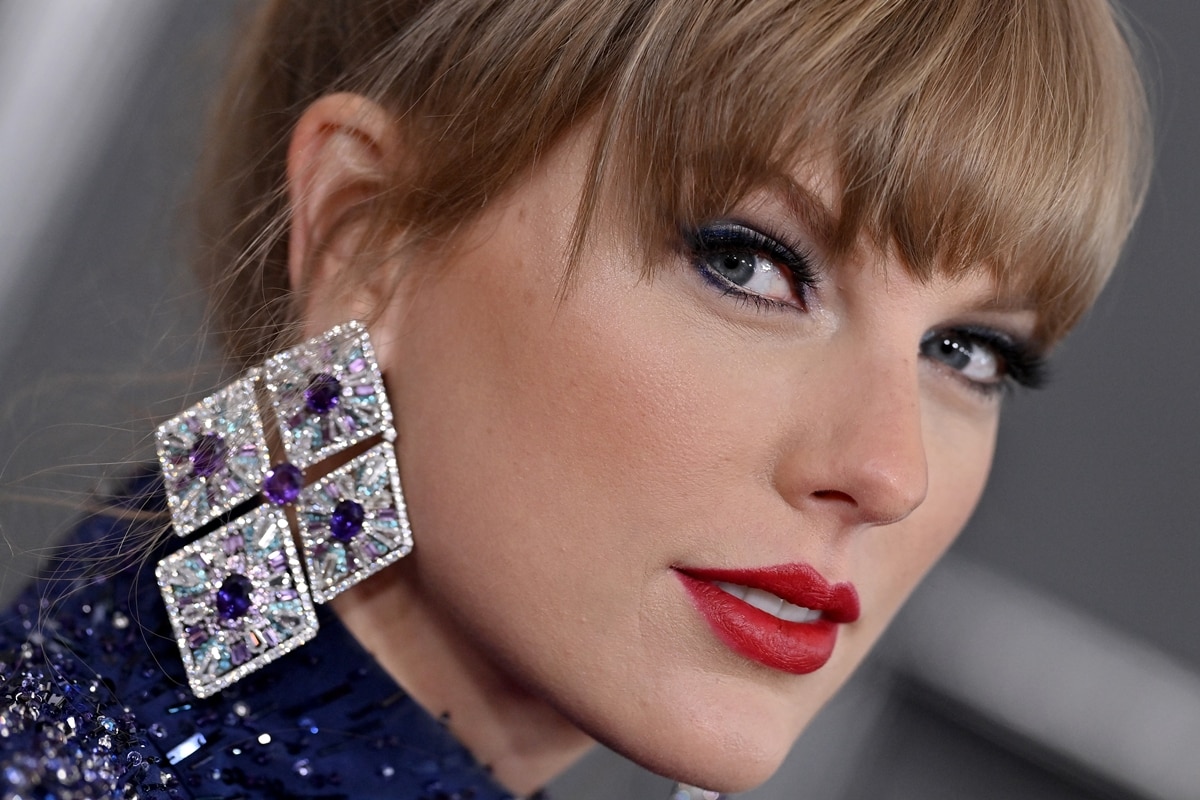 Taylor Swift paired the outfit with jaw-dropping sapphire and diamond earrings, red lips, and blue eyeshadow for makeup (Credit: BauerGriffin / INSTARimages)
The 35-year-old artist finished off her ensemble with a few beauty statements. Swift wore her signature bangs and a sexy updo. She experimented with the complexion on her eyelids by applying smokey cobalt eyeshadow to go along with her distinctive fiery red lip.
As she gets ready for her Eras Tour in March, the ensemble seemed to pay homage to her various musical eras: a midnight blue dress for her latest Midnights album, a red lip for Red (Taylor's Version), and Betty platform sandals by Giuseppe Zanotti, which may have been a nod to her Grammy for Folklore. You can buy her shoes on sale at Farfetch.
Since her Speak Now Tour attire was made by Roberto Cavalli, fans speculated that her two-piece may be another Speak Now (Taylor's Version) Easter egg.
The singer-songwriter joined the most significant event in music because she was up for four awards, including Song of the Year for "All Too Well (10 Minute Version)" and Best Music Video for the song's accompanying short film, which Swift directed.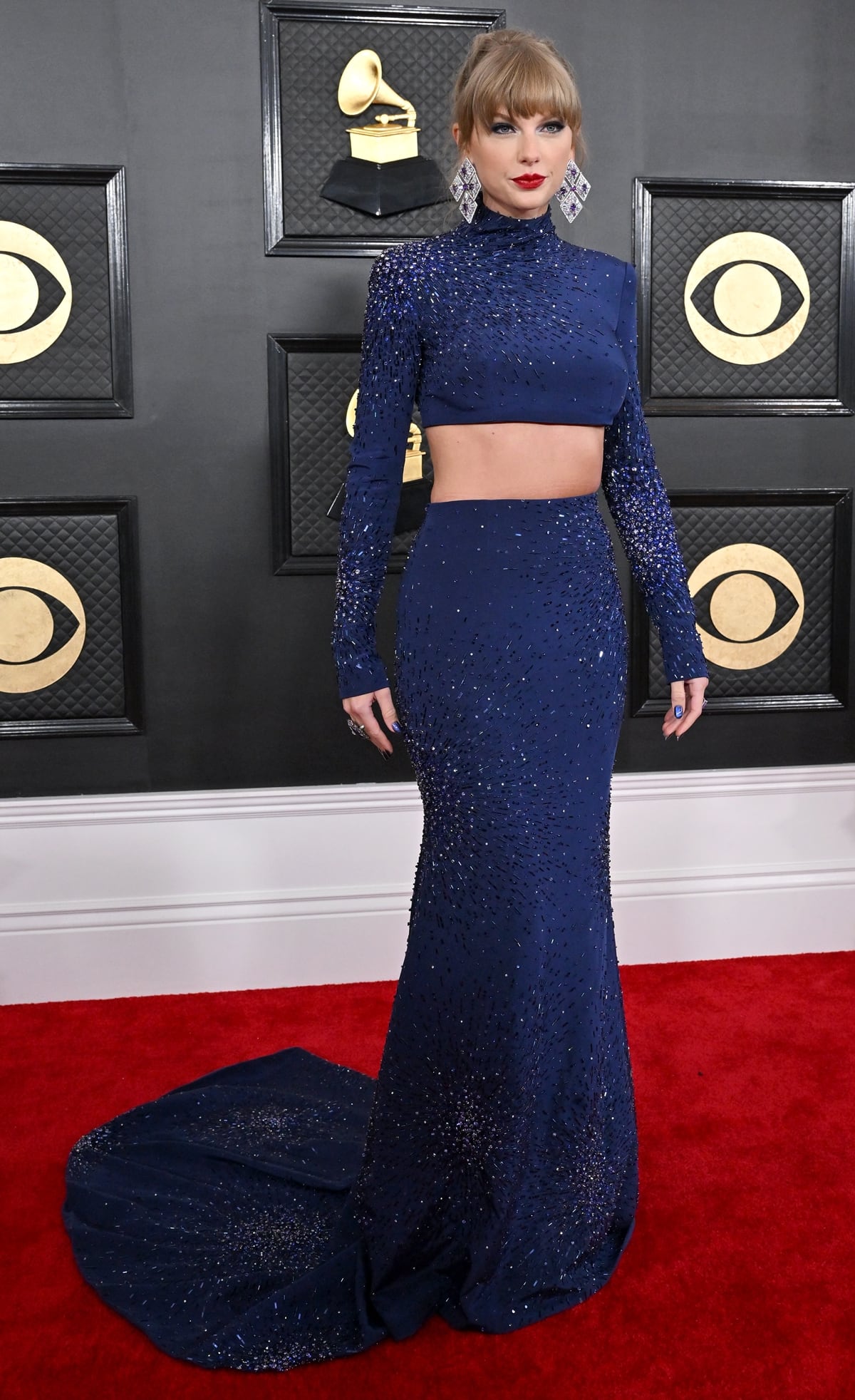 Taylor Swift wore a two-piece set, styled by Joseph Cassell Falconer, featuring a long-sleeved mock-neck crop top and matching maxi skirt, both adorned with delicate beadwork resembling a night sky dotted with stars (Credit: BauerGriffin / INSTARimages)
Taylor Swift also received nominations for "I Bet You Think About Me (Taylor's Version) (From the Vault)" nominated for Best Country Song, and "Carolina" from Where the Crawdads Sing for Best Song Written for Visual Media.
Due to her Song of the Year nod, Taylor Swift was incredibly enthusiastic about the Grammys.
After the 2023 Grammy Awards nominees were announced, Swift posted an emotional Instagram story. She said, "So many reasons to lose my damn mind today, but All Too Well 10 is the song I am the most proud of, out of anything I've ever written."
Taylor Swift continued, "The fact that it's nominated for Song of the Year at the Grammys, an award I've never won, that honors the songwriting…it's momentous and surreal".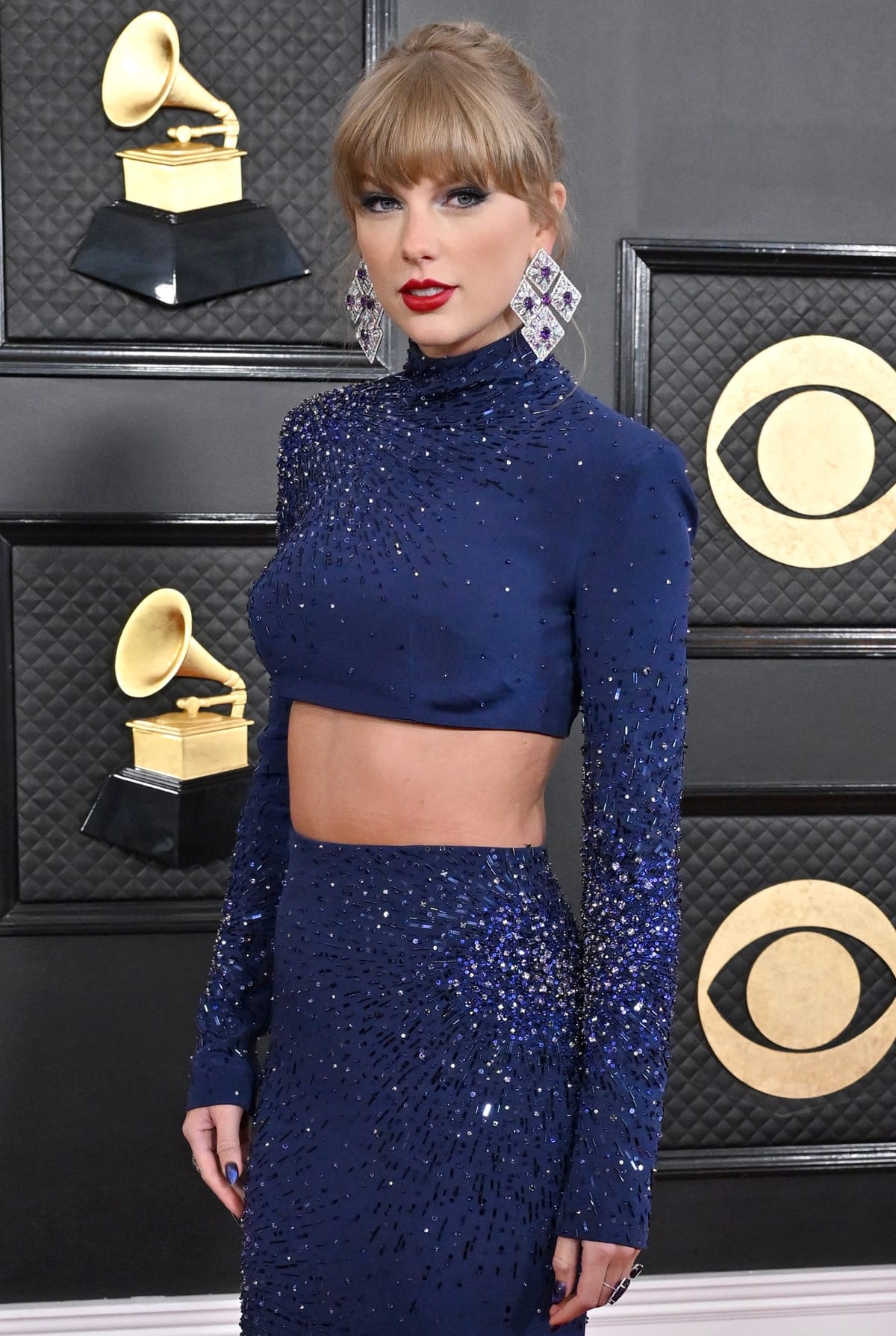 Taylor Swift's crop top and maxi skirt paid homage to her chart-topping album "Midnights" with its midnight blue color and dazzling white and tonal embellishments, referencing her hit song "Midnight Rain" (Credit: BauerGriffin / INSTARimages)
She also made a touching tribute to Liz Rose, the co-writer of the song "All Too Well." Swift said in the post that the two had just ended a call during which they "reminisced" about their first collaboration, which took place when the singer was just 14 years old.
Swift stated, "She believed in me then, and we're nominated together now. It's just so cute, and I can't cope."
Before turning to her fans and declaring, "And think about how this wouldn't have happened without you," Swift concluded, "I want to ramble about the magic and mystery of time and fate and reclaiming my art, but instead I think I'll go scream for ten minutes straight."
Although she has already received six Song of the Year Grammy nominations, Taylor Swift didn't take home Award, but her win for Best Music Video for "All Too Well: The Short Film" was a record-breaker.
She made history when she brought home the prize as the first artist to win after directing her music video. The singer turned to Twitter to express her delight and appreciation for receiving such a prestigious award.
Swift expressed her feelings in a tweet: "I can't put into words what this means to me. For The Recording Academy and my peers to acknowledge me as a director, and in doing so, acknowledge my work to try and reclaim my music… I'm blown away.'"
The singer-songwriter thanked her "fans who willed this to happen" in her message.
Taylor Swift's video co-producer, Saul Germaine, delivered an acceptance statement for her during a pre-televised segment of the 2023 Grammy Awards, as she could not attend the ceremony.
He stated, "It was an incredible honor to tell this story with you," referring to his experience working with her and the film's other two stars, Sadie Sink and Dylan O'Brien.
With this win, Taylor Swift already collected 12 Grammys from 46 nominations for her music career.