Rihanna has consistently been a fan favorite among Met Gala attendees, having made iconic appearances that earned her a reputation as the queen of Met Gala.
After skipping last year's festivities, the 35-year-old singer made a remarkable return to the Met Gala steps with her boyfriend A$AP Rocky Monday.
The couple was fashionably late—arriving after 10 PM—but killed the fashion game regardless as their ensemble reflected this year's theme: Karl Lagerfeld: A Line of Beauty.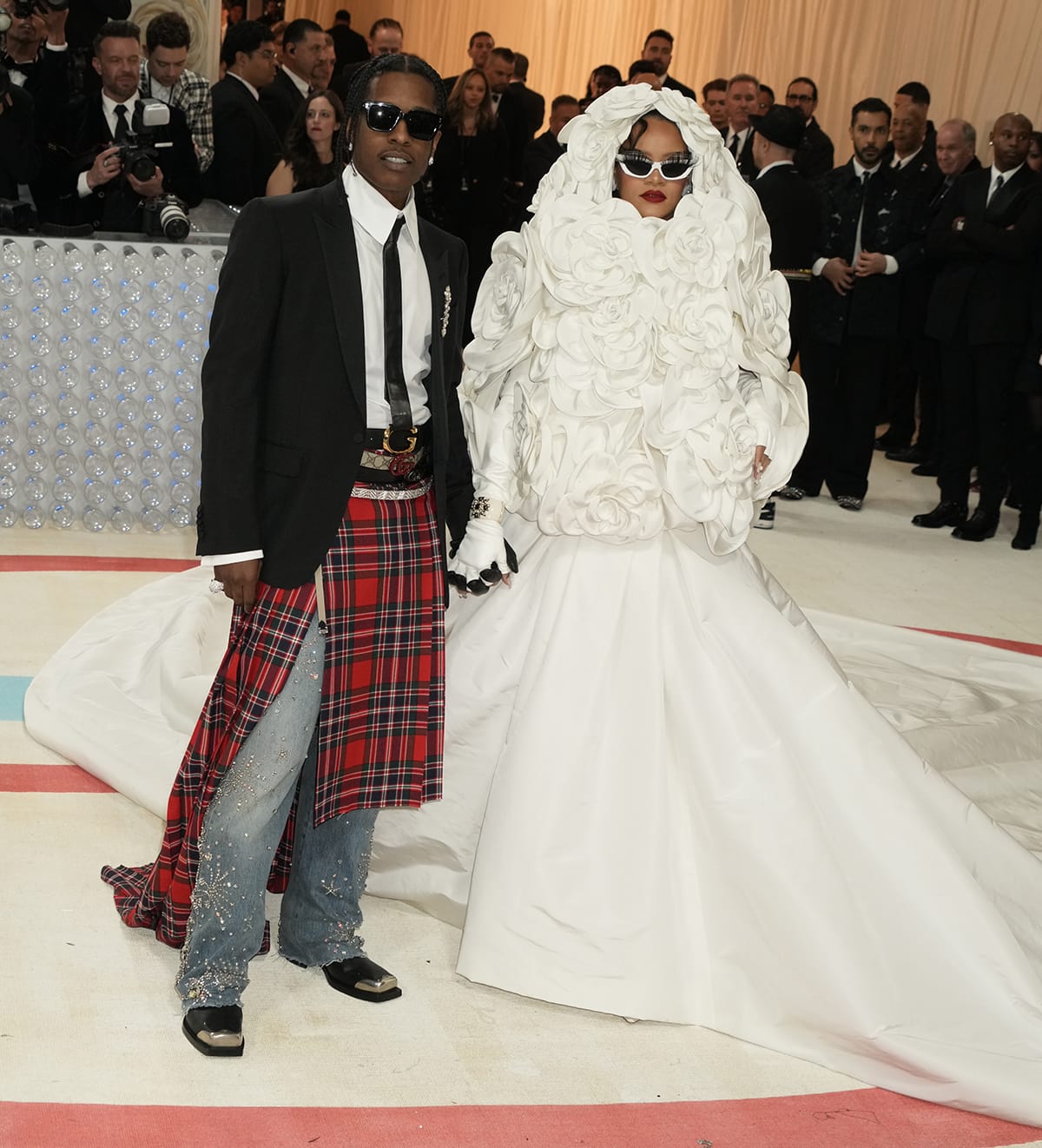 A$AP Rocky and Rihanna arrive late at the 2023 Met Gala held at the Metropolitan Museum of Art on May 1, 2023 (Credit: Jennifer Graylock / INSTARimages)
Building upon her status as a true icon, Rihanna solidified her place as a fashion queen at the event, stunning everyone with her arrival in a breathtaking white Valentino bridal gown.
The gown featured a stunning 3D camellia flower-embroidered hooded cape that elegantly wrapped around her head and torso, making for a dramatic and unforgettable entrance.
As per the house's Instagram post, the silk-faille gown was specially designed by Pierpaolo Piccioli for Rihanna. It featured 30 camellias, 500 petals, and 25 leaves and was crafted by 30 seamstresses.
It also had a 5-meter-long train that practically covered the famous Metropolitan Museum of Art staircase.
Rihanna wearing a white Valentino bridal gown with a 3D camellia flower-embroidered hooded cape and a 5-meter-long train (Credit: Jennifer Graylock / INSTARimages)
The soon-to-be mama of two later removed the cape, revealing a fitted bodice highlighting her growing baby bump. It had delicate spaghetti straps, a plunging neckline, and a matching rosette adornment.
While her shoes were barely visible beneath her dress, RiRi wore a pair of white pumps with wraparound satin laces and a single rosette atop the pointed toe.
Sticking to the evening's theme, Rihanna paid homage to the late Karl Lagerfeld with fingerless gloves and bizarre white cat-eye sunglasses adorned with false eyelashes.
Rihanna showcases her growing baby bump in the white gown that features a rosette-adorned plunging neckline and thin spaghetti straps (Credit: Jennifer Graylock / INSTARimages)
Kudos to stylist Jahleel Weaver for creating Rihanna's look, which was finished with Bulgari High Jewelry.
The Barbadian beauty upped the ante with camellia-shaped pearl earrings and a gorgeous platinum necklace set with 118 Akoya cultured pearls and different kinds of diamonds, including five pear diamonds, seven pear diamonds, 109 round diamonds, 561 fancy shape diamonds, and pave-set diamonds.
When it came to her beauty look, Rihanna kept it simple yet stunning, opting for bold red lips and a gorgeous half-up, half-down hairstyle that showcased her raven locks.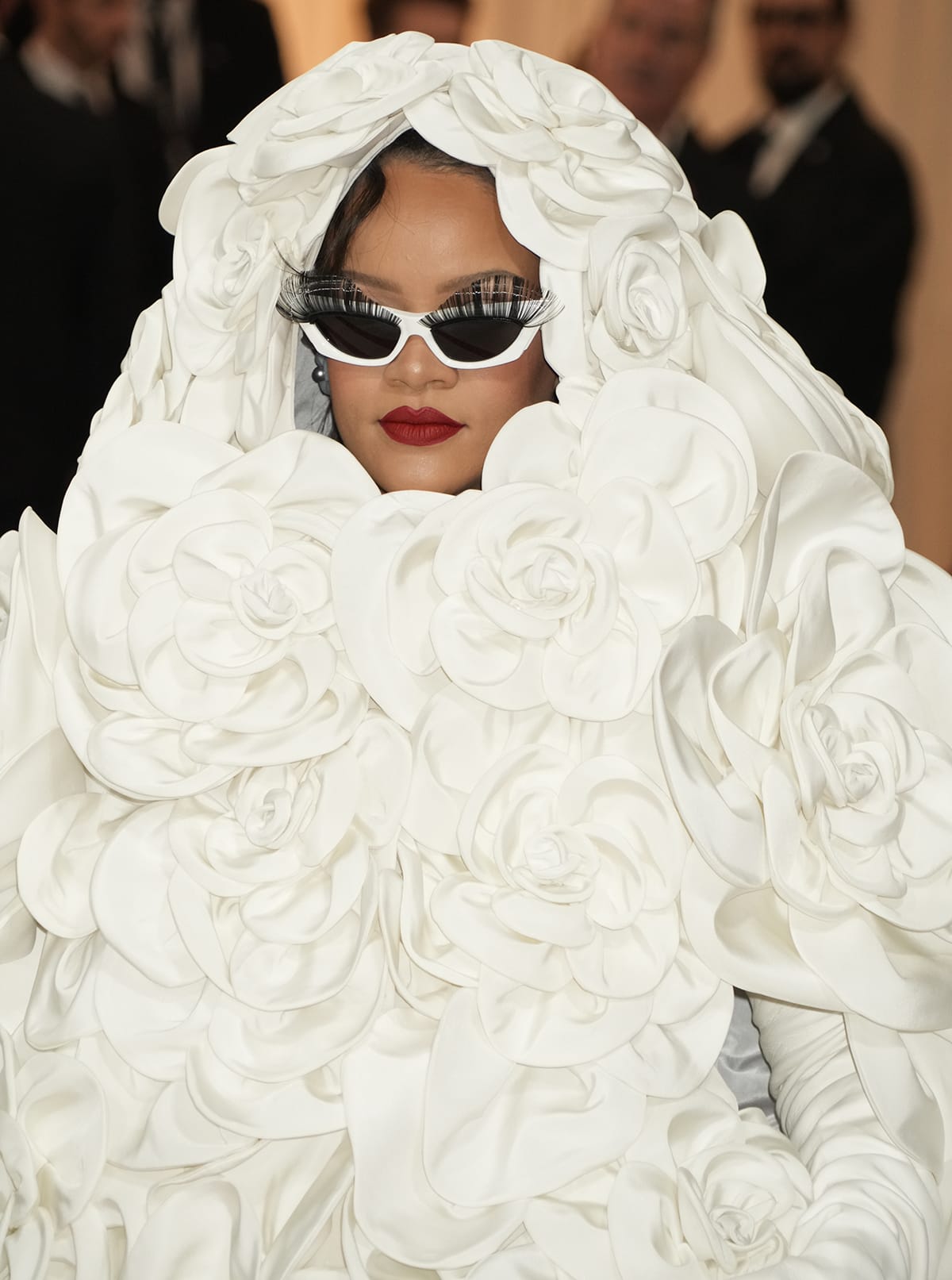 Rihanna adds a pop of bold red lip color to her all-white bridal look and wears a pair of sunglasses with false eyelashes adornment (Credit: Jennifer Graylock / INSTARimages)
A$AP Rocky, on the other hand, recreated an iconic look worn by Lagerfeld at his Spring/Summer 2005 fashion presentation.
The rapper's Gucci ensemble featured a white dress shirt, a black blazer with a silver brooch, and a high-low red kilt layered over a pair of embellished baggy jeans.
He completed the outfit with a black tie, a stack of belts, a black fingerless glove, and steel-tipped black boots.
A$AP Rocky recreates Karl Lagerfeld's 2005 look with a Gucci high-low kilt, embellished jeans, white shirt, and black blazer (Credit: Jennifer Graylock / INSTARimages)