Rihanna has just been named the 11th national hero of Barbados, making her the second woman and the youngest person to receive the special honor.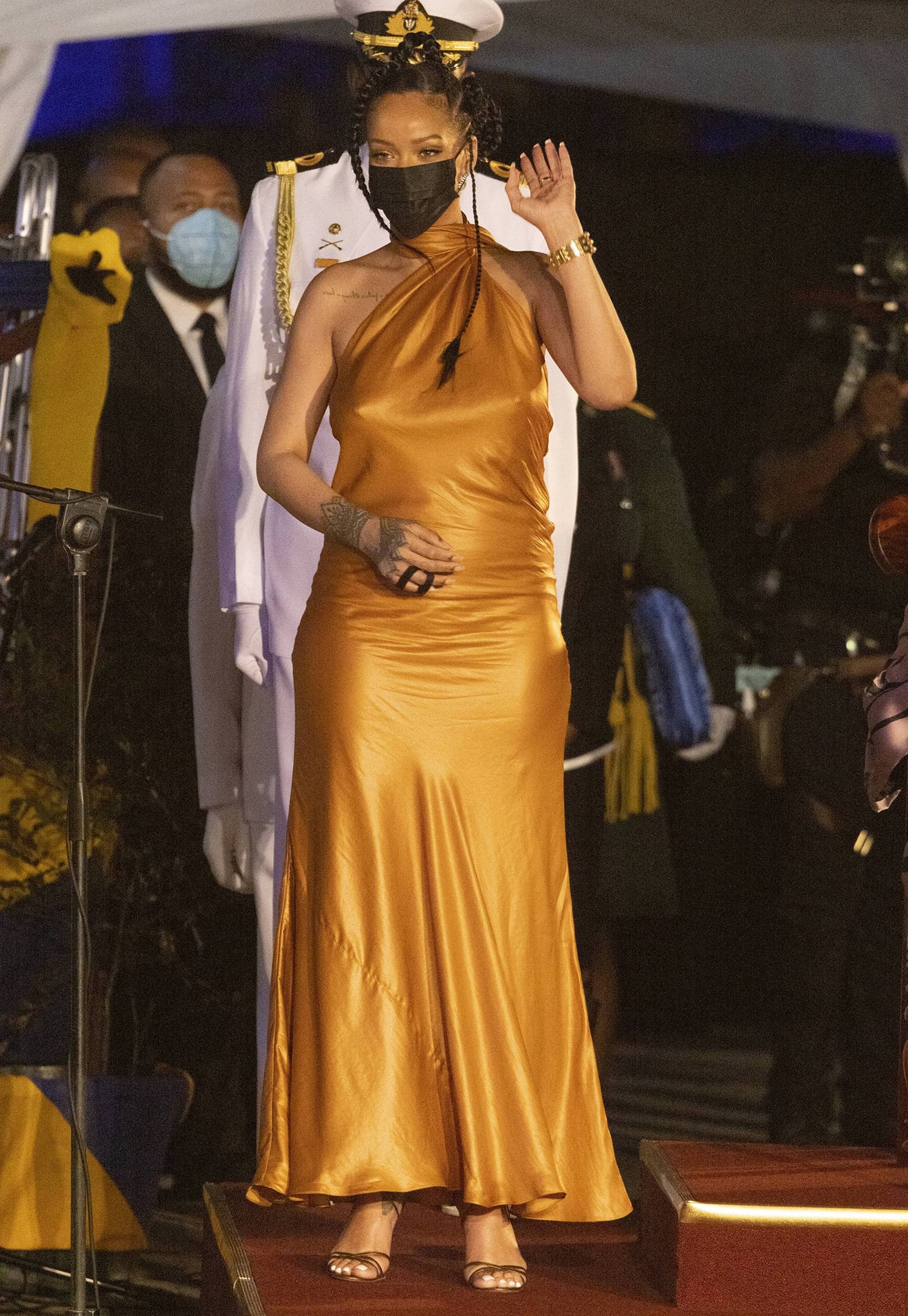 Rihanna was named a National Hero of Barbados during the presidential inauguration ceremony in Bridgetown, Barbados on November 30, 2021 (Credit: Mega / WENN)
The multiplatinum superstar was honored by Barbadian Prime Minister Mia Mottley in a ceremony marking the island's separation from the British monarchy to become a republic nation, ending nearly 400 years of British rule.
Former Barbados Governor General Sandra Mason was sworn in as the country's first elected president at the inauguration.
Rihanna goes braless underneath her orange silk Bottega Veneta dress (Credit: Mega / WENN)
Held at the singer's hometown of Bridgetown, Rihanna, who was appointed an official ambassador for culture and youth in Barbados in 2018, accepted her new title in a $2,700 orange silk Bottega Veneta dress.
"On behalf of a grateful nation, but an even prouder people, we therefore present to you, the designee, for national hero of Barbados, ambassador Robyn Rihanna Fenty," the Prime Minister told the singer.
"May you continue to shine like a diamond and continue to bring honor to your nation by your words, by your actions, and to do credit wherever you shall go," she added.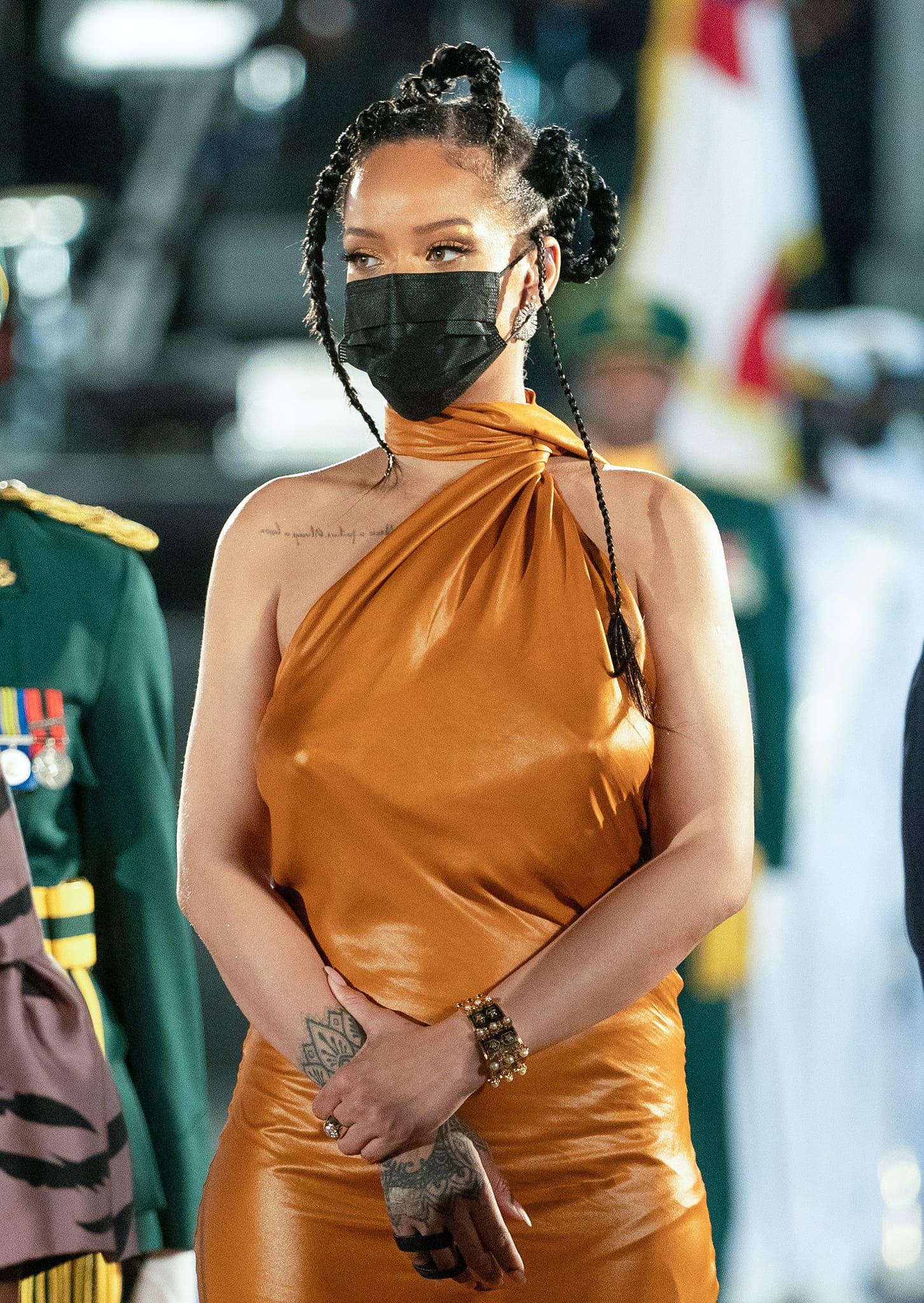 Rihanna's dress is made from fluid twill and features a halter neck (Credit: Mega / WENN)
Rihanna's satin halter neck dress hails from the Italian luxury fashion house's Fall 2021 collection.
She went braless underneath the striking gown that features a backless design and a flattering fitted bodice that flows into a softly pleated ankle-length skirt.
One of today's hottest women, Rihanna accessorized her look with statement earrings, a bracelet, and a ring, and slipped her feet into a pair of brown crisscross heels.
Rihanna wears her hair in braids with minimal makeup accentuating her eyes (Credit: Mega / WENN)
Is Rihanna Pregnant?
Rumors about Rihanna's possible pregnancy began circulating on social media following her appearance in Barbados.
Fans believed she was pregnant with ASAP Rocky's baby after seeing a visible baby bump under her long orange fluid twill bodycon gown.
A few days later, RiRi shut down the rumors in an alleged DM exchange with a fan, who's requesting an invite to her baby shower.
View this post on Instagram
The fan, named Jen, wrote to Rihanna: "Can I come to the baby shower sis!? True or not your babies are going to be beautiful. Sorry everyone's up in your uterus right now."
The Fenty Beauty mogul responded: "Haaaaa! Stawwwp! You ain't came to the first 10 baby showers! Y'all breed me every year dammit lol."
Rihanna Opens Up About Her Future Plans for Motherhood
Last year, Rihanna discussed with British Vogue about wanting to become a mother and having three or four kids.
When asked about her future plans, Rihanna said, that ten years in the future, she hoped to have kids of her own. "Ten years? I'll be 42, I'll be ancient. I'll have kids—three or four of 'em."
She added she would still have children even if without a partner. "Hell. yeah, [I'd have kids on my own]. I feel like society makes me want to feel like, 'Oh, you got it wrong,' They diminish you as a mother if there's not a dad in your kids' lives. But the only thing that matters is happiness, that's the only healthy relationship between a parent and a child. That's the only thing that can raise a child truly, is love."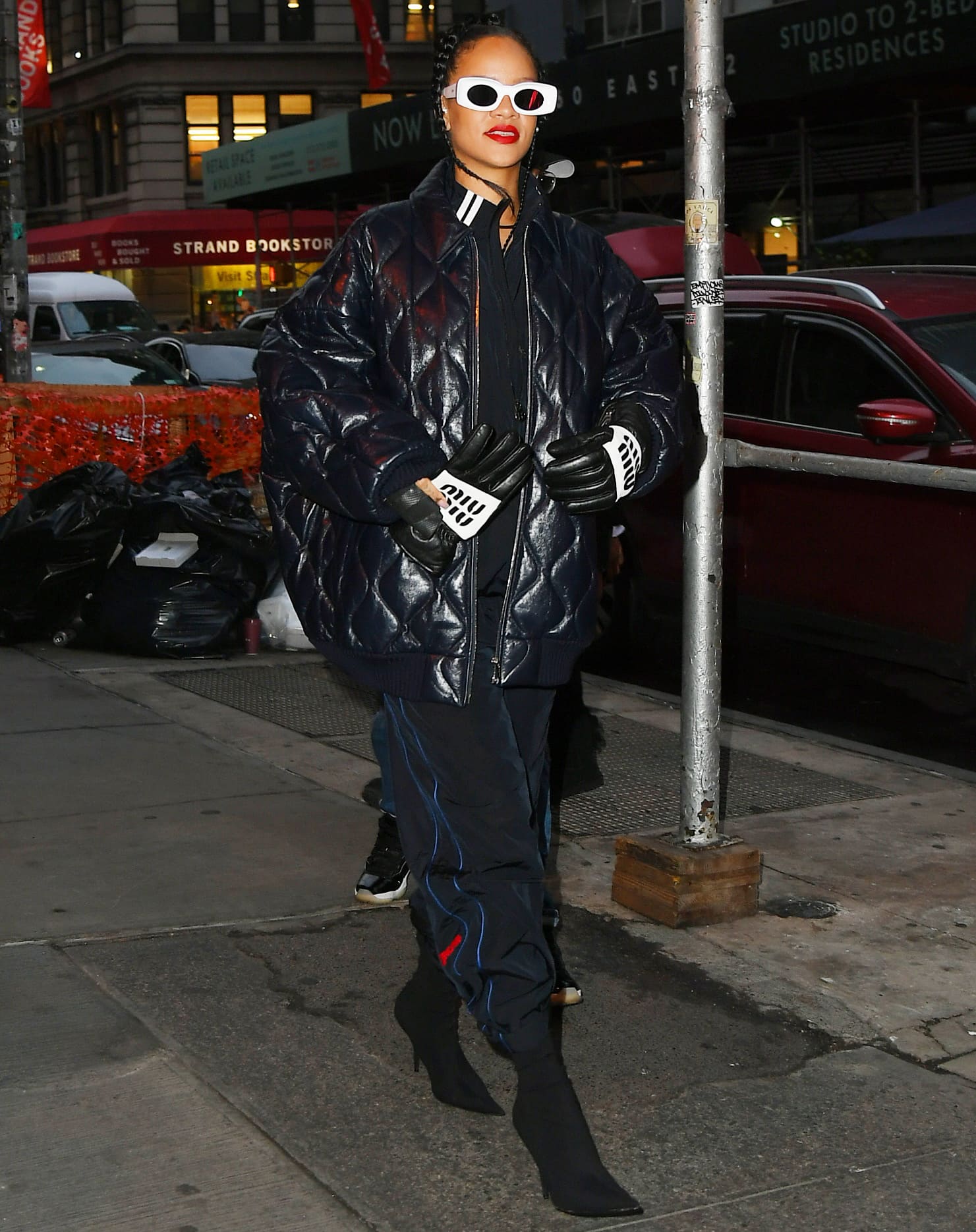 Rihanna heads to SoHo for some retail therapy on December 2, 2021 (Credit: Mega / WENN)
Celebrating her new title, Rihanna was pictured treating herself to some well-deserved shopping trip in New York City's SoHo district recently.
The 33-year-old singer bundled up in a shiny black quilted coat from Miu Miu, worn over a black Martine Rose tracksuit. It included a $909 oversized nylon-blend track jacket and matching pants.
Rihanna looks chic in her Miu Miu quilted jacket and Martine Rose tracksuit (Credit: Mega / WENN)
She tucked the bottoms into a pair of the iconic Knife ankle boots by Balenciaga.
Fashioned from black crepe jersey, these sleek pull-on boots feature the signature exaggerated pointed toe and a mid-high stiletto heel that measures about three inches.
Rihanna gave her look a sleek finish with Balenciaga Knife Crepe Jersey Boots
Balenciaga Knife Crepe Jersey Boots, $995 at Farfetch
These Balenciaga boots feature killer pointed toes and high stiletto heels
Looking chic as always, Rihanna wore her raven tresses in braids and accentuated her features with minimal makeup and a pop of red lip color.
Adding style to her chic streetwear, Rihanna wore $360 Loewe "Paula's Ibiza" sunglasses that feature silver mirrored oval lenses and thick square frames. She further kept cozy as she teamed the look with $650 Miu Miu gloves leather gloves.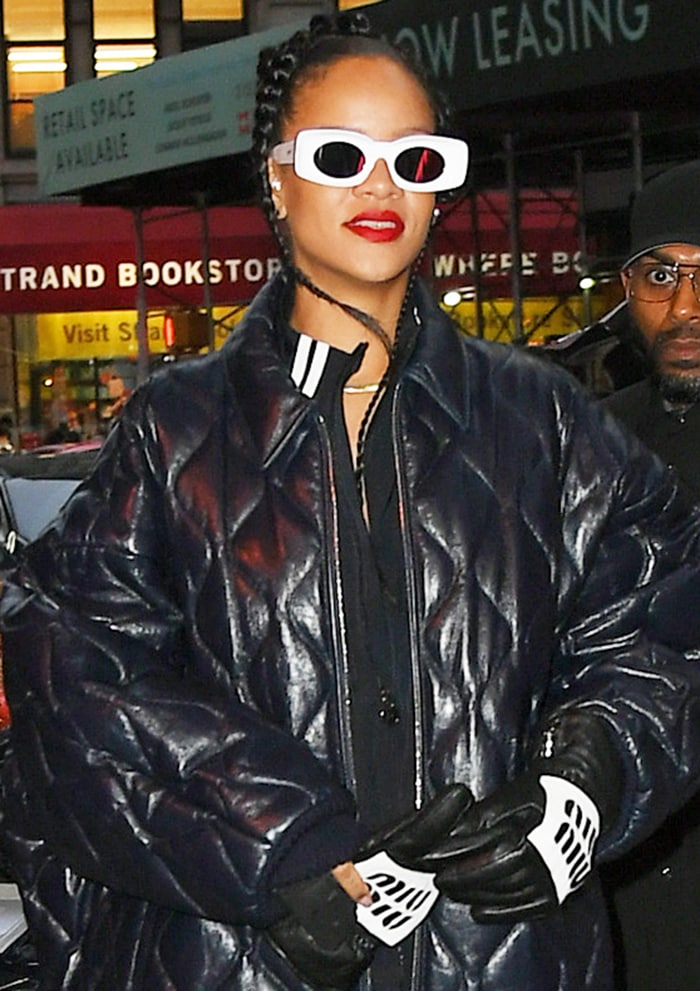 Rihanna pulls her tresses into a chic braided 'do with red lipstick