Don't tell Rihanna she looks like a million bucks, because she is worth far, far more than that.
Earlier last month, Barbados-born Robyn Rihanna Fenty (better known as Rihanna or RiRi to her fans) was named the world's richest female musician.
Singer and actress, and of course beauty manager, Rihanna (born Robyn Rihanna Fenty, 33, from Barbados Islands) was certified by Forbes as a billionaire in dollars in August 2021 (Credit: MEGA / WENN)
That's right — Rihanna is now a billionaire. Forbes estimates that she is worth $1.7 billion, making her the second richest female entertainer, topped only by Oprah Winfrey.
Rihanna's journey to becoming a billionaire was no walk in the park, but it sure was a worthwhile trip. In fact, the 33-year-old pop star and makeup mogul was not always the glitz-and-glamour celebrity we have come to know and love today.
Rihanna serves as executive producer and creative director of Savage X Fenty Show Vol. 3, which will stream exclusively on Prime Video in more than 240 countries and territories worldwide beginning September 24, 2021 (Credit: MEGA / WENN)
Rihanna was born in Saint Michael, Barbados, a small island in the Caribbean. Though the island is a tropical beauty, there was trouble in paradise.
Throughout their childhood, Rihanna and her siblings struggled to cope with her father's alcoholism, crack cocaine addiction, and abuse towards their mother.
The pop star even remembers trying to stop her father from beating her mother Monica Braithwaite, physically standing between the two as they fought.
With a net worth of $1.7 billion, Rihanna is the wealthiest female musician in the world (Credit: MEGA / WENN)
At the same time, a young Rihanna was experiencing constant and unexplainable migraines and received a multitude of CT scans as doctors scrambled to figure out what was wrong with her. Rihanna explained that it was excruciating, saying, "The doctors even thought it was a tumor because it was that intense."
Thankfully, Rihanna's headaches began to dwindle at the age of 14, and her parents divorced around the same time.
From then on, Rihanna became dedicated to her music career and soon became a quick hit. The singer first gained the public's attention in 2005 when she released her first album, Music of the Sun, which was heavily influenced by her Caribbean roots and featured her hit song, "Pon de Replay".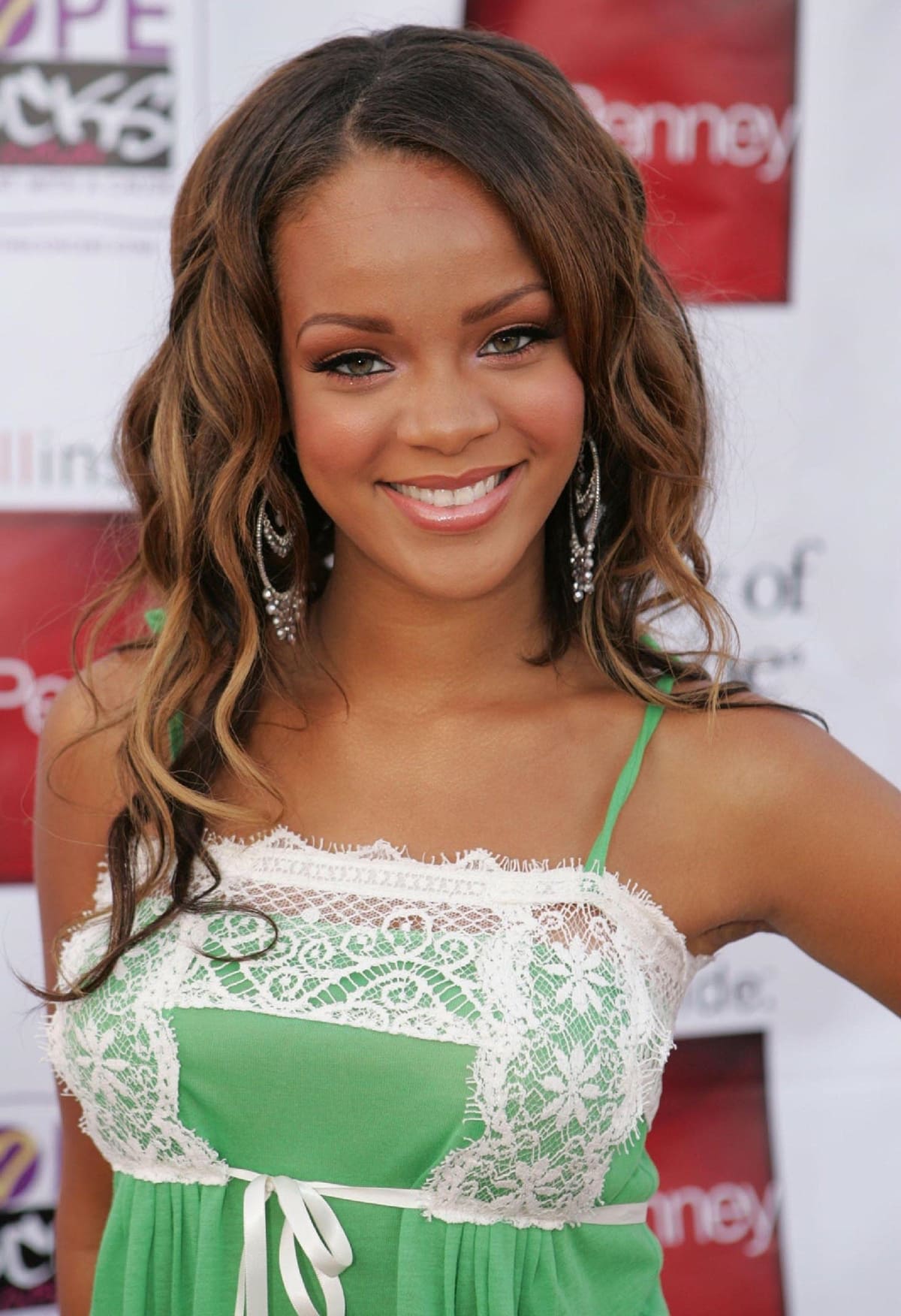 Rihanna in a green shirt for Hope Rocks held at Hollywood's Key Club on August 13, 2005 (Credit: David Livingston / WENN)
Since then, Rihanna has spellbound fans with her catchy and often soulful tracks, such as "Umbrella", "Disturbia", "Love The Way You Lie", "Rude Boy", and "B*tch Better Have My Money".
After years of churning out Billboard Hot 100 hits, Rihanna took a hiatus from music (much to the chagrin of her fans) in order to focus on building a beauty empire.
Ironically, though Rihanna is classified as the world's richest female musician, it was not her music that cinched her spot in the billionaire's club.
The majority of the pop star's wealth — roughly $1.4 billion — can actually be attributed to Rihanna's forays into being a business owner, specifically her makeup brand, Fenty Beauty, as the singer owns 50% of the company.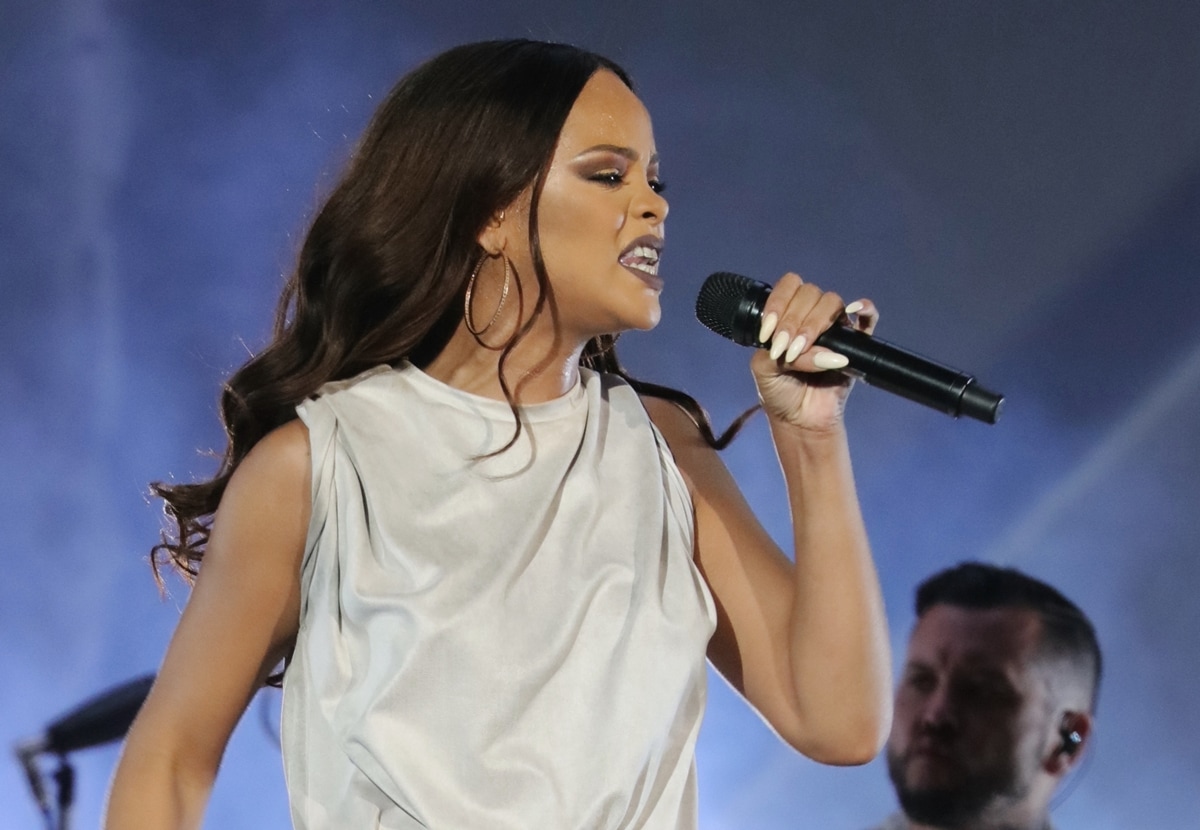 Rihanna's earnings come from her cosmetics brand Fenty Beauty (approximately $1.4 billion) and her lingerie brand Savage x Fenty (an estimated $270 million) (Credit: MEGA / WENN)
Though Fenty Beauty is Rihanna's main cash cow, she still earns a sizable income from her musical career and her lingerie company, Savage x Fenty, a brand that Forbes estimates to be worth around $270 million.
Rihanna first revealed Fenty Beauty in 2017, which was announced as a joint venture with luxury goods company LVMH.
The pop star's makeup line was subsequently released both online and in-store at the high-end makeup retailer Sephora (also owned by LVMH) to an absolutely astounding opening weekend. There simply was not enough Fenty Beauty makeup to go around!
Rihanna cites that the inspiration for Fenty Beauty was inclusivity, which is why the brand offers 50 shades of foundation for makeup-wearers of every skin tone.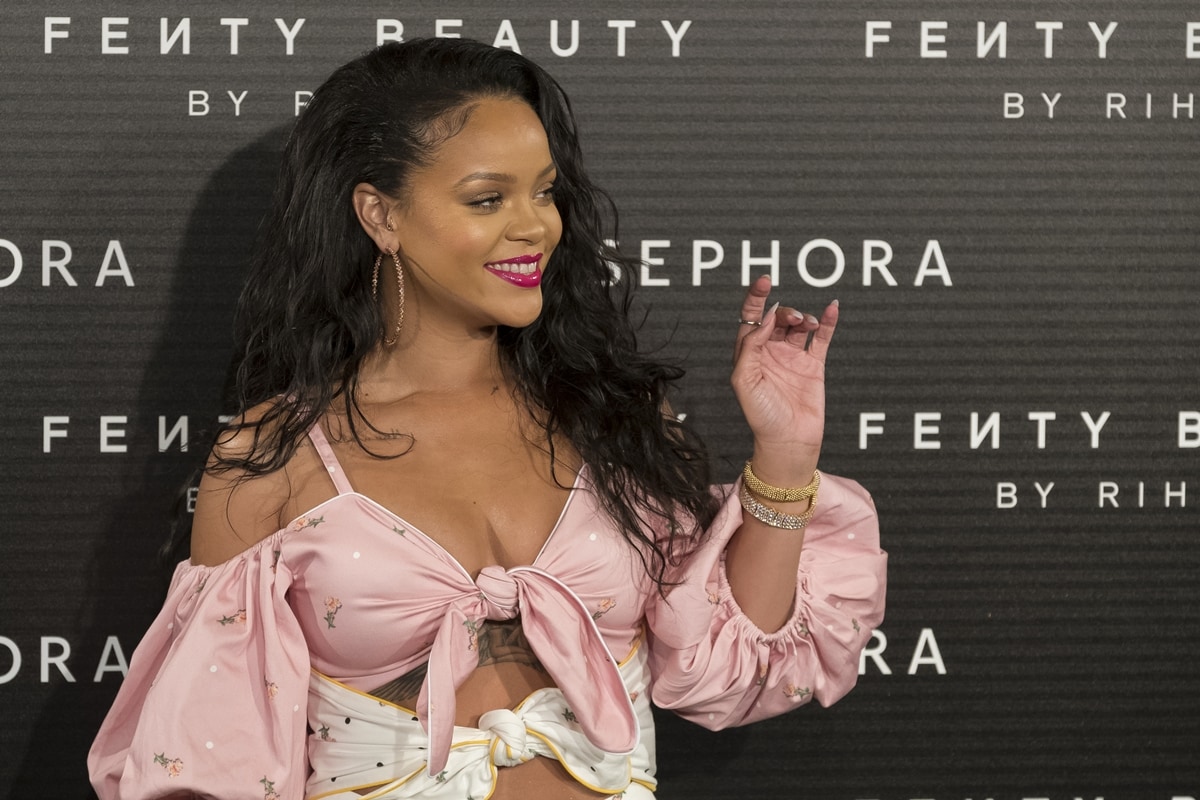 Rihanna's Fenty Beauty products are sold through cosmetics retailer Sephora and other retail stores (Credit: Oscar Gonzalez / WENN)
"A lot of women felt there were no lines out there that catered to their skin tone. It was light, medium, medium-dark, dark," explains Shannon Coyne, co-founder of Bluestock Advisors, a consumer products consultancy.
"We all know that's not reality. She was one of the first brands that came out and said, 'I want to speak to all of those different people.'"
This approach proved to be extremely lucrative for Rihanna.
After only one full year of the brand's operations, Fenty Beauty garnered more than $550 million in sales, a number which towered over other popular celebrity makeup brands, such as Kim Kardashian's KKW Beauty and Kylie Jenner's Kylie Cosmetics.
Rihanna's other foray into business, the lingerie company Savage x Fenty, was launched in 2018. The singer owns only 30% of the company, but considering that the lingerie brand is valued at $1 billion, a 30% share is nothing to sneeze at.
Cara Delevingne, Joan Smalls, and Gigi Hadid arrive at the Savage X Fenty Show Presented By Amazon Prime Video held at Barclays Center on September 10, 2019, in Brooklyn, New York City (Credit: WENN / Avalon)
Currently, Fenty Beauty is estimated to be worth $2.8 billion and the pop star and her luxury goods cohort, LVMH, are hopeful that the skincare offshoot of the brand, Fenty Skin, will live up to its predecessor.
A spokesperson from LVMH said that Fenty Skin "generated unprecedented buzz" and was off to a "very promising start".
Rihanna was seriously not joking when she sang "b*tch better have my money". When the paparazzi confronted the pop star in New York City asking her how it felt to be a billionaire, the singer was unfazed. Calm, cool, and collected, Rihanna just said, "God is good."
Rihanna wears her hair down at the LA Lakers vs. Golden State Warriors game held on March 7, 2016, in Los Angeles (Credit: WENN)
Rihanna has become an institution all on her own. The major celeb started off as just a singer but has branched out into her own brand that's so unique, it's almost impossible to copy her style and get away with it.
So, when Rihanna is on the hot-or-not chopping board, we always end up pretty divided.
In March 2016, the pop star was spotted enjoying the LA Lakers-Golden State Warriors game recently in a heavily-layered all-white outfit.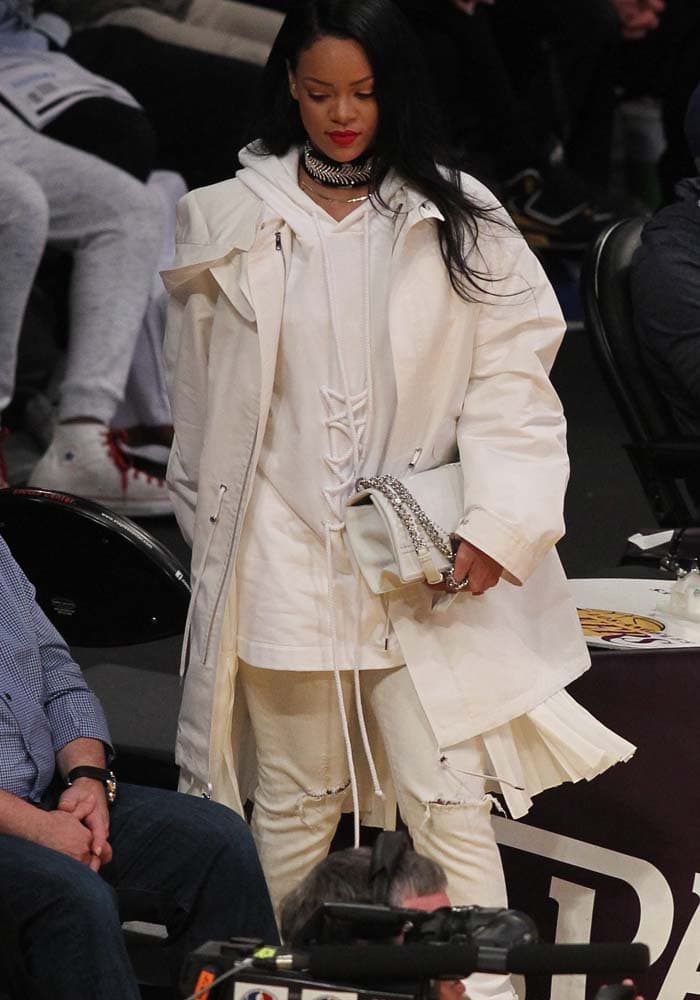 Rihanna wears a Fenty x Puma hoodie with Citizens of Humanity jeans at a recent NBA game (Credit: WENN)
Rihanna meticulously matched a pair of Citizens of Humanity distressed jeans with a Fenty x Puma hoodie, which she wore underneath a Christian Dior Spring 2016 jacket.
The 28-year-old wore a bandana from Fallon Monarch as a choker and a Christian Dior beaded bag. She finished her look with a pair of Fenty x Puma platform boots. Whew.
Rihanna wears a pair of Fenty x Puma boots court-side to an NBA game (Credit: WENN)
It could be argued that she has too much going on in her look, but we actually think she somehow pulls it off, as only Rihanna can do.
Rihanna wears an all-white ensemble at a recent LA Lakers game (Credit: WENN)
We love how she layered everything into a slouchy silhouette without completely drowning in it.
What do you think? You can check out the latest footwear from Rihanna's Fenty x Puma line at Amazon and Farfetch.
A word of caution: these babies are selling out fast. Don't say we didn't warn you!
Fenty x Puma Trainer in White, $180
Fenty x Puma Trainer in High Risk Red, $228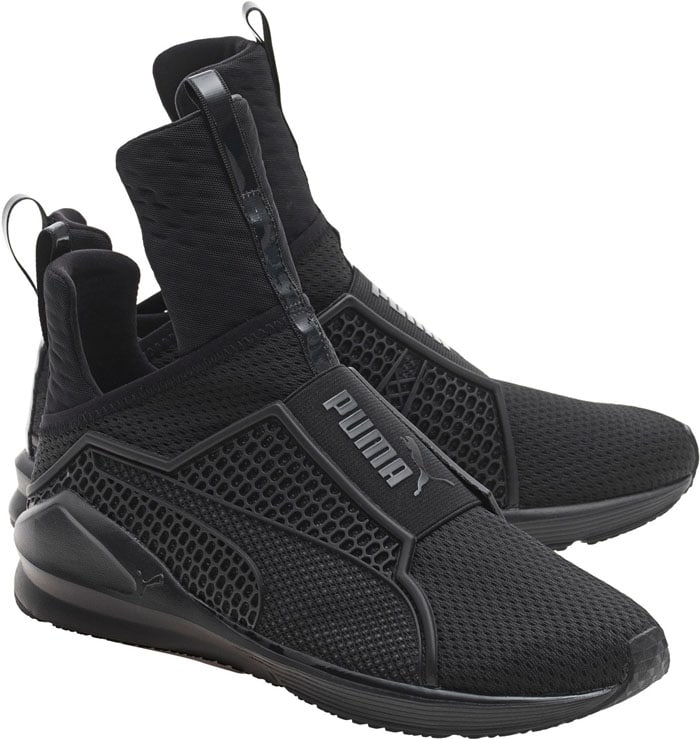 Fenty x Puma Trainer in Black $180 – $228