It has been said that money and success are useless if you have no one to share them with — a statement that singer Kelly Rowland and her entertainment manager husband, Tim Weatherspoon, are sure to agree with.
Kelly Rowland of Destiny's Child in concert at the Point Theatre in Dublin, Ireland, on June 25, 2002 (Credit: WENN / Macdonald)
Kelly Rowland has had one of the most successful and long-lasting careers in the music industry. From singing in one of the best-selling girl groups of all time, Destiny's Child, which also included Beyoncé and Michelle Williams, to breaking into international top-ten lists with her solo hits such as "Like This" and "Work", to venturing onto the silver screen with roles in films such as Freddy vs. Jason and The Seat Filler — Kelly Rowland has done it all.
So what is there left to do when you've done it all?
More recently, the songstress has embarked on a new adventure, one that she says is the most rewarding of all: starting a family! She and her husband, Tim Weatherspoon, tied the knot in May 2014 and have been married for seven years now.
That same year on November 4, 2014, Rowland gave birth to the couple's first son, Titan Jewell Weatherspoon, and welcomed their second son, Noah Jon Weatherspoon, on January 21 of 2021.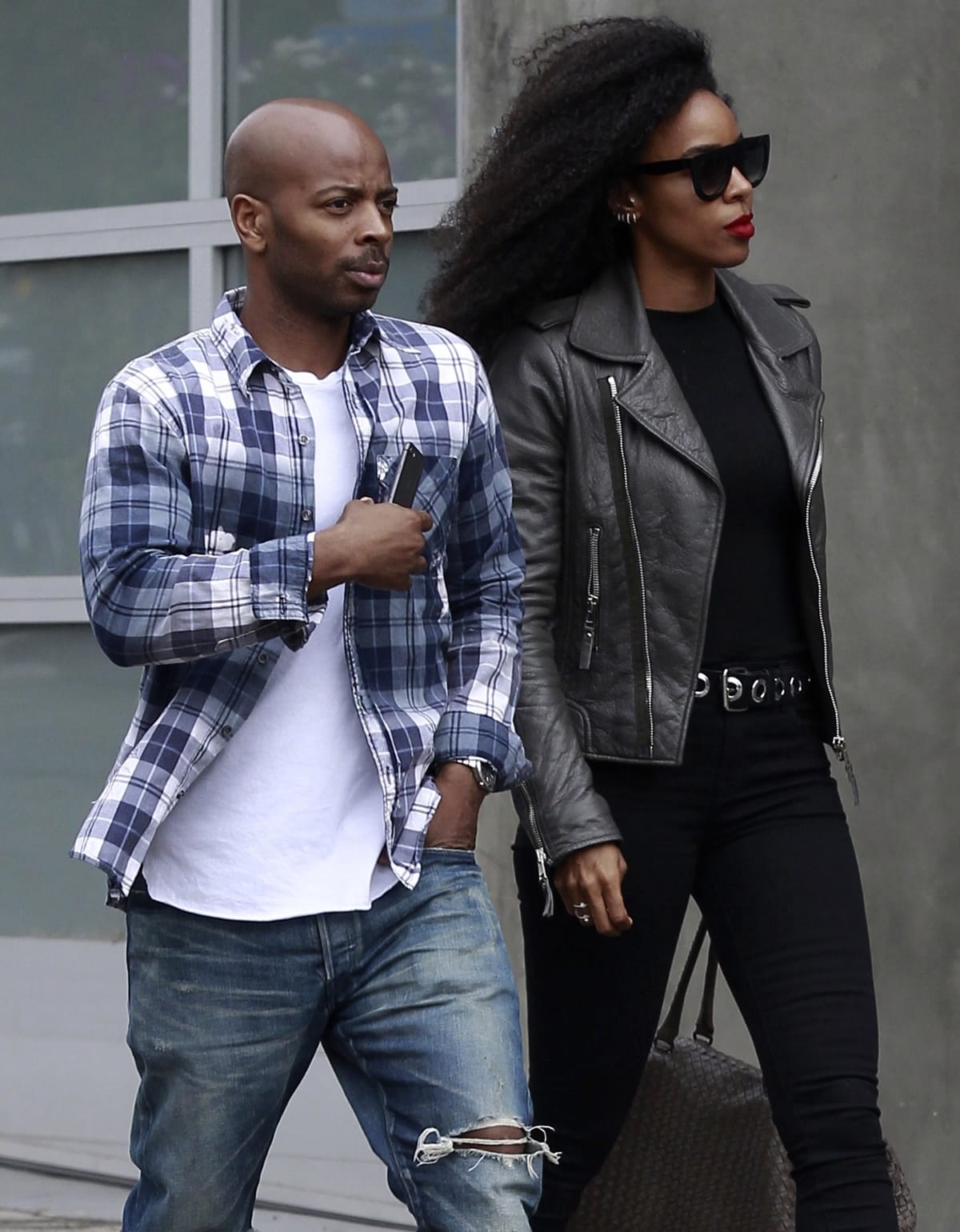 Kelly Rowland and Tim Weatherspoon began dating in 2011 and married on May 9, 2014, in Costa Rica (Credit: WENN)
Follow along with us as we explore Kelly Rowland and Tim Weatherspoon's adorable (and sometimes unconventional) love story.
Before Kelly Rowland met Tim Weatherspoon
Kelly Rowland was once voted seventh in People's "Top 100 Most Beautiful Women in the World", so it goes without saying that the singer has had more than her fair share of attention from men over the years!
The singer's first known relationship was with her high school sweetheart, Foti Kallergis, who is now a TV journalist and Emmy Winner!
Kallergis shared an adorable throwback photo of him and Rowland together at prom in 1999, proving that the Destiny's Child alumna has always been gorgeous.
Foti Kallergis (R) and Kelly Rowland (L) dated from 1997 to 1999 (Credit: Foti Kallergis Twitter)
Later, Kelly Rowland was linked to rapper Nelly. The singer was featured in Nelly's 2002 music video for his song "Dilemma", and the on-screen chemistry between the two was so palpable that fans were sure that Rowland and Nelly were secretly an item (note: this music video also features a hilarious blunder where Rowland appears to be sending a text via Microsoft Excel).
These rumors turned out to be false, as Rowland released a statement saying, "Nelly and I are not dating. He actually has been a friend of Destiny's Child for years. Nelly's like a big brother."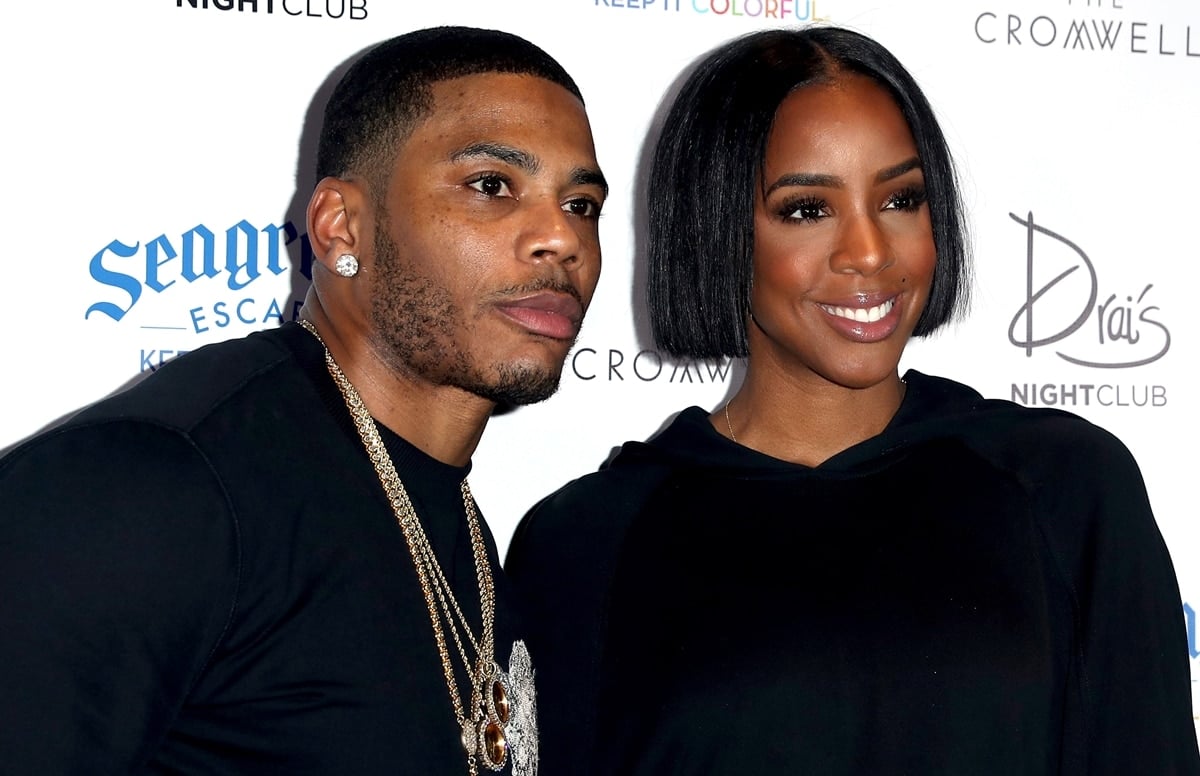 Nelly and Kelly Rowland were rumored to be dating in 2002 (Credit: Judy Eddy / WENN)
Ah, what might have been. While Kelly and Nelly were never meant to be, Rowland soon met her now-ex, Roy Williams.
At the time, Williams was a National Football League all-star, playing wide receiver for the Dallas Cowboys. He and Rowland allegedly met for the first time at an NBA All-Star game in 2002 and then spent more time together while Rowland was filming the 2003 film, The Seat Filler, a film which Williams invested in.
Williams eventually proposed to the singer in March of 2005, but their relationship took a turn and the couple called off the wedding in January of 2006.
Rowland admitted that the reason behind their breakup was simply that the couple moved too fast and did not take the time to get to know one another well enough.
Kid Rock, Kelly Rowland, and Fawaz Gruosi at a photocall held by Swiss jeweler De Grisogono on the terrace of the Hotel Martinez in Cannes on May 22, 2007 (Credit: Succo Media / WENN)
After her breakup with Williams, Rowland was linked to basketballer Dwyane Wade and celebrity jeweler Fawaz Gruosi, but neither of these relationships lasted long.
Fortunately, these breakups were a blessing in disguise, because next on Rowland's relationship lineup is none other than her love, Tim Weatherspoon.
Omar Grant, Tim Weatherspoon, Michelle Williams, and Tyrone Murray at the celebration of Kelly Rowland's new Album "Ms. Kelly" benefiting LIFEbeat at Home on July 10, 2007, in New York City (Credit: PNP / WENN)
Because Kelly Rowland jumped on the "offline boyfriend" trend (well before the likes of Bella Hadid) not much is known about her husband Tim Weatherspoon's previous relationships — but we know plenty about the one that counts!
Kelly Rowland and Tim Weatherspoon's Relationship
For this couple, it was love at first sight! Well, almost.
In a 2017 interview with ABC News, Rowland revealed that she knew that she wanted to marry Weatherspoon by their third date.
At first, she was a bit embarrassed about having such strong feelings so early in a relationship, but those feelings dissipated when her now-husband admitted that he knew she was "the one" the first time they met.
"He said he knew [he was in love] by the first date," Rowland laughs. "I knew the third date. I was like, 'oh my God! I got nervous, to be completely honest because I was like, 'this feels like my husband.'"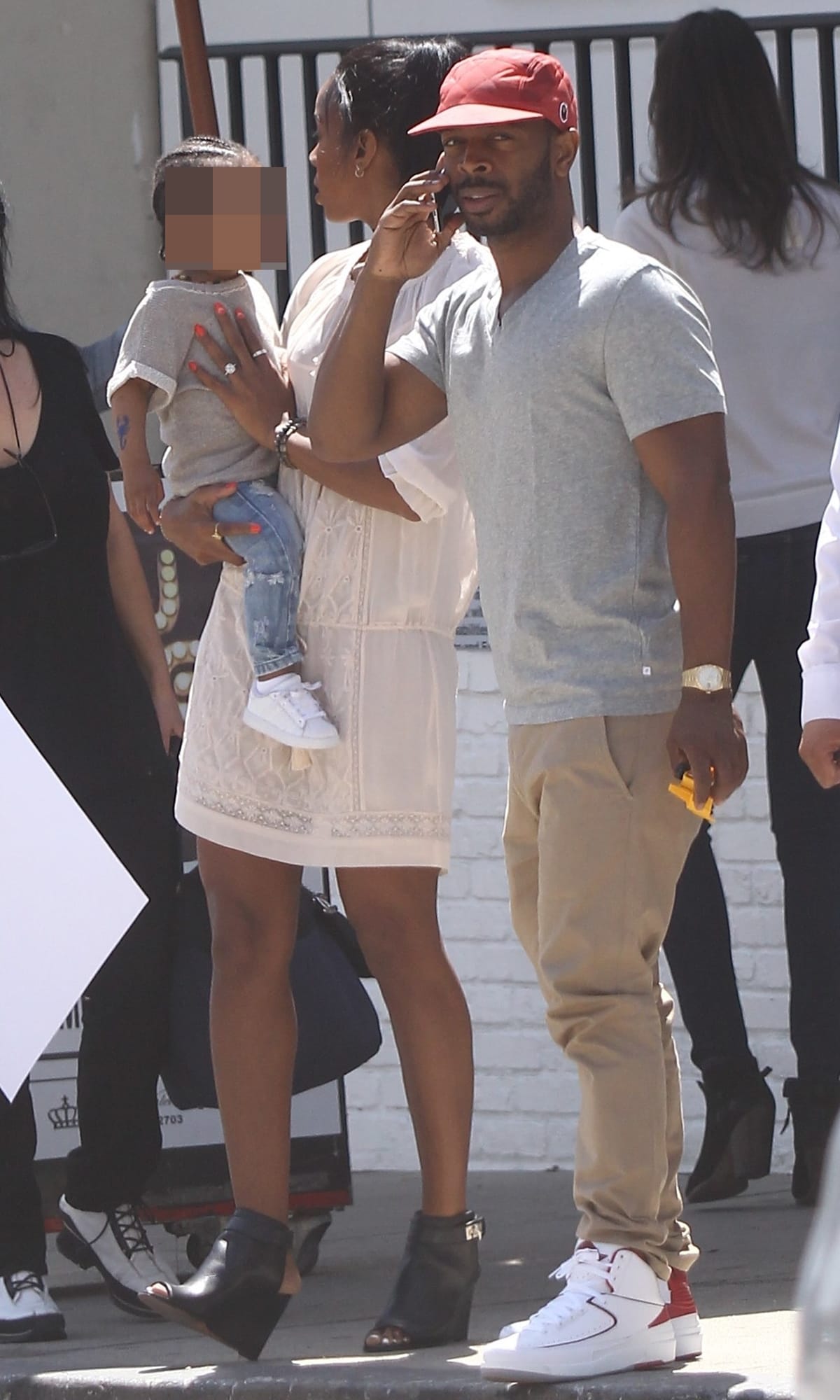 Kelly Rowland with her husband Tim Witherspoon and their son Titan Jewell Weatherspoon in Los Angeles on April 27, 2016 (Credit: WENN)
Although it's not known for sure when and where the lovebirds first met, it is likely that they first crossed paths due to their careers. Weatherspoon is an entertainment manager credited as being Rowland's manager.
In fact, in 2011, Rowland's previous manager Devyne Stephens stopped working with the singer, which many speculate is due to Weatherspoon's entry into Rowland's life. Mixing business and pleasure seems to work out well for this couple!
Kelly Rowland and Tim Weatherspoon got engaged in 2013, and despite keeping information about their relationship previously under wraps, the singer divulged all the juicy details that year in an interview with The Queen Latifah Show, revealing that the entertainment manager had proposed via Skype!
Tim Weatherspoon is supposedly slightly taller than his wife Kelly Rowland (Credit: WENN)
"He first asked me on Skype," the singer said, "And I was like, 'we're so far away from each other'. . . but it was so late, I remember we were both just kind of like — honestly — just staring at each other. And he asked me, and it was just that simple to say yes. I was like, 'I got my best friend to ride through life with.' He really is my best friend."
The pair were married at a private ceremony in Costa Rica on May 9, 2014. The affair was intimate, with only a few family and friends, but the star-studded guest list included celebrities such as Beyoncé's sister, Solange.
Kelly Rowland's son Titan Jewell Weatherspoon was born on November 4, 2014 (Credit: Avalon / WENN)
Rowland, standing at 5'8" and Weatherspoon, measuring up at 5'9" now have two sons together: Titan, who was born in 2014; and Noah, who the couple welcomed in January of this year.
Born on January 7, 1974, in St. Louis, Missouri, Timothy Jon "Tim" Weatherspoon is 7 years older than his wife Kelendria Trene Rowland. She was born on February 11, 1981, in Atlanta, Georgia.
Dedicated to their marriage and one another
Even celebrities are not immune to marital struggles, and this couple is no different. Kelly Rowland and Tim Weatherspoon have been raw and honest throughout the years about the trials and tribulations they have faced and the steps they have taken to solve them.
Rowland told Red magazine that the key to a successful marriage is simple: "Remember, you're not perfect."
The pair has plenty of their own relationship problems, including their own "annoying" habits.
"He would say my most annoying habit is when I clean up and toss things out that he wanted to keep," Rowland laughed. "Or I buy furniture and say, 'doesn't this look great in here?' and he says, 'well, I would have loved an opinion.'"
View this post on Instagram
The singer revealed that they are committed to keeping their relationship alive no matter what is thrown at them, even going so far as to attend couple's therapy together.
While this admission is embarrassing to some, Rowland says that she and Weatherspoon aren't ashamed of their struggles and they hope that other couples would be more open to therapy in the future.
"If I wasn't taking the time to get to know myself better in this crisis, we would be struggling," Rowland told People about the hardships she and Weatherspoon have encountered during their marriage, especially during the pandemic.
View this post on Instagram
"We go to therapy every week and we're so proud of it. It's just to keep the relationship and the space of communication open, [so we're] ready for each other. I have a husband who supports me and is there for me and loves me and I'm the same for him. I met my best friend. There's nothing that we can't talk about."
"I remember Tim saying, 'look, sister, we gon' ride this thing 'til the wheels come off,'" Rowland said.
"As far as sex is concerned, I'm like, 'Well, if I have to play dress up and do role-play, honey, if I need to be Alicia tonight and give you a surprise in the middle of the night or something then it needs to happen. We spice things up a bit and keep it fun," Rowland revealed.
Kelly Rowland likes to surprise her husband in sexy outfits (Credit: Avalon / WENN)
"When we met each other, we had fun. Two years from now, we'll have fun. I think if you hold that close to you, it can always show itself in your relationship."
"It's really about owning your sexuality," she told People. "You should already know how sexy and great you are without someone having to tell you. As women, for so long we'd do something to be regarded by others and this song says, 'I really don't need to hear what anyone else has to say.'"
No matter what, Rowland and Weatherspoon are dedicated to making their relationship last for the long haul.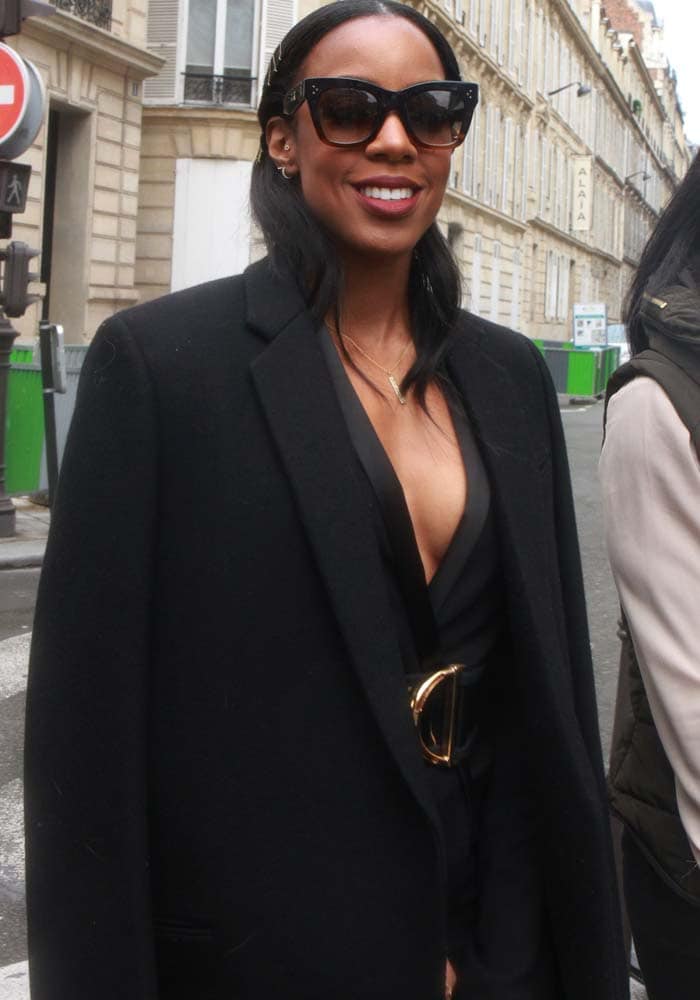 Kelly Rowland clips her hair back as she leaves a Paris restaurant on March 5, 2016 (Credit: WENN)
Remember the Destiny's Child stage costumes? Luckily, Kelly Rowland has moved well past that era. Case in point: the singer's all-black look in Paris.
Kelly was spotted roaming the streets of Paris before watching the Haider Ackermann show held during Paris Fashion Week.
Kelly Rowland wears a black two-piece Haider Ackermann suit during Paris Fashion Week (Credit: WENN)
Kelly wore a two-piece suit from Haider Ackermann's Spring/Summer 2016 line, which was cinched with an embellished belt at the waist and worn underneath a long trench coat.
Kelly Rowland's feet — and bunions — in black suede Aquazzura sandals (Credit: WENN)
The singer polished off her ensemble by displaying her feet in Aquazzura "Linda" suede sandals.
Kelly Rowland has lunch and visits a Dior store while in Paris (Credit: WENN)
Kelly obviously has a developing penchant for high fashion, since she was seen attending a couple more shows in Paris. Even her Instagram account is starting to look curated to show a more chic feed — have you noticed the black and white outfit posts?
You can order Kelly's "Linda" heels from the Florence-based luxury footwear brand in different colors at Farfetch and Saks Fifth Avenue
Black Aquazzura 'Linda' Suede Sandals, $675
Nude Aquazzura 'Linda' Patent Sandals, $496.22 – $675
White Aquazzura 'Linda' Patent Sandals, $675