Catherine Zeta-Jones gave us hair envy when she arrived looking like she didn't just get off a plane at LAX Airport on Sunday. The 48-year-old actress also wore a satin-y, black long-sleeved blouse, which appeared to have not one single wrinkle on it.
Does Catherine travel with a hair curler and a steam iron in her hand-carry?
The rest of Mrs. Michael Douglas' travel outfit were a swirly-patterned maxi skirt that matched with a pink Hermes Birkin bag and Chanel ankle boots with pearl-studded leather flowers on the patent cap toes.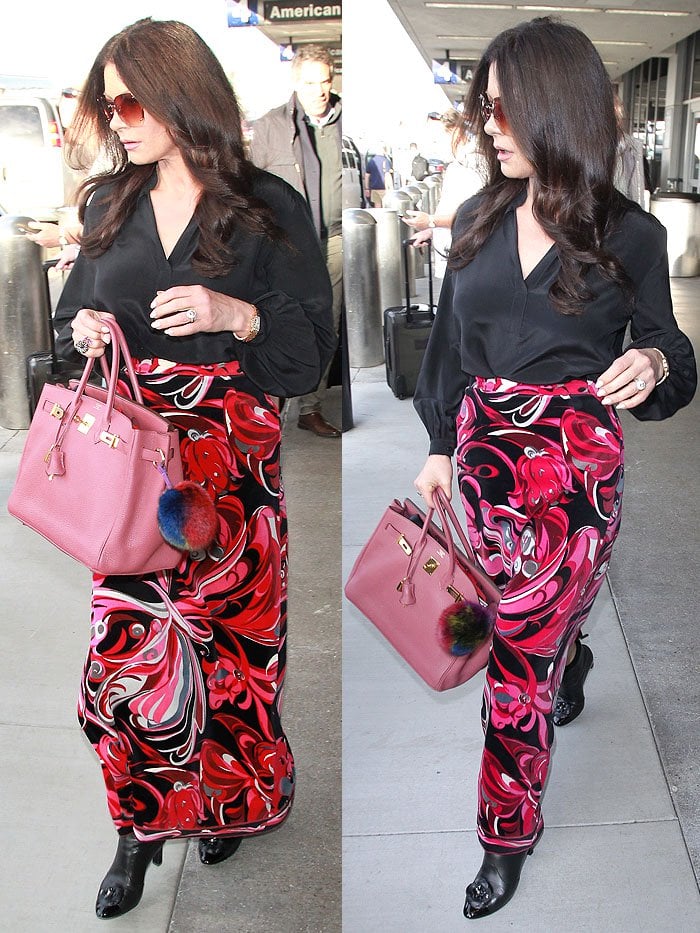 Catherine Zeta-Jones wearing Chanel 'Camellia' ankle boots with a pink, swirly-pattern skirt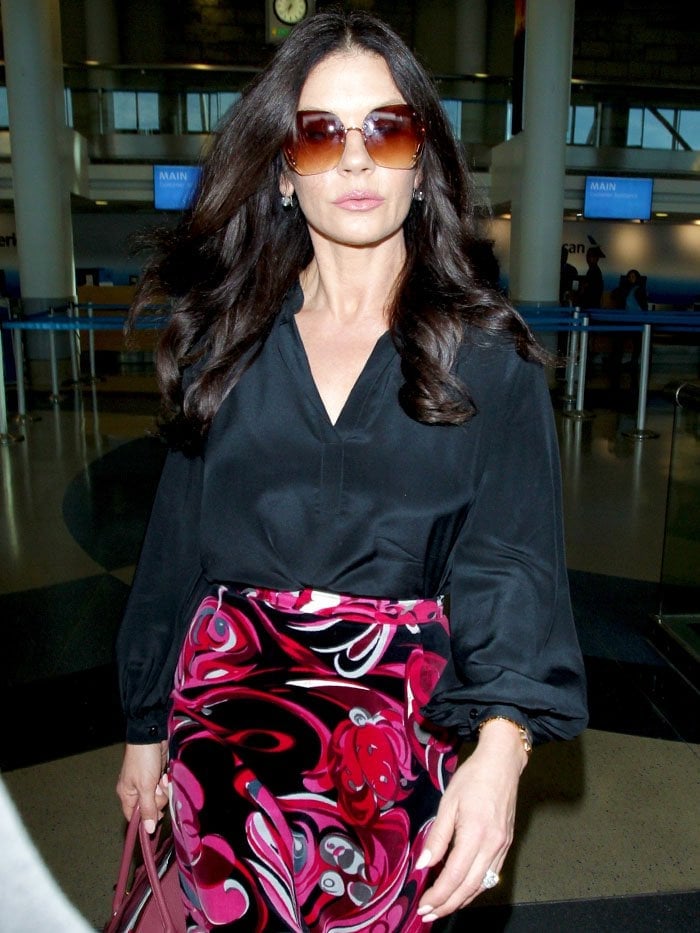 Catherine Zeta-Jones with flowing black hair and brown oversized sunglasses
Catherine Zeta-Jones making a stylish touchdown at LAX Airport in Los Angeles, California, on May 6, 2018.
Closeup of Catherine Zeta-Jones' Chanel ankle boots with pearl-dotted leather Camellia flower embellishments on the patent cap-toes.
Shop the similar Chanel ankle boots below that feature tweed instead of leather flower embellishments.
Chanel Tweed 'Camellia' Cap-Toe Ankle Boots, $600 at TheRealReal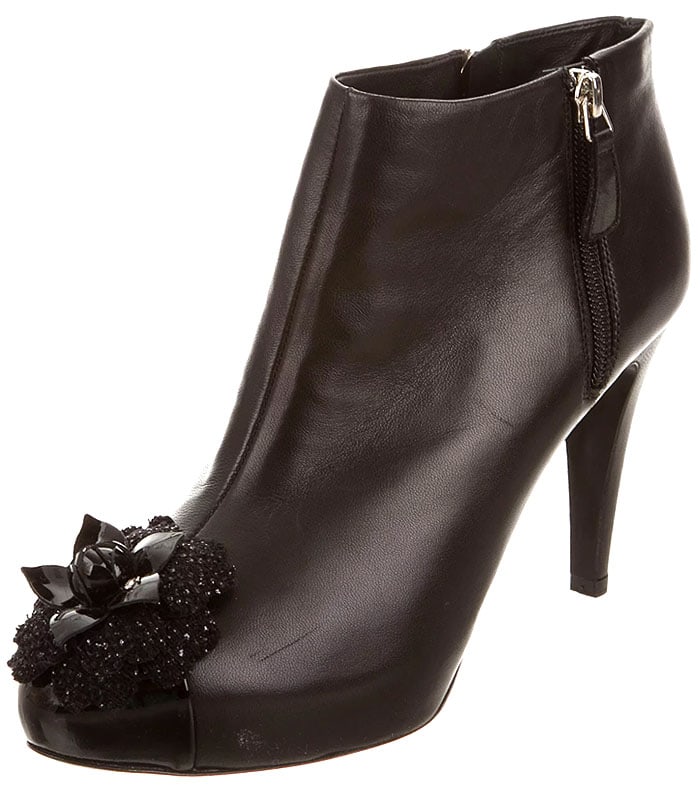 We don't think Catherine Zeta-Jones can look dressed down for traveling even if she tried. When she wore military camo pants, an "Indiana Jones"–style fedora, and toted a canvas messenger bag with graffiti all over it, she still looked impeccably put-together!
Side note: is that black v-neck top she's wearing underneath her olive blazer the same black blouse from the pictures above?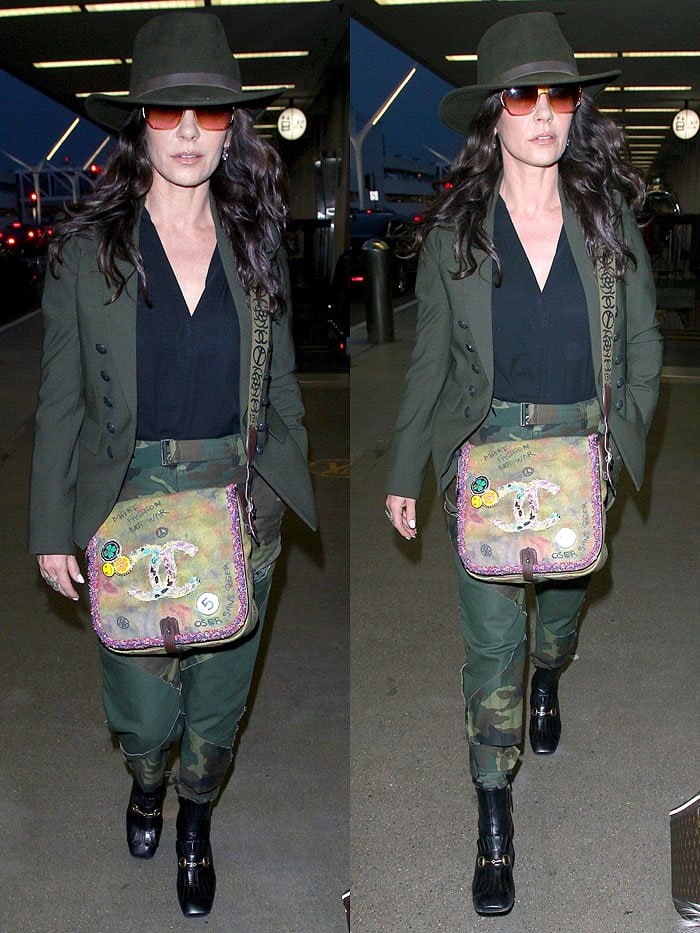 Catherine Zeta-Jones wearing a dark-green fedora, a matching jacket, and camo pants with a Chanel graffiti bag slung across her body at LAX Airport in Los Angeles, California, on April 15, 2018.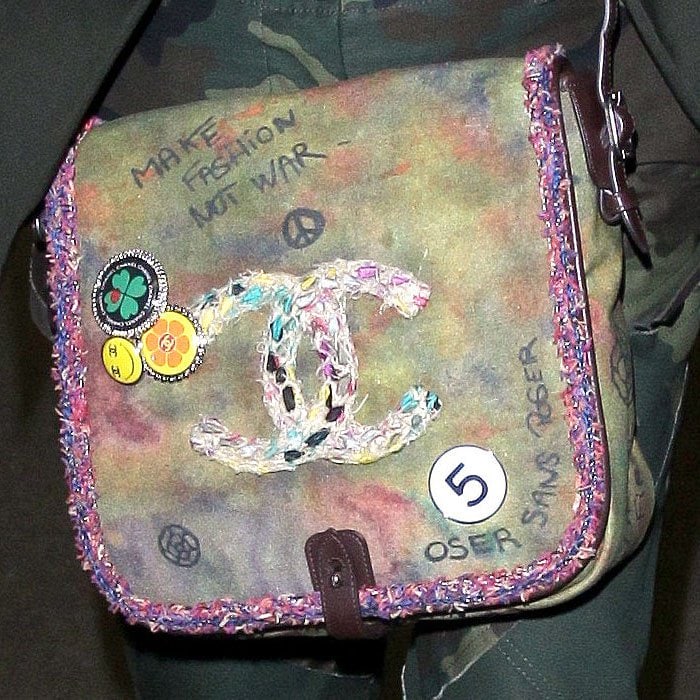 Details of Catherine Zeta-Jones' Chanel Spring 2015 "On the Pavements" graffiti messenger bag.
Gucci "Polly" kiltie horsebit ankle boots as worn by Catherine Zeta-Jones.
Catherine finished her stylish jungle safari look with another pair of black leather boots, the Gucci "Polly" ankle boots.
We like to think that it's Catherine's thousand-dollar handbag and shoe choices that are pulling together her airport looks, but we know it's also her enviable hair. Now where do we buy hair like hers?
Gucci 'Polly' Kiltie Leather Ankle Boots, $1,290 at Neiman Marcus
Credit: WENN