Considering a pregnancy lasts for nine months, give or take a few days, it's not surprising that mom-to-be actresses sometimes end up attending red carpet events with growing bumps. Catherine Zeta Jones recently arrived for a guest appearance on "Jimmy Kimmel Live!" in which she talked about celebrating her 2003 Academy Award win while  heavily pregnant with her now 13-year-old daughter, Carys.
Catherine took a trip down Oscars memory lane for the show, arriving at ABC Studios and sauntering coolly past the awaiting photographers.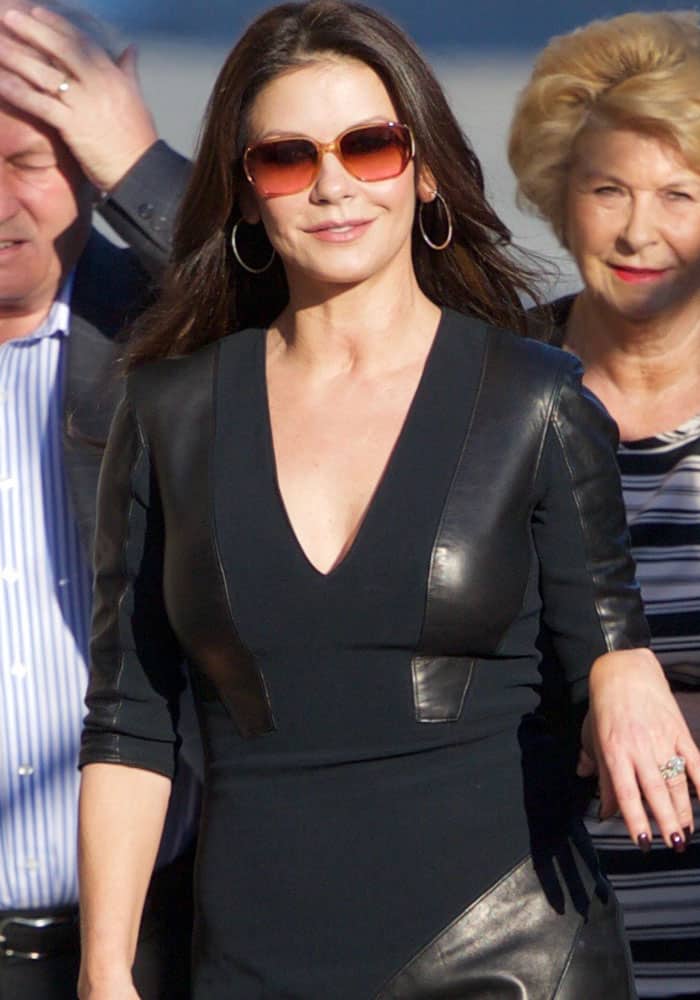 Catherine Zeta Jones seen arriving at the ABC studios for "Jimmy Kimmel Live!" in Los Angeles on March 1, 2017.
Not so basic: Catherine moves away from the "Pigalle" and slips her feet into the Christian Louboutin "Serianina" pumps instead.
Catherine showed off her slim physique in a black Pamella Roland dress. From the side, it looked like the actress is wearing an all-leather dress, but the front revealed a gorgeous patchwork detailing. The patterns helped to slim and elongate some areas of the bodice.
The actress finished her look with a pair of not-so-basic Christian Louboutin "Serianina" leather pumps in black. The heels dip slightly at the heel for a semi-scalloped look, without actually becoming a d'orsay pump.
Catherine shows off her trim figure in a Pamella Roland dress.
Catherine recalled what it was like to be at the Oscars while eight months pregnant, even agreeing to do a musical number onstage with her "Chicago" co-star Queen Latifah. The actress recalled regretting her decision as she was going up the stage via a hydraulic elevator.
The actress also revealed that she gave birth 10 days after winning the Oscar for "Best Supporting Actress." Talk about a baby's grand entrance.
Shop Catherine's Christian Louboutin "Serianina" pumps at Neiman Marcus.
Christian Louboutin "Serianina" Pumps, $895 at Neiman Marcus
Credit: Michael Wright / WENN