Admittedly, we're normally not looking our best when we go shopping for the holidays. But count on your favorite Hollywood celebrities to look fashionable for the most tiresome shopping season of the year.
We've taken a look at how some of our favorite stars dress when Christmas shopping. Are you ready to be inspired by Ashley Tisdale, Jessica Alba, Ellen Pompeo, and Kim Kardashian?
1. Ashley Tisdale in Black Tights and Wedge Sneakers
The 28-year-old actress and recording actress was spotted in Planet Blue in Beverly Hills.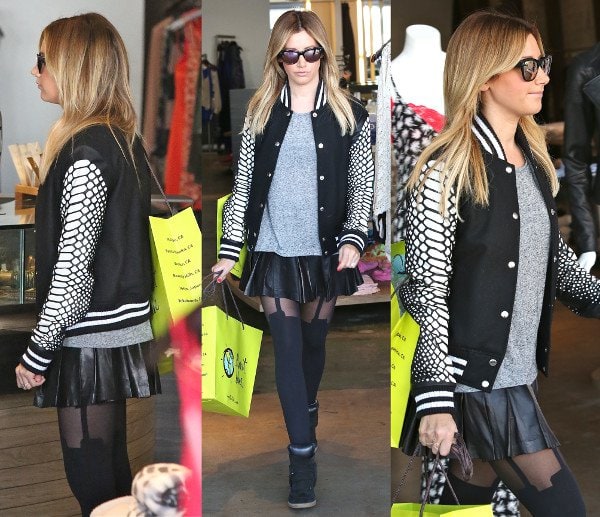 Ashley Tisdale pulls off the monotone look while shopping at Planet Blue in Beverly Hills on December 12, 2013
She looked edgy and chic in a black and white varsity jacket with croc-print sleeves, a grey shirt, a black skater skirt, black tights, and black wedge sneakers– she pulled off the monotone look like a boss!
Ashley Tisdale looked edgy and chic in a black and white varsity jacket with croc-print sleeves

2. Jessica Alba in Cheetah Print Flats
The 32-year-old actress and lately environment advocate is never a couple of days away from the lenses of paparazzi. This time, she was spotted in Beverly Hills after a trip to Coach for what looked like a boot repair or a boot purchase.
Jessica Alba wears a beanie with cheetah print flats and a leather jacket
Up until the cheetah print flats, her outfit was great. We love how she pulled off the beanie, with a plaid shirt, her favorite black leather jacket, and that statement necklace.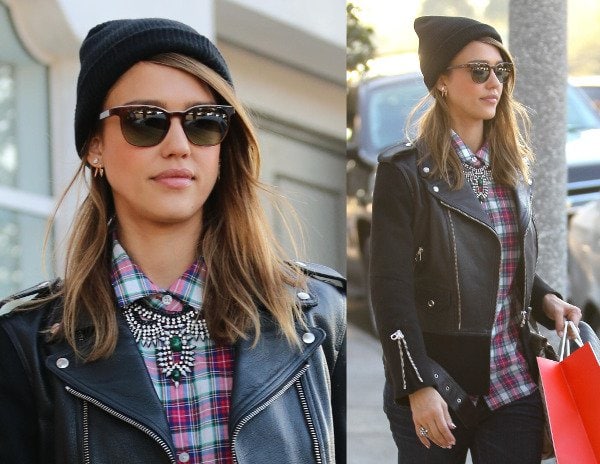 Jessica Alba gives her plaid shirt a posh twist with a statement necklace in Beverly Hills on December 12, 2013

3. Ellen Pompeo in Black Leather Jacket
Ellen Pompeo is one rockin' lady! The 44-year-old actress and Grey's Anatomy star was sporting a black leather biker jacket, a black top, jeans, and black wedge booties.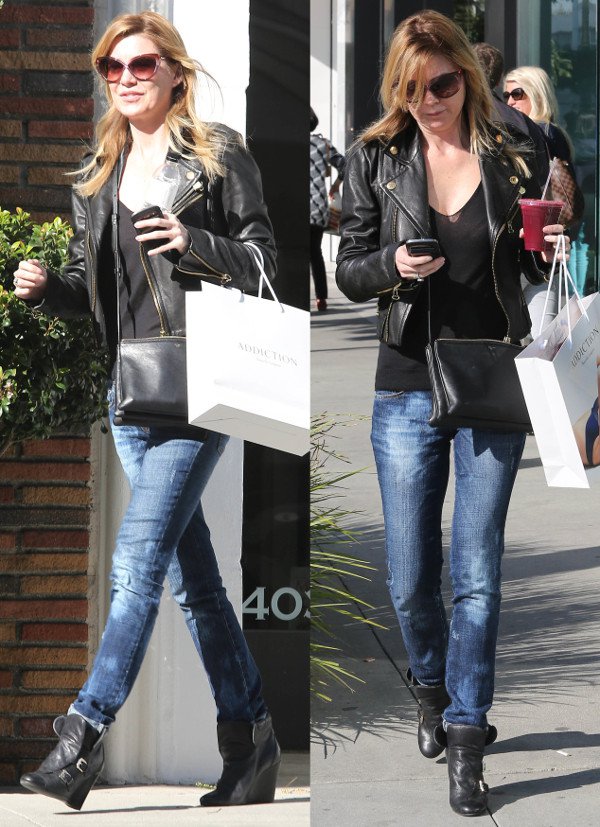 Ellen Pompeo wears a black leather jacket with blue jeans
She was spotted by paparazzi stepping out of the store Addiction to get some lingerie. Sexy on so many levels!
Ellen Pompeo buys lingerie from Addiction in Los Angeles, wearing a biker jacket and cat's eye sunglasses on December 12, 2013

4. Kim Kardashian in Moto Jeans and Zippered Boots
The controversial ShoeDazzle founder went Christmas shopping at Barneys New York in Beverly Hills.
Kim Kardashian rocks zippered Josey boots by Dolce Vita and moto jeans
The reality star sported a boyfriend blazer paired with moto jeans, a gray scarf, a cheery red beret, and a pair of zippered "Josey" boots by Dolce Vita. She carried a luxurious "Birkin" bag by Hermes.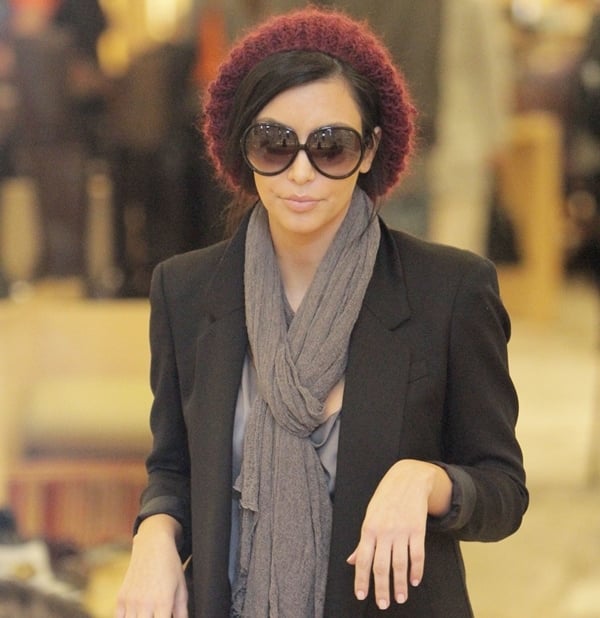 Kim Kardashian wears a cheery red beret to go Christmas shopping at Barneys New York in Beverly Hills on December 13, 2014
Credit: WENN