Louis Vuitton recently released an updated version of their Lockit bag, and bag lovers all over the world have gone crazy trying to get their hands on this fresh "It" bag on the market.
The first ever Lockit bag was released way back in 1958 and has since been reinvented in various styles throughout the years. The newest rendition is the Soft Lockit, an effortlessly chic tote that features gorgeous Veau Cachemire leather. It comes in five color options, but the soft pink "Magnolia" seems to be the most popular one.
It looks like many celebrities share our craze for the Lockit. We spotted Carey Mulligan, Jessica Alba, and Charlize Theron all carrying the pale pink version of the new Louis Vuitton Soft Lockit bag.
Diana Agron with Carey Mulligan spotted out in West Hollywood on April 26, 2014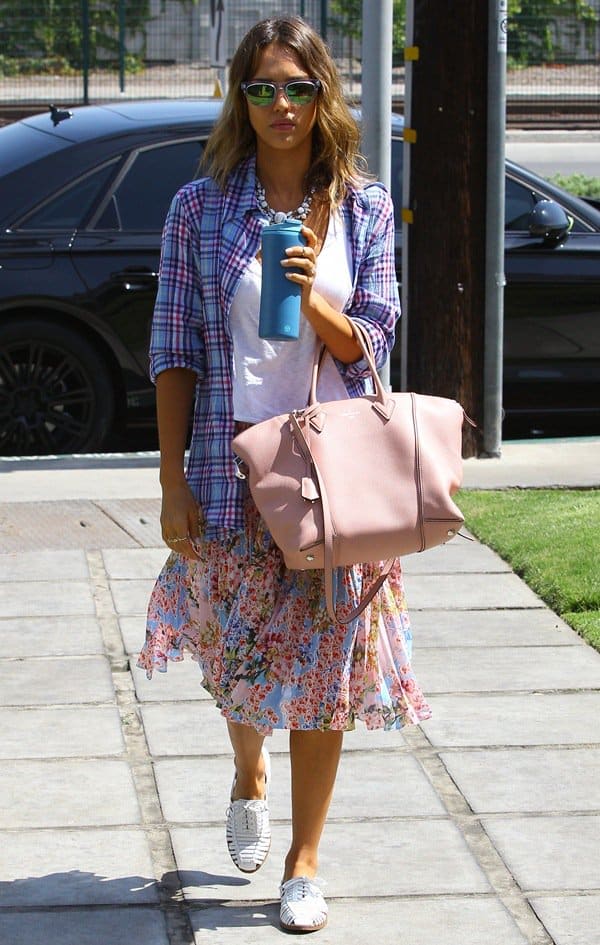 Jessica Alba heading to a meeting in Culver City, California, on June 5, 2014
Jessica Alba heading to a nail salon in Beverly Hills, Los Angeles, on June 4, 2014
Charlize Theron with Sean Penn and son Jackson at the Los Angeles International Airport on May 30, 2014
The Lockit retails for $4,250, but it is already sold out on the Louis Vuitton. While we all eagerly wait for this beauty to be restocked, consider the pretty and budget-friendly alternatives below.
"Beloit" in Beige, $49.95 at ShoeDazzle
"Norton" in Beige, $49.95 at ShoeDazzle
"Belen" in Beige, $54.95 at ShoeDazzle
Credit: WENN