Quirky, racy, controversial, philanthropic or just plain nonsensical – t-shirt slogans add a point of interest to an outfit. And, these lettered shirts aren't just for us everyday folks. Celebrities also aren't afraid to share what's on their mind via their outfits.
Let's take a look at the shirt slogans some celebrities have worn in the past and what they say.
1. Olivia Wilde Fights Sex Trafficking With Printed T-Shirt
The 33-year-old Irish American actress, model, producer, director, activist and socialite sported a feminist message while heading to the gym in Los Angeles on Tuesday. Her $38 white My Sister "We Are a Choir" tank top (available at My Sister) benefits Girls Educational and Mentoring Services' (GEMS), which has a mission to empower young women who have experienced commercial sexual exploitation. She styled her white t-shirt with black leggings and matching sneakers.
Amber Tamblyn coined this quote in her New York Times published op-ed piece, "I'm Done With Not Being Believed," in which the American actress encouraged women to believe other women, and to raise their own voices to speak out against assault, misogyny and exploitation.
Olivia Wilde wearing a shirt featuring a quote from Amber Tamblyn's Nov. 30 New York Times editorial: "The more we are a choir, the more the tune is forced to change."
Olivia Wilde heads to the gym in black leggings and matching sneakers in Los Angeles on February 6, 2018.

2. Michelle Keegan Expresses Herself in Hashtagged Sleeveless Shirt
The British actress sure knows her social media rules. Her white sleeveless shirt had "#KnowYourWorth" printed on it.
Michelle Keegan pictured at Radio 1 in London on July 3, 2014.
3. Amanda Seyfried Wears Generic Philanthropic Shirt
The words "Save Them All" on the actress' grey shirt sounds like something Superman would say.
Amanda Seyfried arriving from a flight to Los Angeles International Airport (LAX) in California on June 30, 2014.
4. Fearne Cotton Bursts Our Bubble With Realistic Shirt Slogan
We got a dose of reality with the British presenter's "You Can't Always Get What You Want" shirt.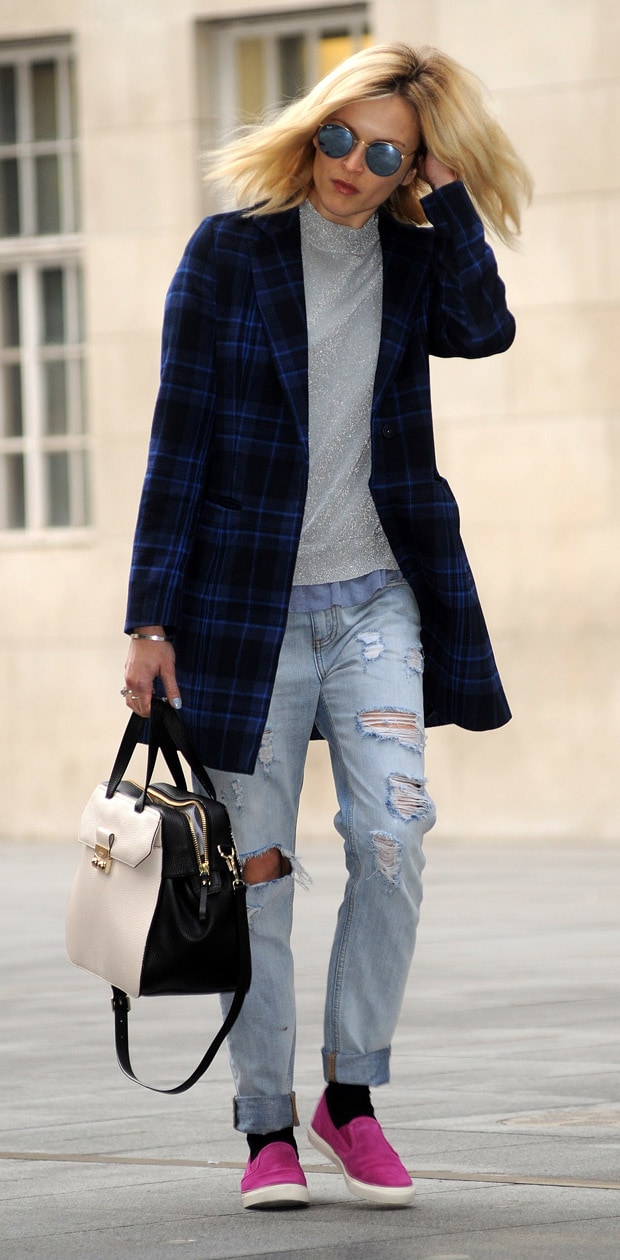 Fearne Cotton leaving the BBC Radio 1 studios in London on June 20, 2014.
5. Amy Willerton Pays Homage to "Mean Girls"
Judging by the British model's "You Can't Sit With Us" shirt, we think it's safe to say Amy is a fan of "Mean Girls."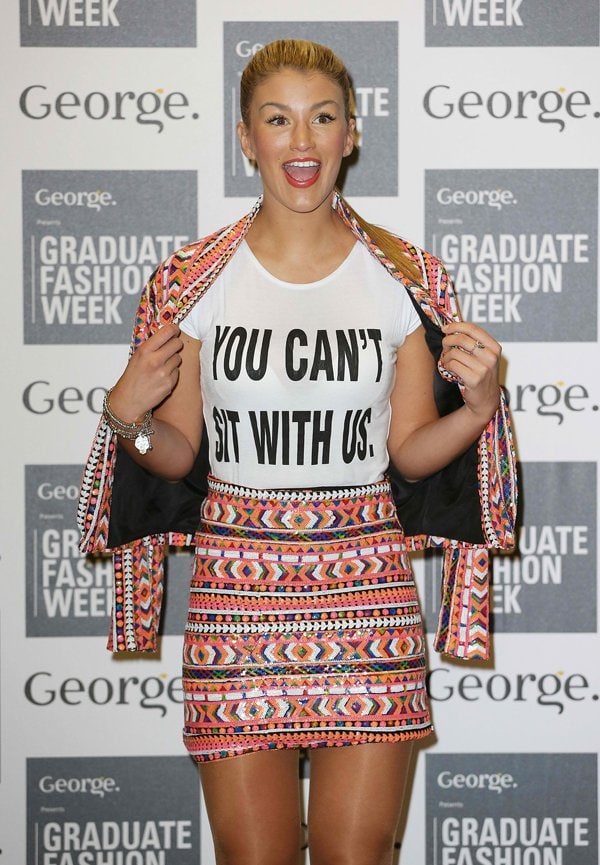 Amy Willerton arrives at the GWF Awards Show during day 4 of Graduate Fashion Week 2014 in London on June 30, 2014.
6. Jessica Wright Lets Us Know What She Thinks of Exercise
The singer and model wore a cropped shirt with "Shopping Is My Cardio" emblazoned in bold letters over it. Fitting for a fashion event, we thought.
Jessica Wright attends the Style for Stroke T-shirt – launch party at Werewolf, Piccadilly, London on May 29, 2014.
7. Mena Suvari Shares Her Favorite Holiday Destination
Paris-printed anything is so plentiful these days. The actress is just another fan of the famous romantic and fashion destination.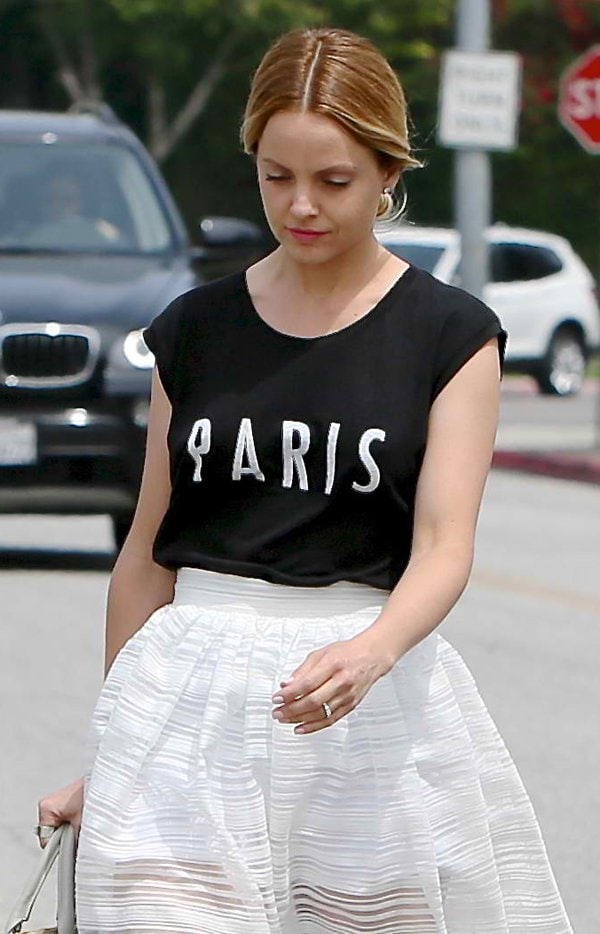 Mena Suvari seen leaving an office building in Beverly Hills in Los Angeles, California on April 11, 2014.
8. Ashley Tisdale Greets Los Angeles in French
The former "High School Musical" actress sported a white sweatshirt with "Bonjour Los Angeles" written on it for a day out.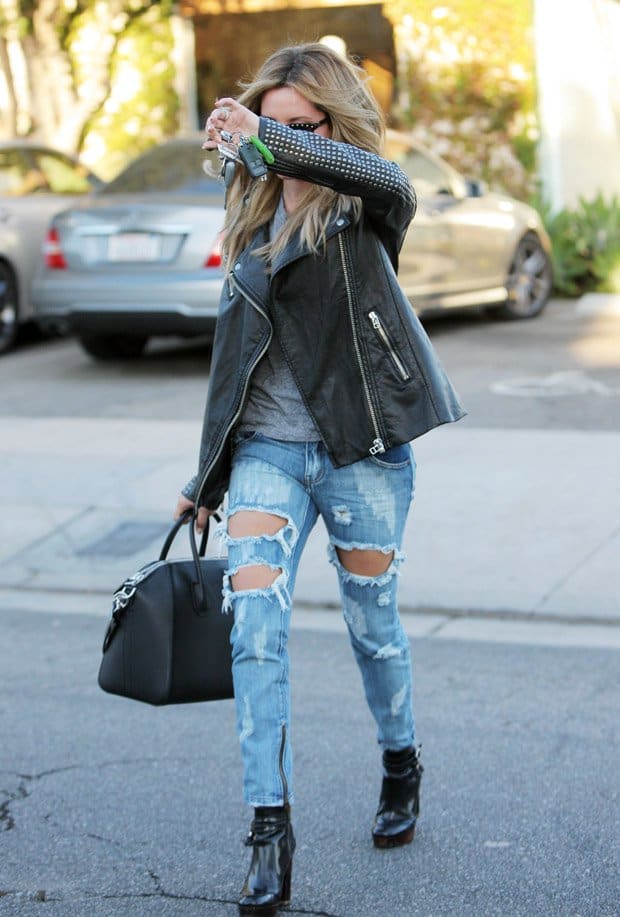 Ashley Tisdale gets a pedicure in Studio city in Los Angeles on June 18, 2014.
As you might have picked up from these celebrity outfits, shirt slogans are so versatile. They can be styled in a variety of ways depending on what the occasion is.
So try injecting more fun in your wardrobe with these shirt slogans from Shopbop.
1. Moschino Nothing More Cotton Tee, $295.00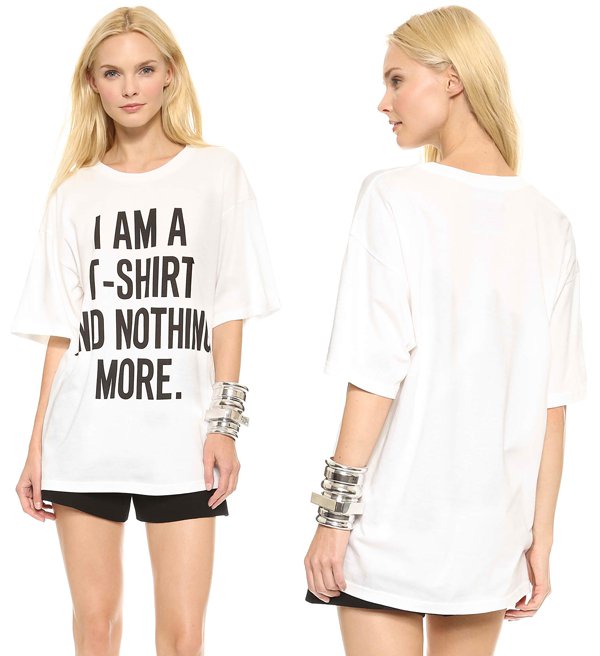 2. Wildfox Never a Bridesmaid Crew Tee, $64.00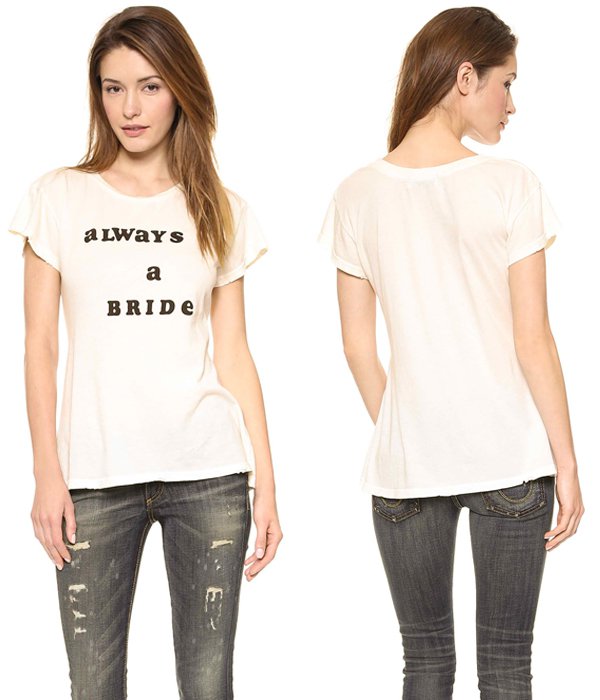 3. Sincerely Jules Sorry I'm Not Sorry Tee, $35.00
4. Cheap Monday Easy Tee, $35.00
5. The Laundry Room Coffee Tee, $66.00
6. Happiness Love is Possible Tee, $33.00

7. Moschino Designer T-Shirt, $295.00
Credit: WENN / Chris.K / Lexi Jones / Duval / Michael Wright