America Ferrera's Sexy Feet and Nude Legs in Hot High Heels
See pictures of America Ferrera showing off her nude feet and legs in sexy high heels and shoes.
The American actress was born on April 18, 1984, in Los Angeles, California, United States. She wears shoe size 6.5 (US).
In an outfit styled by Karla Welch, America Ferrera looked much older than her age at the annual Imagen Awards…
America Ferrera attended the world premiere of "Years of Living Dangerously" season two held at the American Museum of Natural…
We've seen quite a bit of outfit twinnings this year — some intentional, most unintentional. It's already awkward enough to arrive…
America Ferrera hit the red carpet at the 2016 Stand for Kids Gala held at the 20th Century Fox back…
America Ferrera has spoken a truth that probably all celebrities can relate to during the hustle and bustle of the…
America Ferrera attended the live pitch event for "The Next MacGyver" held at the Paley Center for Media in Beverly…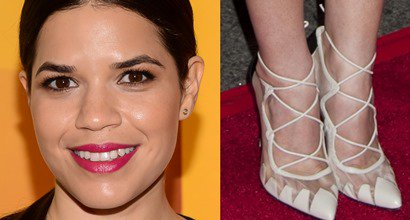 America Ferrera was gorgeous in a conservative quarter-sleeved striped sweater while promoting her upcoming sitcom 'Superstore' at the 2015 NBC…
America Ferrera was on hand at The Hollywood Reporter's Annual Oscar Nominees Night at Spago Beverly Hills to support her…
Beyonce flaunted her long legs in a high-slit dress at the 2014 Billboard Women in Music Luncheon held at Cipriani…
America Ferrera was spotted arriving at 'The Today Show' a few days ago to promote her new film, 'How to…
This year's Tribeca Film Festival churned out a number of fantastic films and some pretty interesting sartorial choices from Hollywood…
You may know her as the unattractive personal assistant at a high-fashion magazine in the ABC series 'Ugly Betty', but…
America Ferrera isn't the main star of her latest film, 'Cesar Chavez', but her style sense stole the show at…
Already tasting the sweet air of spring, a handful of celebrities and their stylists have recently been turning to bubblegum…