Serena Williams's Height, Outfits, Feet, Legs and Net Worth
Please subscribe to
our newsletter
to receive updates from Your Next Shoes. This post may contain affiliate links. Please see our
disclosure
for more details.
Scroll down to see the best outfits and shoes worn by Serena Jameka Williams, an American professional tennis player with the most Grand Slam titles of any player.
Her shoe size is 10.5 (US) and she was born on September 26, 1981, in Saginaw, Michigan.
In 2017, Serena Williams married Alexis Ohanian, an American internet entrepreneur and co-founder of Reddit. Her sister is Venus Williams and she has a net worth of $180 million.
Serena Williams Facts
Net Worth:
$180 million
Full Name:
Serena Jameka Williams
Born:
September 26, 1981, in Saginaw, MI
Dating:
On December 29, 2016, she became engaged to Alexis Kerry Ohanian (known by the username kn0thing), an American Internet entrepreneur and investor with a net worth of $9 million.

They married on November 16, 2017, in New Orleans.
Kids:
Her daughter, Alexis Olympia Ohanian Jr., was born on September 1, 2017, in West Palm Beach, Florida.
Weight:
155 lbs / 70 kg
Shoe Size:
10.5 (US)
Height:
5 ft 9 in (175 cm)
Nationality:
American
Source of Wealth:
Professional Tennis Player
Ethnicity/Race:
African-American
How many carats is Serena Williams' engagement ring?
The center emerald cut diamond is 12 carats, and each side stone approximately 1 carat, for a total diamond weight of 14 carats.
Serena Williams's Sexy Feet and Hot Legs
There are some questions you should never ask a woman. And number one in the gentleman's book is her age….
She's a former world No. 1 in women's singles tennis, with 23 Grand Slam singles titles—the most by any player…
Serena Williams was joined by her two-year-old daughter Alexis Olympia Ohanian Jr. on the runway at the S by Serena…
Gigi Hadid showed off her new 'So Kate' 120mm PVC 'Loubikraft' pumps from Christian Louboutin's Fall 2018 Collection at the…
Defending champion Serena Williams is currently in pursuit of a 22nd Grand Slam singles title and a seventh Wimbledon singles…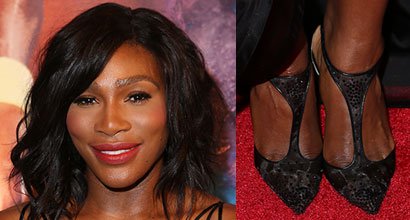 Serena Williams was named the 2015 Sportsperson of the Year at Sports Illustrated's Sportsperson of the Year Award Ceremony held…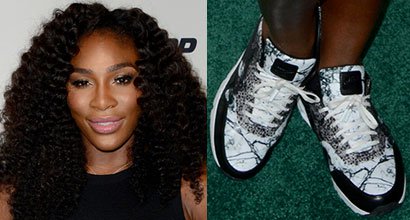 The 2015 U.S. Open began on Monday, August 31. World Number 1 Serena Williams is playing for her 22nd major…
Earlier this year, we featured Kim Kardashian wearing the braided-rope sandals by Balmain at the 2014 MTV Video Music Awards….
Many people probably think that professional tennis players spend all their time practicing every single day, especially now that the…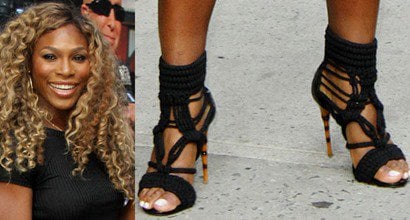 World No. 1 Serena Williams was up against host David Letterman in a tennis game outside the Ed Sullivan Theater…
Serena Williams rocked a leather dress for her appearance on the Late Show with David Letterman on August 21. The…
Professional tennis player Serena Williams isn't just good on the court; she's also great on the red carpet. Just a…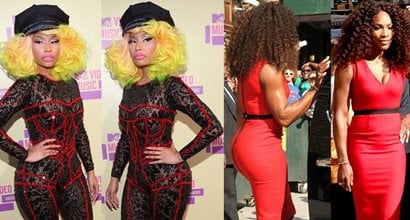 Earlier today we featured some of the hottest shoes we discovered at the MTV Movie Awards. We also asked you…