Charli XCX, who was an active user of Microsoft's cross-platform instant messaging client MSN Messenger (now known as Windows Live Messenger) when she was a teenager, used the screen name "XCX" when chatting.
Charli XCX flashes her toned abs in a Nike sports bra, a pink baseball cap, chunky white sneakers, and cycling shorts while out in Los Angeles on August 18, 2020
"Well, people have speculated that it means "Kiss Kiss," but I really just chose the name because I thought it looked cool and sounded catchy. Of course, when I was signed to my record label, I suddenly felt like it needed to stand for something," she told Rolling Stone in March 2012.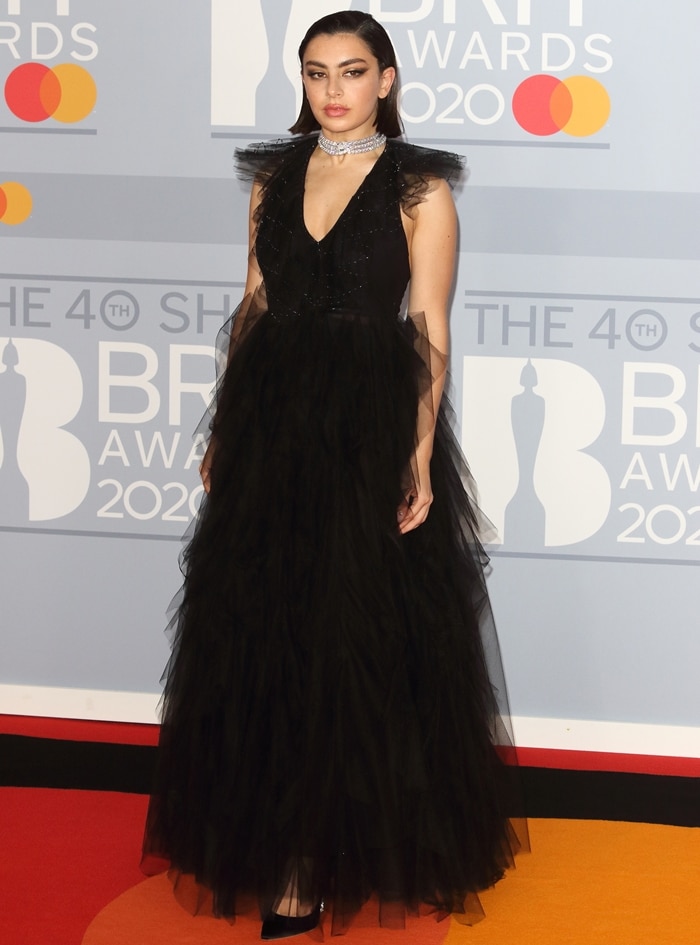 Charli XCX in a ruffled Fendi dress at the 40th BRIT Awards 2020 at The O2 Arena on February 18, 2020, in London, England
"So I told my label that it could mean, "X-Rated Content" or something like that, and everyone there just kind of looked at me as if I was crazy. They were all probably thinking, "Oh, no, what did we get ourselves into?!" But really, at the moment, it just stands for everything I've done so far."
In other words, XCX doesn't stand for "Kiss, Charli, Kiss" and it has no deeper meaning.
In May 2013, Charli XCX, whose real name is Charlotte Emma Aitchison, had been touring the U.S. with fellow Brit Marina and the Diamonds.
Charli XCX flashes a peace sign at Lavo Nightclub in Las Vegas, Nevada on May 12, 2013
Stopping by Lavo Nightclub in Las Vegas, Charli wore an ensemble that clearly carried a heavy '90s influence.
Seeing the up-and-coming artist's sky-high platform sneakers, plaid shorts, crop top, and varsity jacket made us forget that it was 2013, and not 1997.
Even her tousled hair reminded us of an earlier decade.
Charli XCX wears a pair of platform shoes on the red carpet
Platform sneakers were once a big hit among pop stars — Spice Girls, anyone? — and the trend was experiencing a comeback of sorts.
A few months earlier, we saw Ke$ha wearing a pair for a video shoot… but we think Charli pulled the look off better.
What do you think?
Charli XCX's feet in Buffalo Classic sneakers
Charli's wore a pair of Buffalo Classic sneakers, which are unfortunately no longer available online.
Credit: Joel Ginsburg / WENN / Judy Eddy / Instar / Avalon