If you believe in astrology, then I am sure you will love the new Cosmic collection by Charlotte Olympia. It's a capsule collection of Birthday Shoes (and Zodiac Pandora clutch boxes) that features the 12 signs of the zodiac!
Every shoe pair in the collection is decorated with a hand-painted enamel zodiac symbol embellished with luxurious Swarovski crystals. The zodiac charm is placed on the heart-shaped Venetian vamp that's also trimmed with gold piping.
There is also horoscope embroidery on the inner side of each pair. The hues in the Cosmic collection are characterized by the four elements in the Western astrology — fire, earth, air, and water.
Check them out below, and see how your zodiac sign was designed. These shoes will be available in June, but you can pre-order at Shopbop and Neiman Marcus.
Charlotte Olympia Birthday Capricorn Zodiac Suede Smoking Slippers in Moss, $695
Charlotte Olympia Birthday Aquarius Zodiac Suede Smoking Slippers in Stone, $695
Charlotte Olympia Birthday Pisces Zodiac Suede Smoking Slippers in Purple, $695
Charlotte Olympia Birthday Aries Zodiac Suede Smoking Slippers in Red, $695
Charlotte Olympia Birthday Taurus Zodiac Smoking Slippers in Brown, $695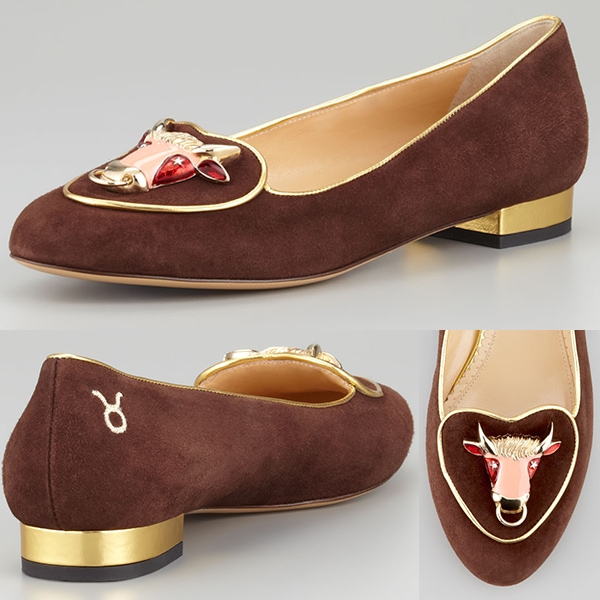 Charlotte Olympia Birthday Gemini Zodiac Smoking Slippers in Sky Blue, $695
Charlotte Olympia Birthday Cancer Zodiac Smoking Slippers in Light Pink, $695
Charlotte Olympia Birthday Leo Zodiac Smoking Slippers in Orange, $695
Charlotte Olympia Birthday Virgo Zodiac Smoking Slippers in Beige, $695
Charlotte Olympia Birthday Libra Zodiac Smoking Slippers in Pistachio, $695
Charlotte Olympia Birthday Scorpio Zodiac Suede Smoking Slippers in Teal, $695
Charlotte Olympia Birthday Sagittarius Zodiac Suede Smoking Slippers in Mustard, $695