Chloe Bailey has just released her debut solo studio album, In Pieces. And in an interview with ET at the red-carpet premiere of her new movie, Praise This, Bailey revealed receiving some help on her highly anticipated solo project from her mentor, no less than Beyonce.
Bailey shared that Queen Bey not only listened to her new songs but also provided her with "notes" before the album's release.
"Yes, I know she listened to the album. She gave me notes on it before I released it."
Gushing over Bey's support, she continued, "I love her so much. Dearly, dearly, and I'm so grateful to her for everything."
Chloe Bailey visits the Today Show studios to promote her new movie Praise This and first debut solo album In Pieces on April 6, 2023 (Credit: Roger Wong / INSTARimages)
During her appearance on the Today Show Thursday, the 24-year-old singer shared some of Beyonce's constructive notes, which she took to heart.
"One of the notes on Cheatback, because it was just guitar, she suggested adding an 808 around the two-minute mark."
"So once I did that, I got inspired to go a little more ham with a little extra percussion, so it really helps amplify it," she explained. "So it's like all her little notes would like open my mind to a whole new world."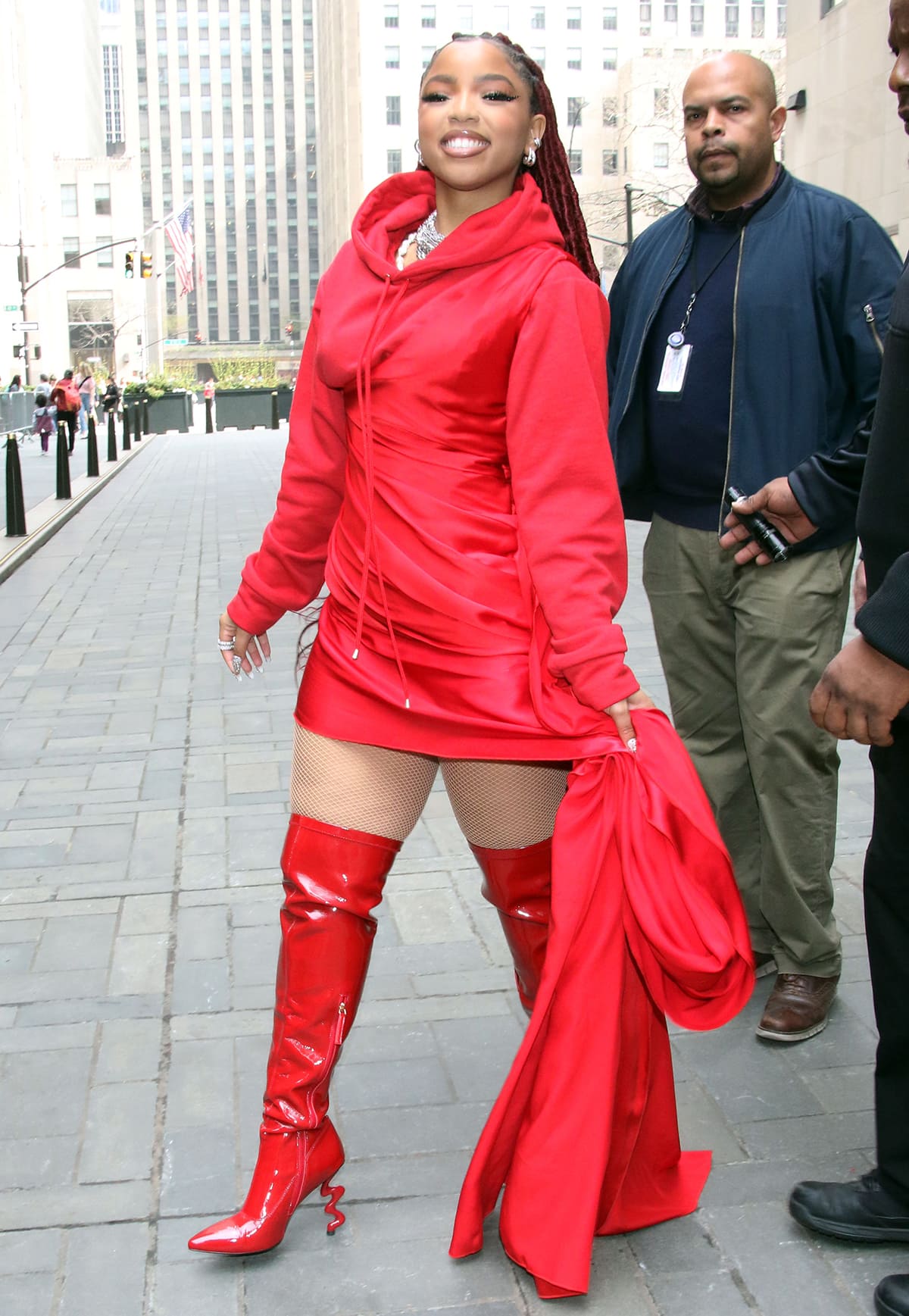 Chloe Bailey looks ravishing in a red hoodie dress with a long train, fishnet stockings, and red vinyl thigh-high boots (Credit: Roger Wong / INSTARimages)
Chloe and her sister Halle caught Queen Bey's attention in 2013 after they posted a cover of her song Pretty Hurts on YouTube.
The two were later signed to Beyonce's management company, Parkwood Entertainment, with a reported $1 million deal for six albums. Since then, they've become celebrities in their own right.
Clad in a red hoodie dress with a long train, Chloe also shared how Beyonce has inspired her with her work ethic.
"I think really how she lives, like, by example, seeing her work ethic and like – she goes ham every single time. And that, out of everything is most inspiring to me to see and witness, because it's a lot harder than it looks."
View this post on Instagram
Performing In Pieces live for the first time, Chloe paired her long red hoodie with vinyl thigh-high boots with pointed toes and sculptural heels.
She layered several necklaces around her neck, including a chunky chain necklace, a pearl necklace, and crystal necklaces, to add bling to the ensemble and further accessorized with multiple earrings and a plethora of rings.
Sporting her fiery red locs, Chloe rounded out her look with shimmering winged eyeliner, glittery nail polish, and heavily lined lips.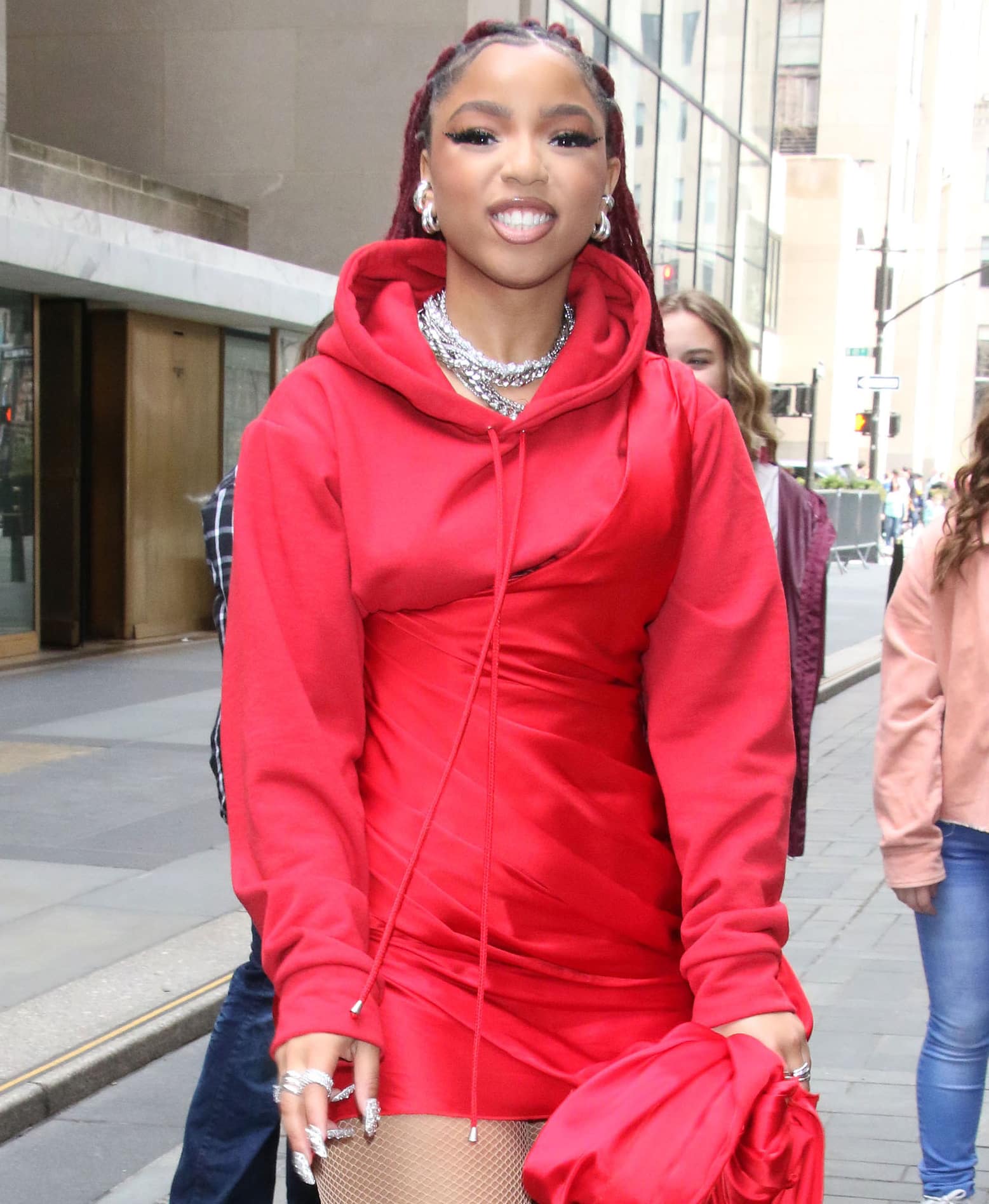 Chloe Bailey wears her signature red locs and sports winged eyeliner with heavily lined lips and shimmering nail polish (Credit: Roger Wong / INSTARimages)
Chloe Bailey's First Starring Role in Praise This
Booked and busy, Chloe also discussed her latest coming-of-age musical film, Praise This, which marks her first starring role in a feature film.
The movie follows Sam (played by Chloe Bailey), a rebellious aspiring musical artist forced to join her cousin's struggling Atlanta praise team choir in the lead-up to the national competition.
View this post on Instagram
"It's my first movie I've starred in, so to be able to do it with my love of music and God all combined, it's been pretty cool, and I'm so grateful," Bailey told CNN of her new project.
Directed by Tina Gordon, the film also stars Anjelika Washington and rapper Quavo. It premiered on Peacock on Friday, April 7.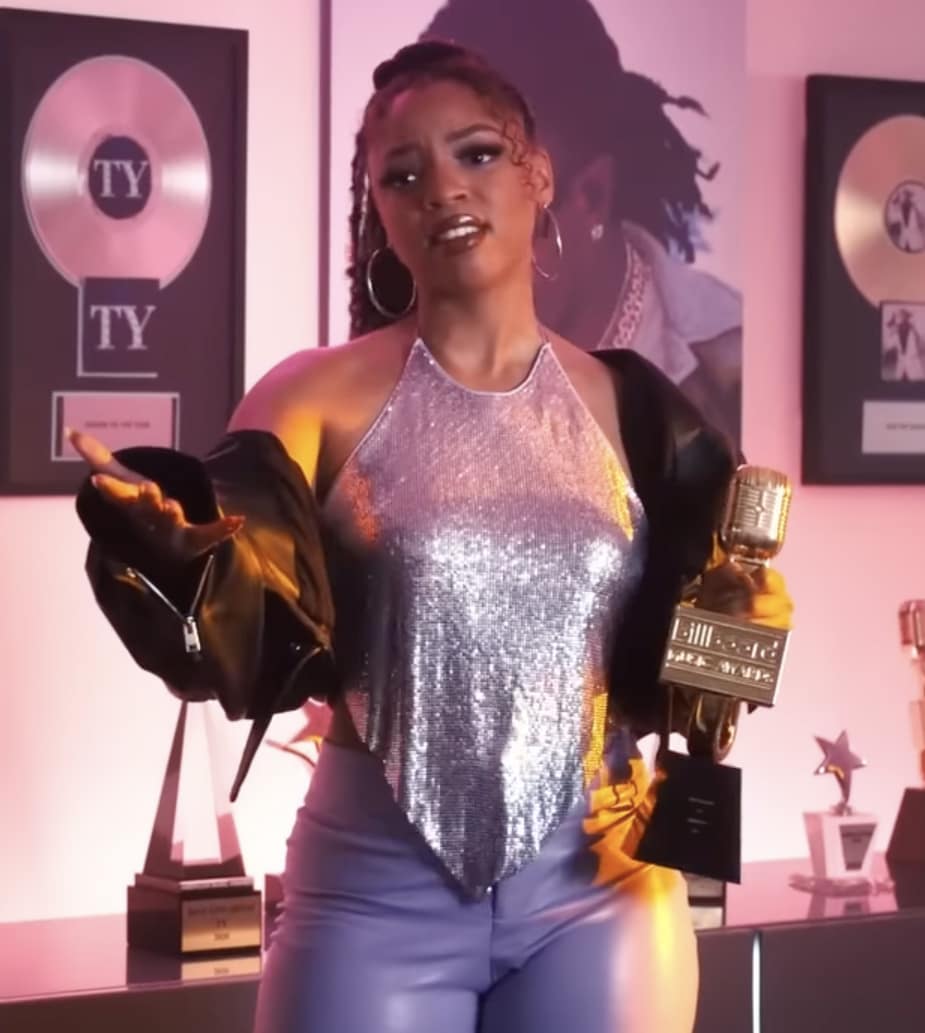 Praise This, a coming-of-age musical comedy, marks Chloe Bailey's first starring role in a feature film (Credit: Peacock)
Following her appearance on the show, Chloe traded in her red hoodie dress for a red midi frock with all-over ruching and billowy sleeves.
She also swapped her red boots for a pair of black leather knee-high cowboy boots and further accessorized with silver hoop earrings.
Chloe Bailey swaps her red hoodie dress and vinyl boots for a red ruched midi dress and a pair of black knee-high cowboy boots (Credit: Roger Wong / INSTARimages)