Kate Mara always exudes class and refined elegance no matter what she wears, whether she's heading to a fashion show, a low-key event or a film premiere.
The actress opted for a menswear-inspired look at the premiere of "My Days of Mercy" during the 2017 Toronto International Film Festival. We've seen various iterations of the power suit trend this season thanks to looks by Shay Mitchell, Chloe Sevigny, Millie Bobby Brown, Hailey Baldwin, Zendaya, and Victoria Justice. However, we love Kate's unique twist on the business formal look.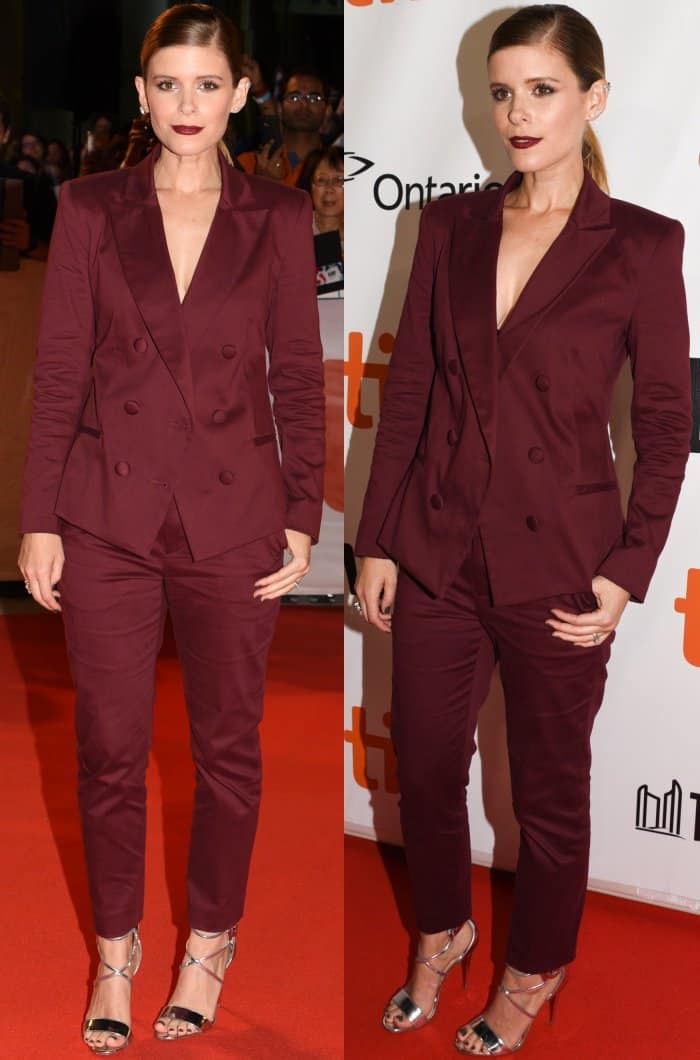 Kate Mara at the "My Days of Mercy" premiere during the 42nd Toronto International Film Festival in Toronto, Canada on September 15, 2017.
The 34-year-old actress wore an elegant maroon two-piece suit with a plunging neckline and a double-breasted silhouette.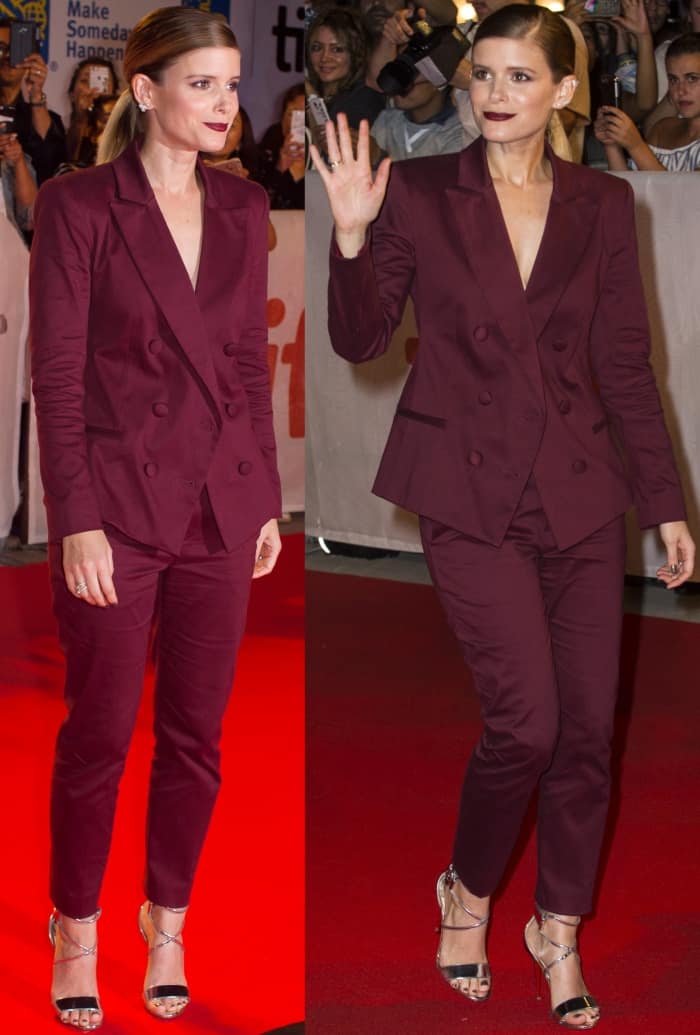 Kate Mara wears a maroon two-piece suit and Christian Louboutin Choca sandals
Kate styled it with matching dark red lips and a sleek side-swept ponytail before finishing off her look with metallic "Choca" heels from Christian Louboutin that we have also spotted on Reese Witherspoon.
Kate Mara's sleek side-swept ponytail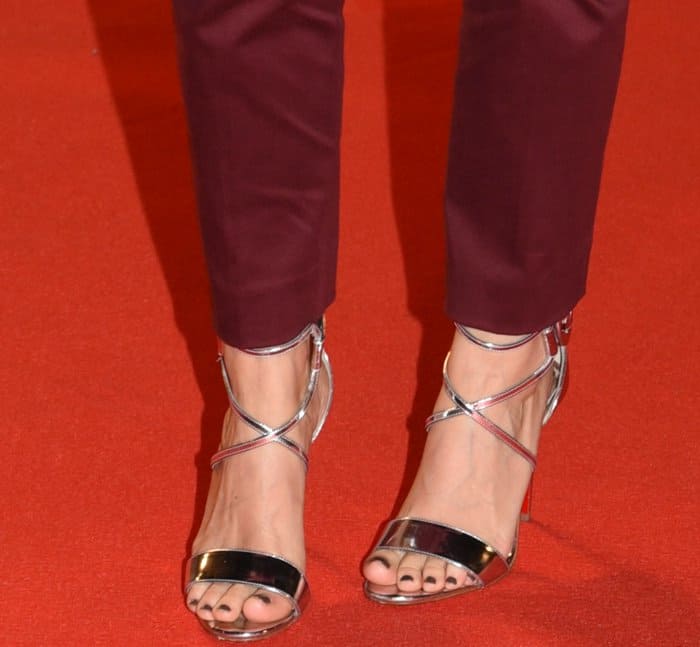 Kate Mara shows off her feet in metallic Choca heels from Christian Louboutin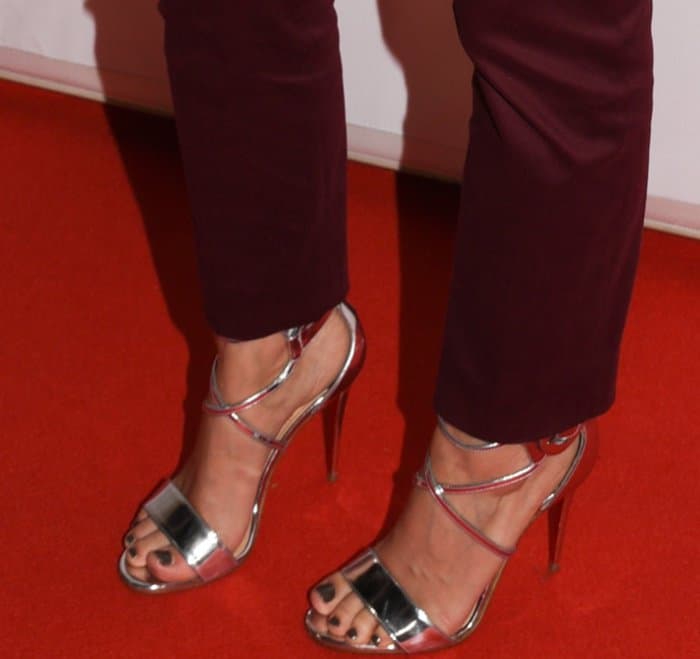 Kate Mara put her sexy toes on display in metallic shoes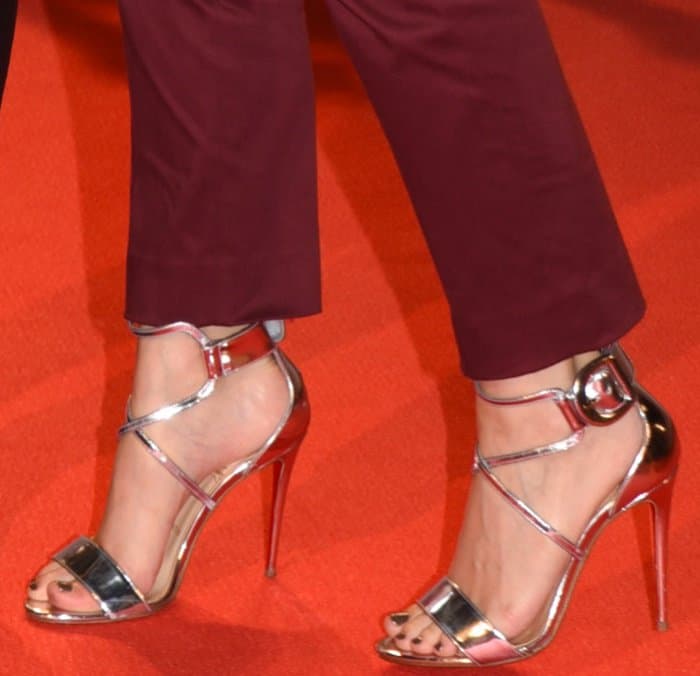 Kate Mara is well known for her pretty feet
Co-star Ellen Page also joined Kate on the red carpet in a sleek black suit with black leather boots.
Ellen Page and Kate Mara at the "My Days of Mercy" premiere during the 42nd Toronto International Film Festival in Toronto, Canada on September 15, 2017
The "Choca" sandals feature slender cross-over straps that overlap and wrap around the ankles for a curvy silhouette. These shoes also have covered buckle straps, pin-thin stiletto heels, and the luxury label's signature red-lacquered soles.
Kate's shoes feature a glossy metallic finish, but the "Choca" sandals are also available in a wide variety of other colors. You can also buy them with a platform and with spikes.
Black Choca Suede Lamé Sandals, $845 at Mytheresa
Crafted from suede with a subtly shimmering silver lamé finish, the elegant design is given a tough kick thanks to large D-shaped buckles on the ankles.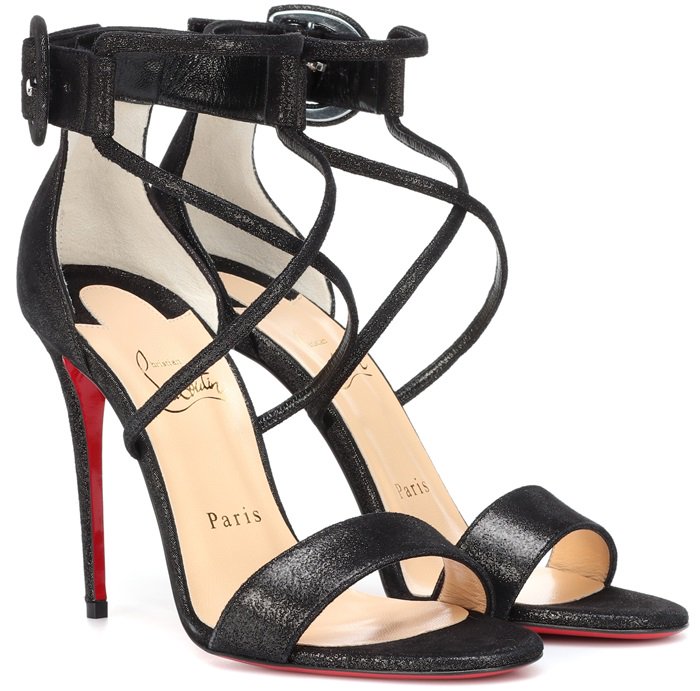 Slim crossover straps heighten the retro sophistication of this impeccably crafted Italian sandal.
Elevated on a 100mm stiletto heel, this pair in latte patent leather is an understated beauty.
Black Kidskin Choca Sandals, $995 at Bergdorf Goodman
This impeccably crafted sandal in black kidskin is the epitome of heightened glamour.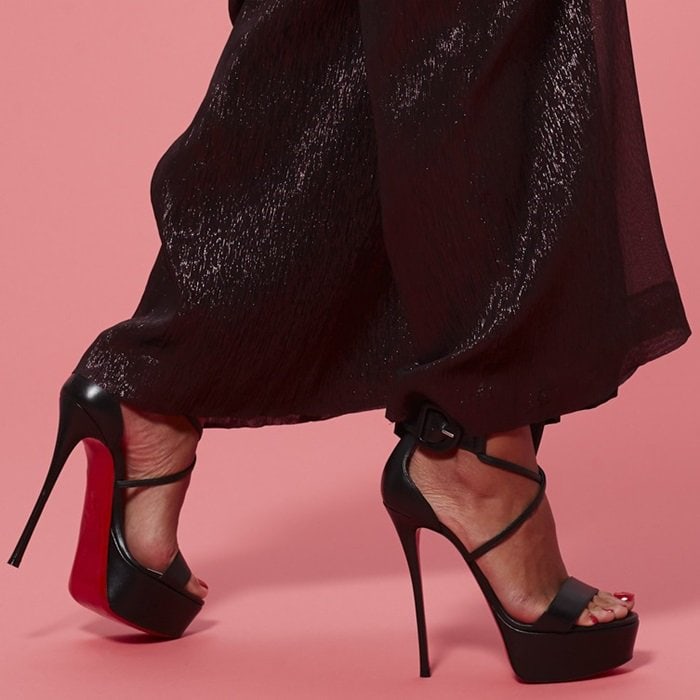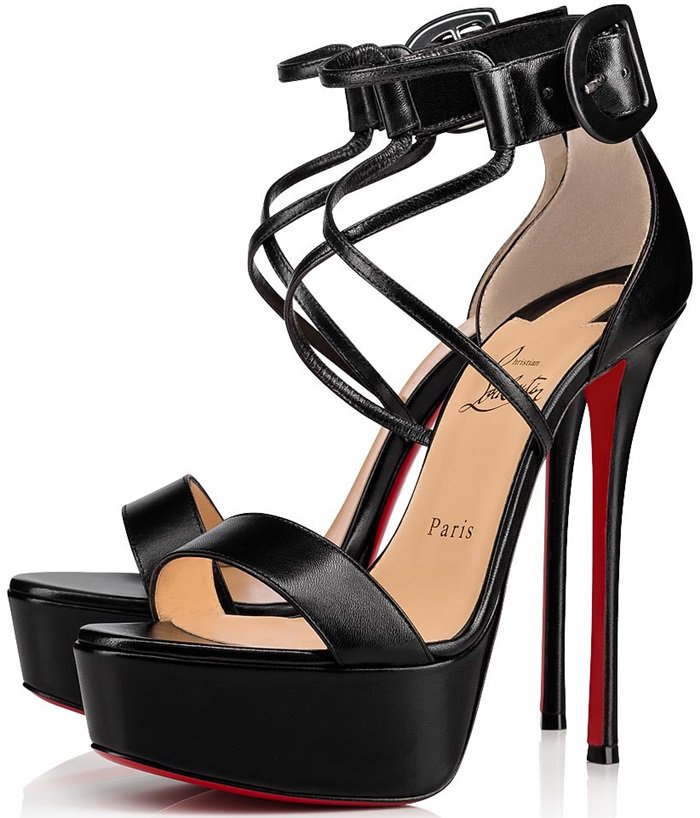 Nude Leather Choca Sandals, $995
Christian Louboutin amplifies the retro sophistication of Choca with a platform and 150mm of pin-thin stiletto heel.
Black/Silver Choca Lux Red Sole Sandals, $1,045 at Nordstrom and Bergdorf Goodman
The sculptural Choca Lux sandals are an elegant take on a classic Christian Louboutin espadrille.
Nude/Pink Bronze Choca Lux Red Sole Sandals, $1,045 at Barneys and Bergdorf Goodman
Pink bronze studs embellish the fine cross straps that curve around the ankle and end with a large covered buckle at the supersoft nude kidskin counter mounted on a 100mm heel.
If you're looking for an edgier version, Christian Louboutin also offers the "Choca Spikes." These shoes have the same features, but with the added bonus of stud-lined cross straps.
The black leather option offers nickel studs, the white leather option has silver spikes, while the nude leather design features light gold studs.
Christian Louboutin Choca Spikes Sandals, $995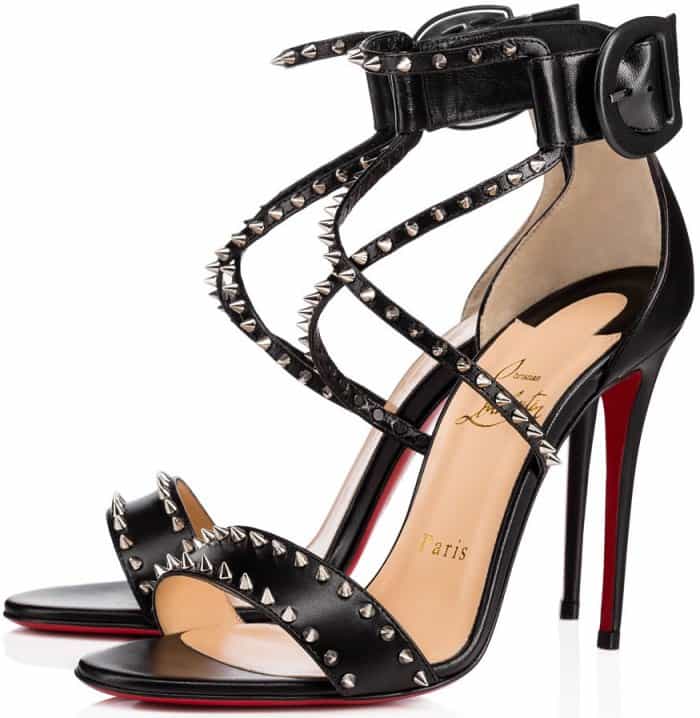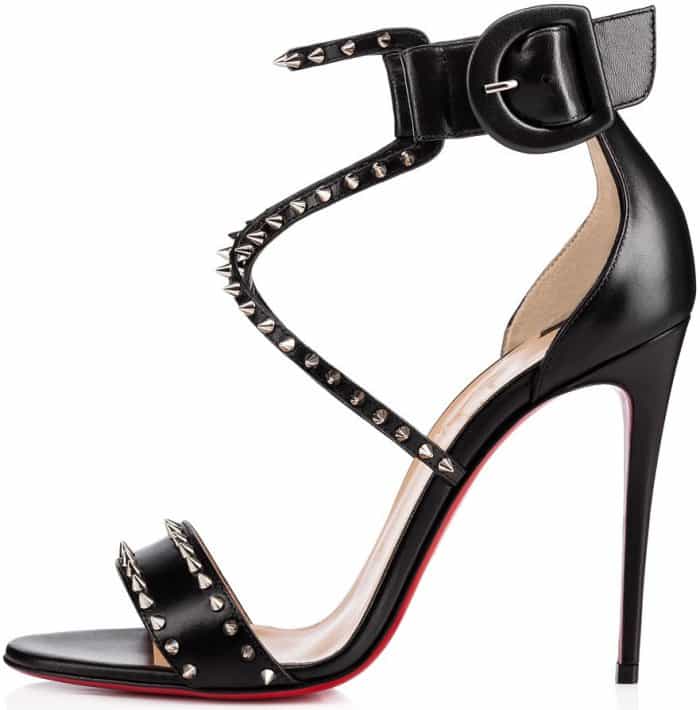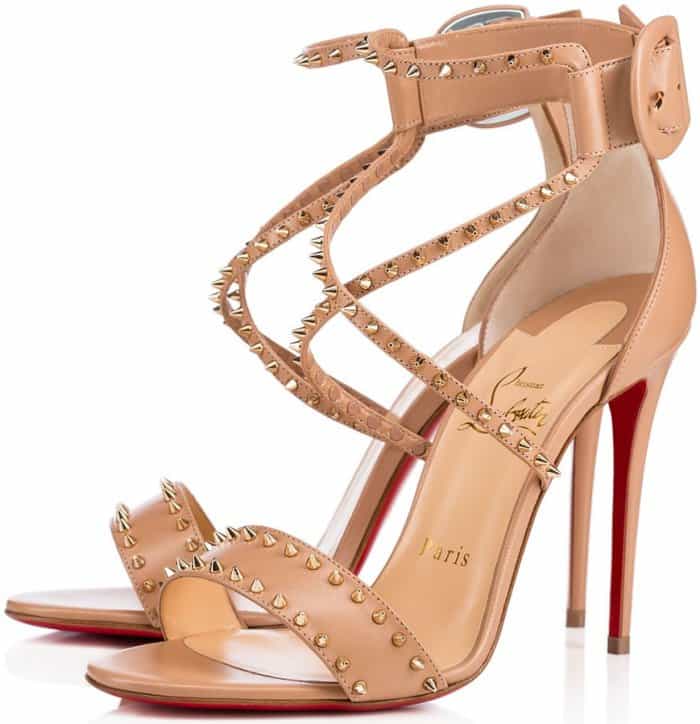 Credit: WENN / Jaime Espinoza / Euan Cherry