Chrissy Teigen is expanding her Cravings culinary brand with the launch of her first-ever food product: a range of baking mixes created for hassle-free home cooking.
Released on October 20, the new baking mix line includes three distinct flavors: Chrissy's Ultimate Banana Bread Mix, Buttermilk Mochi Pancake and Waffle Mix, and Salted White Chocolate Macadamia Cookie Mix.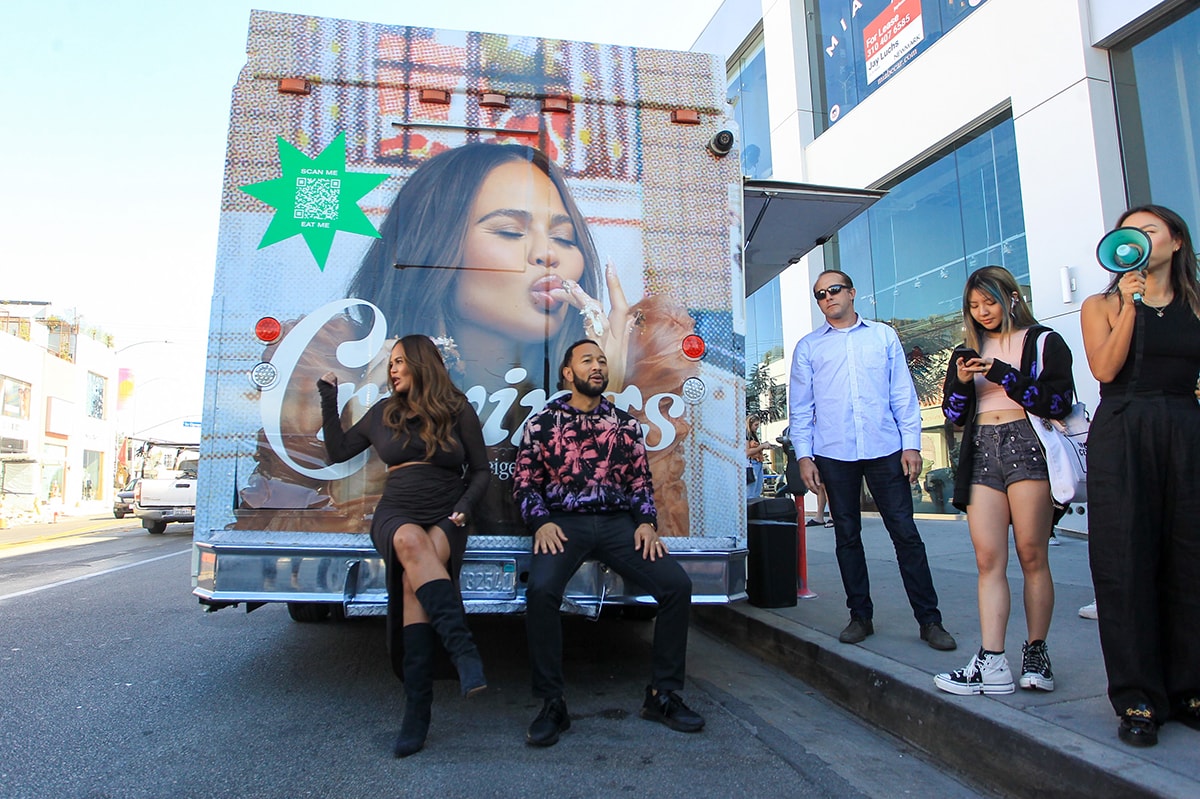 Chrissy Teigen celebrates new Cravings baking mixes with a pop-up food truck in Los Angeles on October 25, 2022 (Credit: BauerGriffin / INSTARimages / Cover Images)
To celebrate the launch of her new Cravings venture, Chrissy handed out free food from her pop-up food truck in Los Angeles.
She was accompanied by her husband, John Legend, who kept it casual in a purple and pink palm tree-printed hoodie, black pants, and sneakers.
John Legend accompanies Chrissy Teigen in a palm tree-printed hoodie and black pants (Credit: BauerGriffin / INSTARimages / Cover Images)
Showing off her growing baby bump, the cookbook author helped serve baked goods to fans in a dark brown ensemble by Rick Owens.
Chrissy donned an off-the-shoulder long-sleeved crop top cut from form-fitting stretch jersey. Available for $555 at Net-A-Porter, the "Jade" top features a flattering draped, twist-front and ruched detailing along the bodice and sleeves.
Chrissy Teigen flaunts her growing baby bump in a chocolate brown Rick Owens ensemble (Credit: BauerGriffin / INSTARimages / Cover Images)
The soon-to-be mother of three paired the stretchy number with its matching wrap-effect midi skirt, which you can get for $705 at Net-A-Porter.
This stretch-jersey skirt drapes over the wearer's frame in soft folds and features an elasticated waistband for a comfortable fit and a wrap-effect silhouette that creates a flattering thigh-high slit.
Chrissy Teigen wears a long-sleeved crop top with a matching wrap-style midi skirt (Credit: BauerGriffin / INSTARimages / Cover Images)
To accessorize the look, Chrissy wore a pair of $75 Lili Claspe "Mila" twist hoop earrings in gold finish.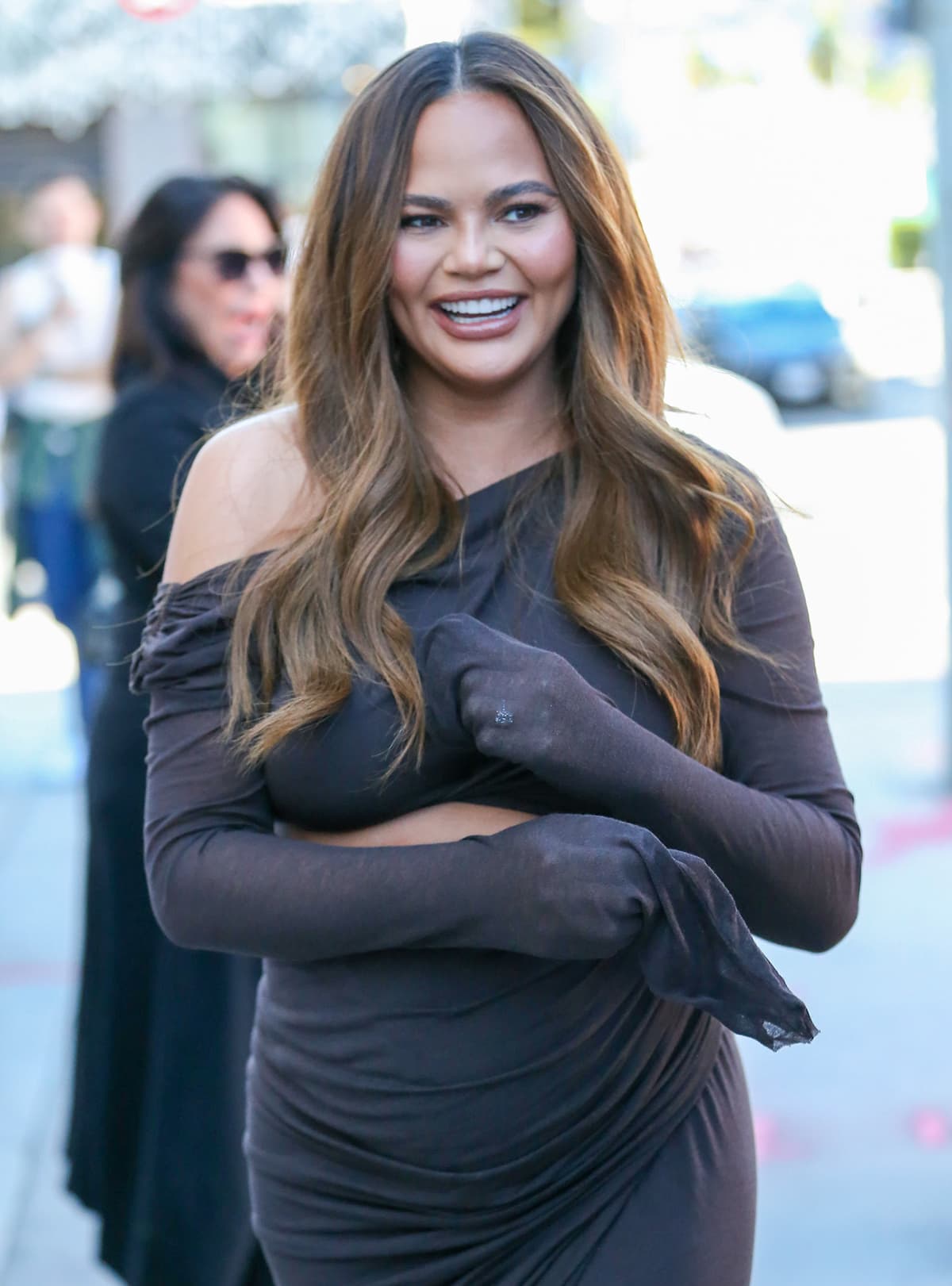 Chrissy Teigen styles her long tresses in waves and wears a neutral makeup palette (Credit: BauerGriffin / INSTARimages / Cover Images)
She then styled her long tresses in bouncy waves cascading over her shoulders and wore her signature neutral makeup with brown lip color, a sweep of blush, and mascara.
Chrissy Teigen pairs her brown crop top and midi skirt with black Isabel Marant knee boots (Credit: BauerGriffin / INSTARimages / Cover Images)
When it came down to her footwear, Chrissy opted for the Isabel Marant "Laylis" knee-high boots. They are made in Italy from supple black suede and feature slouched shafts and about 3-inch heels.
Isabel Marant 'Laylis' Suede Knee Boots, $1,190 at Mytheresa
The Laylis boots have a Western look, featuring slouched shafts and 3-inch heels
Chrissy Teigen Accused of Stealing The Caker's Packaging Design
Just a few days after the launch of her new baking mixes, Chrissy Teigen was accused of ripping off design ideas for the packaging of her new products.
Jordan Rondel, owner of the New Zealand bakery and cake shop The Caker, claimed in an Instagram post that Chrissy's Cravings copied the packaging of The Caker's cake mixes.
View this post on Instagram
"Sooo this has happened. Chrissy Teigen released her own line of elevated baking mixes (pictured here alongside mine) right after we collaborated on a cake mix together. I've taken a week to try to process everything and could say a lot more here, but i just want to acknowledge the support from everyone who has messaged me or commented online to stick up for The Caker."
She added that she has "no issue with anyone releasing baking mixes, but I think you guys are right that this particular situation isn't chill, especially because we're just a small sister run business."
View this post on Instagram
The accusation came just several weeks after the two collaborated to create a Spiced Carrot with Salted Caramel cake mix.
Jordan told Daily Mail that Chrissy reached out to her about the collaboration, saying, "Chrissy herself was the initial contact who reached out to me on Instagram, she was super lovely and immediately contacted me with her team."
In her post, Rondel said that "Chrissy was actually lovely to work with" and that she doesn't want the issue to "turn into a dramatic witch hunt."
Chrissy Teigen's Cravings Denies Copying Claims
Following The Caker's claims, a Cravings representative addressed the issue in a statement to DailyMail.
Strongly denying the accusations, the spokesperson said: "We absolutely did not copy their packaging."
"Images posted on social media by The Caker team compared the front of our box and the back of their own. The front of their packaging is different from the photographic approach we took, with their design tending to be a solid, bold color, which is actually a sleeve rather than the traditional box style we have used."
View this post on Instagram
The rep also said that they are "proud of the now sold-out Cravings x The Caker Spiced Carrot Cake Kit with Salted Caramel" but "it's disheartening and surprising to see The Caker's recent social posts and commentary regarding our products."
The spokesperson also shared that The Caker was aware of Cravings' plans to release its own baking mixes.
View this post on Instagram
"In May 2022, The Caker team was made fully aware that Cravings would be launching a line of baking mixes in the Fall following our one-off collaboration."
"The Caker chose to move forward with the carrot cake collaboration, and out of respect for the partnership, Cravings held off on producing a cake mix and launched banana bread, pancake, and cookie mixes on October 20th."