Amy Schumer is cool, hilarious, amazingly witty, Jennifer Lawrence's best friend, and a second cousin of U.S. Senator Chuck Schumer!
And — as if those aren't enough reasons to love her — just watch her present an award at the 2016 Golden Globes because her presentation should be more than enough to convince you that you want to be her best friend.
How Chuck Schumer and Amy Schumer are related
They are second cousins once removed. Amy's father, Gordon David Schumer, is Chuck's cousin.
After the 2015 shooting at the Grand 16 movie theater in Lafayette, Louisiana, during a showing of Amy's movie Trainwreck, the popular actress stood with her cousin, Sen. Chuck Schumer (D-NY), as he announced new legislation aimed at tightening gun laws and increasing funds for mental healthcare.
Charles Ellis Schumer is a second cousin, once removed, of actress Amy Schumer
"These shootings have got to stop," Amy said. "I don't know how else to say it. These are not extreme ideas. No one wants to live in a country where a felon, the mentally ill, or other dangerous people can get their hands on a gun with such ease."
"These are my first public comments on the issue of gun violence, but I promise you they will not be my last," Amy added at the press conference.
She has also defended Senator Chuck Schumer on social media. In January 2017, she spoke out to slam President Donald Trump after he criticized her cousin.
Senator Chuck Schumer's cousin Amy Schumer attends #BlogHer18 Creators Summit at Pier 17 on August 8, 2018, in New York City
"This is what he was thinking about at 621am. This was his tweet after his first soldier died. Also, 8 Yemeni women and 7 children died and trump called the raid 'successful,'" Amy wrote on Instagram.
"Also I know chuck Schumer and HE CANNOT act trust me. He can barely smile on cue. He can't help but be transparent and genuine. He was hurt for those people and all the people facing such unconstitutional injustice."
"Trump is about to bombard us with so many awful decisions. His Supreme Court pick will be terrifying and he will try and stop same sex adoption and all our other nightmares," she continued.
"We can't get burnt out or overwhelmed and distracted. We need to stay focused and organized. Tell your friends who say 'I'm just not political' that that doesn't cut it anymore. We need people alert and fighting for each other's rights."
Amy Schumer called out President Donald Trump on Instagram after he criticized her cousin, N.Y. Senator Chuck Schumer
"Tell your sheltered friends to wake up and help," she added. "If you live somewhere where you've never even met a Muslim person and it feels like this doesn't really affect you. It does. A Muslim ban is so unconstitutional and cruel. They are good, hard working people and a refugee from the countries he isn't letting people in from have never committed any acts of terrorism on US soil. Never. We need to fight this now and together. Call congress. Call the senate. We need to wake up and rise up together. People need our help."
At the 2016 Golden Globes, "A. Schu" stole the show with her witty comebacks and possibly stolen lewd jokes, even calling out an audience member playing with a phone.
Amy Schumer wears her blonde hair half up and half down at the 73rd Annual Golden Globe Awards held January 10, 2016, at the Beverly Hilton Hotel in Los Angeles
Though it may not have been the most appropriate time for vulgarity, everyone loved her for it.
Jennifer Lawrence and Amy Schumer present together at the Globes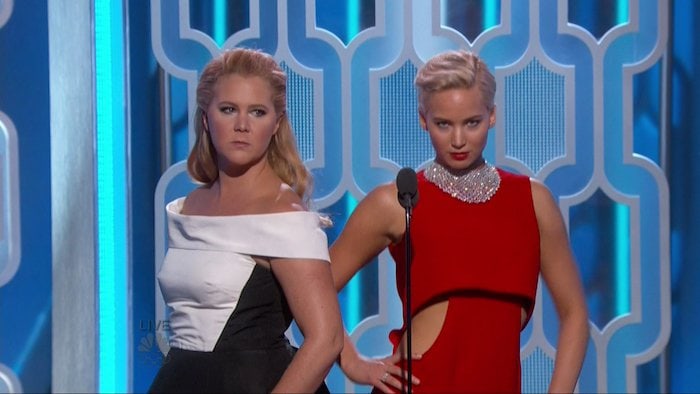 Jennifer Lawrence and Amy Schumer are good friends and even vacationed together in the Hamptons
The "Trainwreck" star also scored some major style points with her gorgeous white and black, off-shoulder Prabal Gurung gown.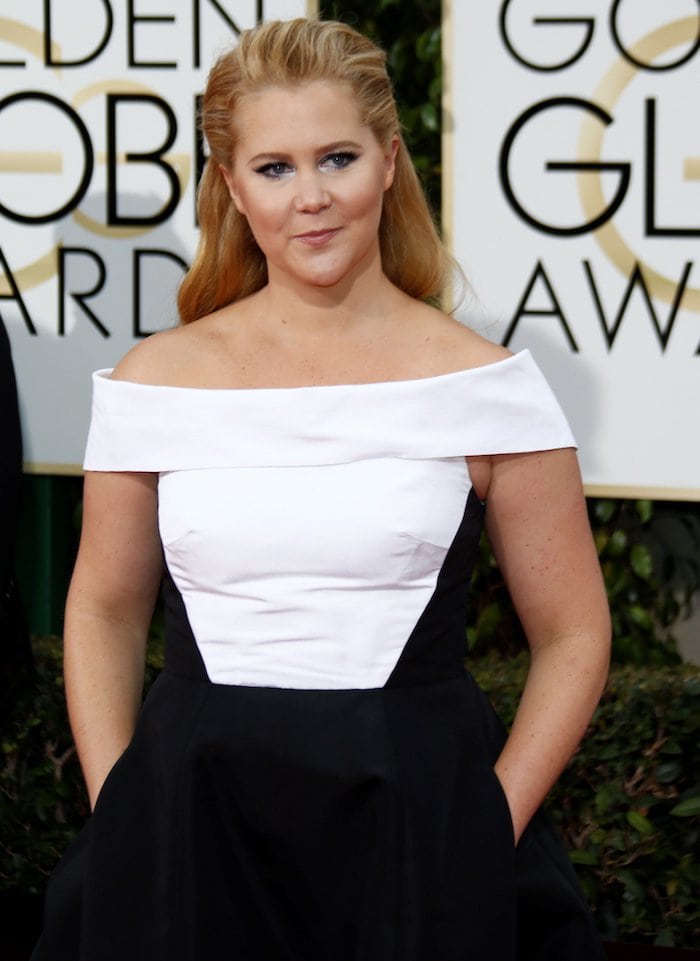 Amy Schumer tucks her hands into the pockets of her Prabal Gurung dress
She paired the dress with multiple buckled pumps also from Prabal Gurung. The shoes are from the designer's Pre-Fall 2016 collection.
Amy Schumer wears a black-and-white Prabal Gurung gown on the red carpet
Amy Schumer's feet in strappy Prabal Gurung pumps
Prabal Gurung Pre-Fall 2016 Multiple Buckle Pumps
Her particular pair is not yet on sale, but here's a similar alternative from Nordstrom.
Topshop "Geneva" Strappy Court Shoes, $85.00
Credit: WENN / Avalon