It looks like the ugly shoe trend is not going anywhere. In fact, we're now seeing it extend its reach into heels, which have long been dominated by sexy styles.
Stilettos have morphed into thick blocks, platforms have grown industrial lug soles and slinky straps are heavily burdened with buckles, studs, and other metal doodads.
If you've already embraced ugly shoes, then scroll through for eight ways to pull off this new look of clunky, chunky high-heel sandals.
If you haven't, then check out how awesome they look on top trendsetters like Gigi Hadid and Irina Shayk. That should dispel any fears you might have about experimenting with this trend.
1. Wear with a sparkly dress like Gigi Hadid
When wearing a sparkly dress, feel free to bypass pretty, princess-y heels and go straight to clunky sandals.
The contrast between the two totally works, as demonstrated by fashion's favorite model-of-the-moment, Gigi Hadid, with a pair of Versace "Medusa" tri-strap platform sandals.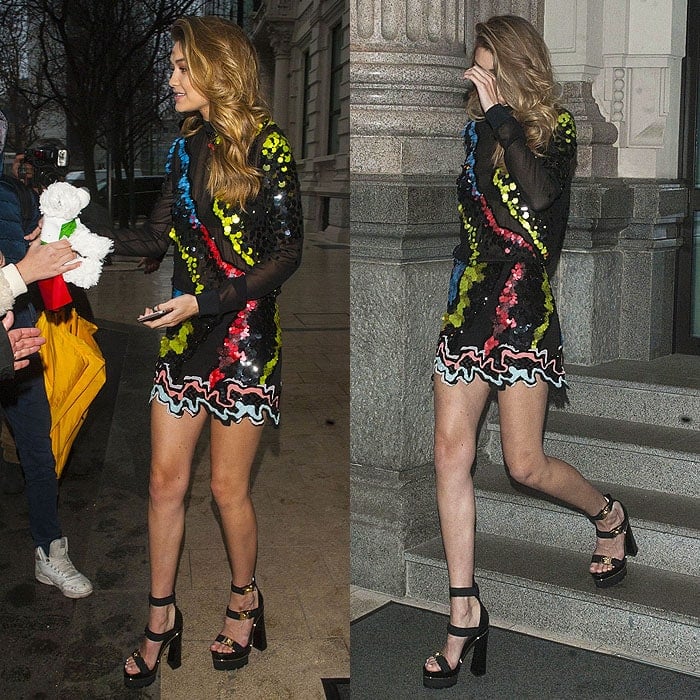 Gigi Hadid wears chunky sandals during Milan Fashion Week in Milan, Italy, on February 27, 2016 (Credit: WENN)
2. Pair with comfy shorts and a cute sweatshirt like Nina Dobrev
Shake up your favorite shorts and sweatshirt combo!
Nina Dobrev at Elle's Women in Comedy event at Hyde Sunset in Los Angeles, California, on June 7, 2016 (Credit: FayesVision / WENN)
That's what Nina Dobrev did with a cute printed set and a pair of Stuart Weitzman "Fourbucks" sandals.
3. Toughen up a sexy top and miniskirt outfit like Demi Lovato
Feeling way too exposed in a crop top or a miniskirt (or both)?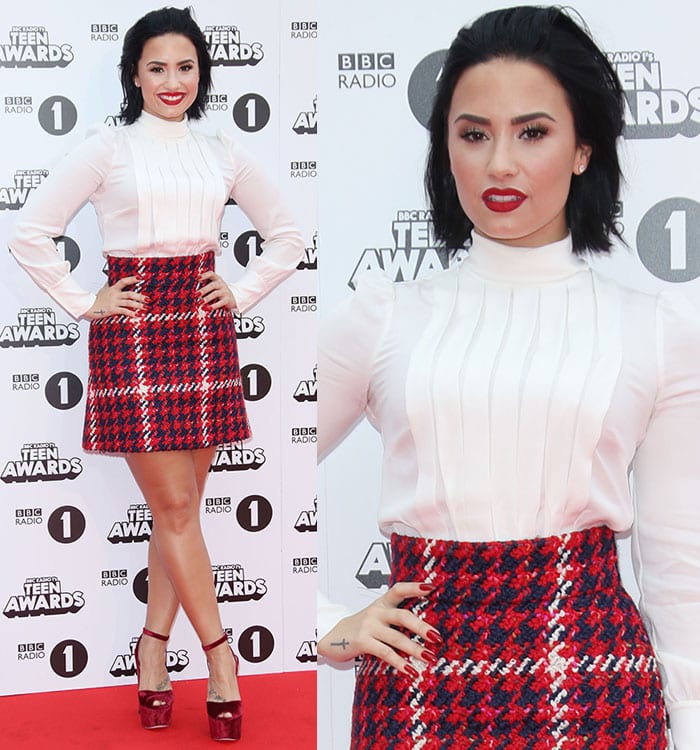 Demi Lovato styled her chunky heels with a cotton-blend bouclé-tweed mini skirt (Credit: Lia Toby / WENN)
Balance out the look with a heavy-duty pair of chunky platform heels like Demi Lovato.
4. Nail the sexy military chic aesthetic like Bella Thorne
Another Versace platform sandal lover, Bella Thorne tried a military-inspired look with her pair and absolutely nailed it.
Bella Thorne on her way to be interviewed by Mario Lopez for the television show, "Extra," at Universal Studios in Universal City, California, on June 7, 2016 (Credit: Michael Wright / WENN)
5. Add some pep to a casual denim jumpsuit ensemble like Emma Roberts
Subtle wedge heels and a high-shine metallic silver hue on her Loeffler Randall "Pia" sandals elevated Emma Roberts' casual shopping outfit to a whole other level.
Emma Roberts leaving Nine Zero One Salon in Los Angeles, California, on April 5, 2016 (Credit: Michael Wright / WENN)
6. Make like a model a la Irina Shayk
Okay, this one's a little tricky. We're not saying you have to have Irina Shayk's looks to pull off the ugly shoe trend, but it certainly helped the supermodel get away with wearing lug-soled Versace heels to a high-profile modeling gig.
Irina Shayk wears chunky heels at a Wrigley's photocall in Berlin, Germany, on April 22, 2016 (Credit: Irina Shayk's Facebook)
Bradley Cooper's ex-girlfriend also seems to be very well-versed in the trend.
7. Anchor a floaty, feminine frock like Jaimie Alexander
Jaimie Alexander kept her ultra-feminine look grounded with a pair of Stuart Weitzman "Fourbucks" sandals.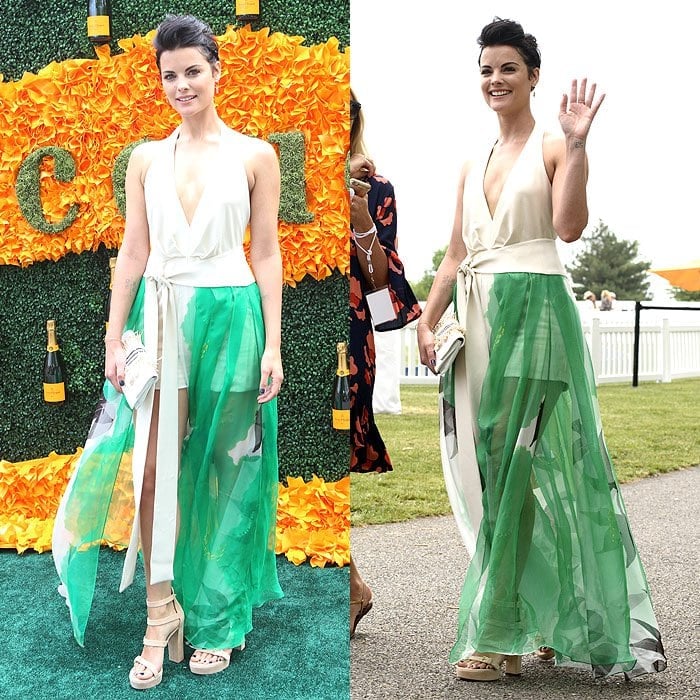 Jaimie Alexander attending the 9th Annual Veuve Clicquot Polo Classic at Liberty State Park in Jersey City, New Jersey, on June 4, 2016 (Credit: Derrick Salters / WENN)
8. Try a '90s goth babe look like Lily Aldridge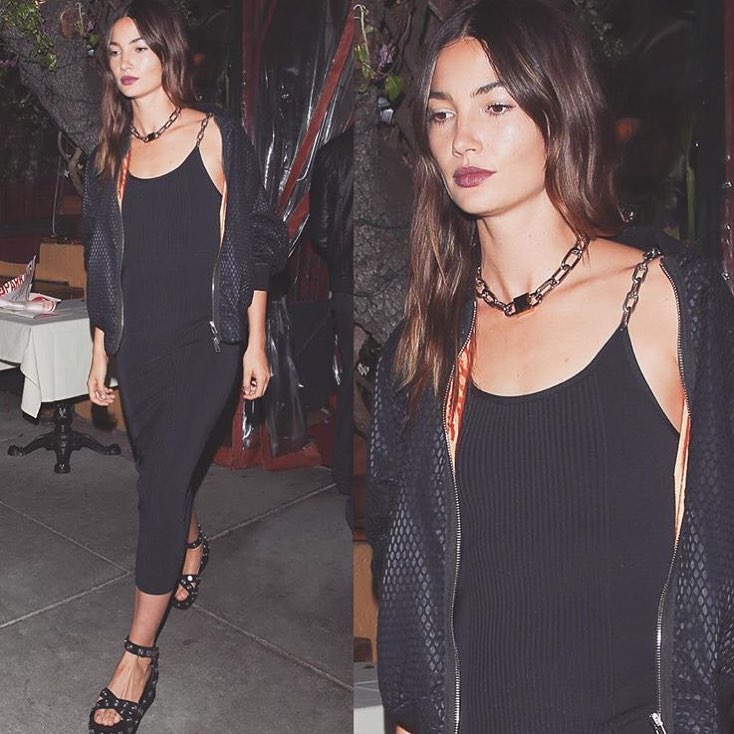 Lily Aldridge wears chunky Alexander Wang "Sandrah" studded platforms (Credit: Lily Aldridge Instagram)
Lily Aldridge looked so retro '90s in her chain-strapped LBD, dark lipstick, and Alexander Wang "Sandrah" studded flatforms — and we're heavily digging it.