The very pregnant Coleen Rooney was spotted out in Manchester, England on May 12 to show her support for husband Wayne Rooney, a forward player for Manchester United.
Earlier in the day, she arrived at Old Trafford in an ensemble that surely brightened up the rainy day. Later in the evening, she was spotted looking glam at the Neighbourhood restaurant to join the celebration of Manchester United after their Premiere League victory.
Coleen Rooney arriving at Old Trafford to support husband Wayne Rooney's game for Manchester United in Old Trafford, Manchester, England on May 12, 2013
So, there's Coleen Rooney braving the rain in a bright ensemble, which included an orange top and a floral Zara blazer. It was really a good thing that she wore flats studded with gold spikes as they added edge to her very feminine getup.
Like her Topshop "Maveriq" flats? They're perfect for running errands or for long walks while still looking stylish and can be found at Nordstrom.
Topshop "Maveriq" Flats, $64
Now, here's her look during the celebration:
Coleen Rooney celebrating with Manchester United players at the Neighbourhood restaurant in Manchester, England on May 12, 2013
After watching the Manchester United game during the day in a chic-casual getup, she changed into a glamorous ensemble for the victory celebration.
Coleen wore a pretty black dress with elegant gold accessories. She finished her look with a pair of black-and-white pumps by Saint Laurent. These "Escarpin" pumps feature dominant white leather and black patent cap toes. They also have square heels approximately 5 inches high and platforms 1/2 inch thick.
Her popular pumps are also available in other color versions at Barneys New York:
Saint Laurent Tribute Two Cap-Toe 'Escarpin' Pumps in White Leather and Black Patent Leather, $795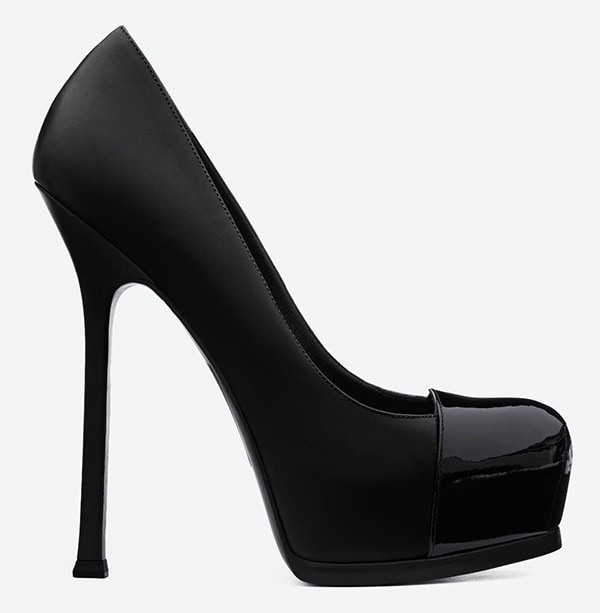 Saint Laurent Tribute Two Cap-Toe 'Escarpin' Pumps in Black Leather and Patent Leather, $795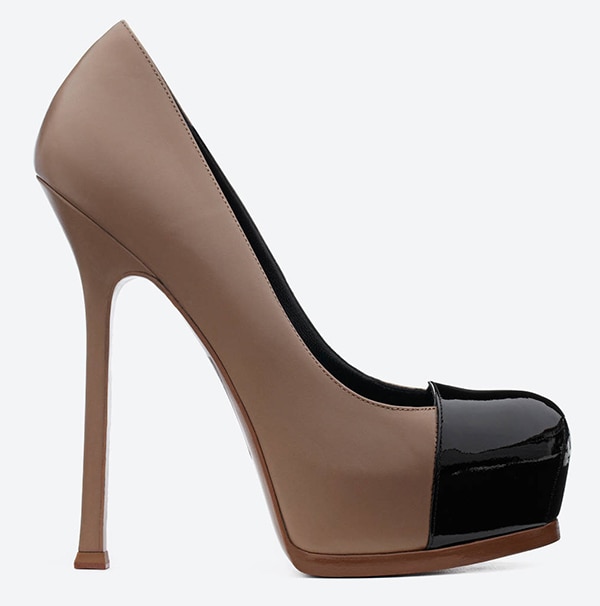 Saint Laurent Tribute Two Cap-Toe 'Escarpin' Pumps in Light Brown Leather and Black Patent Leather, $795
Saint Laurent Tribute Two Cap-Toe 'Escarpin' Pumps in Fuchsia Suede and Patent Leather, $795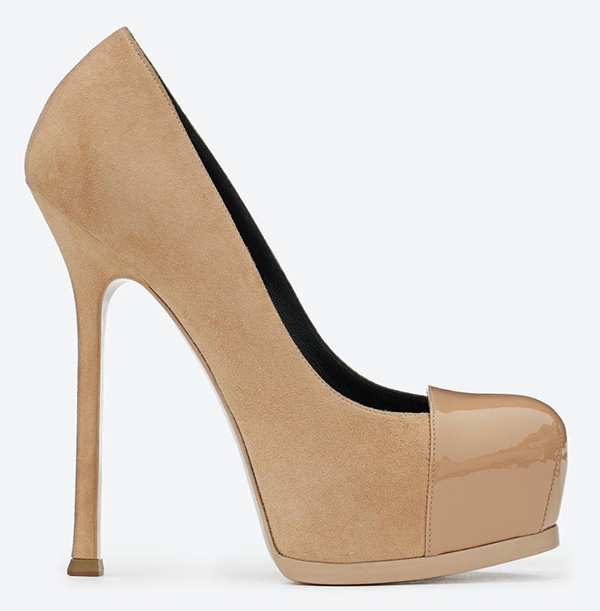 Saint Laurent Tribute Two Cap-Toe 'Escarpin' Pumps in Beige Suede and Patent Leather, $795
Credit: Steve Searle/WENN