We all have a signature color. You might be known for your love of Barbie pink or your closet full of green dresses. TikTok's latest viral color palette trend is reminding all of us of the impact of color in our closets.
Color blocking is a trend most people shy away from. It's an abstract art form that has expanded beyond fashion and into interior design – even becoming one of 2023's biggest hair trends.
The beauty of color blocking is that it's a simple way to accentuate your natural silhouette.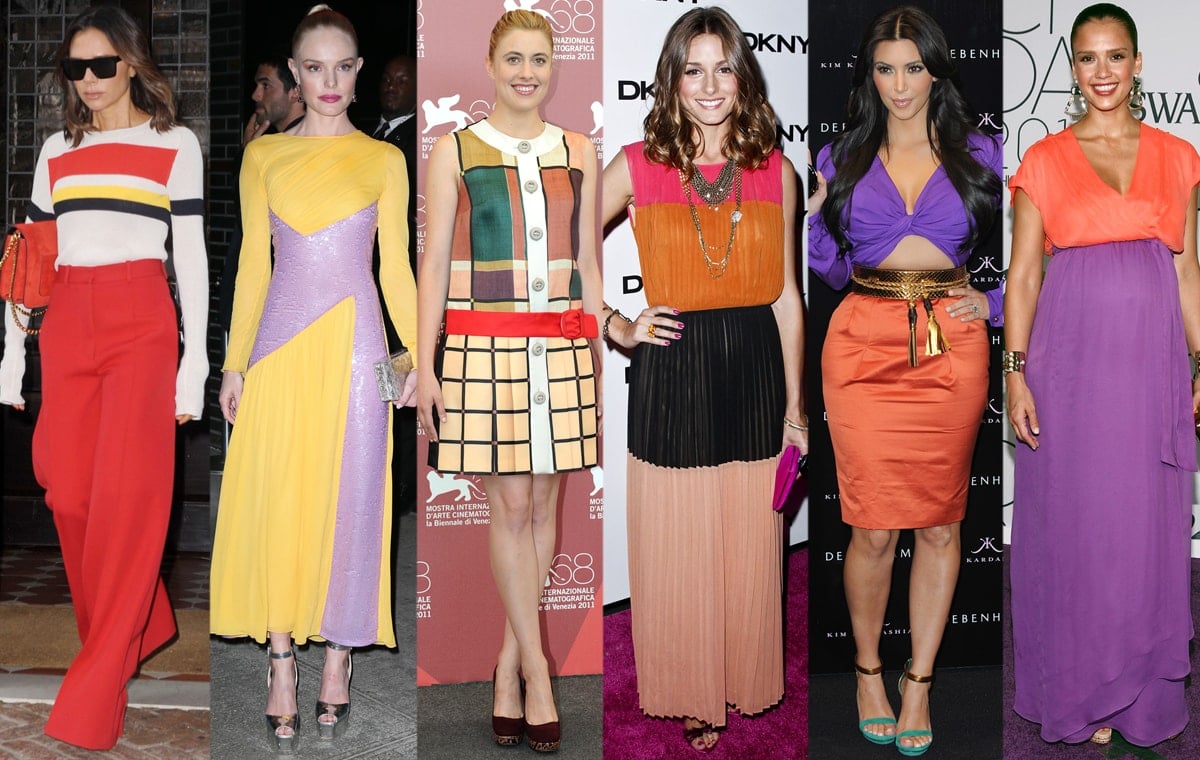 Victoria Beckham, Kate Bosworth, Greta Gerwig, Olivia Palermo, Kim Kardashian, and Jessica Alba show how to color-block (Credit: Humberto Carreno / DARA KUSHNER / INSTARimages / INFevents / B. Ach / Zak Hussein)
Do you want to look taller and skinnier? Give color blocking a try! This size-inclusive trend is more versatile than you might think. We're deep diving into everything you need to know about color blocking and what fashion faux pas to avoid.
What is Color Blocking?
Color blocking as an art form is widely credited to have originated with Piet Mondrian, a Dutch painter. His artwork focused on simplicity through abstract geometric shapes, focusing on opposing shades on the color wheel. It focuses on mixing two or three contrasting, usually bold, shades together.
The trend quickly found its way into fashion and has been updated almost every season to give it a contemporary look. Yves Saint Laurent's infamous 'Mondrian Dress' is one of the best examples of the explosion of color blocking as a 1960s trend.
View this post on Instagram

Contemporary color-blocking trends fall into two categories. You either wear multiple pieces within the same solid-color family or you wear pieces of loud, contrasting colors that deliberately clash.
Colors on the opposite end of the color wheel will give you the greatest impact, with contrasting hues of the same shade creating a more subtle and wearable look.
Color blocking has moved beyond a "mod '60s" trend to become a fashion statement almost as timeless as the little black dress. Its versatility means you can explore color blocking dozens of ways, from two-tone dressing to head-to-toe color schemes.
Color blocking means combining two or more solid colors either of clashing colors or different hues of the same solid color
Examples of Color Blocking Outfits
You can create color-blocking outfits with pieces already in your closet. It's often the best way to jump on the bandwagon – especially if you usually shy away from bold trends. Experimenting with color blocking can give your closet an instant (and affordable!) refresh.
Two-toned dresses are amongst the most popular color-blocking outfits. A black dress with a bold color panel is a piece everyone should have in their closet. It's a simple but bold statement and one you'll find in most brands.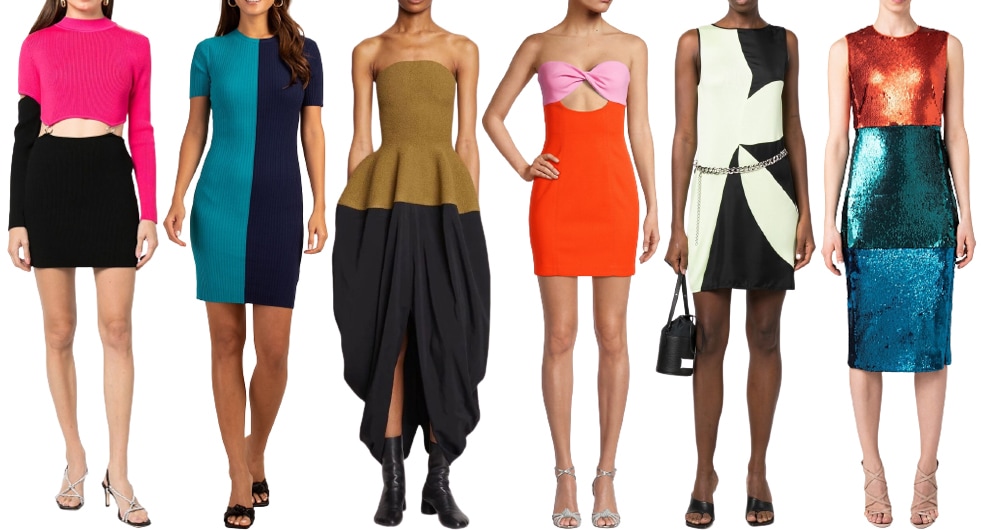 Two-toned dresses, usually black dresses with a bold color panel, are the most popular color-blocking outfits
Color blocking isn't just about your garments. You can also color block with your accessories. Show off your latest designer handbag by wearing a contrasting color.
Christian Siriano showed this color-blocking trend on the runway by styling a sunshine yellow dress with teal blue earrings and a matching bag. It's best to stick to two colors when trying this type of color blocking.
Christian Siriano color-blocked with accessories by styling a sunshine yellow garment with teal blue earrings and a matching bag for his Spring/Summer 2022 collection (Credit: Christian Siriano)
Styling Tips for Color Blocking
Take baby steps with color blocking. Two-tone dressing is often the easiest way to get started.
Choose a specific color palette and match two contrasting tones together, usually a warm undertone with a cooler shade. Pink and red are top picks for two-tonal dressing and are guaranteed to already be in your closet.
Pink and red are top picks for two-tonal dressing
Start by incorporating color-blocking accessories into your closet. A neon handbag or jacket in your signature color can instantly elevate even the simplest of outfits.
Throw on your new accessory and keep the rest of your outfit in a neutral color palette. Making small swaps like this can make color blocking feel more approachable.
Keep the rest of your outfit in neutral color when color-blocking with accessories
Repetition is one of the biggest styling tips for color blocking. Choose two to three contrasting shades as the palette for your outfit, replicating them across your outfit.
It will make your color blocking look more intentional and less like you got dressed in the dark.
Repeat the colors throughout your outfit for a bolder and more intentional color-blocking look
Not sure how to start color blocking? Invest in garments that already incorporate the trend.
Brands like Olivia Rubin have made color blocking a key part of their design DNA. These brands take out the guesswork by giving you a garment that mixes and matches shades within its design.
What to Avoid When Color Blocking
While color blocking may seem easy, there are a few golden rules you want to avoid breaking. The first is to keep your look focused on no more than three colors.
Any more than this can leave your outfit feeling unbalanced and lose the deliberate mismatched aesthetic that makes color blocking such a popular trend.
One of the biggest mistakes you can make when color blocking is choosing colors that don't work with your complexion.
Take the time to discover what color palette works for your skin tone and complexion. These hues should be the basis of your closet and make color blocking easier.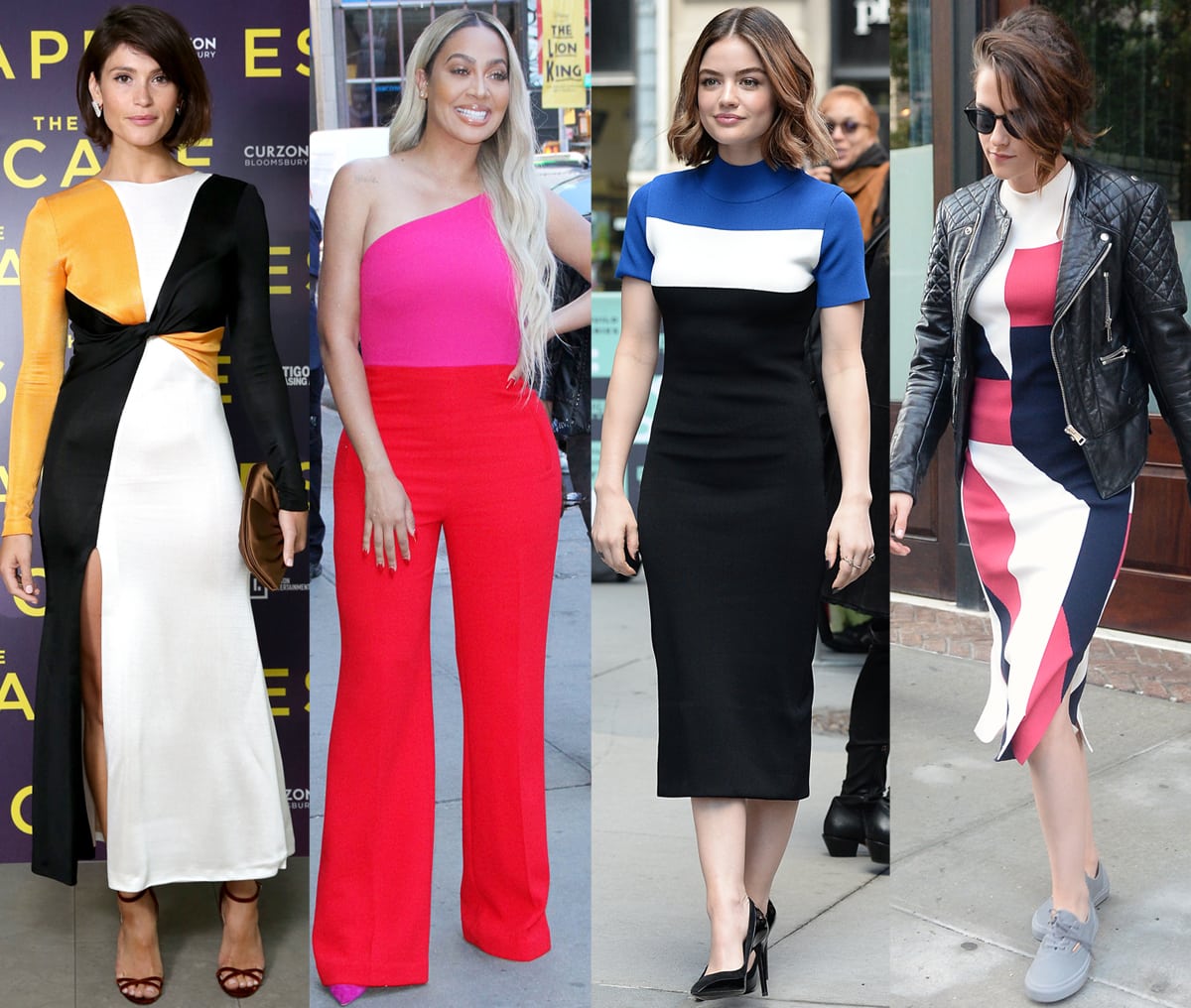 Choose colors that match your skin tone, or when in doubt, stay away from complicated color schemes like Gemma Arterton, La La Anthony, Lucy Hale, and Kristen Stewart (Credit: PA Images / ROGER WONG / Kristin Callahan / ACE Pictures / INSTARimages / Elder Ordonez / INFphoto)
Avoid more complicated color schemes until you become comfortable with color blocking. While black might seem like a solid color, it can be difficult to incorporate into a three-part color scheme and appear too harsh alongside neon hues and pastels.
Don't hide away your boldest layer. Don't forget to consider layering when putting together a color-blocking outfit. You'll typically want to wear the boldest shade as your outerwear or top layer.
Is Color Blocking a Trend?
While color blocking is usually viewed as a retro trend, it inevitably makes a comeback at least one season every year. It's impossible to find a red-carpet event or Fashion Week show that doesn't feature at least one color-blocking outfit.
The secret to giving color-blocking a timeless feel is focusing on shades complementing your complexion. Avoid overdoing the amount of color you're wearing. You want to balance your outfit with neutral accessories or a softer color that allows a bolder shade to take center stage.
Color blocking is a trend you should experiment with this season. Whether you're updating your workwear or looking for a special occasion dress, color blocking is a universal trend that will never go out of style.