The Crocs is a remarkably polarizing topic. If someone walks into a bar on any given night while wearing a pair, there is sure to be a crowd singing their praises and an even louder crowd hurling insults at the utilitarian shoe's design.
Love 'em or hate 'em, Crocs are here to stay.
Crocs shoes are made from durable but flexible closed-cell resin material called Croslite (Credit: Vladi333 / Shutterstock)
However, there is one thing about Crocs that gives nearly everyone pause: the holes! Made of thick and durable foam, Crocs are almost entirely waterproof… save for the sizable holes on the top of every shoe. These holes seem like a counterintuitive design choice, but as it turns out, they actually serve a few different purposes.
Today, we'll be focusing on the shoe everybody loves to hate (or loves to love, you do you) and why they have so many holes.
Crocs are made of a special material that isn't very breathable
The first reason that Crocs have holes is a simple one: ventilation.
The foam that Crocs are made of is called Croslite, which is a patented material exclusive to the brand. The majority of foam shoes on the market are made of plastic or rubber foam, but Croslite is actually made of a closed-cell resin, which can sometimes be referred to as an injection-molded EVA foam.
Crocs' Croslite material is light enough to float in water but is scratch-resistant and slip-resistant as well
Croslite is an interesting invention—especially when its only use is on a pair of Crocs—as it is light enough to float in water but has enough strength to not be compromised when scratched or crushed, unlike regular foam. Croslite is what makes Crocs so durable.
Unlike the resin art you see being trashed on TikTok, Croslite is extremely flexible and allows the shoes to fit and form to your feet. Apparently, this feature is lauded by many podiatrists, who have said that there are actually medical benefits to wearing Crocs based on the Croslite's flexibility and form.
The Washington Post interviewed Harold Glickman, chief of podiatric surgery at Sibley Memorial Hospital, who praised "Crocs for their ample toe room, deep and supportive heel cup and secure rear strap."
Unfortunately, Croslite is still a type of plastic, so it is not very breathable. The holes in every pair of Crocs allow your stinky feet sweat (and other liquids) to evaporate quickly, rather than sticking and staying inside the shoe.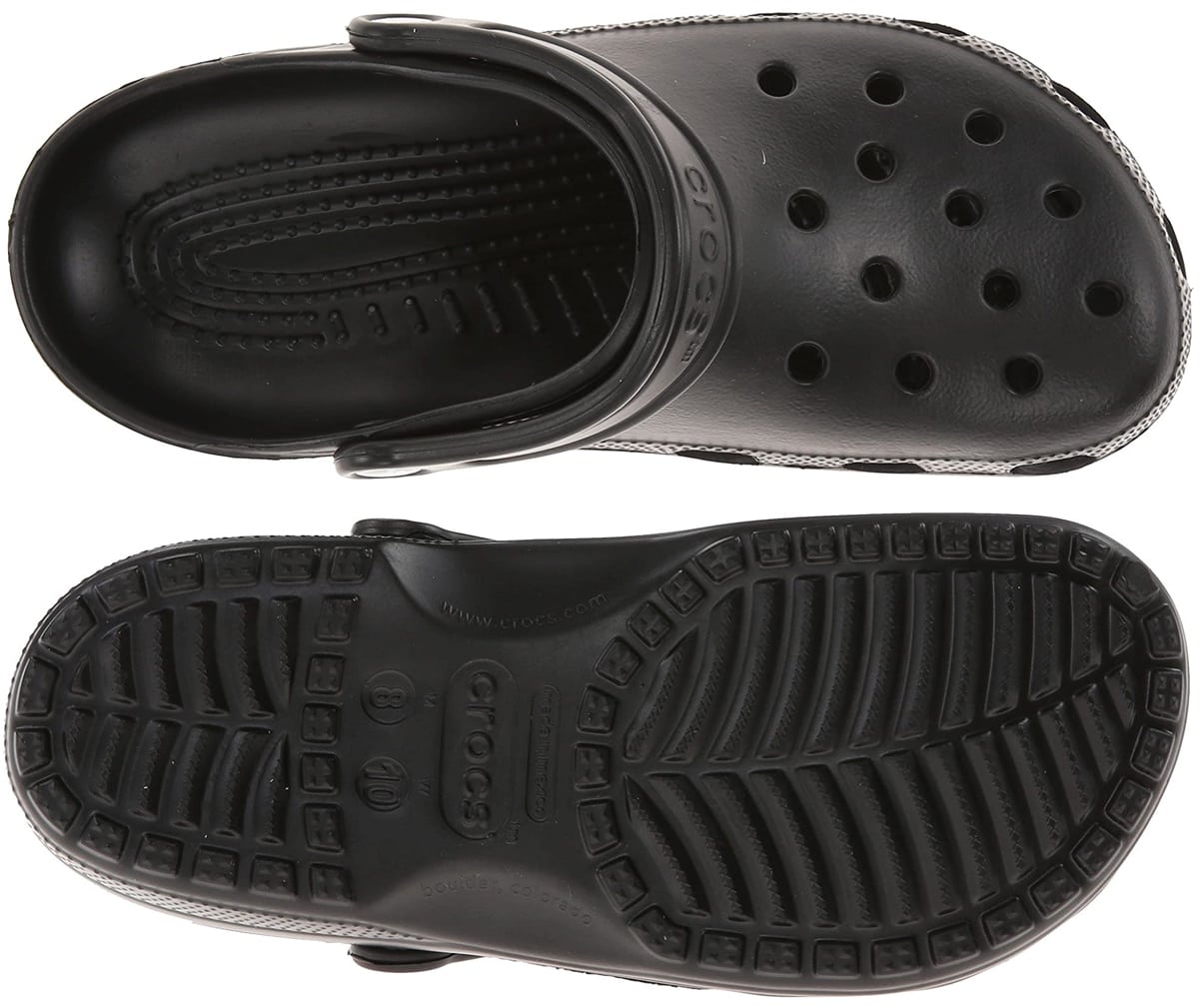 Crocs are designed with ventilation holes to allow for better air circulation and faster evaporation of sweat, helping to keep your feet dry and comfortable
The holes in Crocs make it easy for water to escape
Though you're more likely to see them being worn by someone on a quick errand or by a nurse at work, Crocs were originally designed for boaters and other types of sailors, though they have a bit less frat-guy appeal than other popular boat shoes, like Sperry's.
When Crocs were first designed, the idea was that they would be a lightweight, comfortable and slip-resistant shoe that could float, which is a huge bonus for sailors that could lose a shoe over the side of a boat.
Crocs were originally designed for boaters and sailors as a lightweight and comfortable shoe that could also drain water quickly
If you've ever been on a small vessel like a sailboat (or even a kayak or canoe), you know that there will always be a little bit of water on the boat. This is precisely why Crocs have holes: if a boater gets water in their shoes, they simply need to take off their Crocs, tip them over, and dump them out!
Without holes, you couldn't put Jibbitz on your Crocs
This is where the haters should tune out. Fans know that one of the best things about donning a pair of Crocs is the customization options available to you when using Jibbitz.
If you weren't already aware, Jibbitz are adorable little decorations that attach to Crocs shoes by firmly sticking a small, grommet-like peg into the shoe's holes.
There's a Jibbit for nearly everything. For example, this writer sports a number of Jibbitz in their platform Crocs: a four-leaf clover, the Cancer astrology symbol, a lucky number seven, and a Lisa Frank-style tiger. The only issue is not buying too many Jibbitz (fun fact: every standard pair of Crocs has exactly 13 holes on each shoe), but then again, you can always buy another pair of Crocs!
One way to personalize your Crocs is by using Jibbitz, which are small, decorative charms that can be inserted into the ventilation holes of the shoe
Crocs and Jibbitz truly go hand-in-hand, which is exactly what Sheri Schmelzer thought when she first launched the company, bearing the same name as its product.
Apparently, Schmelzer got the idea from her young children, who each wore their own pair of Crocs, and the mother was looking for ways to customize her children's shoes.
This was during the huge Crocs craze around 2005, so it's understandable that she was looking for solutions since nearly every child at that time wore Crocs—perhaps one of her children wore the wrong pair at home!
Schmelzer decided to decorate her children's Crocs with charms and faux flowers, each glued to a small peg that was inserted into the shoe's holes. This idea quickly took off as Jibbitz grew as a company and began to produce all manner of decorations.
Crocs bought Jibbitz for $10 million upfront, with a pledge to pay an additional $10 million if it hits its profit goals
Crocs took notice, as just one year later, in 2006, the shoe brand bought the Jibbitz company for a whopping $10 million, promising another $10 million if Jibbitz met profit goals in the next few quarters.
Nowadays, no pair of Crocs is complete without a few Jibbitz—another great reason Crocs have holes!