It doesn't seem like Dakota Fanning went through an awkward phase like most normal human beings. But then again, Dakota Fanning is far from normal and her very long resume shows just how extraordinary this actress is.
The young American actress stepped out for the Los Angeles premiere of "New Moon" (the latest installment of the Twilight saga) at the Mann Village Theater in Westwood, California. All the other stars of the movie were dressed to the hilt but Dakota Fanning outshone everyone else in a Valentino strapless black dress and D&G satin and suede pumps.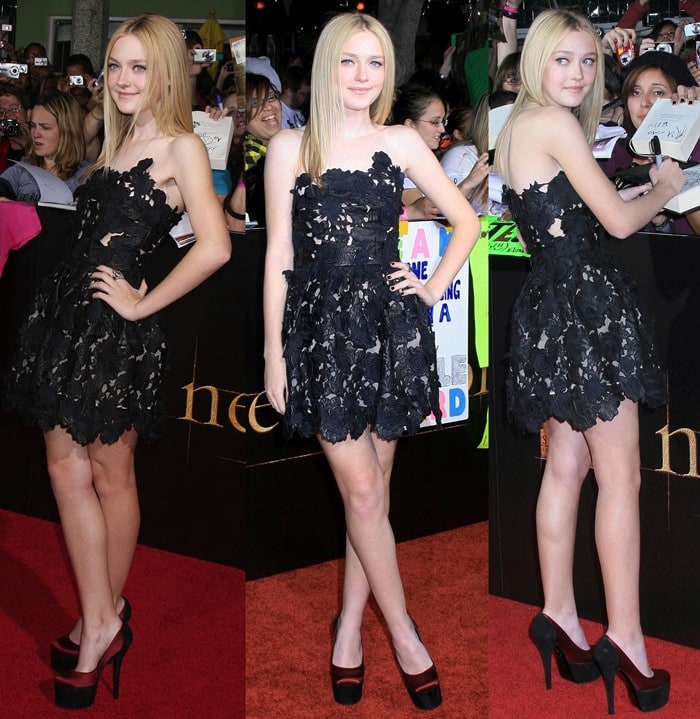 Dakota Fanning at the Los Angeles Premiere of 'The Twilight Saga: New Moon' held at Mann Village and Bruin Theater in Westwood on November 16, 2009
Some say that this look is too much for a 15-year old, but you have to agree that Dakota's ensemble fit perfectly with the "New Moon" movie premiere. Her Dolce and Gabbana pumps are the perfect shade of blood red and their red satin cover combined with the black suede platform heel kept everything within Twilight's vampire theme.
Red shoes always add that unexpected burst of color and satin and suede can make any outfit look polished!
Credit: Nikki Nelson/WENN