Dana Isaiah, a fitness model from Chicago born on May 3, 1992, married Jordin Sparks in a secret ceremony in Hawaii on July 17, 2017. She gave birth to her first child, a son, named Dana Isaiah Thomas Jr, on May 2, 2018.
Their dramatic journey to parenthood was documented in the Lifetime special Jordin Sparks: A Baby Story.
Jordin Sparks was joined by her husband Dana Isaiah at the premiere of Disney's "Mulan" at the El Capitan Theatre on March 9, 2020, in Hollywood, California (Credit: Avalon / WENN)
Before meeting her husband, the American Idol alum met his family when she traveled to Houston during Super Bowl weekend with her charity campaign I'm M.A.D., Are You? in February 2015.
Isaiah's mom is a friend of Jordin's mom, Jodi Sparks, and asked the singer for advice regarding her son's modeling career.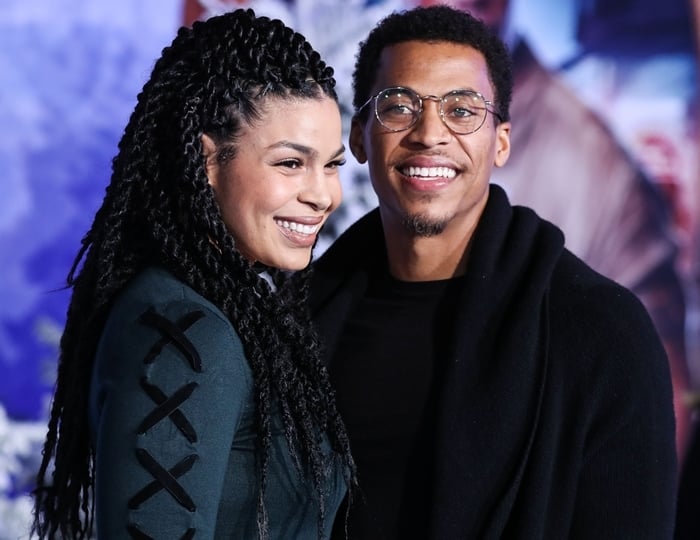 Singer Jordin Sparks and her husband Dana Isaiah arrive at the World Premiere Of Columbia Pictures' 'Jumanji: The Next Level' held at the TCL Chinese Theatre IMAX on December 9, 2019, in Hollywood, California (Credit: Avalon / WENN)
"My mom was trying to get [Jordin] to talk me out of moving to L.A. because she's experienced the industry out here," Dana Isaiah told People. "It wasn't like, 'We want you guys to date.'"
Dana Isaiah and his wife Jordin Sparks were introduced by their Christian mothers (Credit: Avalon / WENN)
"A couple of days after we had actually met, I was like in my head 'That's going to be my husband! That's my husband right there,'" says Sparks, who has been open about her Christian faith. Isaiah and Jordin decided not to move in together until they were husband and wife.
"When I'm with him, I feel comfort and safety and calm and peace, and those aren't things that I normally felt. So it was a little wake-up call for me."
"Every time I rock him to sleep, I start drifting into prayer over the choices he makes, the people he meets, and everything that's going to happen in his life. I pray, 'Lord, let him be strong when he needs to be, let him be kind in certain moments, let him be soft in certain moments, let him be compassionate, let him be passionate about other things and other people," Jordin told Christian Post about the special prayer she prays over her son.
Dana Isaiah and his wife Jordin Sparks are both devout Christians (Credit: Guillermo Proano / WENN)
"That prayer usually trails into a whole bunch of other prayers, depending on how long it takes him to get to sleep," she added.
"My faith became so much deeper because I caught a glimpse of the love the Father has for us. I wasn't prepared for the level of love I felt and the feelings that I never could've imagined before. I just look at DJ and I smile and I just want to cry because he's so incredible," she revealed about her renewed faith in God.
"My husband and I are so aware that we need to set a good, godly example for him, because he's going to be looking to us," she continued. "But it's been such an incredible experience and made my relationship with the Lord so real."
In November 2013, Jordin Sparks channeled a gladiator princess on the red carpet at the Nokia Theater L.A. Live for the 2013 American Music Awards.
Jordin Sparks was a gladiator princess at the 2013 American Music Awards at Nokia Theatre L.A. Live in Los Angeles on November 24, 2013 (Credit: Apega / WENN)
The then 23-year-old singer wore a Jovani Couture gown that at first may seem feminine. However, take a closer look and you'll notice that the halter-necked gown was rather edgy and tough with gold-tone studs all over the leather top.
Adding to the toughness of her look were her bangles and ear cuff.
What made Jordin look really stunning and sexy were simply the back part of the gown and the long pleated skirt with a thigh-high slit. It was not surprising to see her do the obligatory Angelina Jolie pose — sticking her leg out!
Jordin Sparks wearing Jovani Couture gown at the 2013 American Music Awards on November 24, 2013 (Credit: WENN / FayesVision)
We're glad she did that since it gave us a clear view of her stunning heels. She definitely should be flaunting her flawless legs and her sandals, which she got from Schutz.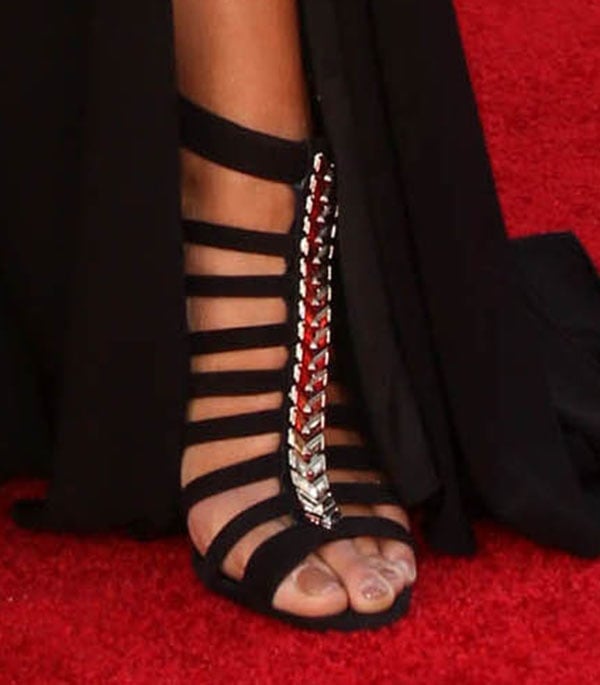 Jordin Sparks displays her toes in strappy high heels (Credit: WENN)
Called the "Blandina," they feature a strappy cage silhouette in cowhide material. Metal chevron detail down the center added a polished finish and complemented the edginess of her gown.
They also boast adjustable buckled ankle straps and towering stiletto heels that measure about 4 inches.
Jordin Sparks shows off her feet in Schutz Blandina strappy sandals (Credit: WENN)
See the detailed photos of her shoes at Nordstrom and Zappos:
Schutz Blandina Strappy Sandals, $220