We envy Angelina Jolie's classic and elegant style but here on YNS, we've never really had anything to be excited about over her shoe choices.
But when she walked the red carpet at the 2012 Oscars yesterday, she was sticking out her leg so much and so often that it was hard for us NOT to notice the shoes on her feet.
Angelina Jolie was in her signature head-to-toe all-black color at the Oscars and wore an Atelier Versace draped black velvet gown and matching Salvatore Ferragamo black velvet pumps:
Angelina Jolie arrives on the red carpet at the 84th Annual Academy Awards held at the Hollywood & Highland Center in Hollywood, California on February 26, 2012
Her usual loose wavy hair, come-hither eye makeup, and Brad Pitt arm candy finished off her look.
The one thing that was not typical about Angelina Jolie was her extra-smiley and extra-"pose-y" demeanor that had her jutting her right leg out from her dress's thigh-high split whenever she could.
She was even doing it while presenting an award on stage: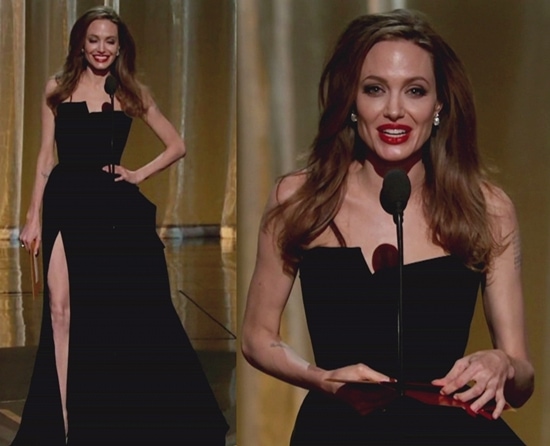 Angelina Jolie's signature loose wavy hair
At what angle did this pose look good?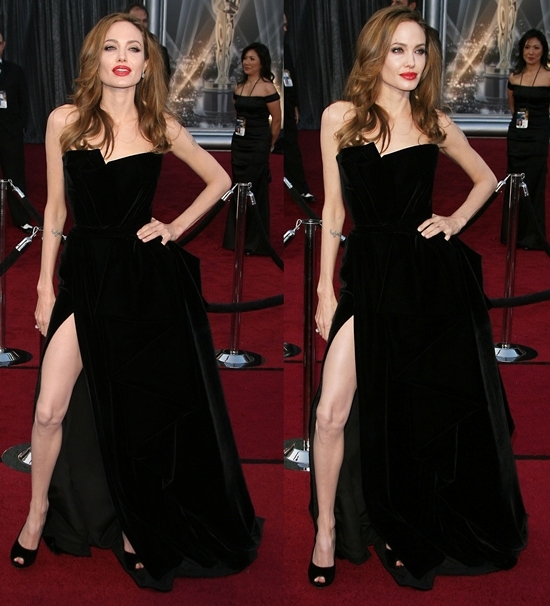 Angelina Jolie flaunted her legs in a draped black velvet dress
Anyway, at any rate, it's actually kind of nice to see Angelina Jolie drop her seriousness and be a little goofy even if it was unintentional. This kind of reminds us of the sexy, wild child Angelina Jolie that was her persona when she first skyrocketed to superstardom.
Angelina Jolie's shoes, again, aren't anything to write home about but because they made so many appearances on the red carpet, here they are:
Angelina Jolie's favorite Salvatore Ferragamo shoes
Angelina Jolie's 2012 Oscars shoes are these peep-toe pumps from her favorite designer Salvatore Ferragamo:
Salvatore Ferragamo Suede Peep-Toe Pumps, $682.00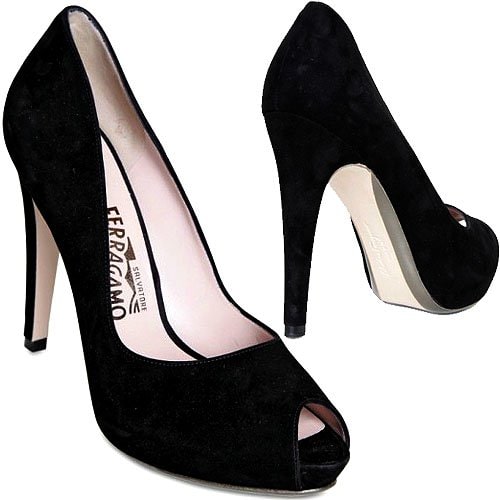 Angelina has them in black velvet; the ones above are black suede.
Credit: Adriana M. Barraza/ WENN