If you have been keeping up with the TikTok drama, it's likely you've wondered: how old is Danielle Cohn?!
Influencer and musician Danielle Cohn has around 20 million TikTok followers and almost 2 million subscribers on YouTube (Credit: WENN)
While a minor star compared to Charli D'Amelio and Addison Rae, with nearly 20 million TikTok followers, Danielle Cohn entertains her audience by lip-syncing along with popular sound bytes, participating in viral trends, and sharing increasingly raunchy videos — some of her content can feel a bit inappropriate, especially since Cohn is only 17 years old. Or is she?
In 2019, Danielle Cohn's father, Dustin Cohn, posted on his Facebook page that he wanted to "set things straight" and asserted that his daughter — who said she was 15 at the time — was only 13 years old, two years younger than Danielle claimed to be.
"For years I have done the diplomatic thing while dealing with my daughter being online in a way I didn't approve of and tryin [sic] to have it handled out of social media because I figured the system would work and keep my daughter safe," Dustin Cohn wrote in his post.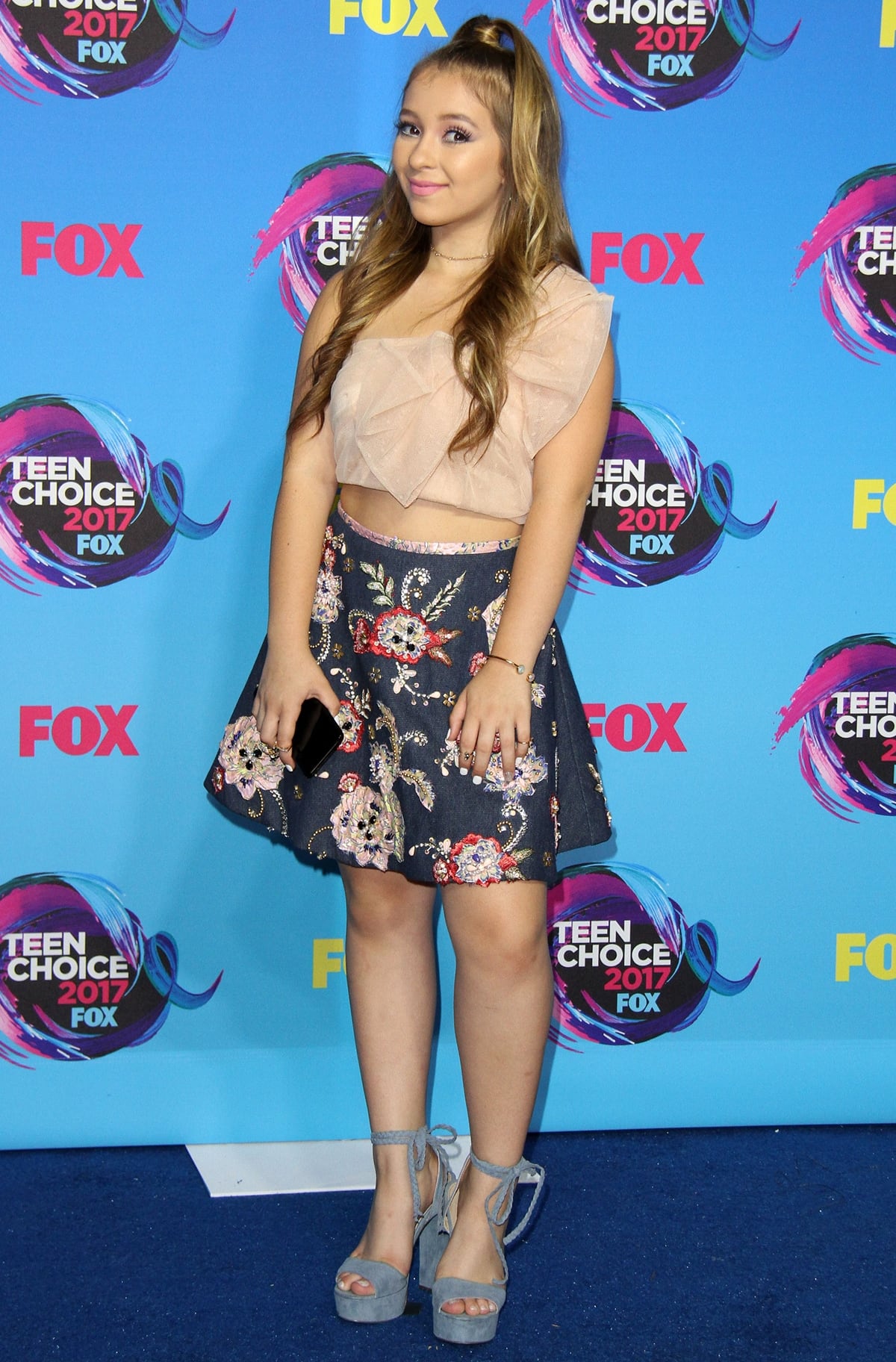 Danielle Cohn was nominated in the 'Choice Muser' category at the Teen Choice Awards 2017 at Galen Center on August 13, 2017, in Los Angeles, California (Credit: Adriana M. Barraza / WENN)
"Danielle is 13," he declared. "I have never liked Danielle being on social media especially when she started at such an early age. But pageants [sic], and modeling, and then [TikTok] were all pushed on her. I asked for it to stop immediately, which it didn't."
The TikToker's father goes on to write that he was worried about his daughter becoming a target for pedophiles after discovering photos of her online, which he says have gotten "worse and worse", and that he is only speaking out now, on social media, because he feels that "people need to be held accountable."
". . . now it has spiraled into me being worried about my daughters [sic] safety," he continued. "I have gone through multiple outlets and no one cares because I am the father and it proves fathers have no rights. I'm not heard at all and pushed to the side. I want these companies to be held accountable because they never did their due diligence in checking my daughter's age, and have used a minor for profit because the money is more important than the truth."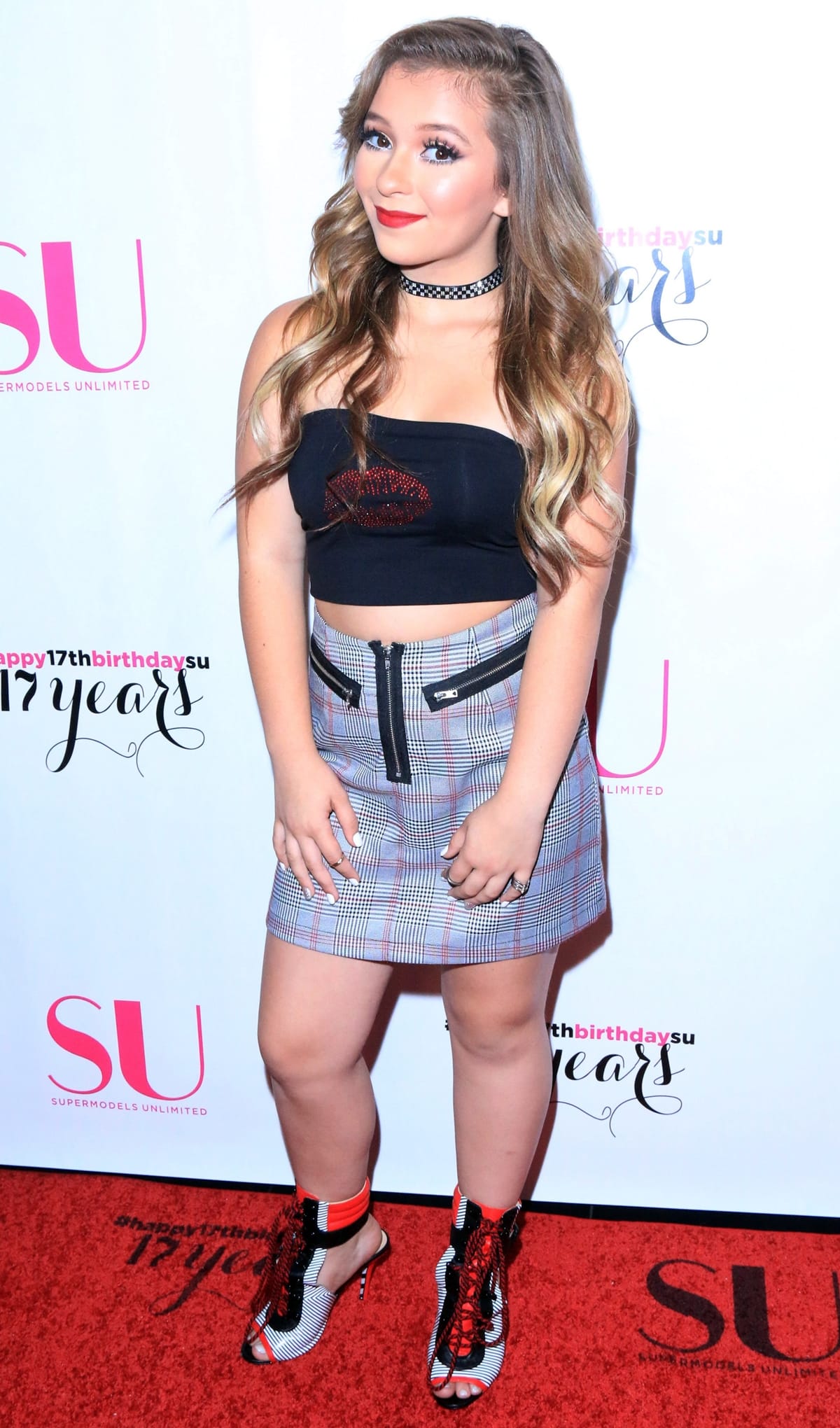 Danielle Cohn's real age remains a mystery and she was either born in 2004 or in 2006 (Credit: WENN)
"The exploitation of children on these sites needs to stop," Danielle's father adds. "If I have the means to be that person, I will come out and show the disgusting truth."
Obviously, fans were shocked at Danielle's father's claims, constantly questioning the TikToker about her real age. Still, Danielle maintains that she was born on March 7, 2004 — not on March 7, 2006 — and that her dad is not the loving, concerned father his Facebook post makes him out to be.
"I have the best life and make my own decisions so tired of this bull crap," Danielle said to her followers in a 2019 Instagram story post after her father's shocking revelation.
"Listen to someone that has nothing to do with me and also took my mom to court before I was famous because he didn't want to pay child support."
"You guys have no idea what you are talking about," Danielle continued, directly addressing her followers that accused her of lying about her age and showed support for her father.
View this post on Instagram
"He was so embarrassed that he didn't even tell his wife about me until I showed up one day asking for stuff. Never supported anything I did, was never at my cheer or pageants… Why did it take him three years to come and say something… And did I mention he got his job by mentioning my name?"
Danielle later penned a lengthy and heart-wrenching open letter to her father that she shared to her Instagram account, condemning him for his statements about her age.
"There is so much damage you have caused that I will never be able to forgive you," she shared. "Like going to social media instead of personally reaching out to me… You laid out lies and spoke about me as an enemy would… But the fact is that you have lied about it all."
Danielle also addressed comments Dustin Cohn had made about her mother, telling him to stop dragging her name "through the dirt" and that her mother is "twice the parent you could ever be."
View this post on Instagram
"You keep telling people she forces me to do this and that; she does not force me to do anything that I do not want to do myself!" she continued. "I have a mind of my own, I have set goals in my life and all I am doing is attaining them, and because you are not part of it you want to sit here on social media and bash my mom!"
Danielle finished the open letter by writing, "Time for you to go to rehab, you are completely delusional."
Though Dustin Cohn has since deleted his posts, the social media star's father raised some important questions about his daughter's career.
Whether Danielle Cohn is 17 — as she claims — or 15 — as her father claims — the posts made on Danielle's TikTok, YouTube, and Instagram are disturbing at best.
She shares photos of herself wearing lingerie, skimpy bikinis, paper-thin dresses, and dressed as a Playboy Bunny. In videos, Danielle participates in dancing trends as she gyrates for the camera.
On Youtube, she shares alarmingly intimate details of her life, and her videos have titles such as "Why I Started an OnlyFans", "Hot Girl Summer Try On Bikini Haul", and "The Truth About My Abortion".
Danielle Cohn shows off her feet in block heels at the Teen Choice Awards 2017 (Credit: Adriana M. Barraza / WENN)
On Instagram, the 17 or 15-year-old shared a photo of herself wearing a very tight, white dress posing in a way that evokes thoughts of a BDSM scene (not even kidding) and captioned the photo, "What would [you] ask me if [you] knew my answer would be yes?"
That post was sponsored by a fashion company.
Regardless of Danielle's real age, her father was right — this is a child who is being exploited on social media for profit.