Ted Danson and Mary Steenburgen celebrated their 25th wedding anniversary on October 8, 2020. They starting dating in 1993 after meeting on the set of Pontiac Moon, a film about a family's journey of discovery and growth.
Ted Danson married actress Mary Steenburgen after meeting on the set of the movie Pontiac Moon in 1993 (Credit: Avalon / WENN)
It was on set during a five-hour canoe scene that Danson and Steenburgen discovered something new themselves, another chance at love.
However, it was not their first meeting. They briefly met a decade earlier during auditions for the 1983 American biographical drama romance film Cross Creek. Danson didn't get the part of Steenburgen's husband in the film.
She portrayed Marjorie Kinnan Rawlings and her husband in the movie was played by Jay O. Sanders.
"Which is a miracle, because man, I was a hot mess back then," Ted Danson told People about not starting a relationship with Mary Steenburgen in the early 1980s. "I was married. He was married. That was not our moment," she added.
A bumpy road to love
The road to long-lasting love was not an easy one for Danson or Steenburgen. The couple met in their 40s and each had experienced a lot in life up to that point.
In fact, Danson had just gone through his second divorce when he met Steenburgen.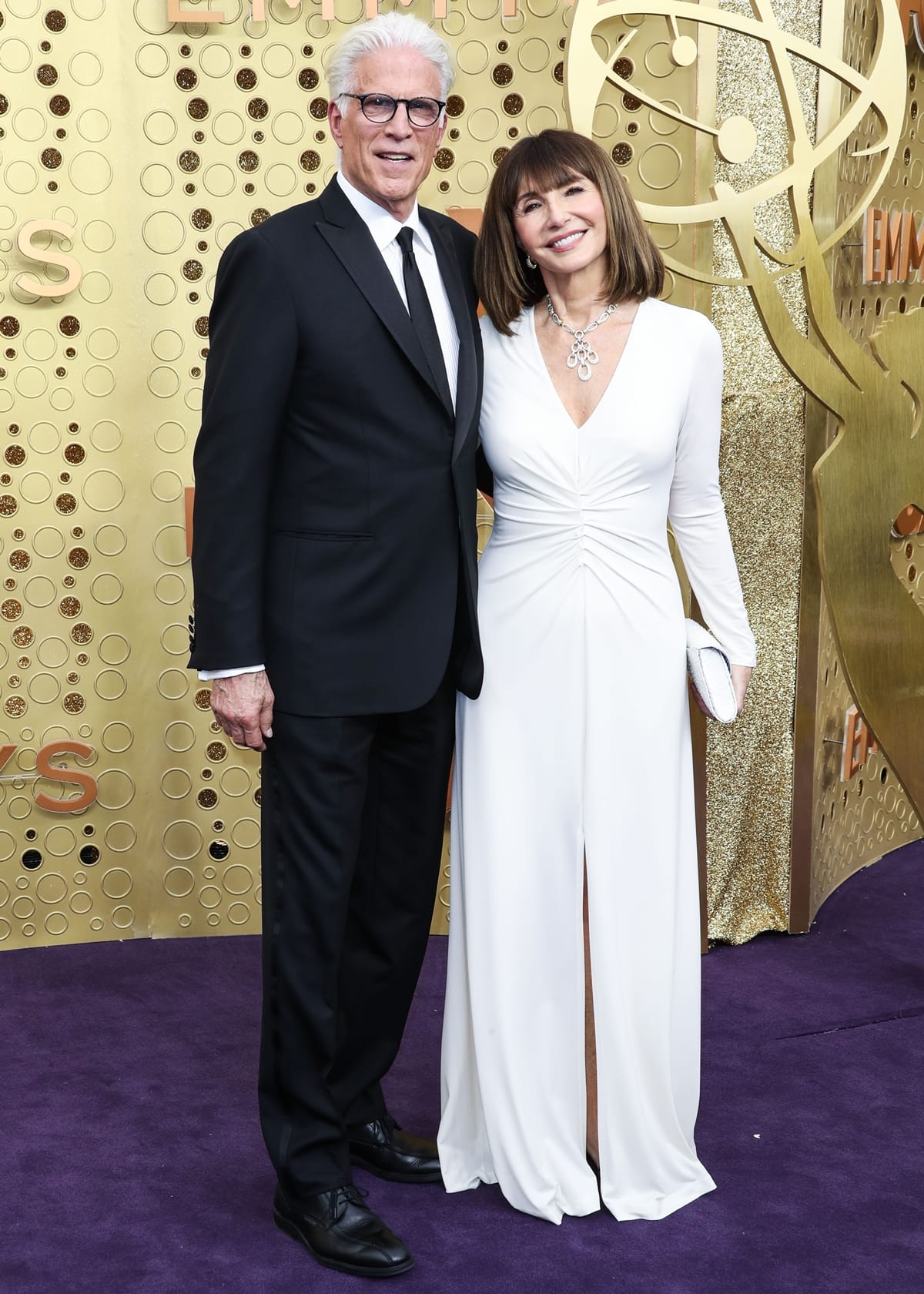 Ted Danson and his wife Mary Steenburgen at the 71st Annual Primetime Emmy Awards held at Microsoft Theater L.A. Live on September 22, 2019, in Los Angeles, California (Credit: Avalon / WENN)
Danson married his first wife, Randy Gosch, in 1970, and they were married for five years before getting a divorce. After Gosch, Danson married producer Casey Coates.
His second marriage lasted 16 years but was full of turmoil. A traumatic stroke during the birth of their first daughter left Coates paralyzed on her left side, and the strain of the injury created a rift in their marriage.
How long were Ted Danson and Whoopi Goldberg together?
In 1993, the marriage finally came to an end after a tumultuous year involving the end of Danson's hit TV show Cheers and the public outing of his affair with Whoopi Goldberg.
Kirstie Alley (as Rebecca Howe) and Ted Danson (as Sam Malone) on Cheers, an American sitcom television series that ran on NBC from September 30, 1982, to May 20, 1993 (Credit: NBC)
After his divorce, Danson dated Goldberg for 18 months before their relationship also ended.
Ted Danson roasted his then-girlfriend Whoopi Goldberg in blackface at the Friars Club in New York City on October 8, 1993 (Credit: Michael Carpenter / WENN)
At this point in his life, Danson was discouraged by romantic relationships and thought he wasn't cut out to be in a serious relationship. Then he met Steenburgen.
During the filming of Pontiac Moon, Steenburgen was also recovering from the aftereffects of a bad marriage. In 1990, Steenburgen's 9-year marriage to actor Malcolm McDowell came to an end.
She was a single mother of two kids, and her father had health problems at the time. Steenburgen had no plans for love when she was working on Pontiac Moon, but life had other ideas for her and Danson.
The couple began dating during the filming of the movie and ended up getting married two years later in 1995.
"We both said the same phrase to ourselves, which was: 'Obviously we cannot be in a relationship,'" Danson told People. "I could ruin anything. I'm not relationship material."
Mary Steenburgen and her husband Ted Danson celebrated 25 years of marriage in 2020 (Credit: Adriana M. Barraza / WENN)
"I wasn't ready for anything like a relationship," Mary chimed in. "We just kept working together and becoming better and better friends."
"I want as long as possible in my life with Mary," said Danson. "I know it will have all of its hard parts but I want to experience love in all those moments."
"Not to sound corny, but I would sign up for 100 more lifetimes," Steenburgen added. "There's no hollow in my heart where I don't love him, or where I doubt this love," she agreed. "There's no secret place where I say we weren't a thousand percent supposed to spend our life together."
A Hollywood romantic success
Even though the pair had some rocky relationships to start, their marriage has been one for Hollywood to obsess over. For 25 years now, Danson and Steenburgen have made it very clear how much they adore each other.
While most Hollywood romances crumble in the public eye, Danson and Steenburgen are showing couples how to successfully be in a relationship for an extended period of time. Steenburgen even posted a cute anniversary picture on Instagram in honor of their marriage.
The photo perfectly captures the fun and laughter the couple share together. In the picture, Danson has a huge piece of lettuce stuck in his teeth while Steenburgen laughs into the camera beside him.
Steenburgen wrote, "Thank you for making me laugh today and every single one of the last 9,125 days. You are the goofiest, wisest, kindest, dreamboat in the world. True, that is a big ass piece of salad but even that doesn't mar your legendary beauty. I can't believe how lucky I am. Happy Anniversary, Ted. Love, Mary."
Now, Danson may not have posted anything quite as cute on his own Instagram feed, but his profile says it all, "Actor, philanthropist, Mary's husband."
It's clear the way these two have behaved over the years has not dulled their love for one another, and they're an inspiration to many other Hollywood couples.
In fact, Danson's The Good Place co-star Kristen Bell had this to say about the couple in AARP, "It's almost intimidating spending time with Ted and Mary because of how solid and loving and connected they are," Bell said. "Honestly, it's beautiful how they obsess over each other."
Given their deep love, some people assume the couple have children together, but that's not the case. Since Danson and Steenburgen met later in life when they were both in their 40s, they never had kids together.
Their family, however, is by no means small. Their blended family consists of four kids from their previous marriages. Steenburgen has two children from her first marriage to English actor Malcolm McDowell – Lilly and Charlie, while Danson has two daughters – Kate and Alexis.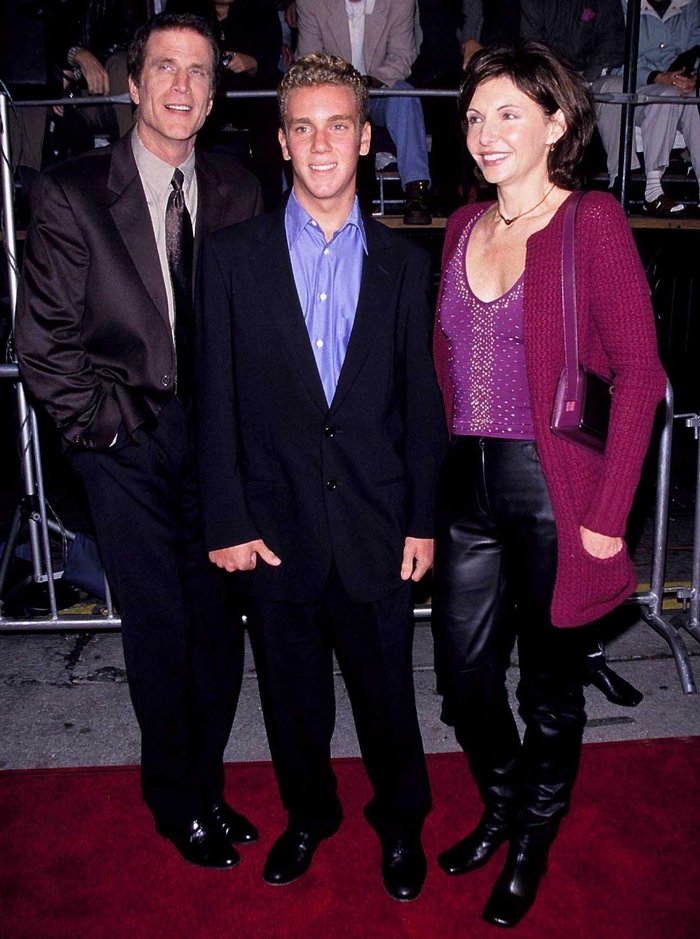 Ted Danson, Mary Steenburgen's son Charlie McDowell, and Mary Steenburgen during "The World is Not Enough" Los Angeles Premiere at Mann Village Theatre in Los Angeles, California, on November 8, 1999 (Credit: WENN / Jerzy Dabrowski)
The couple also have several grandchildren that keep them very busy.
(L-R) Actor Ted Danson, actress Mary Steenburgen, actress Kate Danson, and film director Charlie McDowell arrive at the after-party for a screening of CBS Films' "Last Vegas" at Haze Nightclub at the Aria Resort & Casino at CityCenter on October 18, 2013, in Las Vegas, Nevada (Credit: Judy Eddy / WENN)
Too often, Hollywood couples are known for their scandals and heartbreak, but Danson and Steenburgen provide a refreshing picture of what a real marriage can look like.
As everyone knows, marriage is never easy, but Danson and Steenburgen certainly make it look that way. The pair have spent over two decades together now, and their love shows no signs of cooling down.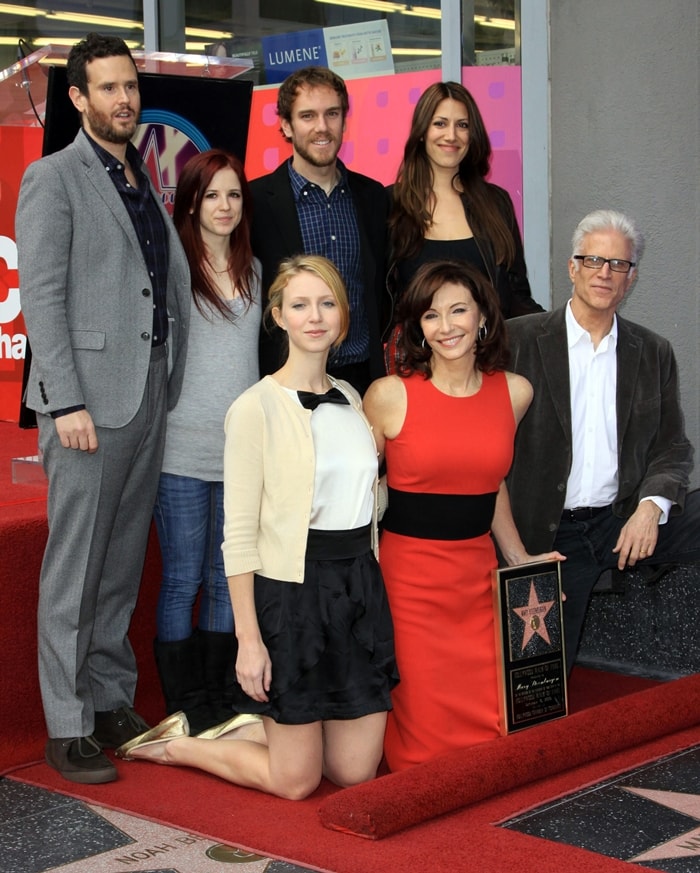 Actress Mary Steenburgen, husband actor Ted Danson, and family attend The Hollywood Walk of Fame ceremony honoring actress Mary Steenburgen on December 16, 2009, in Hollywood, California (Credit: FayesVision / WENN)