The last few years have been difficult for pop star and "My Heart Will Go On" icon, Celine Dion. The 53-year-old songstress notably lost her beloved husband, producer René Angélil, five years ago in 2016.
Dion was rocked with grief after her husband's passing, as the pair had been married for 22 years.
René Angélil, Michael Bolton, Celine Dion, and Nicollette Sheridan at the 22nd Annual American Music Awards were held on January 30, 1995, at the Shrine Auditorium, in Los Angeles, California (Credit: Chris Connor / WENN)
The singer gave Today a rare look of what it was like living without her husband after he lost his years-long battle with throat cancer, saying, "Losing my husband, for my kids to lose their father, it was quite something. I feel like René has given me so much through the years and still today. I see my kids. I look at them—we live with him. We still live with him. He's part of our lives every day, so I have to say that I feel very, very strong."
If that is not enough to get the waterworks flowing, Dion shared a bittersweet tribute to her late husband, on the five-year anniversary of his death. The singer shared a photo of a couple holding hands, writing, "There's not one day that we don't think about you. We're reaching out to you now more than ever."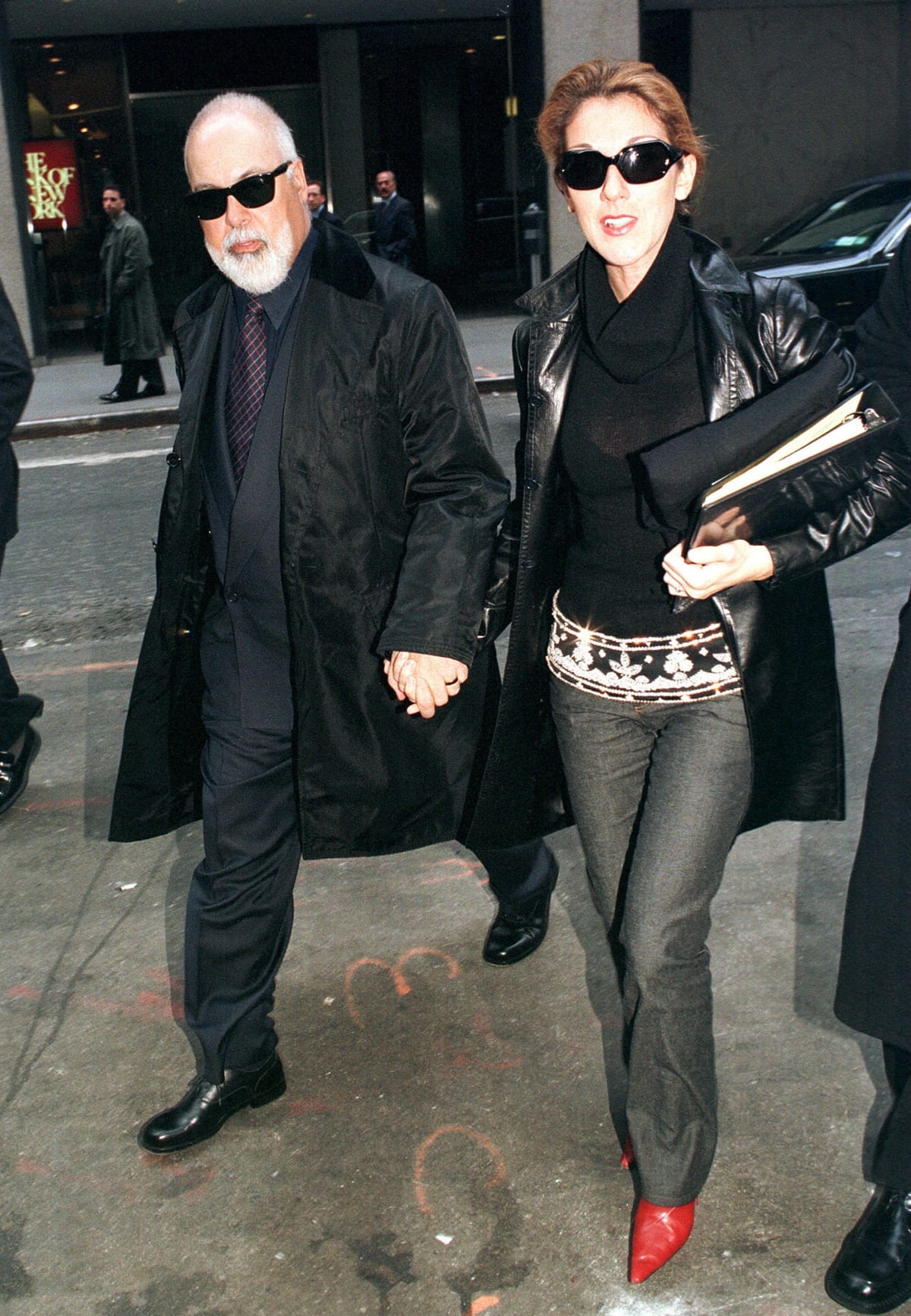 Canadian musical producer René Angélil was married to singer Céline Dion from December 17, 1994, until his death from throat cancer on January 14, 2016 (Credit: WENN/ Sidewalk)
In 2019, Dion revealed a shocking weight loss
Fans are well aware of the grief Dion felt — and still feels — after losing her husband. This is why the singer recently was the object of worry when she debuted a shockingly small figure after revealing that she was selected as a spokesperson for L'Oreal Paris.
In all honesty, the 53-year-old songstress was looking a bit too thin. Fans were worried that she was not coping well with the loss of her husband, leading her to not eat enough.
However, she assures fans that there is nothing wrong and she is totally fine, telling ABC News, "It's true that I'm a little thinner. Everything's fine, nothing's wrong."
After Dion lost her husband, René Angélil, she mostly stayed out of the spotlight to grieve, focusing solely on her residency at Caesars Palace in Las Vegas.
In fact, she says that her residency there actually helped her cope after her husband passed away.
"Vegas has given us, my family and I, an opportunity for me to be a mom, for them to be kids, for me to perform for my fans and to practice my passion and every night come home," she said.
"That is rare, so I really feel that Vegas has given me motherhood and the best as an artist, the best of both worlds."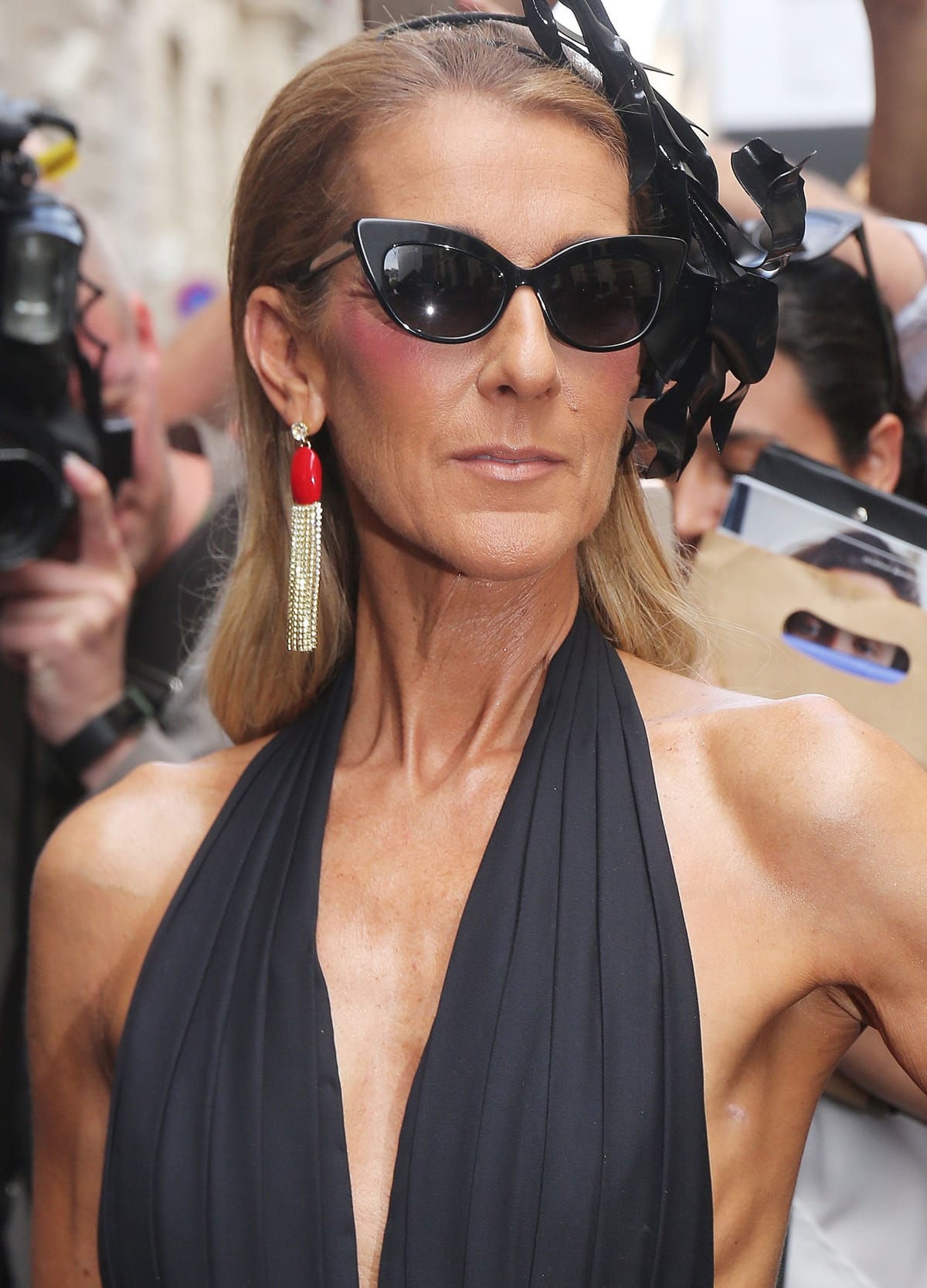 Celine Dion appeared thinner than usual at the Schiaparelli Fall '19 couture show in Paris (Credit: Jonathan Rebboah / News Pictures / WENN)
When Dion stepped back into the public eye, fans were shocked to see that the already thin singer had lost even more weight.
The pop star said that it was nothing to worry about and that she had simply rekindled her love for dance. "Dancing has been in my DNA all of my life," she said to People. "It's a dream. And so hard!"
In fact, she claims that practicing ballet was the reason for her dropping a few pounds. "I do this four times a week," Dion told the American weekly magazine. "People say, 'she's a lot thinner', but I'm working hard. I like to move and [losing weight] comes with it."
Celine Dion made everyone worried about her health during Paris Fashion Week in 2019 (Credit: Jonathan Rebboah / News Pictures / WENN)
Celine Dion had no qualms telling the critics to leave her alone, because she does not care what the talking heads think.
"If I like it, I don't want to talk about it. Don't bother. Don't take a picture," she stated plainly in an interview with The Sun. "If you like it, I'll be there. If you don't, leave me alone."
"I feel stronger, more beautiful, more grounded," Dion reflected in an interview with ABC News. "There's this power and this strength that comes with that maturity."
Dion wants to get back on stage to do what she loves
Dion says that she is ready to get back to performing, but the pandemic has, unfortunately, put a halt to that time and time again.
Dion planned her first tour in over a decade, aptly named the Courage World Tour. "It's going to be about an energy, about starting again, about living again, about feeling that something will come out of this, hopefully," Dion said. "It's about a moment."
An LED screen displays an advertisement for Celine Dion's limited-run installment of ten dates in collaboration with Resorts World Las Vegas (Credit: MEGA / WENN)
Fans celebrated to know that Celine Dion was back and better than ever! Unfortunately, the Courage World Tour was smack-dab in the middle of its North American dates when the pandemic shut the world down and the singer was forced to postpone.
Dion said that though the pandemic was difficult, she was grateful to be able to spend extra time with her kids, 20-year-old René-Charles and 10-year-old twins Eddy and Nelson. Dion said, "The whole world shut off, and it was definitely different, but for us we were very fortunate."
Many of the remaining dates on the North American leg of the Courage World Tour had been moved to August 16th through September 24th of this year. However, due to the rising number of COVID-19 cases, these tour dates had to be rescheduled yet again, this time into March and April of 2022.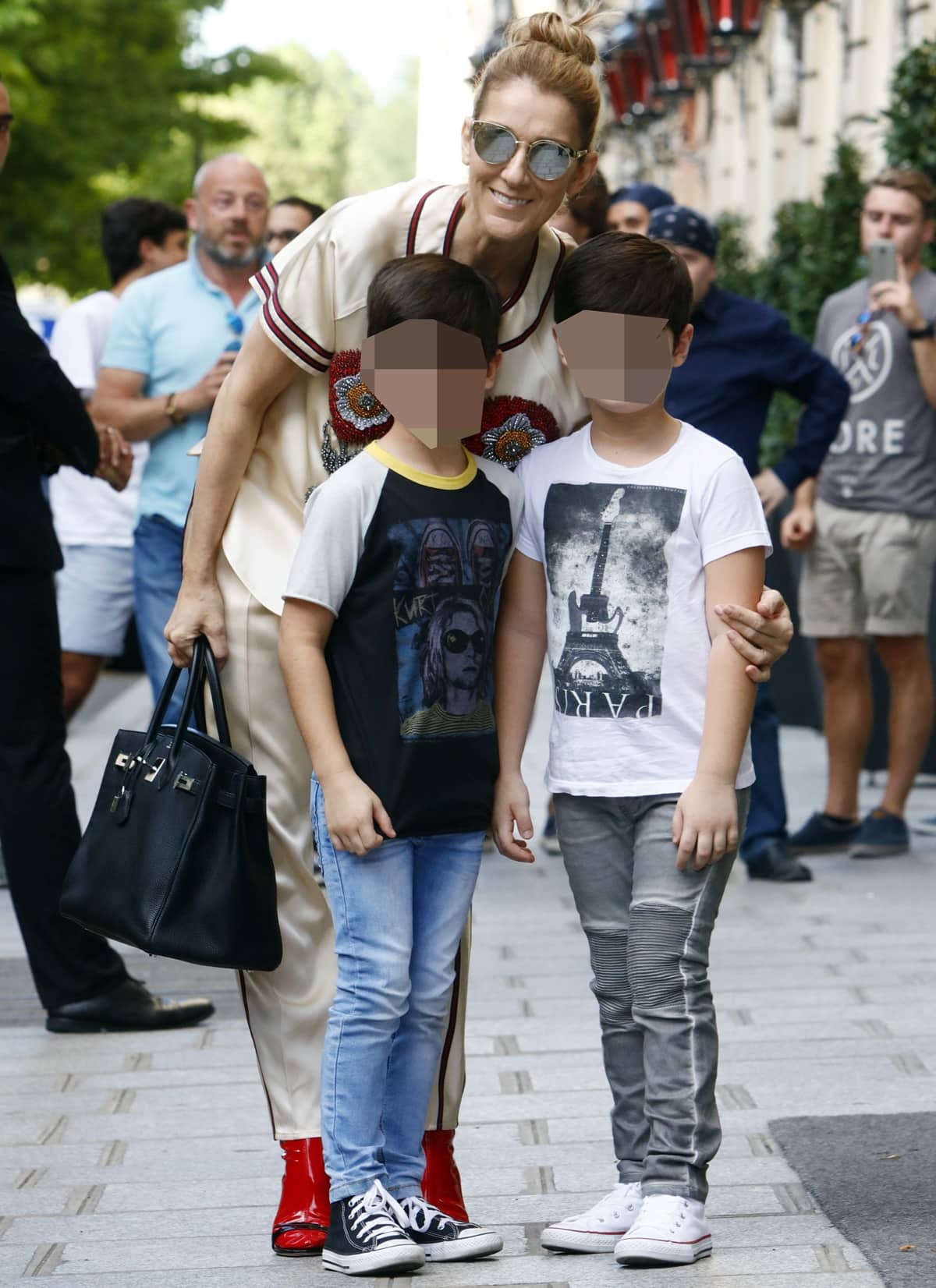 Celine Dion with her twin sons Eddy and Nelson Angélil in Paris on July 17, 2017 (Credit: WENN)
"I know how frustrating it is for my fans, with all the postponements that have taken place these past 18 months," Dion said in a statement to her fans.
"My team and I are still concerned about everyone's safety this summer even though the situation has dramatically improved. We all feel 100% comfortable that things will be very safe next spring, and I want my fans to feel the same way, without any worries. I hope everyone understands."
Celine Dion has been through enough during the past few years, and we can't wait to see her shine on stage once again!
Celine Dion performs during the 2019 British Summer Time Festival on July 5, 2019, at Hyde Park in London, England (Credit: WENN)
In July 2016, Celine Dion made quite the stylish comeback to the fashion week scene!
The then 48-year-old singer was spotted in a series of high-fashion ensembles as she attended various presentations during Paris Haute Couture Fashion Week.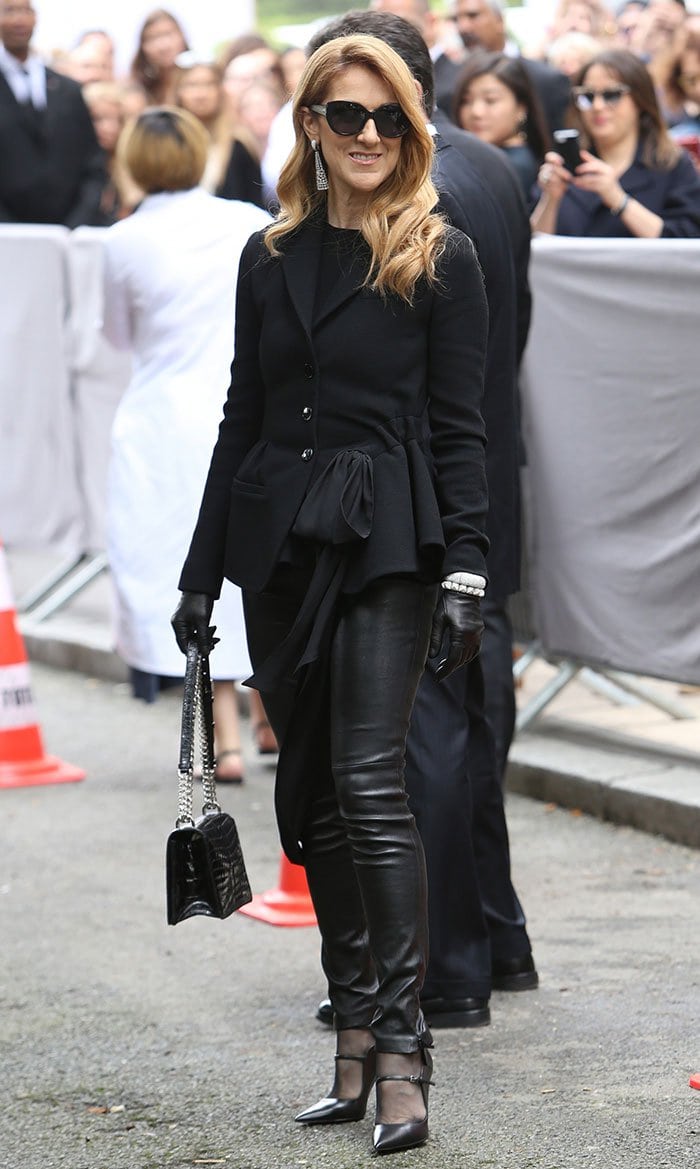 Celine Dion in chic leather pants paired with a bow-detailed jacket (Credit: WENN)
The mom-of-three made her way inside the Christian Dior fashion show dressed in head-to-toe black. She looked tough but chic in leather pants, which she teamed with a black top and a bow-detailed jacket.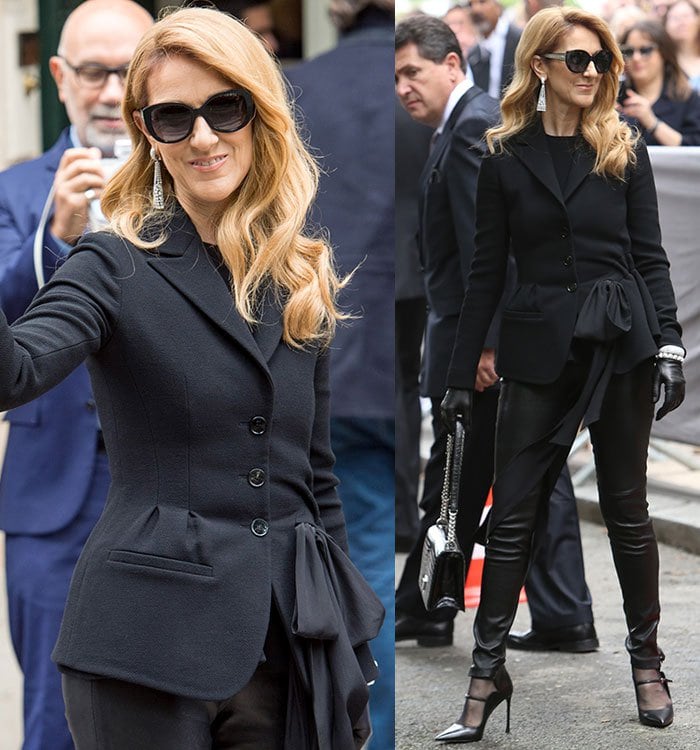 Celine Dion at Christian Dior fashion show during Paris Fashion Week Haute Couture Autumn/Winter 2016/17 in Paris, France on July 4, 2016 (Credit: WENN)
The five-time Grammy winner played up the edgy vibe with leather gloves and a chain-strapped crocodile-embossed handbag. She added some sparkle to the all-black number with a pair of diamond dangle earrings and silver bangles.
Celine Dion shows off her diamond dangle earrings (Credit: WENN)
Celine kept the rest of her look simple. She wore her blonde tresses down in loose waves and sported minimal makeup.
Celine Dion toting a chain-strapped crocodile-embossed handbag (Credit: WENN)
Celine finished off her look with a pair of black pumps, which feature pointed toes and double adjustable ankle straps.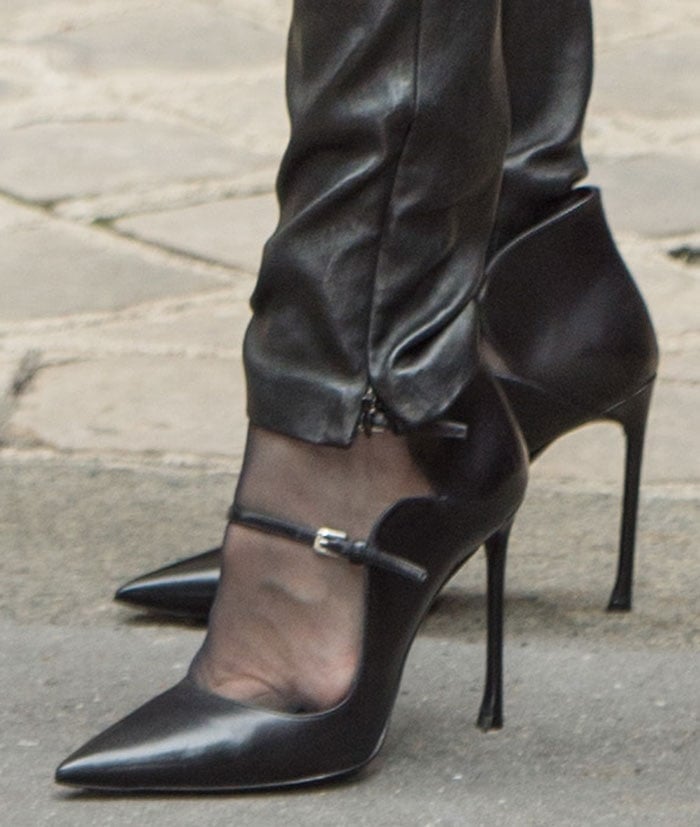 Celine Dion rocks black pointy-toe stiletto heels (Credit: WENN)
We couldn't find these pumps online, but the curved heels suggest they're from Dior. Did you know Celine has 3000 pairs of shoes in her closet?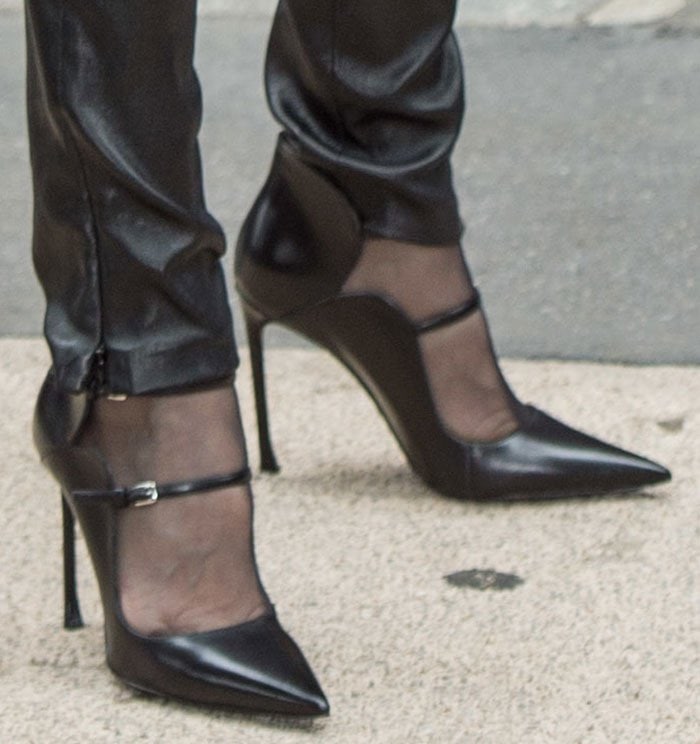 Celine Dion in shows off her feet in Christian Dior pumps (Credit: WENN)