Most people know about Jack Black's many talents. In addition to acting, Black is a hilarious comedian and an accomplished singer-songwriter, which is often showcased in his music created with his band, Tenacious D.
However, many people do not know that Jack Black is not the only musical talent in his family. The Tropic Thunder actor's wife, Tanya Haden, is a musical powerhouse in her own right.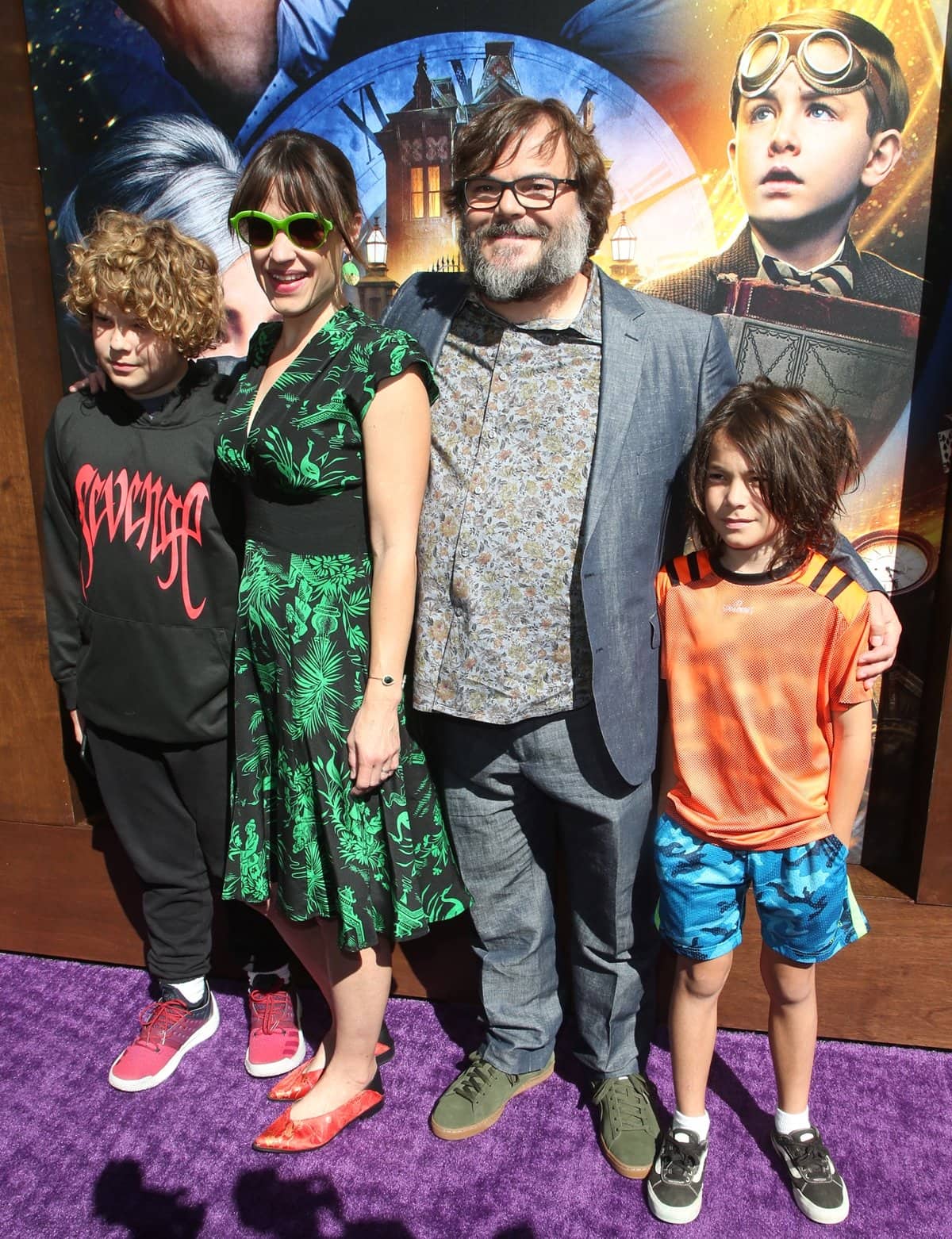 Samuel Black, Tanya Haden, Jack Black, and Thomas Black arrive for the Premiere Of Universal Pictures' "The House With A Clock In Its Walls" held at TCL Chinese Theatre IMAX on September 16, 2018, in Hollywood, California (Credit: FayesVision / WENN)
New York native Tanya Haden was born on October 11, 1971. The 49-year-old musician has had a love of music since she was a child, as her father is renowned jazz bassist Charlie Haden.
Haden has been performing with her two sisters (Haden and her sisters, Petra and Rachel, are triplets!) and brother for as long as she can remember, telling The San Diego Union-Tribune in 2009, "We'll just start singing a song and we'll naturally fall into certain harmonies. When we were little we would spend the night at our grandparents' house on our mom's side, which was really fun for us because we'd share a room and sing in harmony before we went to bed."
The Haden Triplets, musicians Petra, Tanya, and Rache, are the triplet daughters of jazz double-bassist Charlie Haden (Credit: Sheri Determan / WENN)
Both a singer and a cellist, Tanya Haden is likely best known for her musical group, the Haden Triplets, where she performs alongside her sisters, Petra and Rachel.
The triplets, both as a group and separately, have performed with and contributed to songs by notable acts such as the Foo Fighters, Queens of the Stone Age, Weezer, Beck, Green Day, and the Silversun Pickups.
While Jack Black is undoubtedly a talented musician, his wife certainly gives him a run for his money!
How did Jack Black Meet Tanya Haden?
Jack Black and Tanya Haden were almost high school sweethearts. They attended the same performing arts high school, the Crossroads School, in Santa Monica, California.
The School of Rock actor said that he was smitten the moment he laid eyes on the multi-talented Haden. However, their romance did not blossom until fifteen years later.
"We met at school [when we were] 18 and I wasted 15 years waiting for my chance," Jack Black lamented to The Sun in 2013.
Jack Black kissing his girlfriend Tanya Haden during Universal Pictures' King Kong New York City Premiere at Loews E-Walk in New York City on December 5, 2005 (Credit: WENN)
"She was everything I could wish for. Talented, beautiful, and a wonderful performer on stage. She was part of a band called The Haden Triplets. We first worked together on a student film but we did not date."
Despite wasting so much time (Black's words, not mine), the actor never stopped thinking about Haden, revealing that he attended many of the musician's concerts with her family band, the Haden Triplets, over the years. Even still, the usually very gregarious actor had trouble working up the nerve to tell her how he really felt.
"I used to see her and her sisters perform at clubs around town. I would watch from the shadows, mumble some compliments and shuffle off," Black admitted. "So I would see her only every couple of years."
It was not just fear that kept the two apart. Black had been in a very publicized, nearly eight-year-long relationship with Will & Grace actress Laura Knightlinger, and Haden had her fair share of relationships.
Newlywed and soon-to-be parents Jack Black and Tanya Haden on a date in Los Angeles on June 2, 2006 (Credit: JFX Images / WENN)
After fifteen years of this and following Black's split with Laura Kightlinger, the actor finally realized he wanted to see the woman he had a crush on for so long more than just once every few years.
Black wasted no time following his heart and faced his fears in 2005, asking Tanya Haden out on their first date. Thankfully, Haden felt the same! The attraction between the two was so strong that the couple eloped the very next year in 2006, and have been married ever since.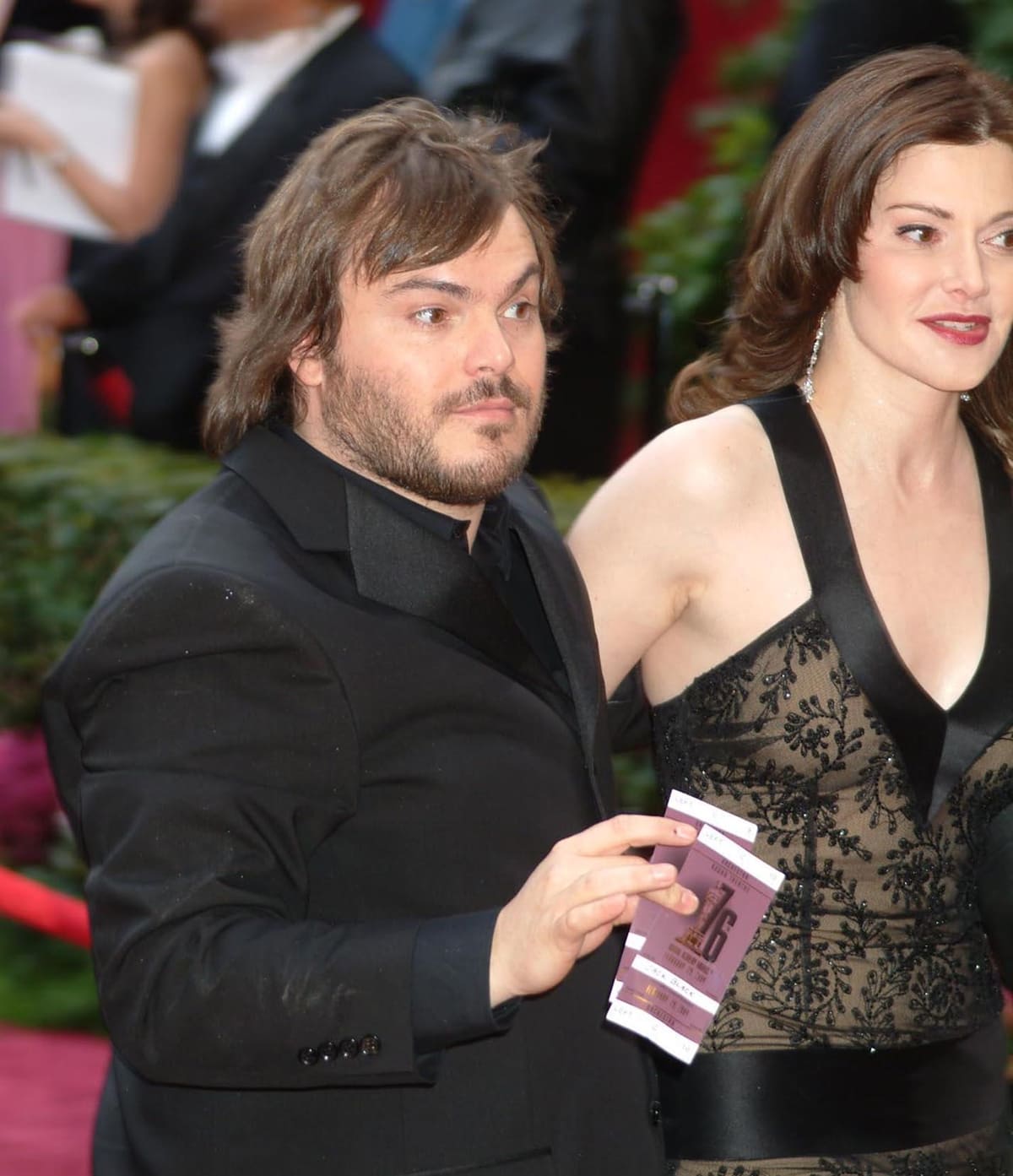 Laura Kightlinger and Jack Black dated from 1996 through early 2005 (Credit: Cortes / WENN)
Since their marriage, Black and Haden have created a beautiful family together. The pair had their first son, Samuel Jason Black, just months after their wedding in 2006. They then welcomed their second son, Thomas David Black, in 2008.
Though Black and Haden have seen a lot during their time in the performance industry, the actor revealed to The Guardian in 2011 that parenting was a whole new ballgame, saying, "My children are magical creatures and I love them to death. But it is challenging. It takes a lot of energy. When you get home from work you need to spend time with them – you can't just go and work on the computer. You need to give them your attention and listen to them and play their games, and those crazy pretending games take a lot of energy."
The boys, now 16 and 14, certainly know how beloved their father is and can often be seen with a chagrined look on their face following their famous dad's antics on his YouTube channel.
Tanya Haden and Jack Black with their children Samuel Jason Black and Thomas David Black (Credit: Nicky Nelson / WENN)
The couple's sons have also seemed to inherit their parent's musical genes. However, Haden is no stranger to the pressures of the "family business", and the couple asserts that their children will have the freedom to choose their own fates.
"I don't know if my kids will follow in my footsteps," Jack Black told The Guardian about his son's burgeoning musical talents. "But they love to sing and dance, they love to show off. Sammy is very musical. I already got him a guitar. He's very talented. There's not going to be any pressure on Sam at all. He's going to be free to be his own man."
Though the couple does not want their kids to feel any pressure about their futures, Tanya Haden's musical family certainly shows promise for their own family band — hey, we can dream, right?
In fact, the cellist's husband was even invited to record a track with his late father-in-law, legendary Jazz bassist Charlie Haden, in 2009 and the two even performed together at the iconic Grand Ole Opry in Nashville that same year.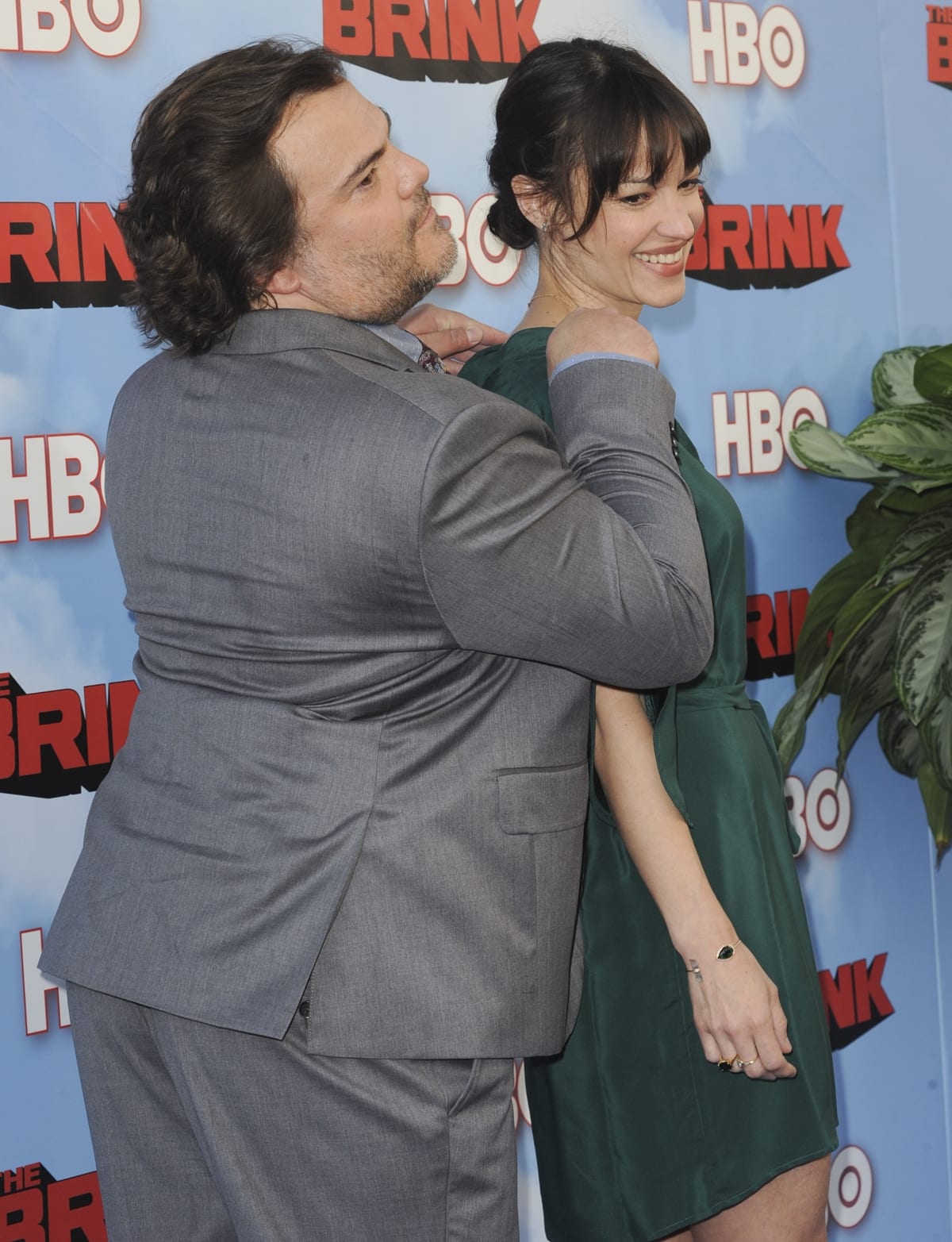 Jack Black and Tanya Haden first met as teenagers while attending Crossroads School (Credit: Apega /WENN)
"Even though I was already married to Tanya and we had kids, when I was invited to be on the Haden family album, I finally felt like I was truly part of the family," the Jumanji actor said to the San Diego Union-Tribune. "I've always loved Tanya's family. The whole family has always been kind of a magical source of mystery."
Though Charlie Haden passed away in 2014, his daughter and son-in-law have carried on the musical torch.
In March 2016, Kate Hudson joined Jack Black and the rest of her co-stars at the German premiere of their new movie, "Kung Fu Panda 3," held at the Zoo Palast in Berlin.
Kate Hudson wears her hair down at the Berlin premiere of "Kung Fu Panda 3" held on March 2, 2016, at the Zoo Palast (Credit: AEDT / Ralf Succo / WENN)
The then-36-year-old actress lent her voice to Mei Mei, a female giant panda in the DreamWorks animated movie released in the U.S. on January 29, 2016.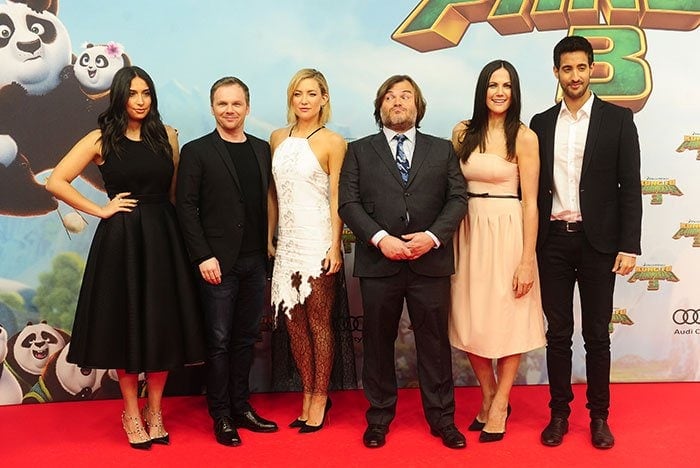 Lamiya Slimani, Ralf Schmitz, Jack Black, Kate Hudson, Bettina Zimmermann, and Sami Slimani attend the German premiere of the film 'Kung Fu Panda 3' at Zoo Palast on March 2, 2016, in Berlin, Germany (Credit: AEDT / Ralf Succo / WENN)
Kate kept to the movie's theme in an oriental-inspired white-and-black dress from Wes Gordon's Fall 2016 collection.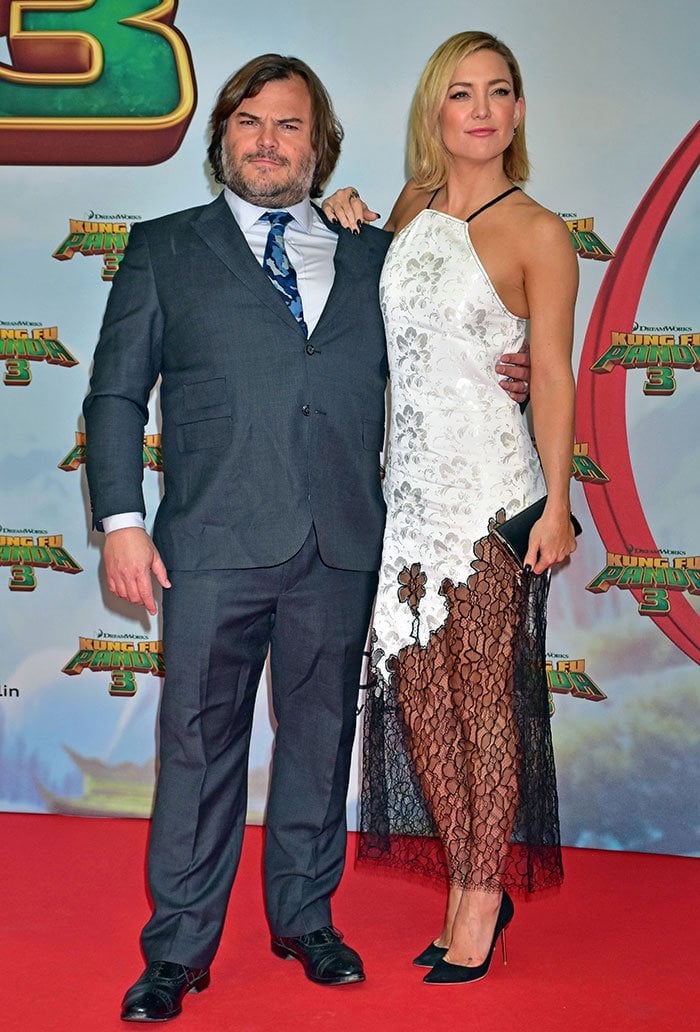 Jack Black and Kate Hudson pose for photos on the red carpet of the "Kung Fu Panda 3" premiere (Credit: AEDT / Ralf Succo / WENN)
The How to Lose a Guy in 10 Days actress selected a form-fitting halterneck dress with a subtle floral design and a daring black sheer lace panel on the skirt that offered a glimpse of her legs and a flash of her behind. It showed off her slender figure quite well.
Jack Black and Kate Hudson joke around on the red carpet of the "Kung Fu Panda 3" premiere (Credit: AEDT / Ralf Succo / WENN)
Kate teamed the flirty but delicate number with black accessories, including a few rings by Sethi Couture and Bavna, Doves by Doron Paloma teardrop earrings, and a Jimmy Choo "Carmen" clutch.
Kate Hudson poses for promotional pictures in a Wes Gordon dress (Credit: AEDT / Ralf Succo / WENN)
She finished off her look with a tousled bob and simple makeup featuring light smoky eyes and pink lips.
Kate Hudson shows off her shoulders in a black-and-white Wes Gordon dress at the German premiere of "Kung Fu Panda 3" (Credit: AEDT / Ralf Succo / WENN)
Kate Hudson shows off the floral detailing on her monochrome Wes Gordon dress (Credit: AEDT / Ralf Succo / WENN)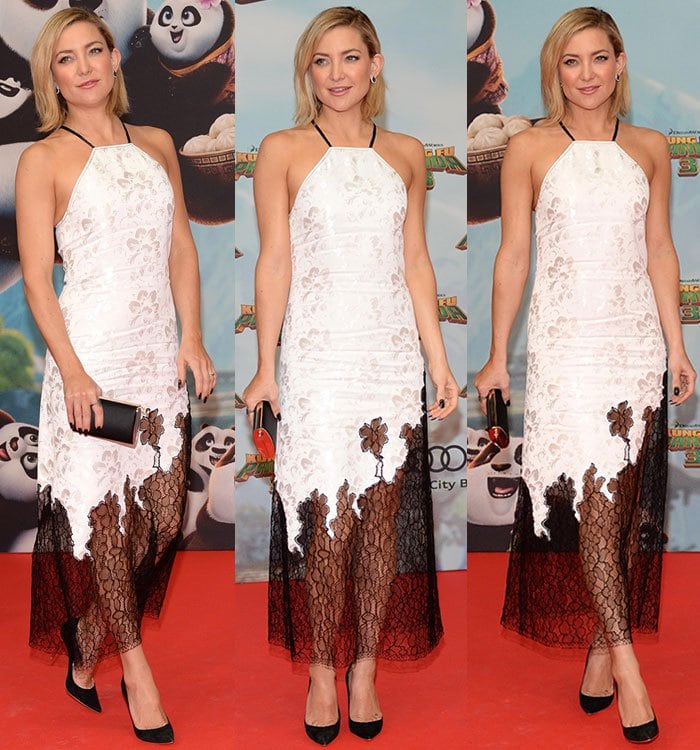 Kate Hudson wears a Wes Gordon dress to the German premiere of "Kung Fu Panda 3" (Credit: AEDT / Ralf Succo / WENN)
Kate completed her monochrome ensemble with the Sophia Webster "Coco Flamingo" pumps.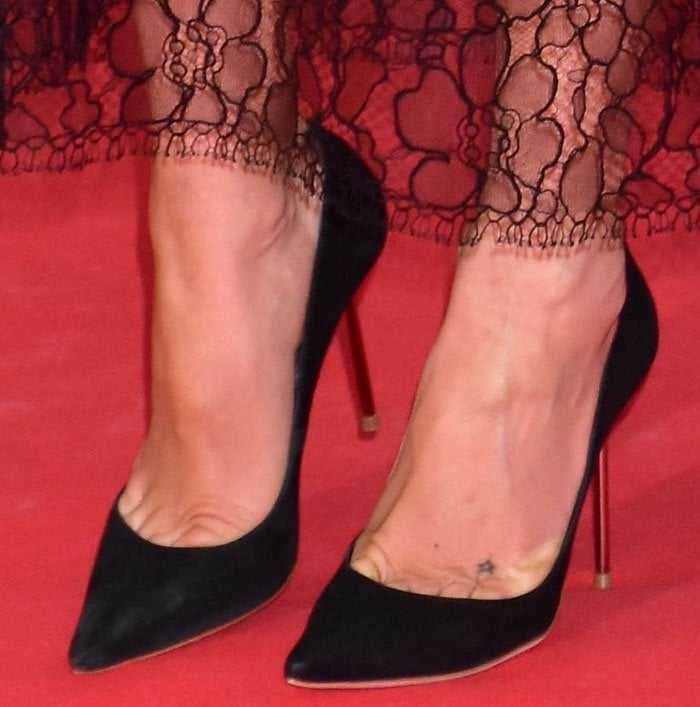 Kate Hudson's feet and star tattoo in black Sophia Webster pumps (Credit: AEDT / Ralf Succo / WENN)
These black suede pumps from the popular women's shoe label feature pointed toes and a signature flamingo emblem perched atop the four-inch metal cigarette pin heels.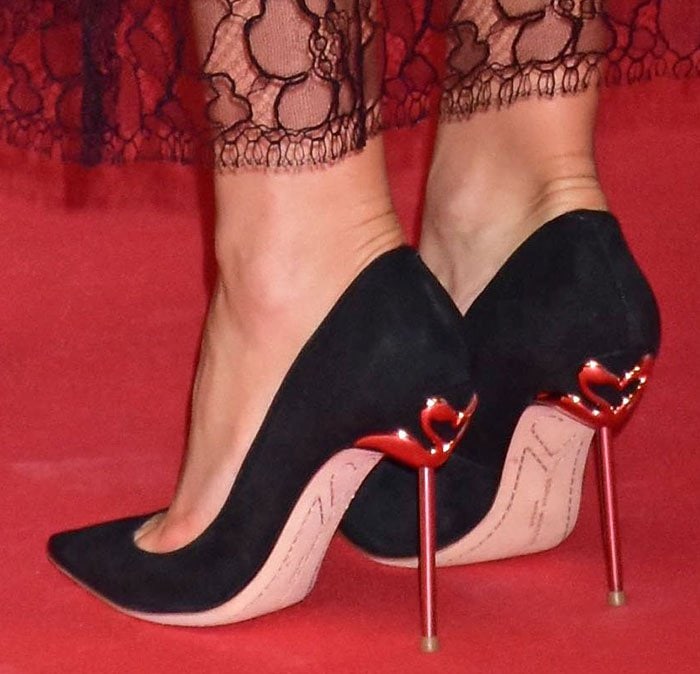 Kate Hudson's feet in flamingo-accented "Coco Flamingo" pumps (Credit: AEDT / Ralf Succo / WENN)
These Sophia Webster pumps can be purchased in different versions on Farfetch.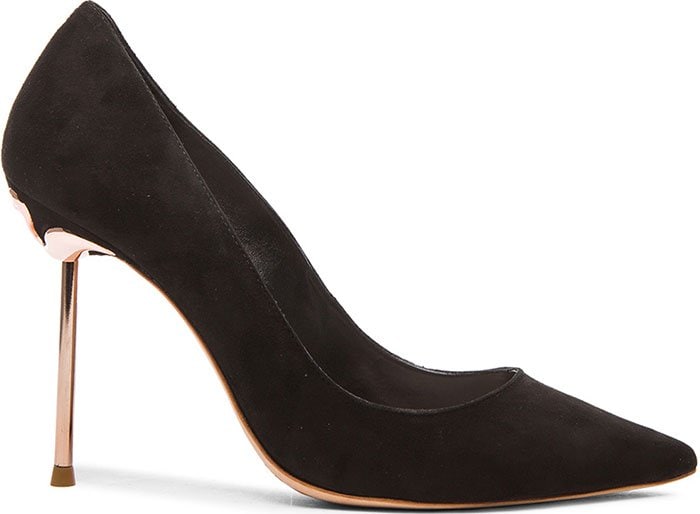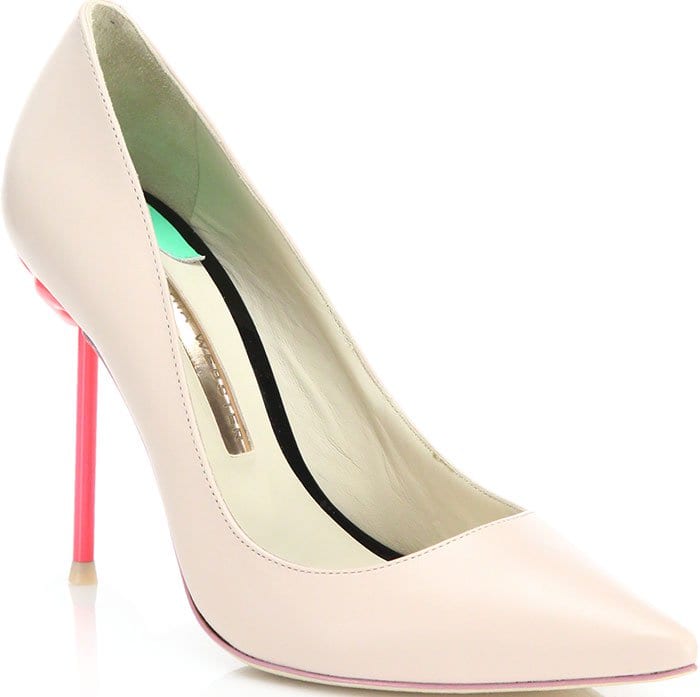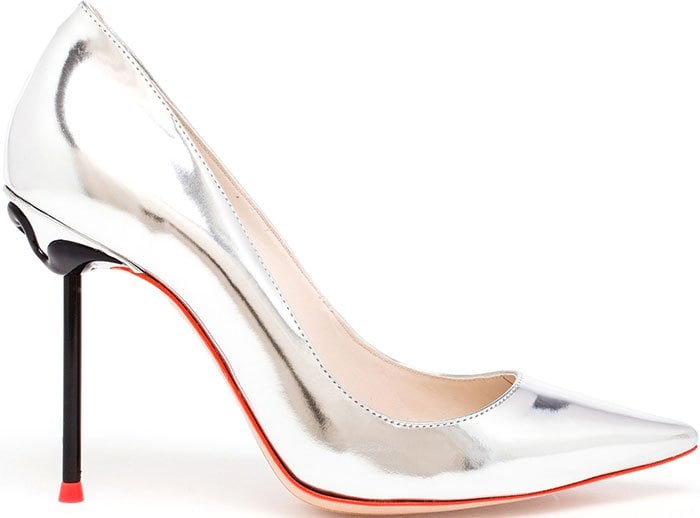 Sophia Webster Coco Flamingo Pumps, $450-$457