Demi Lovato sings about staying "Cool for the Summer," but right now, she's getting a lot of heat.
Demi Lovato's shows off in an Instagram post she took during her "Cool for the Summer" Pool Party with Z100 at the Gansevoort Park Avenue in New York City on July 1, 2015
The 22-year-old singer has been getting criticized for the ultra-sexy outfit she wore to her most recent performance.
It included a black bra top that looked like a bondage harness paired with high-waisted — yet super-short — cutoff jean shorts. Demi finished her racy look with slicked-back hair, white talons, Lionette by Noa Sadé dangling tassel earrings, and net-leather thigh-high gladiator boots.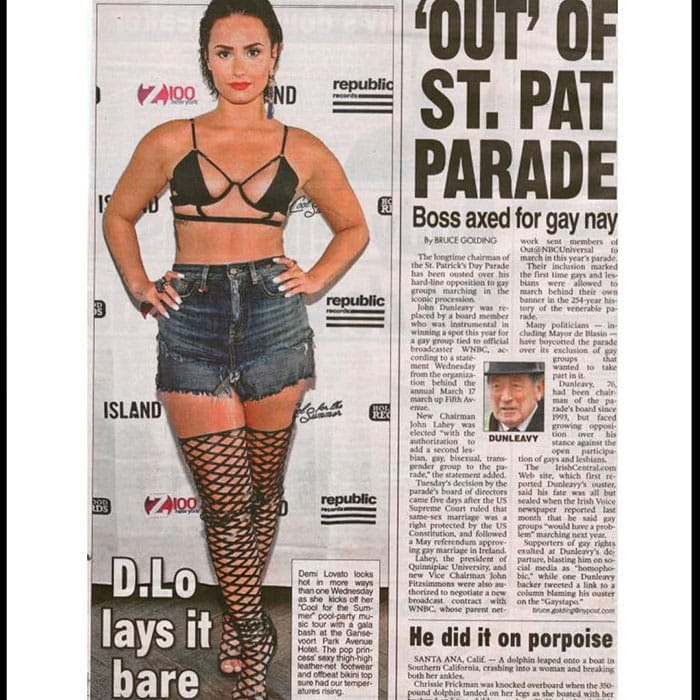 Demi Lovato shares an Instagram picture of a "New York Post" story featuring her controversial concert costume
Demi took to Twitter to defend her sexy sartorial choice by saying, "showing more skin cause I've worked hard for this body… #SORRYNOTSORRY."
Demi Lovato poses in an Instagram picture featuring her bondage-style controversial concert costume
Considering that Demi wore the outfit to a pool party, do you think it's offensive?
Putting the rest of the outfit aside, Demi's edgy gladiator boots are made by the shoe brand Lust for Life USA. Below are some more of the brand's sexy thigh-high boot styles. You can shop more Lust for Life shoes at Amazon.
Racy Thigh-High Boots, $269.99 / Krash Thigh-High Boots, $199.99
Watch Demi Lovato perform her hit single "Cool for the Summer" at the Pool Party with Z100 at the Gansevoort Park Avenue in NYC:

Credit: Demi Lovato's Instagram