Performers Demi Lovato and Noah Cyrus were spotted holding hands at the Space Jam 2 premiere event in June. It made everyone wonder if the two may be more than just friends.
Who is Noah Cyrus?
Actress turned singer Noah Cyrus is the younger sister of actress and singer, Miley Cyrus. The two sisters also share a famous father, country music star, Billy Ray Cyrus.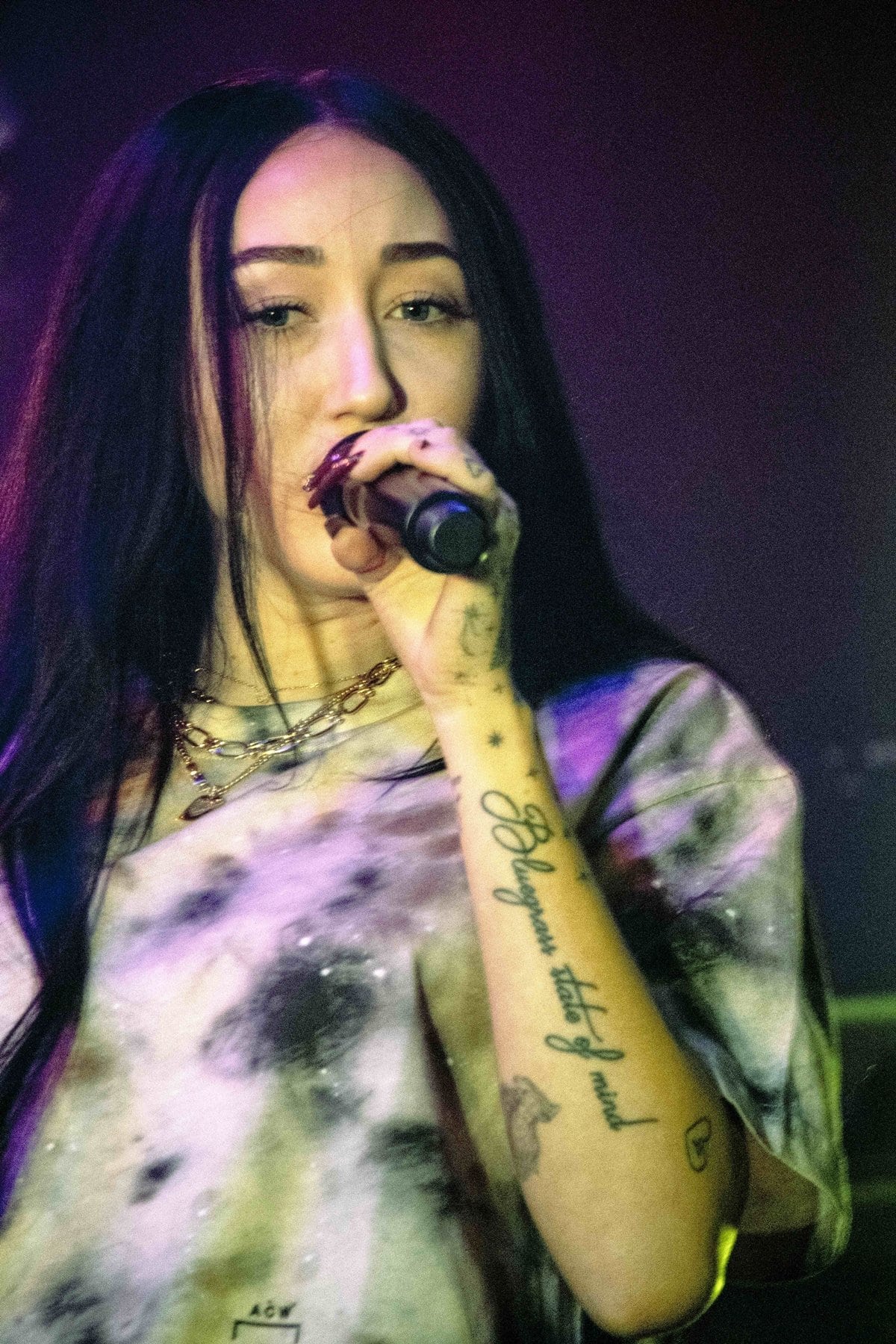 Noah Cyrus performs at O2 Academy Islington on February 11, 2020, in London, England (Credit: WENN / Avalon)
After pivoting to showcase her musical talent, Noah has started collecting recognition in her music career, including an award from the BMI Pop Music Awards in 2021 and receiving a Grammy nomination in 2020 for Best New Artist.
Noah has struggled to step out of the shadow of her sister's career and media presence, so much so that it's greatly affected her mental health.
One of her songs, Young & Sad, is about her difficulty dealing with the pressure of being the younger sister of her successful sibling.
Demi Lovato's Early Career
Growing up in the spotlight, Demi Lovato started performing alongside the likes of Selena Gomez on Barney and Friends.
She went on to act in productions under the Disney umbrella and more. Not unlike Noah, the Camp Rock actress started focusing on her solo music career.
Actress Demi Lovato arrives at "Chevy Rocks the Future" held at the Walt Disney Studios on February 19, 2008, in Burbank, California (Credit: Apega / WENN)
Many issues, including trouble with her management team, as well as sexual assault, eventually led to problems with Demi's mental health.
Demi had fallen victim to an eating disorder and a deep addiction to several substances, including different drugs and alcohol.
Demi Reaches a Critical Point in Addiction
Things finally came to a head in 2018 when Demi overdosed on a mixture of opioids and alcohol.
The overdose led to several medical complications, including multiple strokes, a heart attack, and brain damage that affected her vision long after the event.
Demi Lovato in a green fur coat and studded booties arrives to celebrate Paris Hilton and Carter Reum's wedding at the couple's private after-party at the Santa Monica Pier in Santa Monica, California, on November 12, 2021 (Credit: Avalon / WENN)
After spending time at an inpatient rehabilitation facility, Demi was released but still struggles with sobriety and mental health issues.
Demi Lovato Comes Out as Nonbinary
In the summer of 2021, Demi Lovato announced that she is nonbinary, embracing gender fluidity, and assumed they/them pronouns.
"This has come after a lot of healing and self-reflective work. I'm still learning and coming into myself; I don't claim to be an expert or a spokesperson. Sharing this with you now opens another level of vulnerability for me," Demi said on Twitter about her non-binary gender identity.
How Do Demi Lovato and Noah Cyrus Know Each Other?
The two have crossed paths more than once, as Demi and Noah's sister, Miley Cyrus, have been "frenemies" for most of their careers.
Perhaps the feud originated when they were often compared as child stars, first as actors, then as musicians. Miley and Demi seem to have drained the bad blood in recent years, even hinting at an earlier romantic encounter.
In 2009, Demi briefly dated Miley Cyrus' older brother, Metro Station singer Trace Cyrus.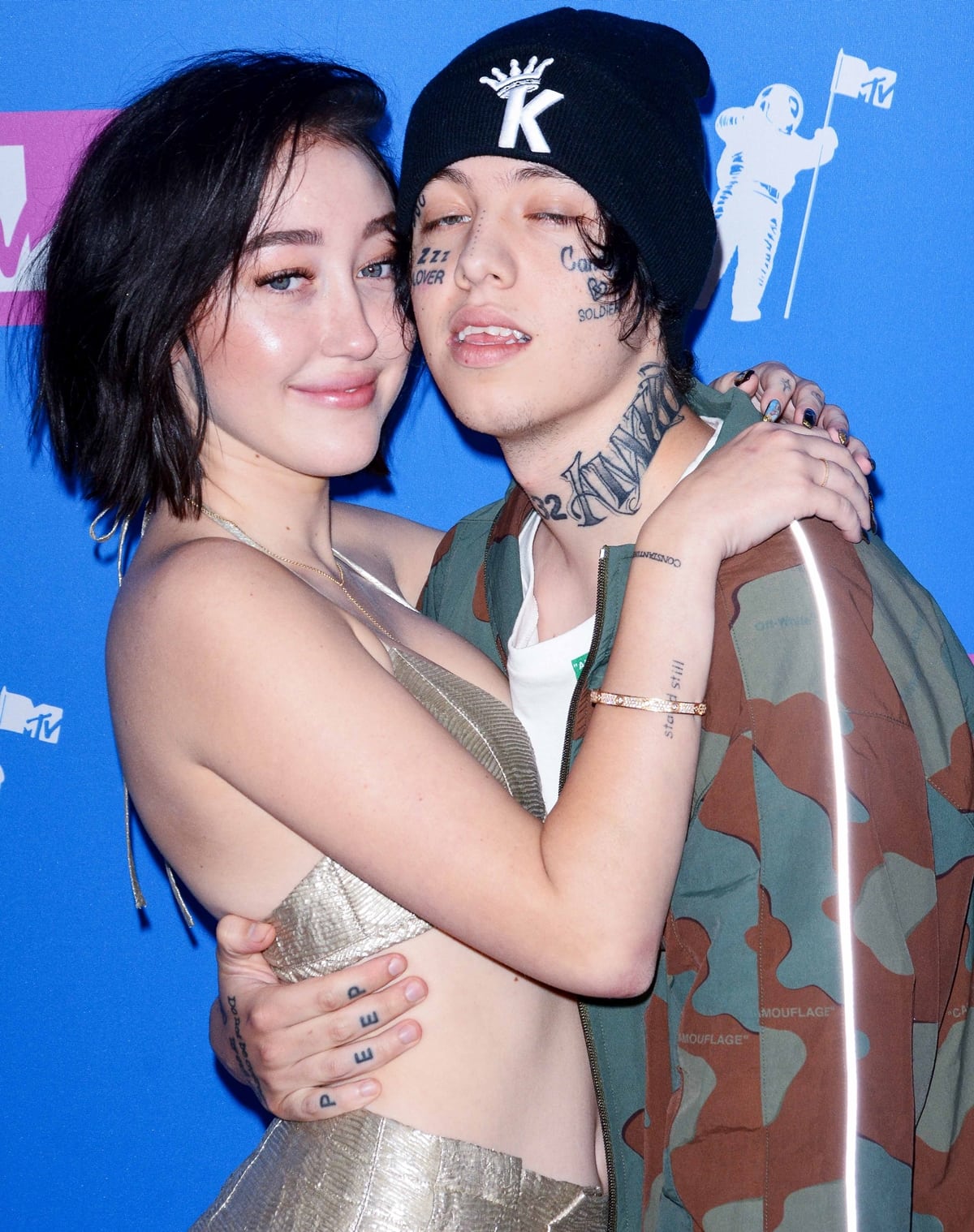 Noah Cyrus split from Nicholas Diego Leanos, better known as Lil Xan or simply Diego, in September 2018 (Credit: Patricia Schlein / WENN)
As young Hollywood vibrates in tight circles, the singers most likely met either through Miley or via another mutual acquaintance. It would seem the two have plenty to bond over, including their creative nature and even over mental health struggles.
Demi Lovato and Noah Cyrus Seen Holding Hands
In June of 2021, Demi and Noah were seen holding hands at the Space Jam 2 premiere, leading fans and media outlets to speculate on a possible romance between the two.
The leaked video also shows the two laughing together on a couch, with Noah briefly resting her head on Lovato's shoulder. Shortly after, they seemingly unfollowed each other on Instagram simultaneously, perhaps in an effort to cover their tracks when rumors broke.
Are Demi and Noah Really Just Friends or Something More?
A source close to Lovato and Cyrus has revealed that the two stars do have been spending a lot of time together, but they haven't committed to a relationship, nor have they revealed a romantic interest between them.
As creative types, they have been supporting each other through their friendship as they both work on their craft.
Despite claiming a "just friends" status, the two indicated that they are open to however their friendship develops in the future.
Allie Marie Evans and Demi Lovato in a photoshoot with photographer Tyler Shields (Credit: WENN / Avalon / Tyler Shields)
Fans are left to wonder whether there's more to the story that may be revealed at a later time or are the two singers simply good friends that have bonded during difficult times in their lives and careers.
Whatever the case, we're carefully watching this unofficial couple carefully for any further signs of romance!
In March 2016, Demi Lovato was gearing up for her tour with her long-time pal and business partner, Nick Jonas, but their work wasn't just limited to the studio.
Demi Lovato wears her hair down as she leaves a West Hollywood studio in Los Angeles on March 16, 2016 (Credit: WENN)
The two were spotted visiting a children's hospital to surprise a 5-year-old cancer patient named Aiden, who was about to receive a bone marrow transplant on his birthday.
The two were spotted leaving a studio, which presumably was where they shot their interview clip after the hospital visit.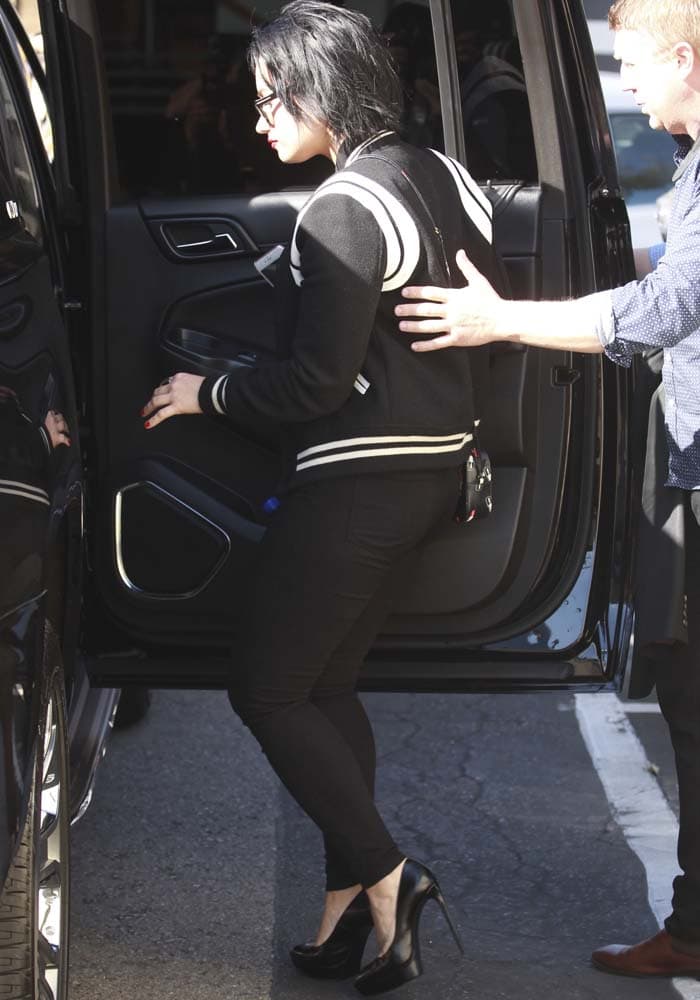 Demi Lovato dresses in Saint Laurent for a visit with a cancer patient (Credit: WENN)
Demi went on a Saint Laurent binge. She sported the label's famous lipstick-print shirt underneath its "Teddy" jacket, which she styled with the brand's "Monogram Camera" Bag and the "Janis" platform pumps.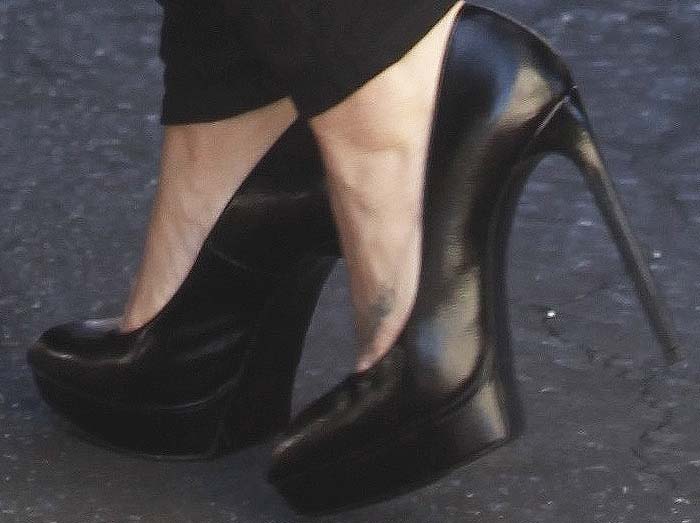 Demi Lovato's feet in black Saint Laurent platform pumps (Credit: WENN)
The singer paired her Saint Laurent items with pants from J Brand and square plastic frames from Tom Ford.
Nick Jonas joins Demi Lovato for a visit with a cancer patient (Credit: WENN)
The childhood friends reminded us how close they are by answering fan questions together. Honestly, we kind of started hoping for a Demi-Nick pairing. Sorry, Wilmer Valderrama and (maybe) Kate Hudson.
Check out their enviable sibling-like relationship below in the full interview below:
Despite everything, we can't help but wonder how Demi was able to go through a long day in her (gorgeous) towering heels.
You can order her Saint Laurent "Janis" Pumps at Farfetch and Nordstrom.
Black Saint Laurent "Janis" Platform Pumps, $640 – $795