Demi Lovato is in hot water again. The singer's Complex Magazine feature came out, and it includes a controversial statement about her friendship with her Barney & Friends co-star Selena Gomez.
Demi Lovato exits her hotel in Manhattan on September 29, 2015
Despite the "Confident" singer's gorgeous magazine spread, fans immediately honed in on the part where Demi gave a defiant "nope" when asked whether she and Selena Gomez are still friends.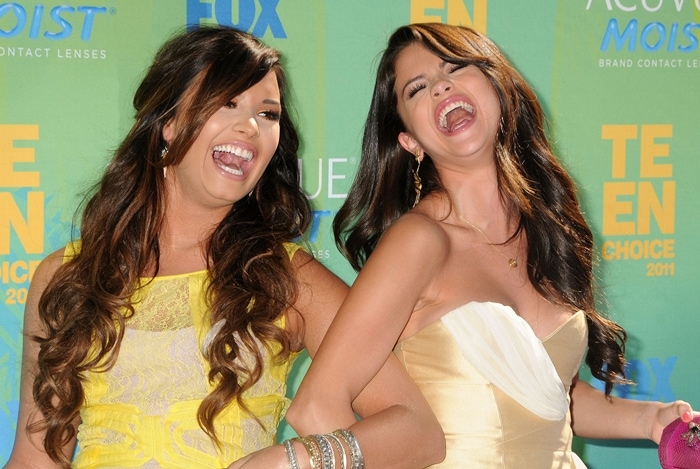 Actresses/singers Demi Lovato and Selena Gomez looked like best friends at the 2011 Teen Choice Awards held at the Gibson Amphitheatre on August 7, 2011, in Universal City, California
Interviewed for the October/November 2015 cover of Complex magazine, Demi denied their feud has anything to do with Selena's ex Justin Bieber.
A topless Demi Lovato tells Complex she and Selena Gomez are not friends
"Not really. Not anymore. He's actually a nice guy. I don't really know him that well, but he seems to have grown up. He looks like he's maturing. But, you know, when you're young and you get older, you change and people change. You have things in common, and then all of a sudden, you don't. It's just a part of life."
Demi Lovato wears a black jacket and TopShop jeans as she exits her New York hotel
It hasn't been that long since the two uploaded a heartwarming selfie, so what exactly is going on?
Demi was recently spotted exiting her New York hotel, stopping to take pictures with fans before going on her way.
Demi Lovato wears a pair of chunky black booties from Prada on her feet
Luckily, Demi cleared it all up for Demi-Selena fans: The two are still friends. Magazine interviews are usually done months before the magazine's release. Whew.

Demi Lovato confirms she's still friends with Selena Gomez
For her hotel exit, Demi wore a "Confident" jacket and ripped jeans by Topshop. She paired her casual outfit with sunglasses from Ray-Ban, a tote from Céline and leather booties from Prada.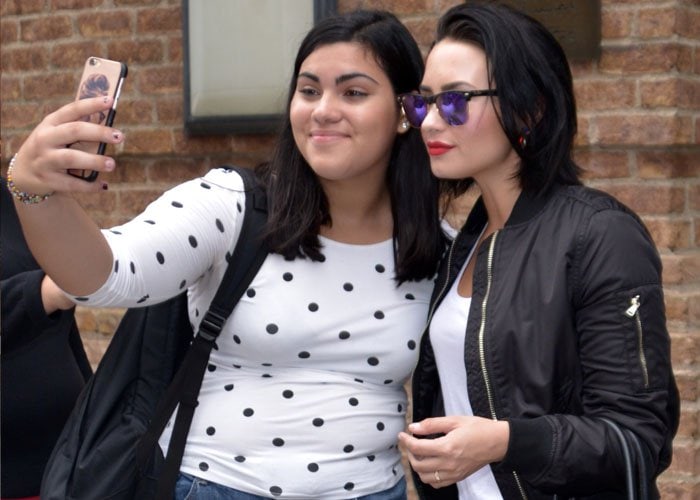 Demi Lovato poses for selfies with fans outside of her New York hotel
The singer also wore a pair of earrings by Lionette by Noa Sadé.
Demi Lovato wears a "Confident"-branded jacket as she chats with fans
To get Demi's confidence-inducing leather booties, click your way over to Farfetch or Matches Fashion.
Prada Sport Black Leather Ankle Booties, $950
Credit: TNYF / WENN / AdMedia