Oh, Demi. The "Cool for the Summer" singer  fell on stage yet again. During her entrance at the 2016 WE Day California event, she missed the step down to a lower platform and took a tumble in full view of everyone. The audience let out an audible gasp as Demi face-planted right on stage.
Totally handling it like a pro and learning from her previous fall, the 23-year-old entertainer immediately rebounded after the nasty spill. She struck a pose with both her arms in the air, and quickly reassured the audience with an "I'm OK!" Watch:
Demi Lovato putting her arms up in the air and a big smile on her face after falling on stage at the 2016 WE Day California event
Do you think Demi's shoes were to blame for her fall? She was initially wearing a pair of suede platform sandals when she arrived, so maybe she would've had better luck with those shoes instead. A long, black blazer, a black square-neck crop top and floral wide-leg pants completed the rest of her entrance ensemble.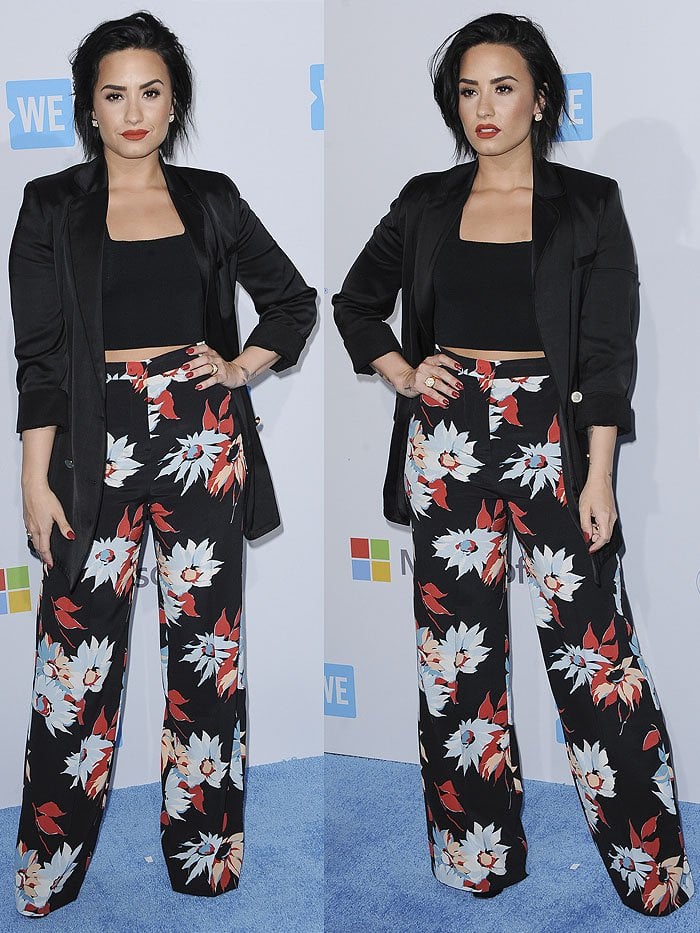 Demi Lovato at 2016 WE Day California held at The Forum in Inglewood, California, on April 7, 2016 
Would you be able to perform on stage in five-inch heels? Grab Demi's Saint Laurent "Janis" pumps at the links below.
Saint Laurent "Janis" Pumps, $795 at Nordstrom, Farfetch, Barneys, and LuisaViaRoma
Credit: Apega/WENN.com