Dita Von Teese was one fabulous lady as she made her way through LAX on Monday.
Dita Von Teese's Devonshire Rex cat Aleister is a star on Instagram
The 44-year-old burlesque dancer looked stylish in an all-black attire comprised of a '50s-style wrap dress, cat-eye sunglasses, and a pair of Christian Louboutin patent ankle-strap pumps.
Dita Von Teese rocks a black '50s-style wrap dress
She added touches of sensual red to her look by wearing crimson lipstick, ruby nails, and, of course, the signature red soles on her shoes.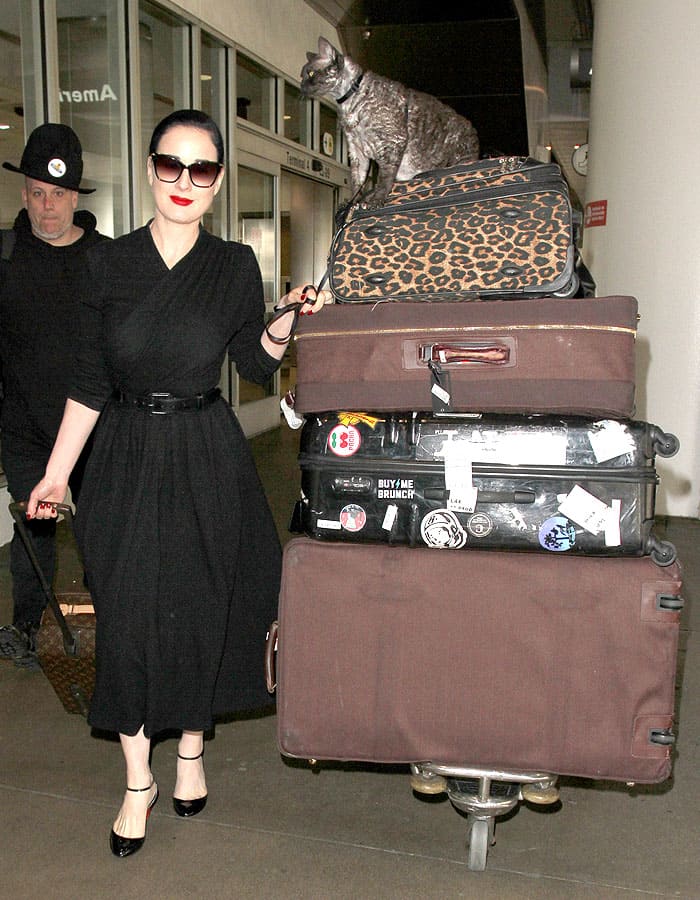 Dita Von Teese traveling with her Devonshire Rex cat named Aleister at the Los Angeles International Airport (LAX) in Los Angeles, California, on March 6, 2017
Dita exuded elegance all right, but we think what really put her over the top in the glam department was the presence of her pet cat, Aleister!
The Devonshire Rex breed rode regally on top of Dita's baggage (that appeared to be at least twice over the weight limit, by the way), and avoided the frenzy of paparazzi and their harsh camera lights.
Dita Von Teese, her cat, Aleister, and a male companion making their way through LAX
At one point, Aleister got picked up by Dita's male companion but didn't seem to mind being plucked from his perch at all. Usually quite intelligent, Devon Rex is a breed of tall-eared, short-haired cat that emerged in England during the late 1950s.
What a well-behaved, not to mention glamorous, cat! Aleister Von Teese, also known as The Bat, has over 100,000 followers on Instagram.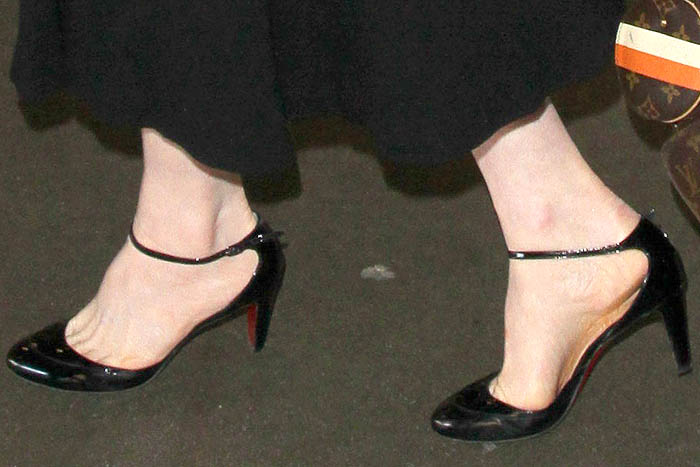 Dita Von Teese's feet in Christian Louboutin ankle-strap pumps with low heels
We have yet to ID Dita Von Teese's Louboutins, but we think they could be custom-made just for her.
Christian Louboutin has a whole line of shoes customized just for Dita and her U.S. burlesque tour, including these kinky thigh-high patent boots with crystal-embellished soles that are truly one of a kind.
Dita Von Teese's Instagram post of her one-of-a-kind, patent leather thigh-high boots with Swarovski crystallized soles inspired by the art of John Wille and custom-made for her by Christian Louboutin. — posted on March 1, 2017.
Shop the similar Christian Louboutin "Dollyla" pumps with similar patent leather uppers, ankle straps, and d'Orsay silhouette at Nordstrom and Saks Fifth Avenue.
Christian Louboutin Dollyla Low-Vamp Ankle-Strap Pumps in Black Patent, $775
Credit: WENN