Kristen Wiig debuted on Saturday Night Live shortly into season 31, on November 12, 2005. One of her most memorable characters was Dooneese, whose charming deformities include an extremely large forehead, tiny baby hands, and an odd canine tooth.
Dooneese is by far the ugliest of four Maharelle sisters, an act from the Finger Lakes. They were first introduced by Lawrence Welk (Fred Armisen) on October 4, 2008, when Anne Hathaway hosted SNL for the first time (Season 34, Episode 4).
Dooneese and her tiny hands appeared in a total of 9 sketches on October 4, 2008, May 16, 2009, December 19, 2009, May 8, 2010, April 2, 2011, October 1, 2011, May 19, 2012, May 11, 2013, and December 7, 2013.
Kristen Wiig's Dooneese character on SNL has tiny hands, a big forehead, and a snaggletooth
In another memorable sketch, Dooneese joined her sisters and Latin singing sensation Rico Garlanda (James Franco) for a Christmas song on "The Lawrence Welk Show."
Thanks to her popularity, Kristen Wiig became a full member of the repertory cast at the beginning of season 32 in 2006. After seven seasons on Saturday Night Live, she left the show on May 19, 2012.
In January 2014, the American comedian attended the screening of "The Spoils of Babylon," an American comedy miniseries written by Matt Piedmont and Andrew Steele.
She co-stars with numerous other celebrities, including Tobey Maguire, Tim Robbins, Jessica Alba, Val Kilmer, Haley Joel Osment, Michael Sheen, and Will Ferrell.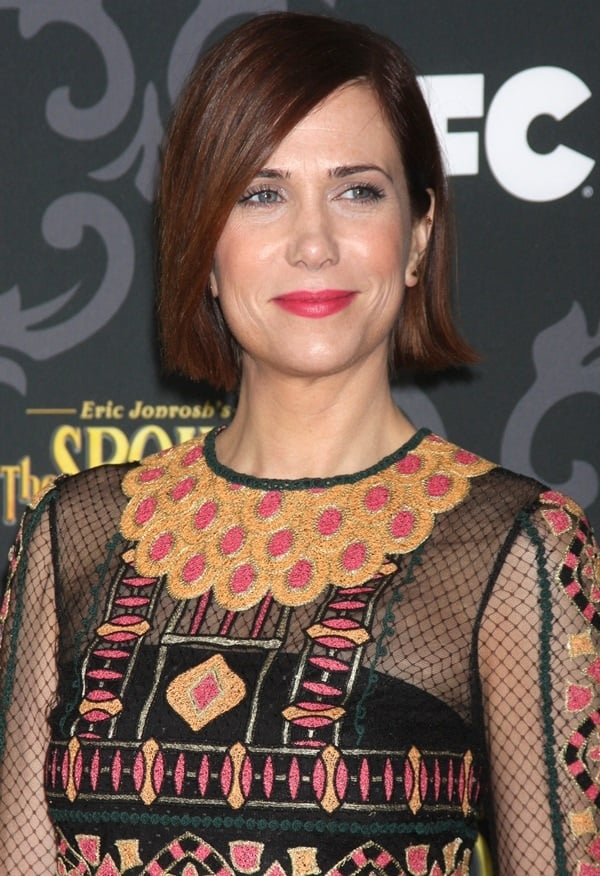 Kristen Wiig attends the screening of IFC's "The Spoils of Babylon" at DGA Theater in Los Angeles on January 7, 2014
For the screening, Kristen donned a long-sleeved sheer tulle dress by Valentino, which featured all-over cotton arabesque embroidery and two slit pockets. You can order it at Farfetch — if you have $6,690 to spend on a new dress.
Kristen Wiig wears an embroidered Valentino dress at a screening of "The Spoils of Babylon"
The then 40-year-old American actress, comedian, and writer styled the frock with Cathy Waterman jewelry and t-strap Casadei "Graphic" t-strap pumps in black leather.
Tim Robbins, Haley Joel Osment, Steve Tom, Tobey Maguire, Kristen Wiig, David Spade, and Will Ferrell all pose for photos at a screening of "The Spoils of Babylon"
While not yet available online, you can shop for recent Casadei arrivals at Casadei, Farfetch, and Amazon.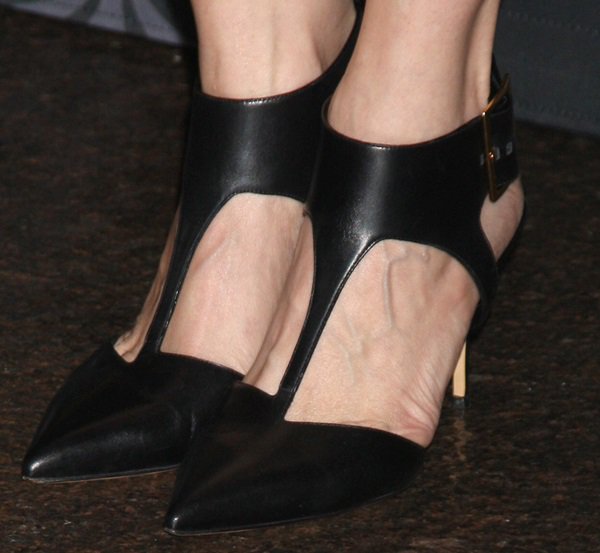 Kristen Wiig wears a pair of Casadei heels on her feet
Fashion critics loved Kristen's dress but weren't too pleased about her shoes. Do you think she should have picked a different pair?
Coincidentally, Zooey Deschanel wore the same dress on the February cover of "Elle" magazine.
Zooey Deschanel in Elle Magazine, February 2014 Issue
If you're not a fan of Kristen's Casadei pumps, perhaps you'll prefer shoes from the Casadei Christmas Collection? Here are a couple more great shoes from the same footwear label at Shopbop that you may like:
Casadei Strappy Stiletto Sandals in Black/Gold, $890
Casadei Strappy Stiletto Sandals in Black/White, $990
Credit: FayesVision / WENN / Nikki Nelson