Recycling her lilac Grecian-style gown from British designer Alexander McQueen that she wore during her first royal tour of Canada and the US in 2011 and for the 2011 British Academy Film Awards, Catherine, Duchess of Cambridge, and her husband Prince William were in attendance at the 2021 Earthshot Prize at Alexandra Palace on Sunday in London, United Kingdom.
The Duke and Duchess of Cambridge arrive for the first Earthshot Prize awards ceremony at Alexandra Palace in London on October 17, 2021 (Credit: MEGA / WENN)
Launched in 2020 by Prince William and David Attenborough, the Earthshot Prize will be awarded annually from 2021 to 2030, to five winners each year whose solutions can help the environment. It is given by the Royal Foundation and is distributed in five separate categories supported by the UN Sustainable Development Goals.
The categories are: Protect and Restore Nature, Clean Our Air, Revive Our Oceans, Build a Waste-Free World and Fix Our Climate.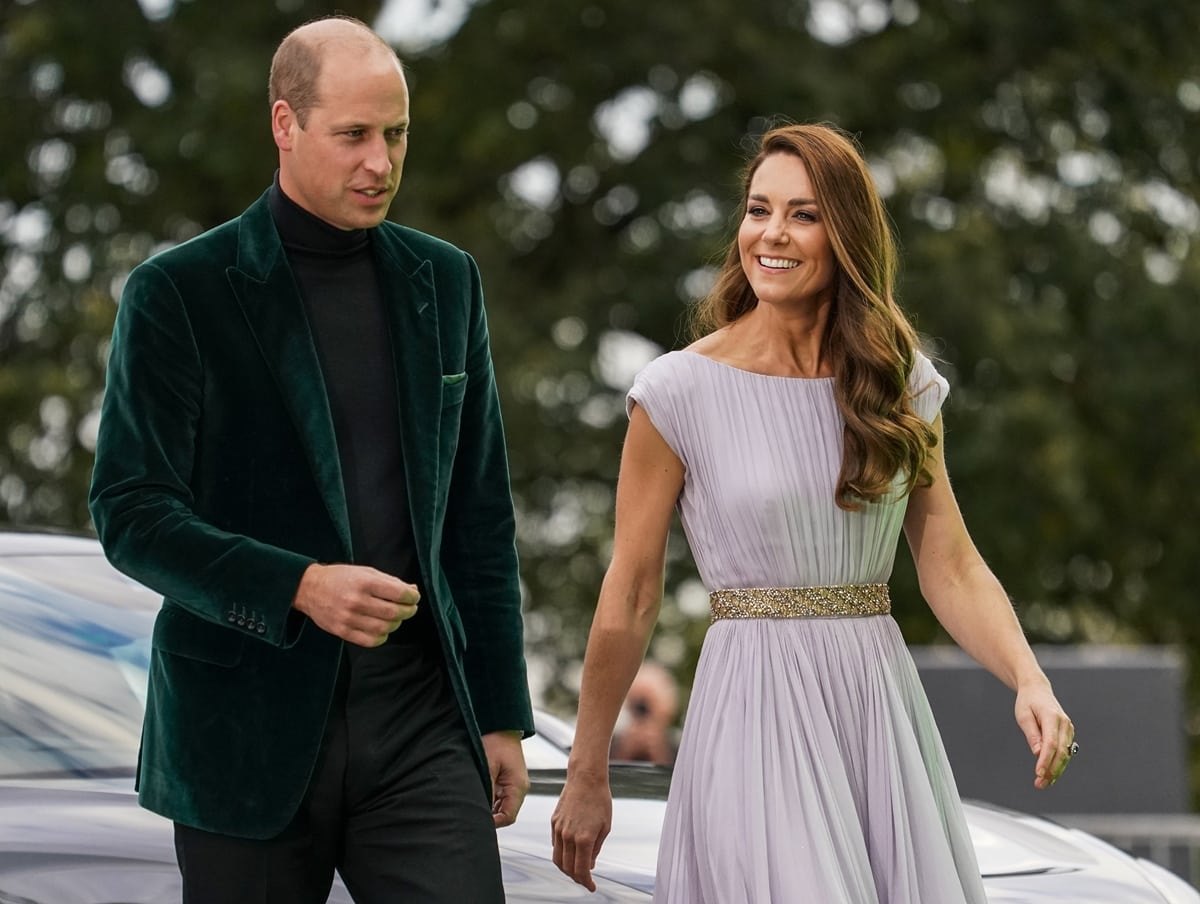 Joined by her husband Prince William, Kate Middleton recycled her Alexander McQueen belted lilac gown (Credit: MEGA / WENN)
Kate styled her dress with a glittering beaded waistband, pink morganite earrings by British jewelry designer Kiki McDonough, and Oscar de la Renta Cabrina pumps made from a platinum glittering lamé fabric. Her husband recycled his favorite velvet green Reiss suit.
Emma Watson in an upcycled dress by Harris Reed on the green carpet (Credit: Avalon / WENN)
Harry Potter's Emma Watson also attended the Earthshot Prize awards ceremony in an up-cycled design from Harris Reed featuring a demi-couture gown with classic flare pants. She accessorized with Harris Reed x Missoma earrings, rings, and bracelets.
The 31-year-old actress also wore shoes from British American fashion designer Harris Reed. Her gown was created using 10 former wedding dresses that had been donated to Oxfam, a global organization working to end the injustice of poverty.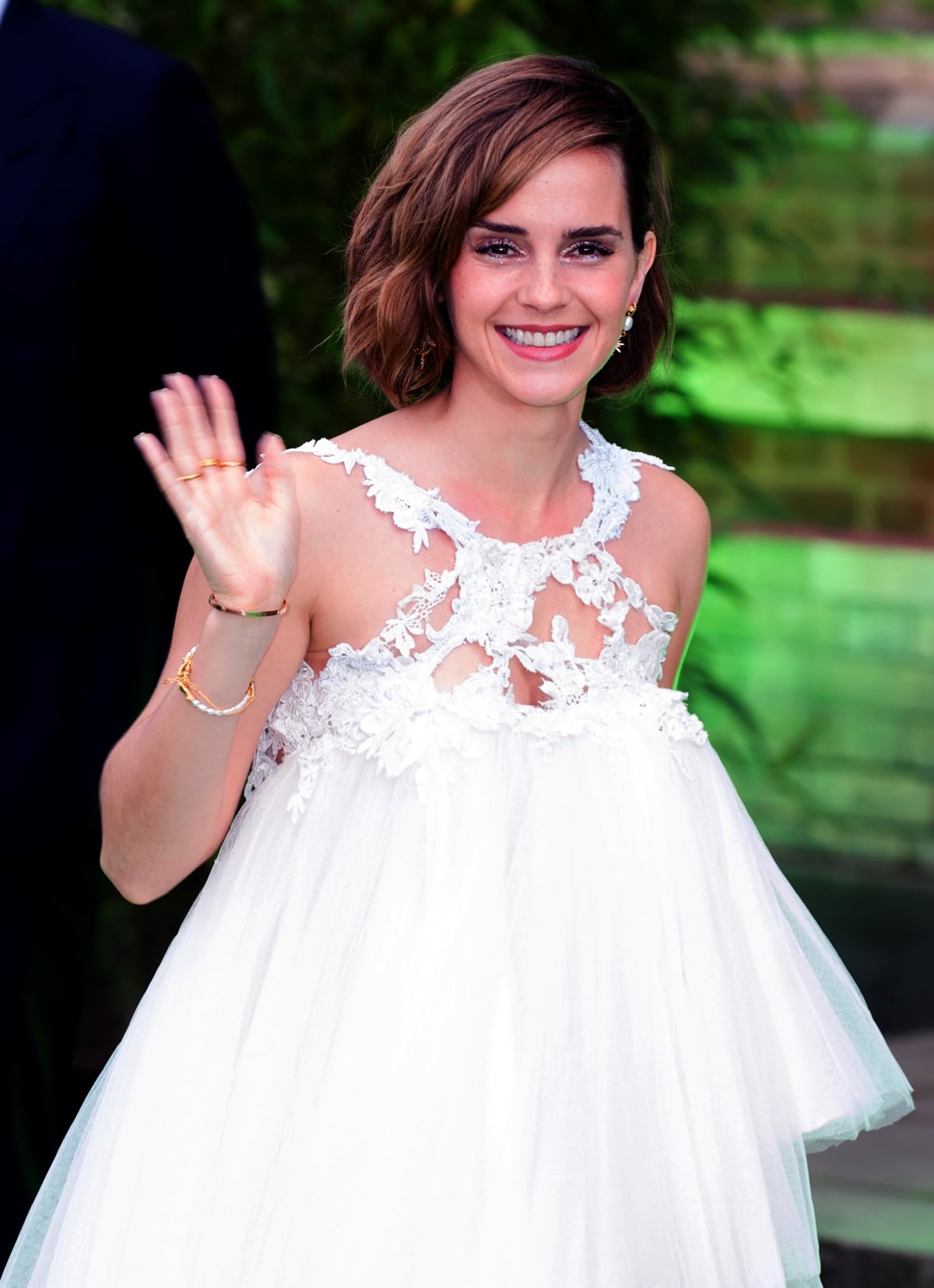 Emma Watson wore a white asymmetrical gown made from recycled wedding dresses (Credit: Avalon / WENN)
"I've been interested in sustainability in fashion ever since I had to properly engage with it during my time of junkets and promotional tours for Harry Potter. That started as early as 12. At school, I took a specific interest in Fair Trade fashion and renewable energy sources under the supervision of a really inspiring geography teacher," Watson told Vogue Australia in June 2020.
"This eventually led to a trip to Bangladesh in 2010 with sustainable brand People Tree. It became clear to me then that sustainability in fashion is a critical issue given how the industry can have damaging impacts on the environment, on workers' rights, and on animal welfare. It is also a feminist issue. It's estimated around 80 percent of the world's garment workers are women aged between 18 and 35."
Five years earlier, the actress attended the 2016 Met Gala in a Calvin Klein gown made from recycled plastic bottles.
Harris Reed created Emma Watson's open-back gown from former wedding dresses that had been donated to Oxfam (Credit: MEGA / WENN)
Not only is Kate Middleton an inspiring leader and humanitarian, but the Duchess of Cambridge has also become quite a fashion icon.
In March 2016, Kate joined her husband in attending a mentoring event in London wearing a classy and bright gingham dress.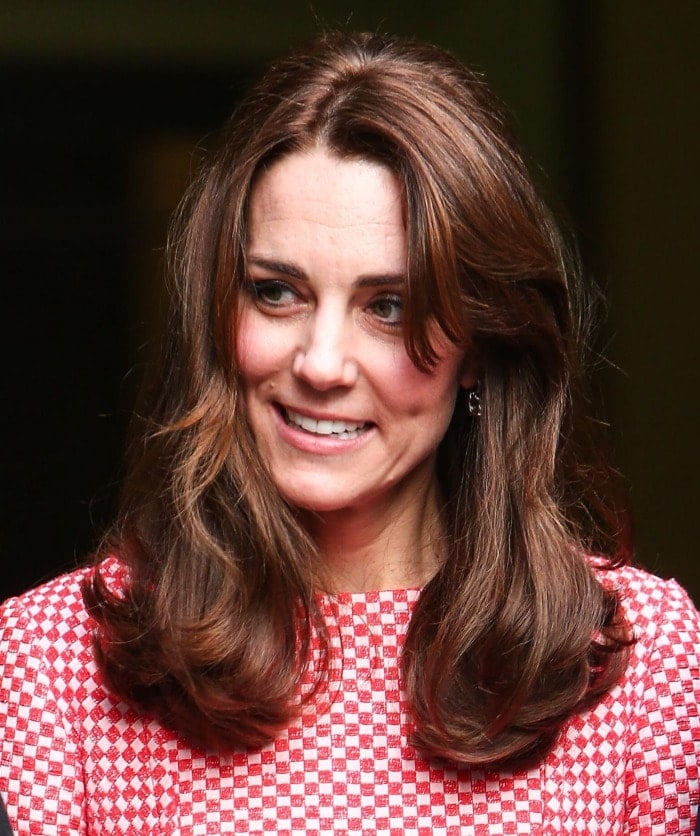 Kate Middleton wears her hair down as she visits the XL Mentoring Project March 11, 2016, at the London Wall (Credit: WENN)
XL Mentoring is a program that works to empower struggling young people by providing access to mentors in a positive group environment.
At the event, the royal couple listened as local youths told personal stories of dealing with issues related to violence, family relations, and homelessness.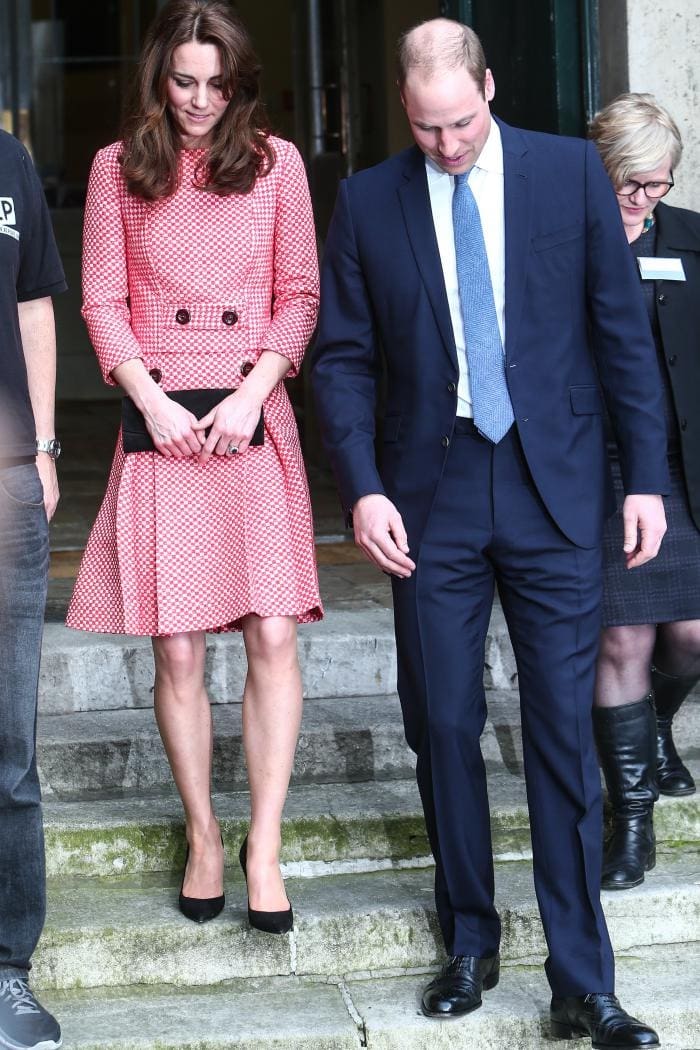 Kate Middleton and Prince William visit the XL Mentoring Project in London (Credit: WENN)
XL Mentoring's founder Patrick Regan was enthusiastic about the royal family's involvement in this project.
"I know that the Duke and Duchess are very keen to try and understand what the issues are, I know they are very interested in issues around young people's mental health," he said in an interview with The Mirror.
Kate Middleton wears an Eponine London suit out to a philanthropic event (Credit: WENN)
Kate opted to wear a retro-looking red-and-white Eponine London skirt suit to the philanthropic event.
The cotton-viscose suit featured an A-line skirt with box pleats and side tabs and a top with belt detail and a boat neck.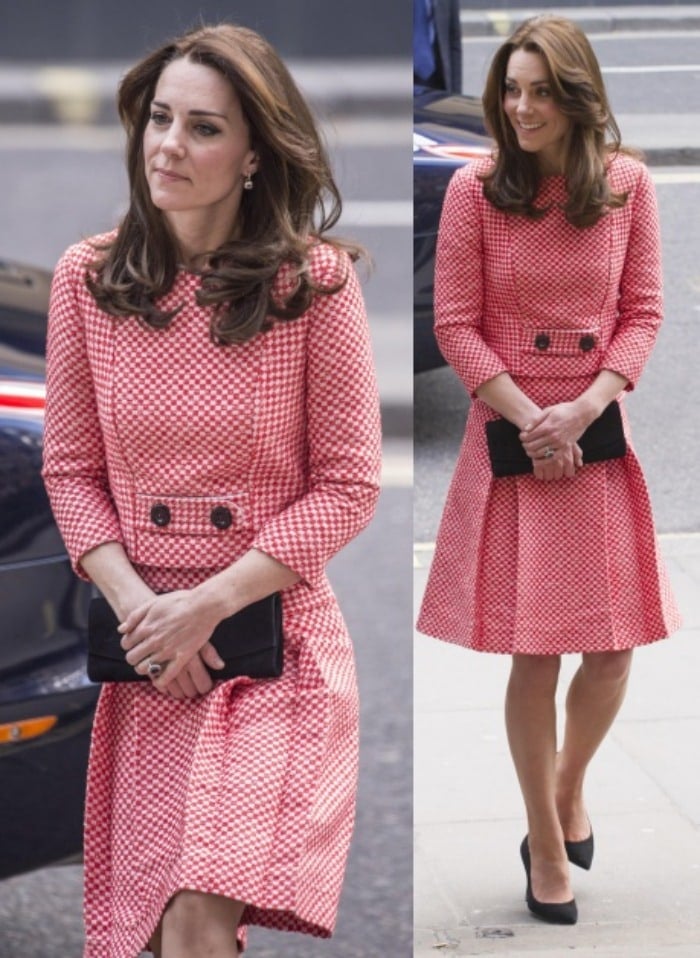 Kate Middleton wears a red-and-white skirt suit from Eponine London (Credit: WENN)
Kate accessorized her '60s-inspired suit with a black Russell and Bromley "Muse" clutch and a pair of Kiki McDonough diamond drop earrings.
She styled her brunette tresses down in her standard soft curls and added a modest amount of makeup including a dark liner to accentuate her eyes and rosy blush to match the warm color of her suit.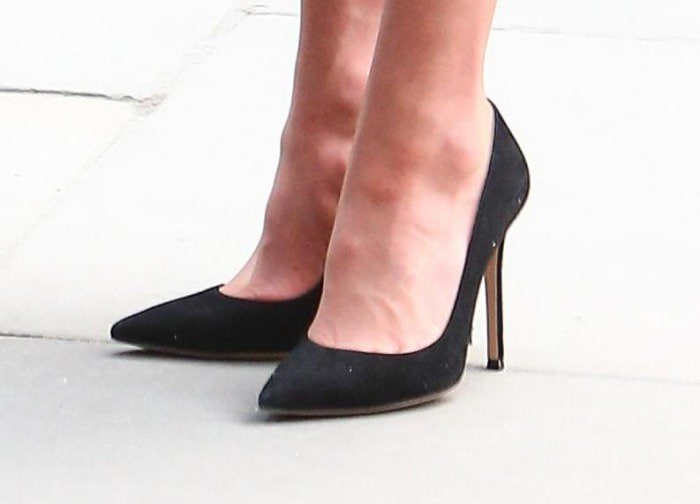 Kate Middleton shows off her feet in black Gianvito Rossi suede pumps (Credit: WENN)
The duchess finished her look with a timeless pair of black pumps from Gianvito Rossi. These pointed-toe suede pumps feature about 4-inch heels.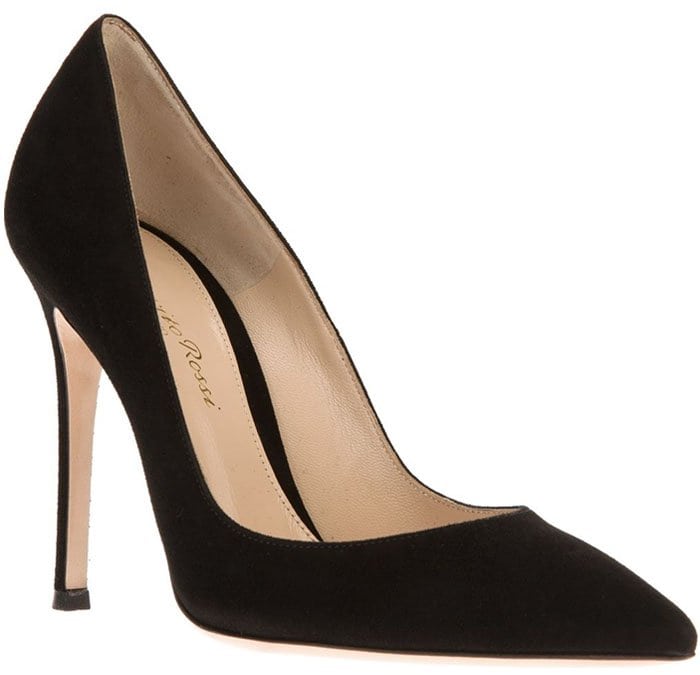 Gianvito Rossi Suede Pointed-Toe Pumps in Black, $670.00