Inspired by strong Latin American women, such as Frida Kahlo, Bianca Jagger, and Alice Dellal, Rebecca Minkoff's spring collection presentation combined traditional elements with modern silhouettes.
The intricate colorful floral hand embroidery provided the bohemian vibe, while the leather miniskirts and structured jackets, along with the sporty mesh panels, provided the eclectic touch of the collection. The Latin American motifs were accompanied by divine footwear: tall gladiator sandals, ankle boots with tassels, and pointy heels with floral prints.
The striking patterned gladiator sandals that fashionistas are gushing over pop with colors like red and pink here.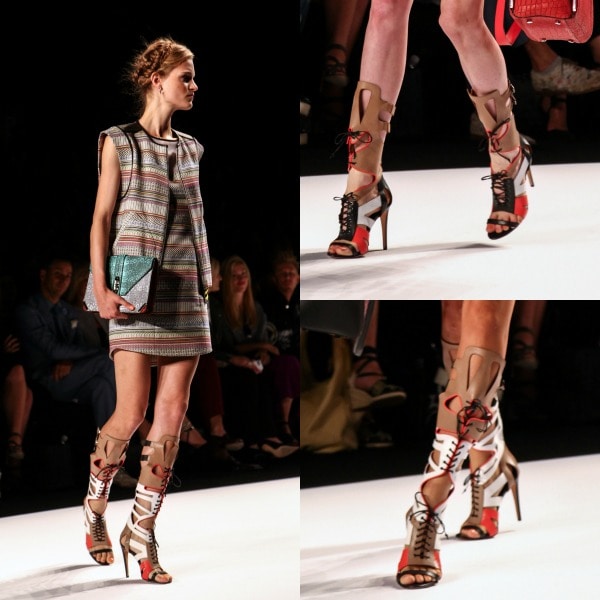 Rebecca Minkoff's 2014 Spring/Summer Collection at the Mercedes-Benz Fashion Week at Lincoln Center in New York City on September 6, 2013
Minkoff spiced up her Mexican-themed collection with gorgeous gladiator sandals with floral prints and corset laces. They worked nicely with the delicate floral stitching of the dresses.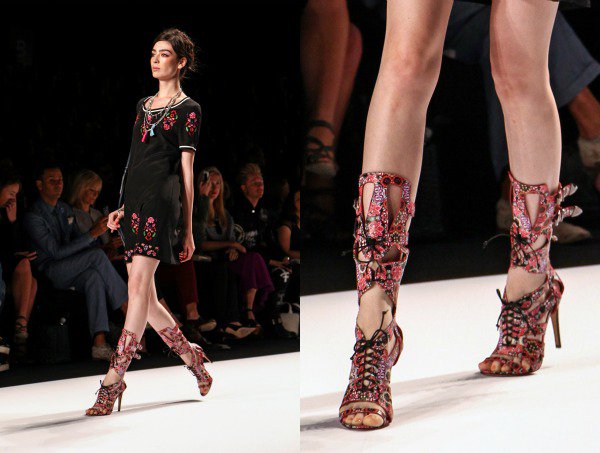 Gladiator sandals with floral prints and corset laces
Multicolored gladiator sandals with corset laces provided the color-blocking element for the structured leather miniskirts.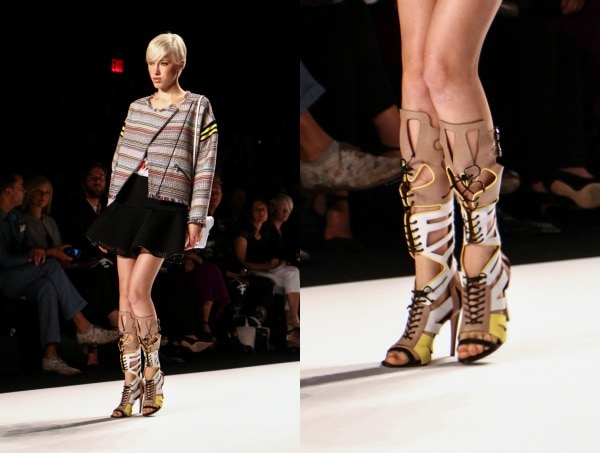 Multicolored gladiator sandals
The following black-white-gray gladiator sandals with corset laces tempered down the intricate embroidery and laser-cut leather features, offering a classical variation of the gorgeous knee-high heels.
Black-white-gray gladiator sandals
Minkoff's eye for structure and detail really shows in these ankle boots with multicolored tassels.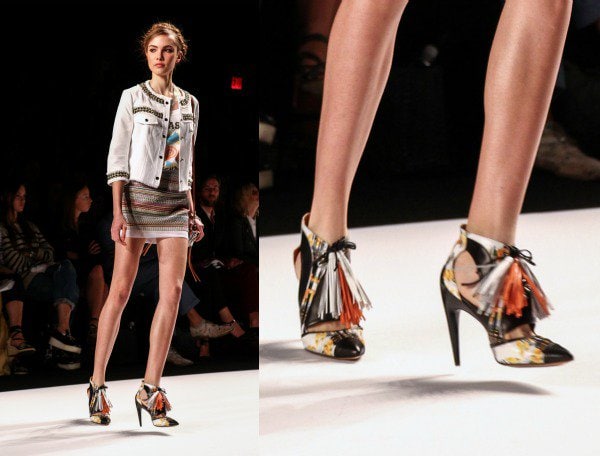 Ankle boots with multicolored tassels
Below, a pretty yellow lace pencil skirt, topped with a whimsical T-shirt with a print that reads "Let's all go to Mexico" and a tracksuit jacket, was accompanied by a pair of gorgeous heels that seemed to be the perfect combination of pretty and classical with a romantic twist — charming floral prints.
Pretty yellow lace pencil skirt with gorgeous heels
Credit: Christopher Artell / Future Image / WENN