As much as we love Dakota Fanning, we have to admit that we love her little sister even more. Elle Fanning is not just ethereally beautiful, there's a certain kind of elegance about her that makes her fascinating to watch.
To top that, she also has this unique (and perhaps occasionally odd) fashion sense that sets her apart from most young girls in the business. Interestingly, even though her sartorial choices are not exactly what you'd call mainstream, she is able to get away with them with no hitches. That, in our dictionary, is what you call talent.
Speaking of Elle's one-of-a-kind style, the young starlet was spotted sporting yet another unusually put-together outfit at LAX yesterday. She wore some dip-dyed (cropped) jeans and a white t-shirt and then punctuated the combo with a pastel pink coat, a cap, a blue handbag, and a pair of brown clogs. Yes, clogs. You know, those chunky, clunky, wooden slip-ons that look a little old-fashioned. We're not huge fans of clogs here at YNS, but Elle somehow made them happen, and she actually looked really cute in them!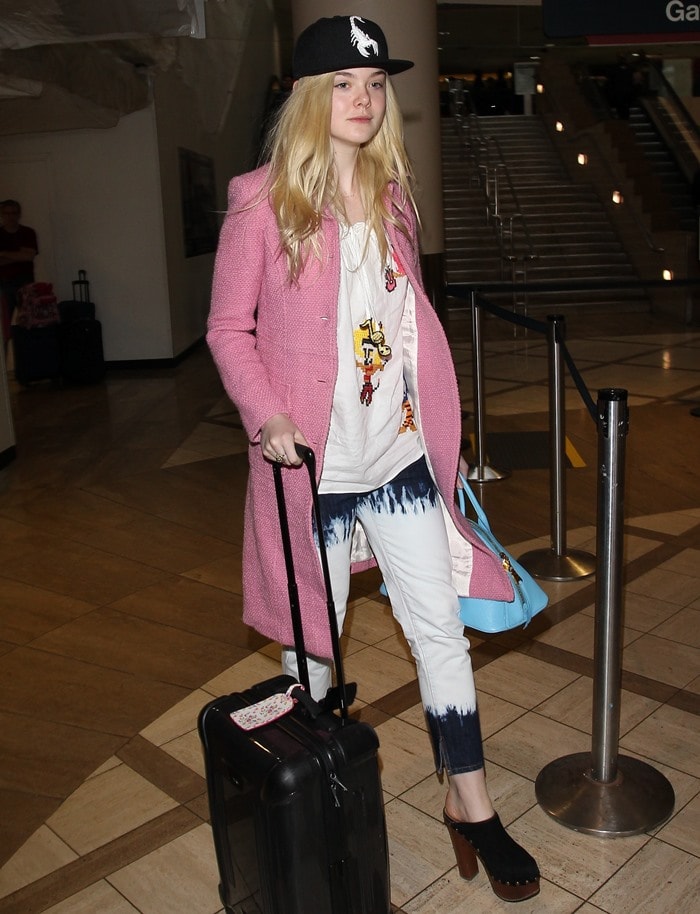 Elle Fanning wearing a pink jacket and sporting a scorpion motif baseball cap, arrives at Los Angeles International Airport (LAX) on January 21, 2014
They say mules are officially coming back this spring, so maybe wearing clogs (which are essentially similar to mules) was Elle's way of saying she was ahead of the game. That, or she probably just wanted a pair of comfortable shoes to wear to the airport.
So, what do you think of Elle's plane-ride style? Can you actually picture yourself in the same clothes (and shoes)? Yes or no?
We say why not?!
To steal her look, be sure to grab a pink coat, some cropped jeans, and a pair of wooden clogs. Below are some neat options that you can try. They are pretty comfy, too.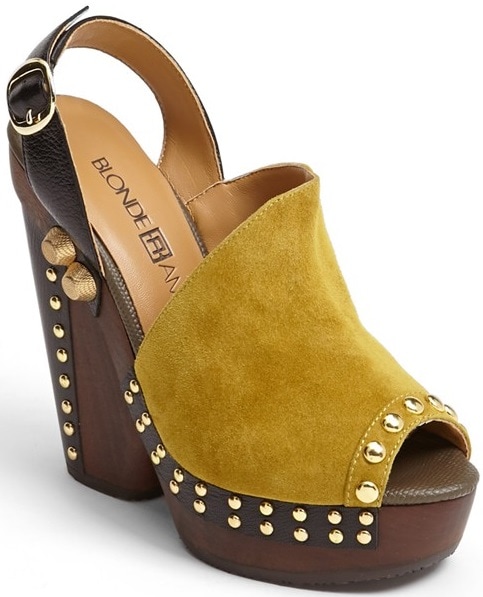 Blonde Ambition 'Norwalk' Mule Slingback Sandals, $193 at Nordstrom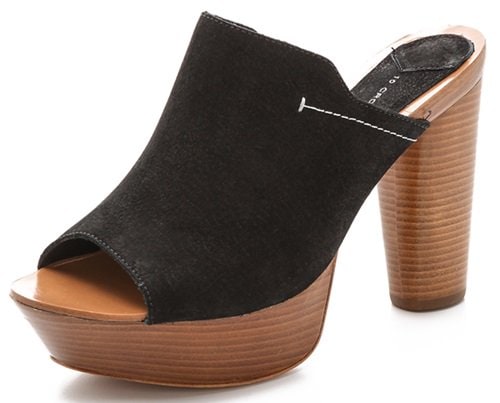 10 Crosby by Derek Lam 'Katy' Platform Mules, $350 at Shopbop

Sbicca 'Guthrie' Wedge Sandals, $70 at Nordstrom

Alternately, if you want mules that are less on the chunky, the following sleek options from Rag & Bone and French Connection may work for you. They're slim and perfect with slightly dressier outfits.
Rag & Bone 'Wyatt' Sandals, $550 at Nordstrom

French Connection Randy Mules, $140 at Nordstrom

 Credit: WENN