Best known for the American reality television series Keeping Up with the Kardashians (KUWTK), Kim Kardashian uncharacteristically covered up in two different all-black ensembles as she faced the winter cold of both London and Paris.
Kim Kardashian wears her hair down during a day out in London on January 18, 2014
The reality star headed to London for a luncheon meeting with a business tycoon, Sir Philip Green, who is the CEO of the retail giant Arcadia Group.
7 years earlier, the first series of KUWTK debuted on October 14, 2007, on the E! cable network. Born on October 21, 1980, in Los Angeles, California, the ShoeDazzle founder turned 27 just a few days later, on October 21, 2007.
Kim Kardashian was 26-years-old when the first episode of Keeping Up with the Kardashians (KUWTK) aired on October 14, 2007
Kim covered up with a black wool coat from Celine over a black top and black skinny jeans tucked inside a pair of knee-high boots in black suede.
Kim Kardashian hides her eyes behind a dark pair of sunglasses from Celine
She wore dark sunglasses from Celine and carried a white crocodile-skin bag from Hermes. This is a surprising change of pace from Kim, who is famous for wearing barely-there outfits and for flaunting her assets.
After only five hours in the city, Kim was seen arriving at Heathrow Airport to catch a flight to her next destination.
Kim Kardashian covers up in a dark coat as she arrives at Heathrow
In the City of Lights, Kim had lunch with fiancé Kanye West at a fancy restaurant called L'Avenue.
The 33-year-old star wore a black leather top that featured long sleeves, a peplum detail, and a high neck.
She paired it with a black velvet pencil skirt, black tights, and lace-up heels. The wealthy reality star wore her hair down and carried a gold-plated woven clutch from Bottega Veneta.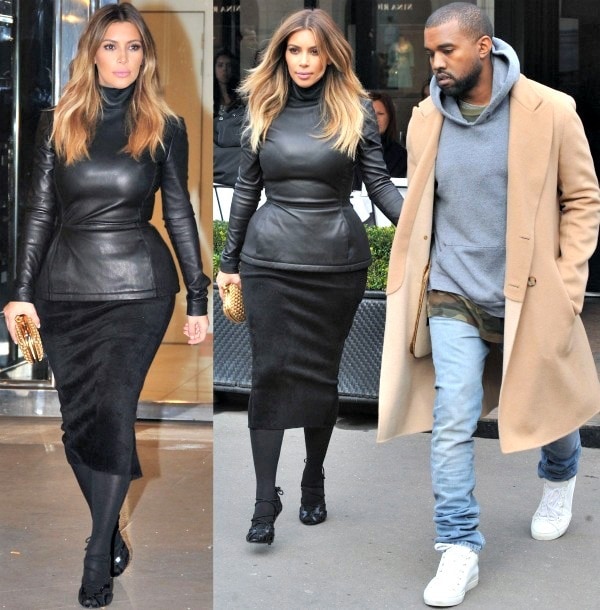 Kim Kardashian wears an all-black outfit while out in Paris with fiancé Kanye West
Kanye, on the other hand, opted for stylish comfort in a camel coat over a gray hoodie, jeans, and white sneakers.
Reports have been circulating that the couple was scouting for possible wedding venues while in the French capital.
No concrete plans have been made regarding the location of their big day, but the Palace of Versailles could be an option as Kim and Kanye were seen heading to the historic building for a private visit.
Kim Kardashian wears black lace-up heels out in Paris
What do you think of Kim's latest looks? Do you approve of the socialite's recent sartorial choices?
Credit: SIPA / WENN / Karl Piper