Kim Kardashian has recently come under fire for allegedly photoshopping Instagram pics where she and friend Blac Chyna are showing off their boobs, abs, and butts in their workout gear.
Kim Kardashian and Blac Chyna comparing butts
The pictures supposedly document how Kim is "getting right for the new year," but they instead show how her house seems to have warped, curvy doors and tiled floors.
The Internet is in an uproar over the photoshopped shots, and in case they haven't reached you yet, we've posted them for your perusal.
Kim Kardashian and Blac Chyna taking a selfie
At least Kim Kardashian hasn't taken them down yet and hasn't made a weak backpedaling like Miranda Kerr, right?
Kim Kardashian styled a crop top with a high-waisted skirt
Kim isn't claiming or denying anything, but maybe that's the best course of action when you're caught red-handed photoshopping your own pics.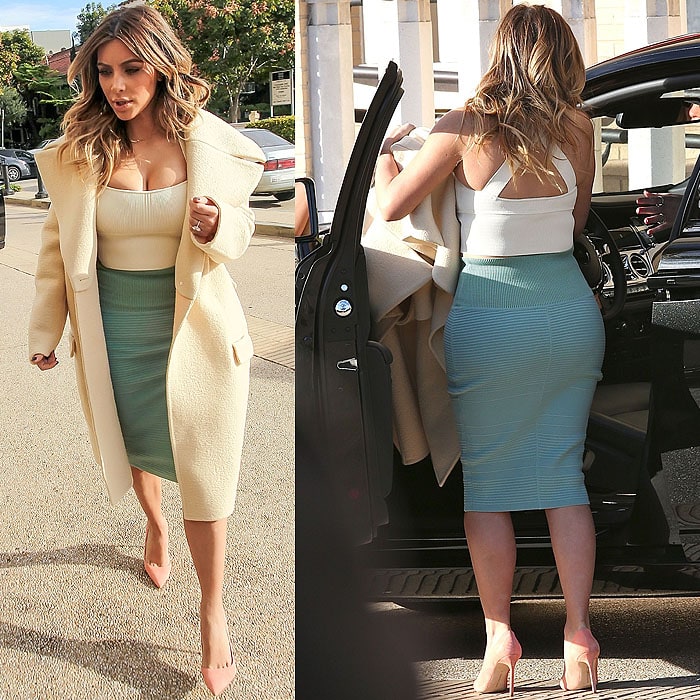 Kim Kardashian flaunted her curves in Manolo Blahnik "BB" pumps
We actually don't even know why the ShoeDazzle founder felt the need to digitally slim-down her body because she is the very definition of smoking hot in these paparazzi shots taken the other day.
Holy hot mama! Bye-bye baby weight; bombshell Kim K. is back!
Kim's obsession over those oversized Celine coats aside, we are totally in love with her outfit here. The crop top and high-waisted skirt really worked to make her waist look even tinier.
Kim Kardashian shopping in Beverly Hills and visiting Barneys New York in Los Angeles, California, on January 6, 2014
Her makeup and hair were on point, and the coral of her pumps paired with the seafoam green of her skirt is like the freshest springtime color combo ever.
Coral isn't commonly chosen for shoes that you want to wear with everything, but the unphotoshopped Kim made the right choice with Manolo Blahnik's "BB" pumps that you can buy at Farfetch and Nordstrom:
Manolo Blahnik "BB" Pumps in Coral Suede, $595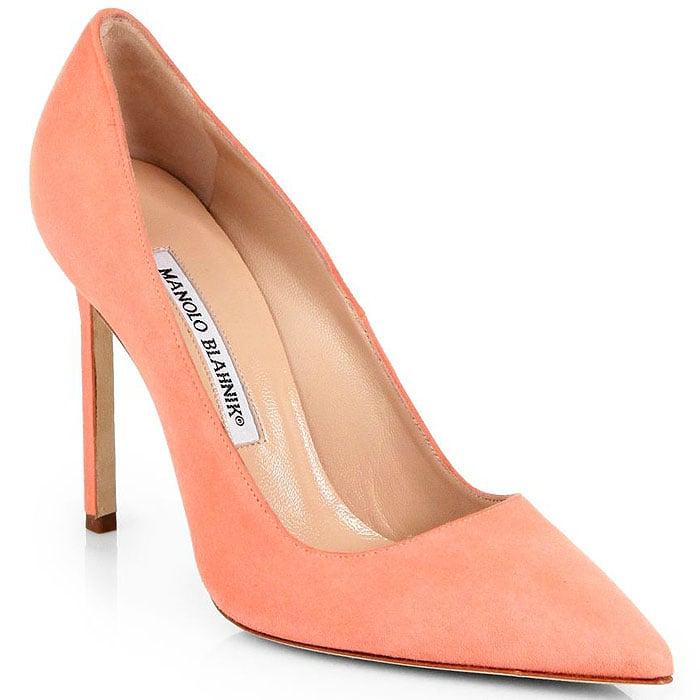 These pumps come in plenty of colors already, but if you still can't find the right shade, do remember that you can design your own pair of Manolo Blahnik BB pumps!
Credit: Kim Kardashian's Instagram / Winston Burris / revolutionpix / WENN