In perhaps the strangest Victoria's Secret Fashion Show–related news of the day, former VS Angel Miranda Kerr was caught posting a photoshopped Instagram picture of herself from last year's show.
The picture was innocent enough — a backstage shot of lingerie-clad Doutzen Kroes, Miranda Kerr, and Alessanda Ambrosio, which Miranda captioned with a sweet message that read, "sending love and best wishes to the #vsangels from Japan xxx." In her effort to show her support for her former co-workers with the picture, Miranda also unwittingly showed her, um, talent for digital alteration.
Here's the Instagram picture that Miranda Kerr first posted. It shows the already crazy-fit supermodel with an impossibly teeny-tiny waist: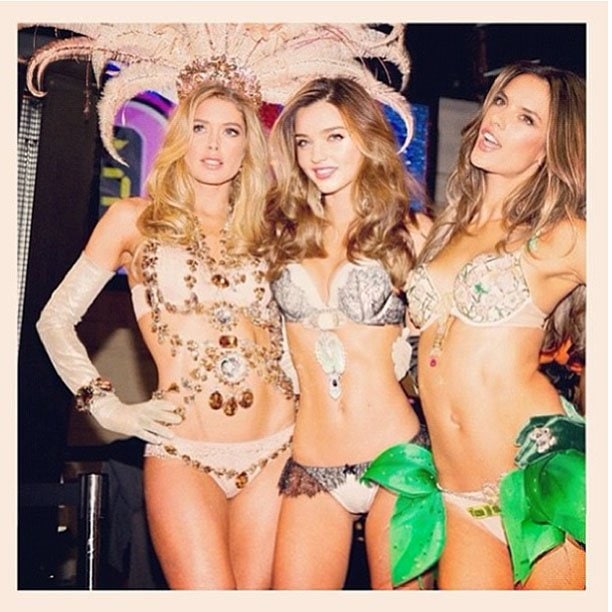 The picture taken at the 2012 Victoria's Secret Fashion Show Miranda Kerr posted on Instagram on November 12, 2013
After receiving backlash from eagle-eyed netizens who spotted the photoshop job, Miranda quickly took the picture down. She returned with this Instagram pic of the original image, along with the explanation that she just hurriedly grabbed the first photo from the Internet while busy working in Japan:
We tried looking for the site from which Miranda Kerr said she took the photoshopped image, but we couldn't find it. It also doesn't help her case that expert photoshop spotters have also noticed the insta-slimming alterations done on Miranda Kerr's other Instagram photos.
Miranda Kerr's Instagram picture vs. the original image
What do you think? Is Miranda Kerr guilty of photoshopping her own pictures or not?
It's a sad world we live in when even one of the world's hottest supermodels feels the immense pressure to conform to society's unrealistic beauty standards. We don't even know why she felt compelled to do it because if you check out how she looked at that year's Victoria's Secret Fashion Show, you'll see that she was at out-of-this-world levels of hot.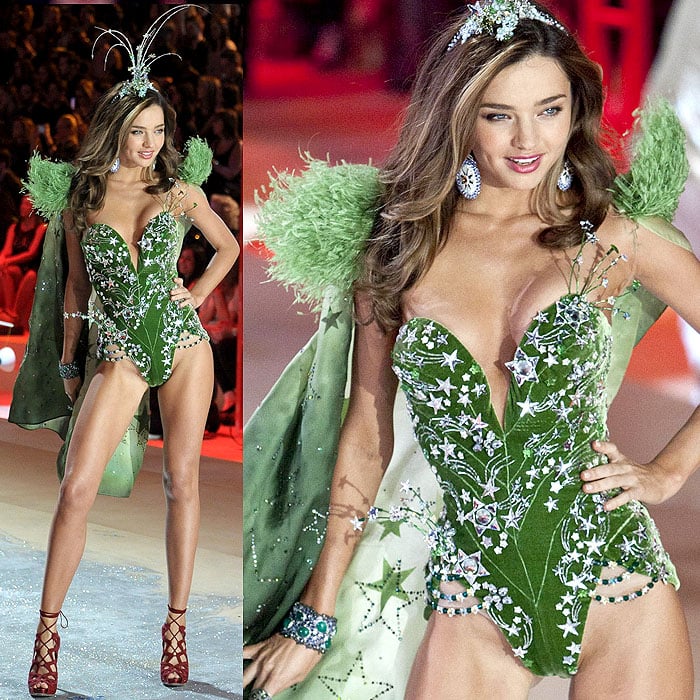 Miranda Kerr working the runway at the 2012 Victoria's Secret Fashion Show in New York City on November 7, 2012
Check out more pictures of Miranda Kerr rocking Nicholas Kirkwood shoes at the 2012 Victoria's Secret Fashion Show. Then, see if anyone from the current crop of Victoria's Secet Angels from this year's show holds a candle to her.
Credit: Miranda Kerr's Instagram/Jeff Grossman/WENN