There's a reason why the Victoria's Secret Fashion Show is (always) the most-watched runway show of the year. Hot half-naked women in nothing but lingerie strut their stuff on the catwalk — who wouldn't want that?
Men drool at them, while we ladies simply enjoy the parade of delicate (and jeweled) underthings decorated to the hilt with props like wings, capes, and headdresses.
Of course, let's not forget about the shoes. True, the event is all about lingerie. But if you take that out, remove all the models and the decoration, the stunning shoes are actually the best part of the show. Would you agree?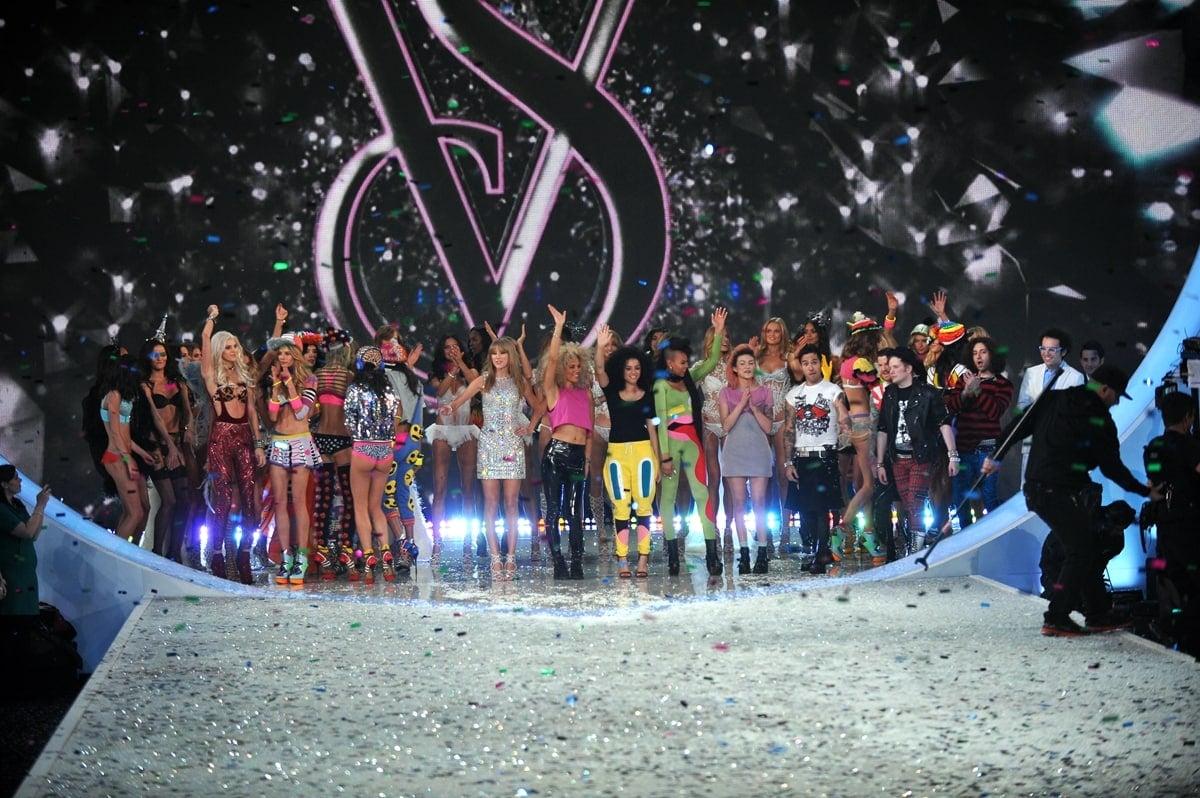 Models walk the runway finale at the 2013 Victoria's Secret Fashion Show at Lexington Avenue Armory on November 13, 2013, in New York City (Credit: FashionStock / Shutterstock)
Maybe the men won't, but we hear at YNS do.
Victoria's Secret commissioned shoe designers Nicholas Kirkwood and Sophia Webster for the footwear to be included in this year's show.
Intricate cutouts, Swarovski crystals, lace-up straps, feather-detailed sandals, and strappy pumps were what dominated the runway.
Now instead of just showing you all the gorgeous shoes that graced last Wednesday's Victoria's Secret event, how about playing a little game instead?
We will show you runway shots of the shoes, then you take a wild guess by naming the models who wore them. Below are the models you can choose from.
Use your match-making skills to figure out who goes with which set of pictures. To make it easier for you, we've included some clues for each set (of pictures). Are you ready to do the guessing game? Then scroll down to begin!
The models to choose from are:

Karlie Kloss, Adriana Lima, Lily Aldridge, Cara Delevingne, and Barbara Fialho (Credit: WENN)

Doetzen Kroes, Behati Prinsloo, Candice Swanepoel, Erin Heatherton, and Alessandra Ambrosio (Credit: WENN)
Model A
This model has walked Victoria's Secret runway for a whopping 10 years. She's also notable for her sexy and sultry features.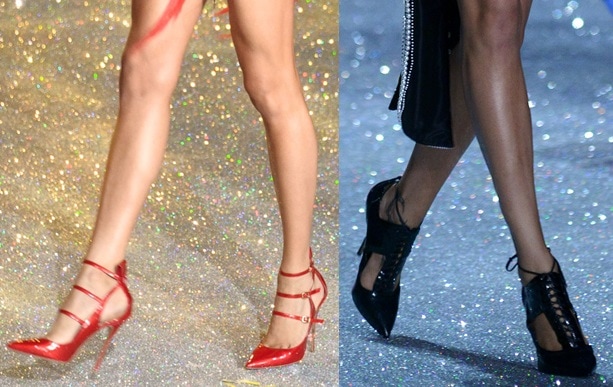 Model B
She's a paparazzi favorite, and very much known for her always-effortlessly-chic fashion sense. She's also a Coachella Music Fest regular.
Model C
This sultry Brazilian was tapped by Wild & Alive for their Fall 2013 campaign.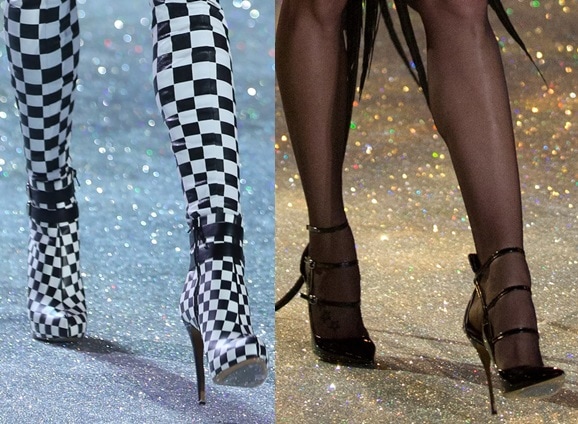 Since C is the hardest one, we'll let you know the answer: Brazilian model and singer Barbara Fialho.
Model D
This one's easy. This striking model is the fiancé of a very good-looking popstar (who dated several other Victoria's Secret models in the past)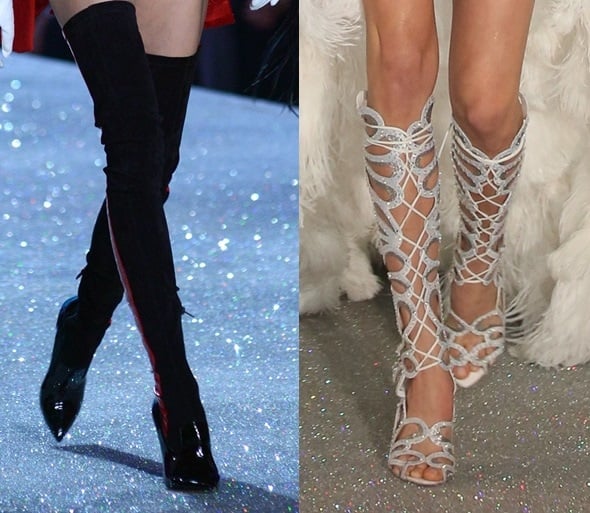 Model E
This model was privileged enough to wear the 10-million dollar bra on the runway. Need we give you more clues?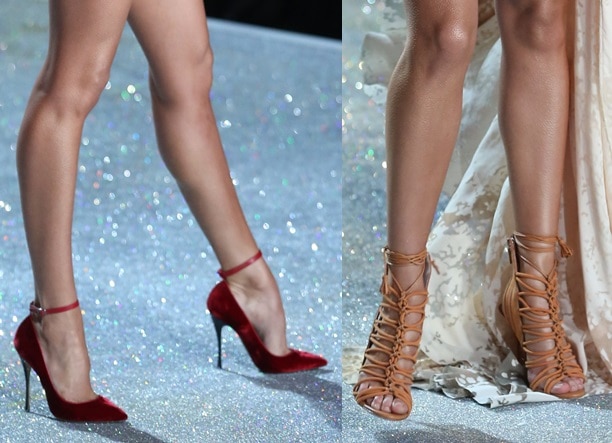 Model F
She's a feisty Brit stunner who has modeled for DKNY's many campaigns. She's also known for her thick eyebrows.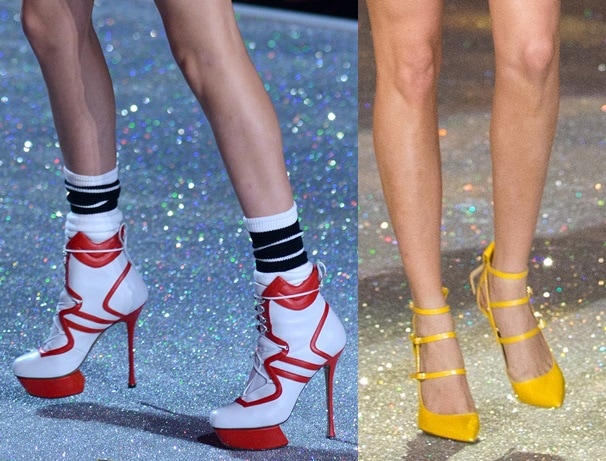 Model G
She's Dutch, her name sounds like Dutch, and she's done so many campaigns that we have already lost count.
Model H
This blond beauty was born and bred in Illinois. She also dated Leonardo di Caprio for almost a year (from 2011 to 2012).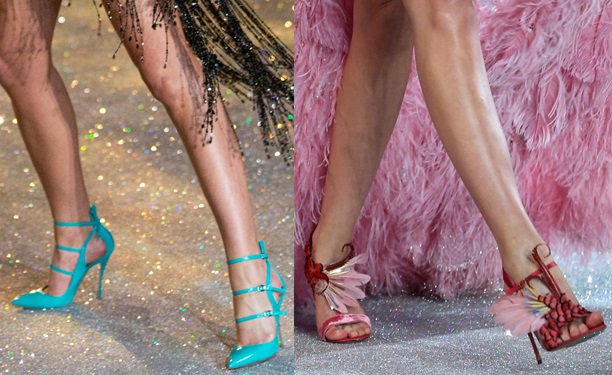 Model I
She doesn't have the typical Victoria's Secret "aesthetic" (no big hair), but she's sharp and just as sexy. She has landed several international magazine covers over the years and is one of the highest-paid models in the industry.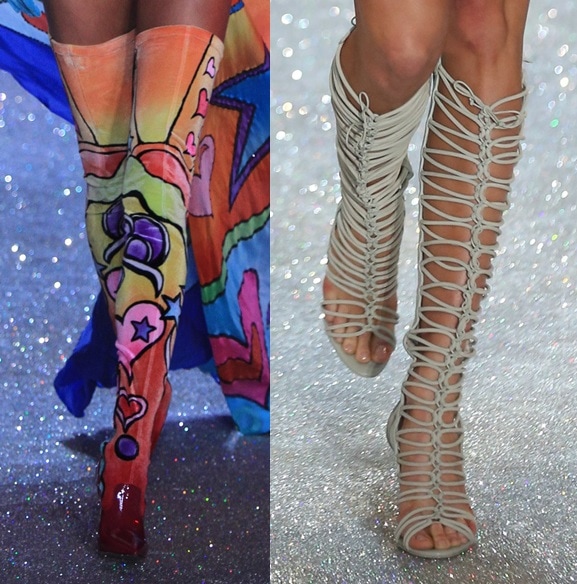 Model J
Aside from being a model, she's also a fashion designer. She has collaborated with a certain label for her clothing line.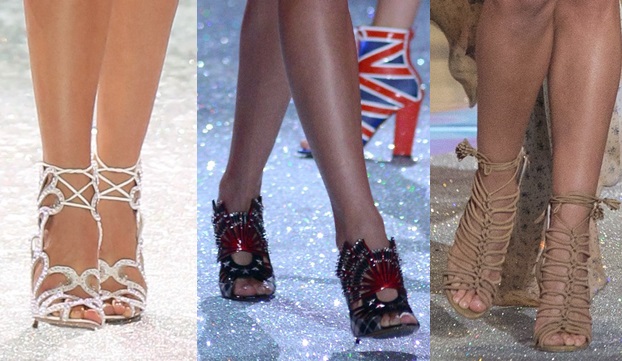 Models wear standout heels from Nicholas Kirkwood and Sophia Webster on the Victoria's Secret Fashion Show runway, November 13, 2013 (Credit: Ivan Nikolov / Bridow / Michael Carpenter / Andres Otero / WENN)
Well, do you have your guesses? They aren't that hard to figure out, yes? Now of all the runway heels we posted here today, which one is your favorite?
The pumps and strappy sandals are no doubt, from Sophia Webster. The black thigh-high boots and sandals with swirly straps look like they're from Nicholas Kirkwood. Below are similar styles we found online.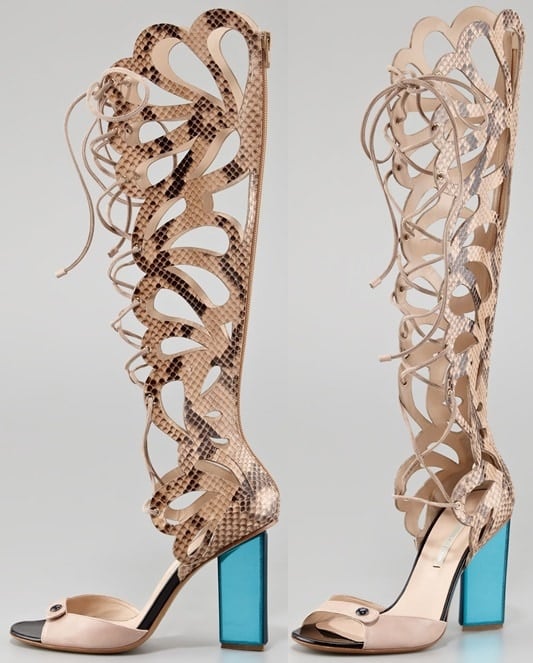 Nicholas Kirkwood Scalloped Snakeskin Knee-High Sandals, $2,185
Nicholas Kirkwood Lasercut Crystal Detailed Sandals, £1,035
Nicholas Kirkwood Thigh High Boots, $1,150
In case you're interested, we found one of the styles from Sophia Webster online too. Check out these metallic blue strappy sandals detailed with tassels.
Sophia Webster Lacey Metallic Strap Tasseled Sandals, $695
Love? It's no wonder they were used multiple times on the runway — they're beautiful! These shoes feature tubular straps looped and gathered at the center. They also sit on 4-inch tall stiletto heels.
If you want a pair, you're in luck because they're on sale over at Nordstrom and Neiman Marcus. We're thinking they're the perfect party sandals to go with a white dress.
Also, here are a few more styles from Sophia Webster that look very similar to the shoes we saw on the VS runway.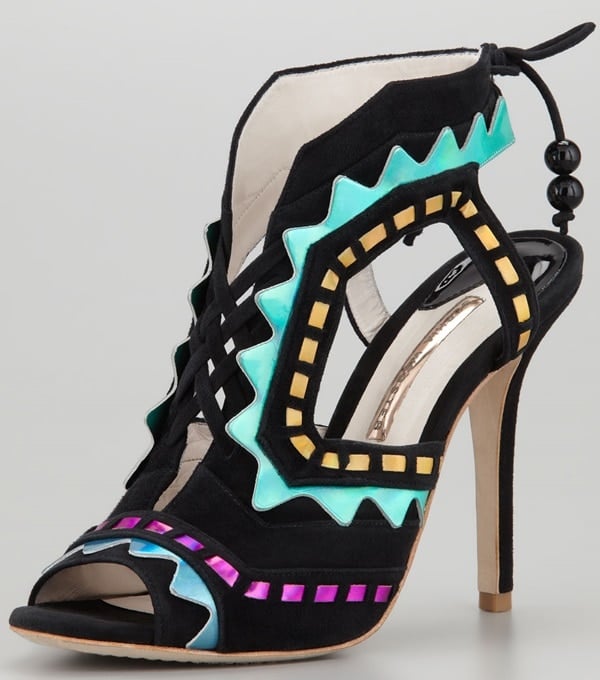 Sophia Webster Riko Holographic Lace-Up Sandals, $695
Sophia Webster Roka Holographic High Back Pumps, $680