British musician Ellie Goulding made a guest appearance on "Extra" at The Grove in LA last Thursday.
The "Lights" singer might have been dressed down in a pompom beanie, a white sweater, and leather pants but she made sure her ensemble still had lots of attitude by pairing it with edgy, head-turning, big, black boots.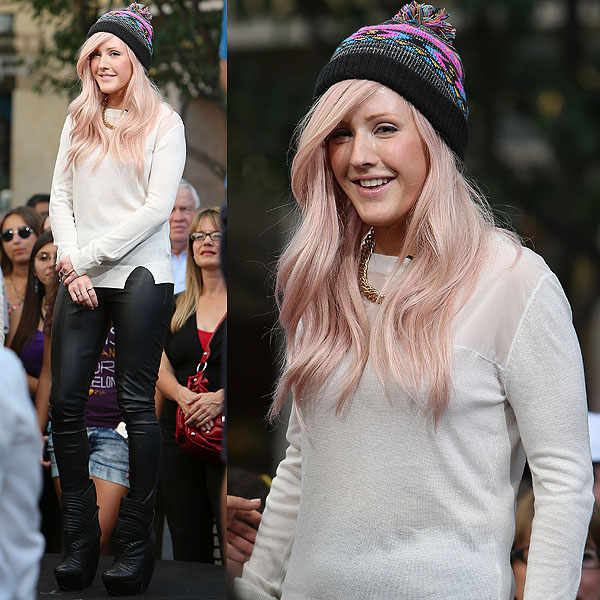 Ellie Goulding appears on the entertainment news show "Extra" at The Grove in Los Angeles on October 18, 2012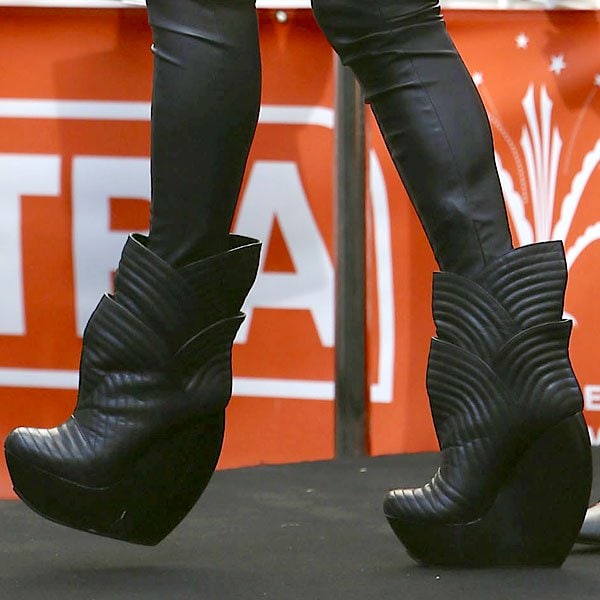 Ellie Goulding in head-turning, big, black boots
Ellie Goulding clearly has a thing for big black boots. Check out these pictures from her appearances all within just the past couple of months — she's wearing some type of a big black boot in each of them:
Ellie Goulding at the BBC Radio 1 studios London, England on August 9, 2012; at the BBC Maida Vale studios in London, England on  October 2, 2012; at HMV Manchester in Manchester, England on October 8, 2012; at The Sound Academy in Toronto, Canada on October 14, 2012
However, we don't think it can't get any bigger and badder than the boots she wore at her "Extra" interview. Those things are major!
Few labels can make shoes like those so it was easy to ID them as these 'Tulip Hi' boots from architectural footwear brand United Nude.
United Nude Tulip Hi Boots, $564.95 to $600.00
Credit: Michael Wright / WENN / Steve Searle / Dominic Chan