Someone's excited for Halloween! Ellie Goulding showed she's ready for the spookiest holiday when she stepped out yesterday morning in London wearing white Margiela boots with scary-thin metal nails for heels.
Those nails look like they could punch straight through the 31-year old British singer's feet at the slightest misstep!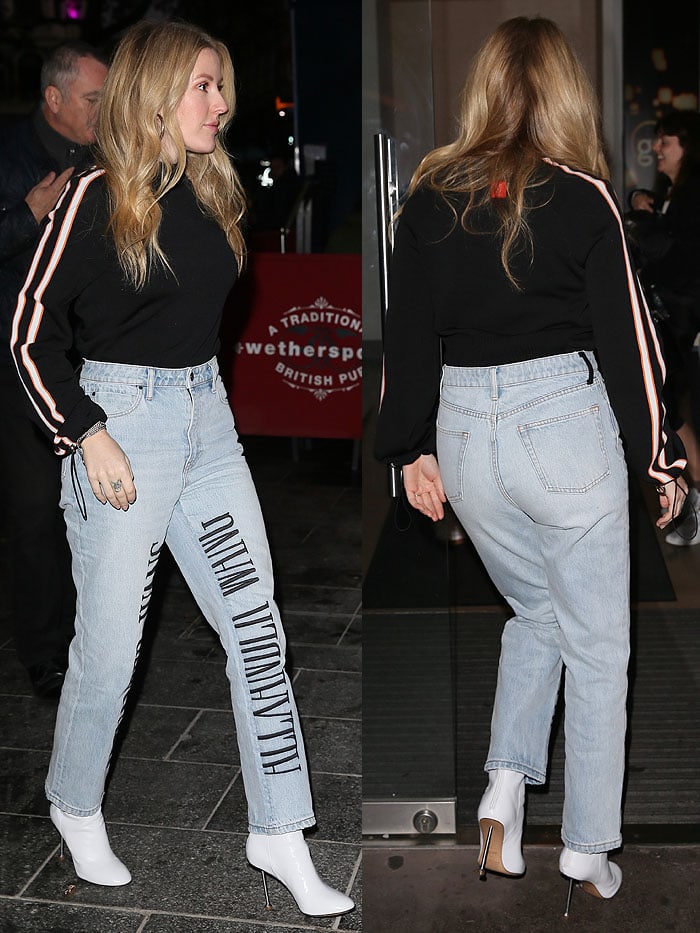 Ellie Goulding navigating the streets of London in white Maison Margiela boots with scarily thin nail heels
Though probably not as nightmare-inducing as artist Leanie van der Vyver's "Scary Beautiful" reversed shoes, Ellie's boots can still strike fear in the heart of any city dweller who has to deal with things like grates, cracked pavement, and cobblestone streets.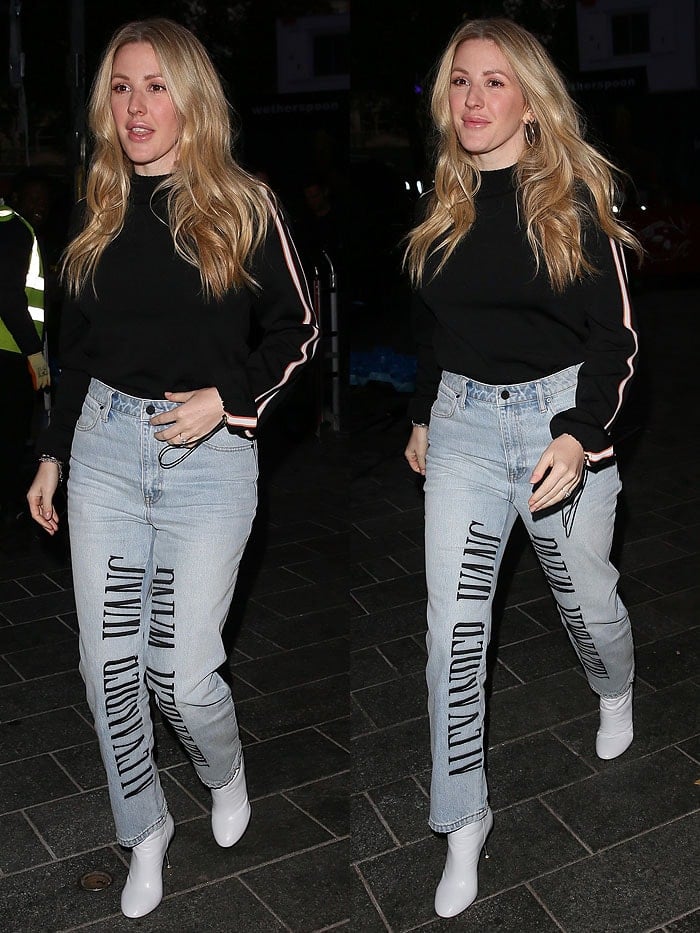 Ellie Goulding wearing Maison Margiela white-leather nail-heel boots with Alexander Wang embroidered jeans and a white-and-orange-striped black sweater
The "Love Me Like You Do" singer paired her frightening footwear with a non-threatening sporty-striped black sweater and Alexander Wang-embroidered jeans.
She kept things casual for her breakfast-time-slot radio interview and wore her long, blonde hair untied and her makeup simple.
Ellie Goulding arriving for her interview on radio show Capital Breakfast at Global Studios in London, England, on October 25, 2018
If you find the metal heels on these Margiela boots scary, at least they're not all rusted out like the nail heels on the Acne 'Gemini' booties and 'Asteria' pumps from 2010.
Closeup of Ellie Goulding's Maison Margiela white-leather nail-heel boots
The scary-thin metal nail heels on Ellie Goulding's white Maison Margiela boots
Ellie Goulding's Maison Margiela boots feature 3.5-inch metal heels and safety-pin pull tabs on the back zippers. Aside from white leather, they also come in buttery beige, smooth black, and an unexpected silver glitter finish.
Maison Margiela Nail-Heel Boots, $1,245 to $1,295 at Barneys New York, Farfetch, and Ssense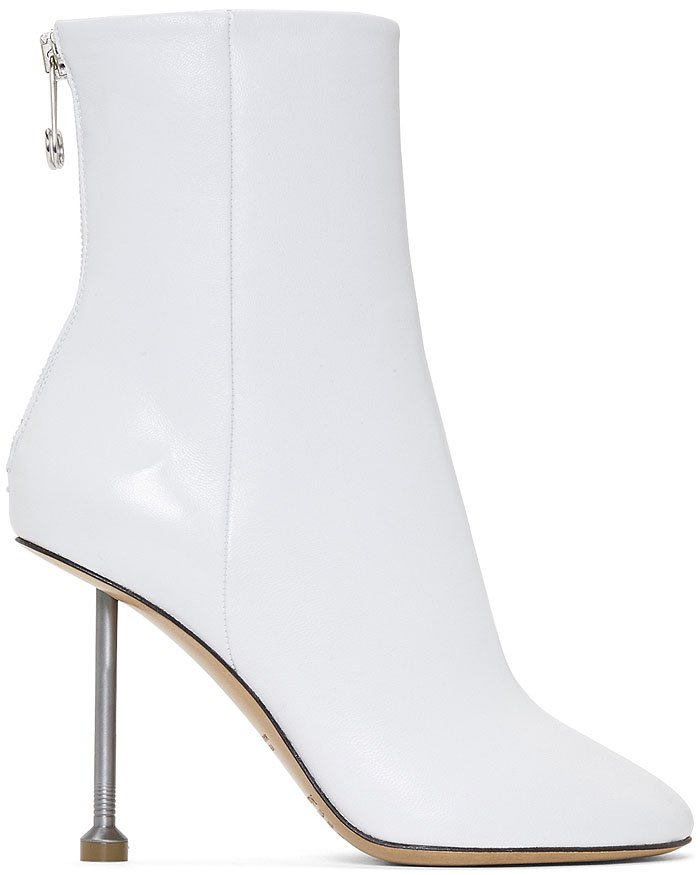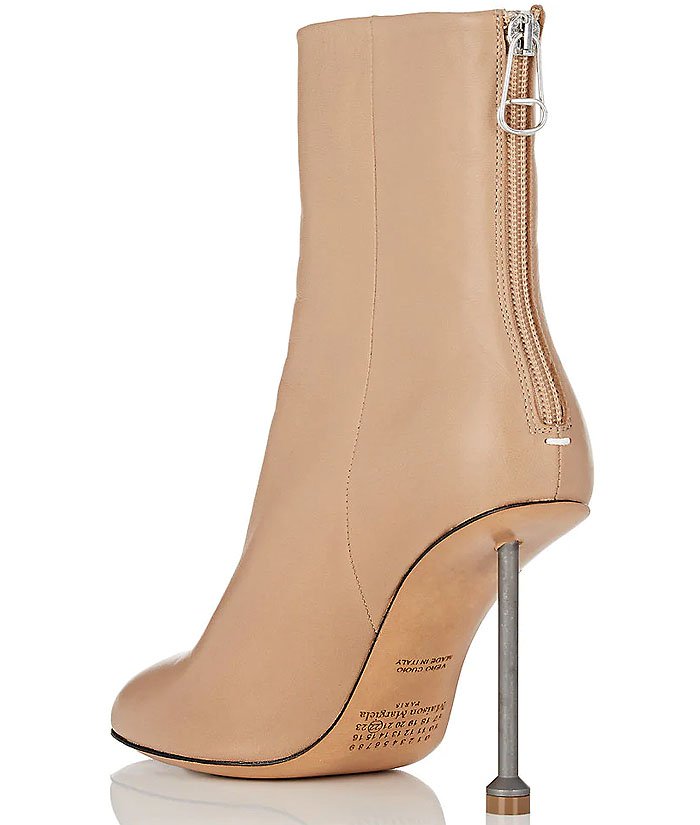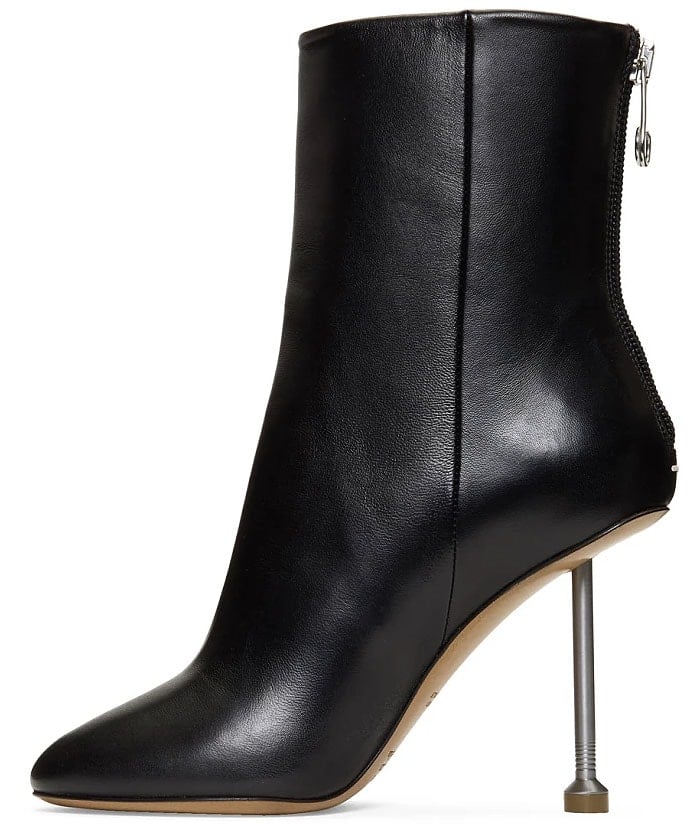 Credit: Michael Wright / WENN