Elon Musk is setting the record straight on his rumored affair with the wife of his billionaire friend Sergey Brin, Nicole Shanahan.
The co-founder of Google and former president of the search engine's parent company, Alphabet, computer scientist Sergey Brin founded Google when he was 25 years old while in grad school at Stanford University with his friend, Larry Page.
Nicole Shanahan, who was married to Google co-founder Sergey Brin for four years, attends Gold House's Inaugural Gold Gala: A New Gold Age at Vibiana on May 21, 2022, in Los Angeles, California (Credit: Faye's Vision / Cover Images)
On Sunday, July 24, it was reported by The Wall Street Journal that the 51-year-old Tesla CEO had an affair with Brin's wife in December 2021.
The extramarital affair reportedly took place at the Art Basel event in Miami, following Musk's split from Claire Elise Boucher, known professionally as Grimes.
Musk Took to Twitter to State No Affair Took Place
The supposed affair led to the couple filing for divorce in January 2022 and the end of the two billionaire's long-standing friendship. Musk has stated there is no truth to the Wall Street Journal's report, and he took to Twitter to set the record straight.
"This is total bs. Sergey and I are friends and were at a party together last night. I've only seen Nicole twice in three years, both times with many other people around. Nothing romantic."
Earlier this summer, Kimbal Musk's brother was spotted on vacation in St. Tropez, France, with Natasha Basset.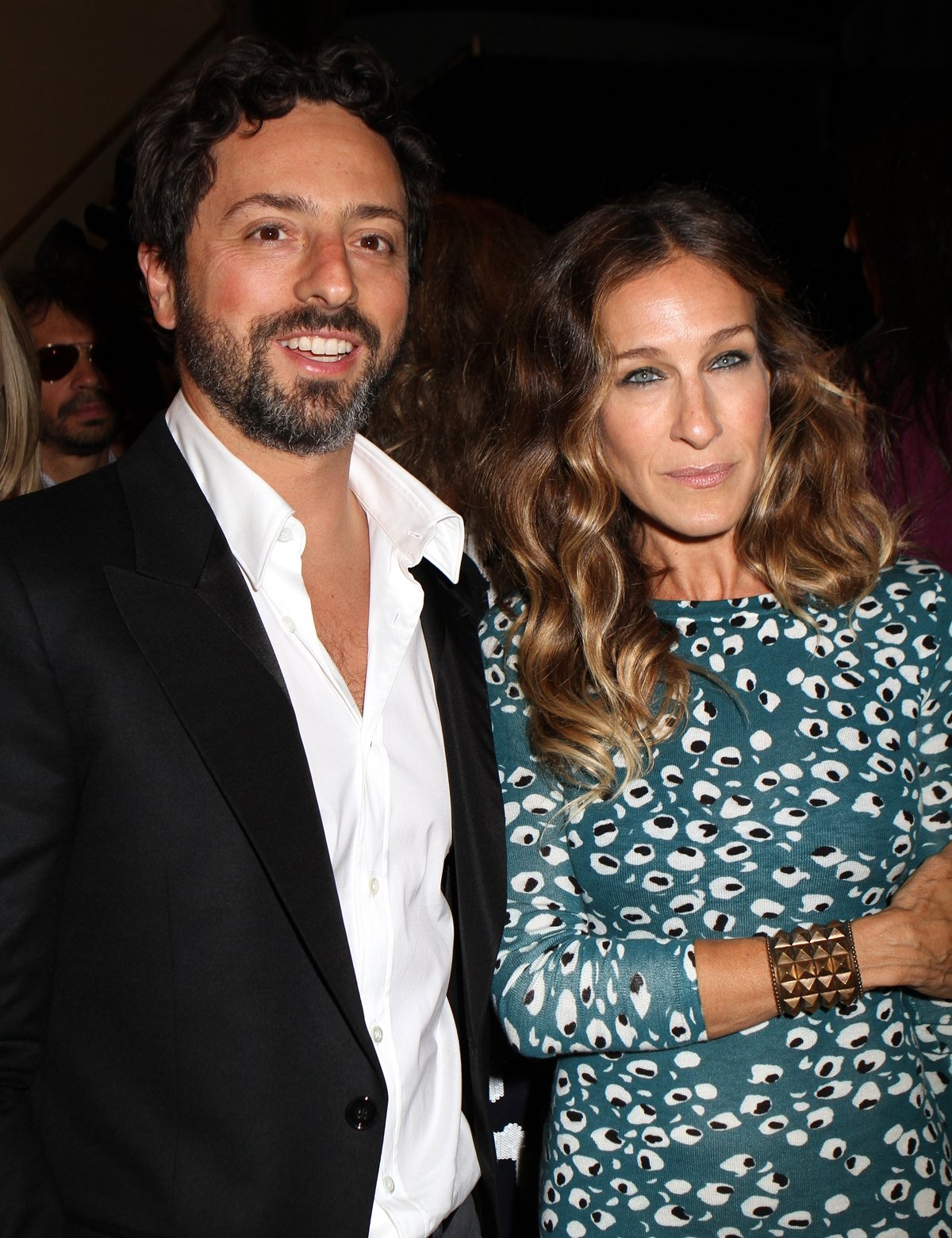 Google co-founder Sergey Brin and actress Sarah Jessica Parker at the Diane Von Furstenberg Spring 2013 fashion show during Mercedes-Benz Fashion Week at The Theatre at Lincoln Center on September 9, 2012, in New York City (Credit: ACE / INFphoto)
In another tweet, Musk accused the outlet of running "hit pieces" on him and Tesla.
"WSJ has run so many bs hit pieces on me and Tesla I've lost count! It's embarrassing for them, frankly. They once wrote an article saying the FBI was about to arrest me, so I called the FBI to ask what was up, and they said WSJ article was total bs. Just more shortseller fud."
The Wall Street Journal cited unidentified sources in the article that Musk had engaged in an affair with Shanahan in December last year. It also stated that the affair ended the long-standing friendship between the two tech billionaires, and Brin told his advisors to sell his personal investments in Musk's companies.
Nicole Shanahan, who is of mixed Asian and European ancestry, has also denied rumors she had an affair with Elon Musk (Credit: Marion Curtis / StarPix)
Musk said the paper should be running stories that "actually matter to their readers and have solid factual basis" in a later tweet. The Wall Street Journal says that it stands by its reporting and is confident in its sourcing.
The allegation about the affair was published amidst an ongoing court battle over Musk's attempt to terminate his $44 billion purchase of Twitter.
The billionaire walked away from the deal over concerns about the number of bot accounts on Twitter. Twitter is taking him to court to force the transaction to take place.
Brin Files for Divorce After Three-Year Marriage
Brin, 48, filed for divorce in January, stating "irreconcilable differences." Brin is currently a board member of Google's parent company, Alphabet. According to Bloomberg, he is also the world's eighth richest person and has a fortune of $94.6 billion.
Elon Musk has denied he had an affair with the wife of his billionaire friend and Google founder Sergey Brin (Credit: Patrick Pleul / DPA / Cover Images)
Shanahan is a lawyer and research fellow at CodeX, an organization that uses technology to improve legal processes. She is also president of a foundation focusing on criminal justice reform, reproductive longevity for women, and climate science.
The pair have been married for three years and share a daughter, born in 2018. Brin has asked to share custody of her as part of the divorce arrangement. Brin is not seeking spousal support from Shanahan and is requesting she not be awarded it either.
View this post on Instagram
However, Shanahan is asking for $1 billion in her divorce though there's a prenup agreement. The couple first began dating in 2015 after meeting at a Wanderlust yoga retreat.
Nicole Shanahan, whose mother is a Chinese immigrant, has also denied the affair with Elon Musk. Her attorney Bryan Freeman told TMZ, "Make no mistake, any suggestion that Nicole had an affair with Elon Musk is not only an outright lie but also defamatory."