"Don't do drugs, have sex, or touch your eyebrows" was the advice that Emilia Clarke's mum gave her as a teen.
The actress became a household name when she starred as Daenerys Targaryen on the HBO hit series, Game of Thrones. She won several awards for her outstanding performance and has since starred in several other major films.
Actress Emilia Clarke has become famous for her extremely expressive eyebrows (Credit: BAKOUNINE / Shutterstock)
Like any wise mother, Clarke's mom told her to resist the temptation to pluck her eyebrows as it typically leads to disaster. And it is something that Clarke has always stuck to.
They have become one of her most recognizable features, along with her curvy figure, show-stopping smile, and stunning brown eyes.
Emilia Clarke and her Eyebrows
Clarke is often recognized for her expressive features and eyebrows, which she finds deeply infuriating. As a child, the television star was bullied for her bushy brows, which have always been a sore point for her.
So much so that she notices them when she watches herself in a movie. However, her eyebrows have quickly become a part of her charm.
Emilia Clarke's eyebrows are beautiful and thick (Credit: DFree / Shutterstock)
But she was so concerned about her expressive eyebrows that she thought it would interfere with her acting career.
Directors would ask her to control the movement of her eyebrows as much as possible when acing. She even hired a coach to help her control her expressions.
She told Vanity Fair that her character as Daenerys "never really got too pepped up about much" so she could keep them in check on Game of Thrones. "But in life, I find it deeply infuriating," she told the publication during Emilia Clarke Takes a Lie Detector Test.
She goes on to tell a story about the receptionist at a doctor's office who giggled at her while trying to change the time of an appointment, saying, "it's just your eyebrows — I can't look at them without laughing."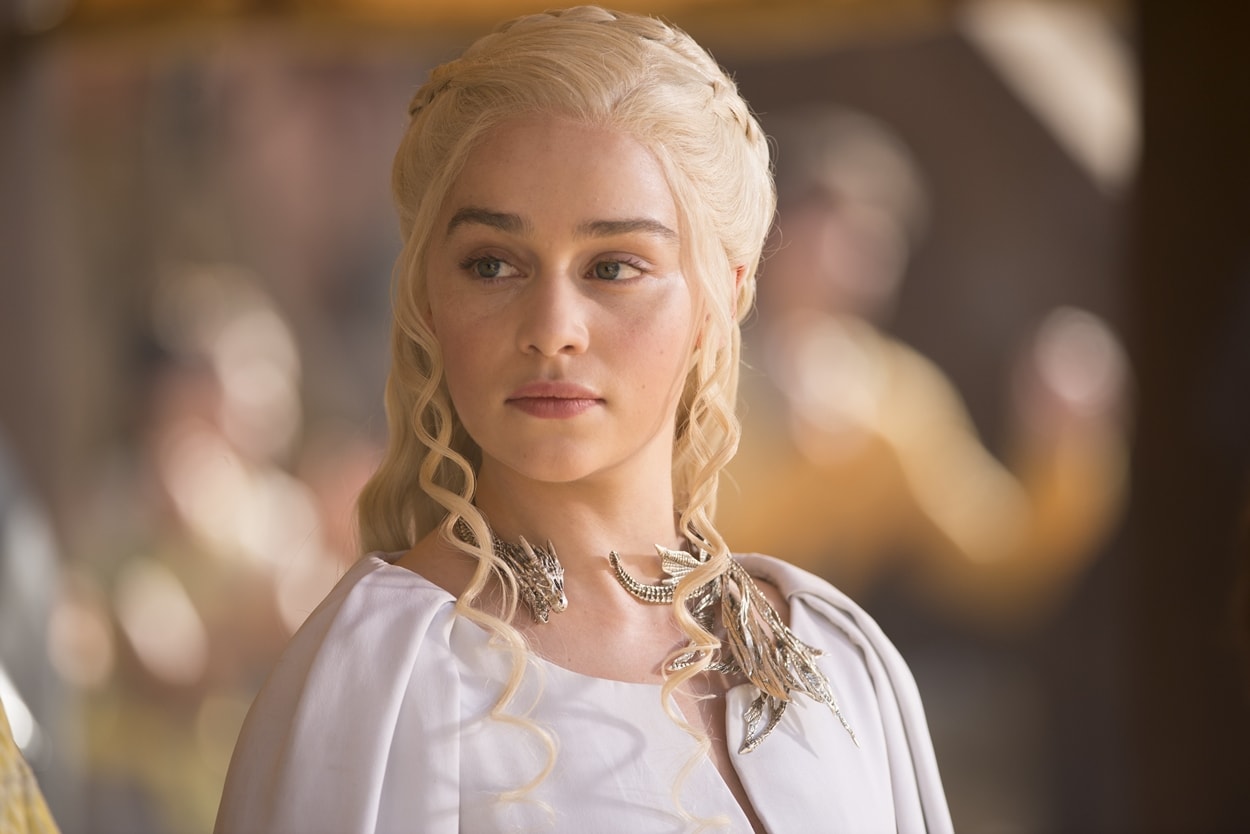 Emilia Clarke's eyebrows garnered many fans when she portrayed Daenerys Targaryen in the HBO epic fantasy television series Game of Thrones (Credit: HBO)
She was bullied as a child for her thick eyebrows and was sorely tempted to pluck them. Although her eyebrows are a sensitive point for her, her mom wouldn't let her touch them. "And I didn't, and I'm so grateful for that advice.
However, she did teach me to brush them with Vaseline, so I do that, but I don't fill them in or anything," she told Cosmopolitan during an interview.
Fans' Thoughts on Her Eyebrows
Clarke is not the only one to have noticed her expressive eyebrows on screen: her fans have too.
A Reddit user once shared a GIF of Emilia Clarke's Eyebrows Stabilized to illustrate how much her eyebrows moved. The GIF is from a red carpet interview with Digital Spy in 2012.
View this post on Instagram
The topic of her eyebrows came up during an interview on The Graham Norton Show.
She and Cara Delevingne, a fellow thick-browed actress, had a "brow-off" on the show. Clarke quickly emerged as the competition's winner, manipulating her browns into almost any share.
Her fans love that she can now enjoy every moment of her thick brows rather than being bullied for them.
Emilia Clarke center parts her hair to show off her iconic eyebrows at the Annenberg Space for Photography Refugee Exhibition held on April 21, 2016, in Century City, California (Credit: FayesVision / WENN)
Emilia Clarke knows how to work the red carpet, and she proved it once again at the Refugee photo exhibit held at the Annenberg Space for Photography in Los Angeles.
The then-29-year-old actress served up a sultry look — showing her décolletage and a glimpse of her stomach — in a black embroidered semi-sheer dress.
Emilia Clarke wears a plunging Alexander McQueen dress on the red carpet (Credit: FayesVision / WENN)
The busy black number is from Alexander McQueen's Pre-Fall 2016 collection.
It has a plunging neckline, sheer billowing sleeves, peplum detail, and colorful embroidery around the waist.
Emilia Clarke wears an embroidered Alexander McQueen dress to a photography exhibit (Credit: FayesVision / WENN)

Emilia highlighted the intricate dress by keeping everything else simple.
She accessorized with only a pair of pearl earrings by Vita Fede, a couple of rings by Graziela Gems and EF Collection, and a pair of black pumps.
Emilia Clarke wears a calf-length Alexander McQueen dress (Credit: FayesVision / WENN)
She rounded out her look with a sleek center-parted do, black eyeliner, and rose-colored lipstick.
Emilia slipped into a pair of black Christian Louboutin heels.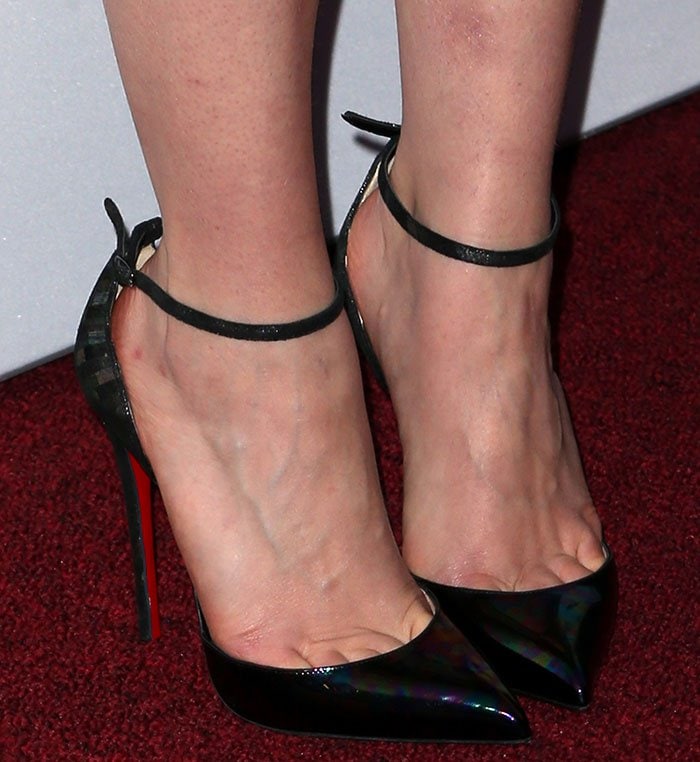 Emilia Clarke's feet in black Christian Louboutin pumps (Credit: FayesVision / WENN)
These classic pumps have black iridescent pointed toes, adjustable ankle straps, and textured counters and heels.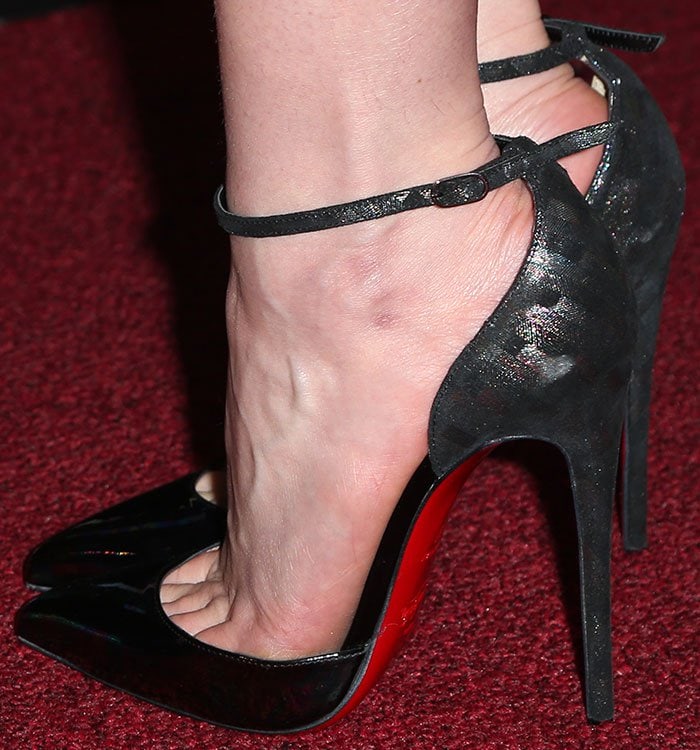 Emilia Clarke's feet in black Christian Louboutin pumps (Credit: FayesVision / WENN)

While we have yet to find these exact pumps, you might want to check out a similar style from the popular shoe designer available at Nordstrom, Ssense, Saks Fifth Avenue, and Mytheresa.
Black Christian Louboutin "Rivierina" Ankle-Wrap Pumps, $745